Check popular parking kerbs In different countries!
Wheel stops are the most widely used parking management and road safety devices. These equipment are placed in parking lots, parking spaces, on-street parking, garage parking and other short-term parking zones.
When parking is made with these wheel stops, drivers have conscious control on the steering wheel to stop vehicles without hitting the sidewalk, high curb and the wall.
Normally, wheel stops work as a barrier between the vehicle and its surroundings to avoid accidents. But before you do anything else, you must know everything about wheel stops and then find their details. As wheel stops are used worldwide, you should also know parking kerbs in different countries. It will help you relate your country and the particular parking kerb brand. Let's go on.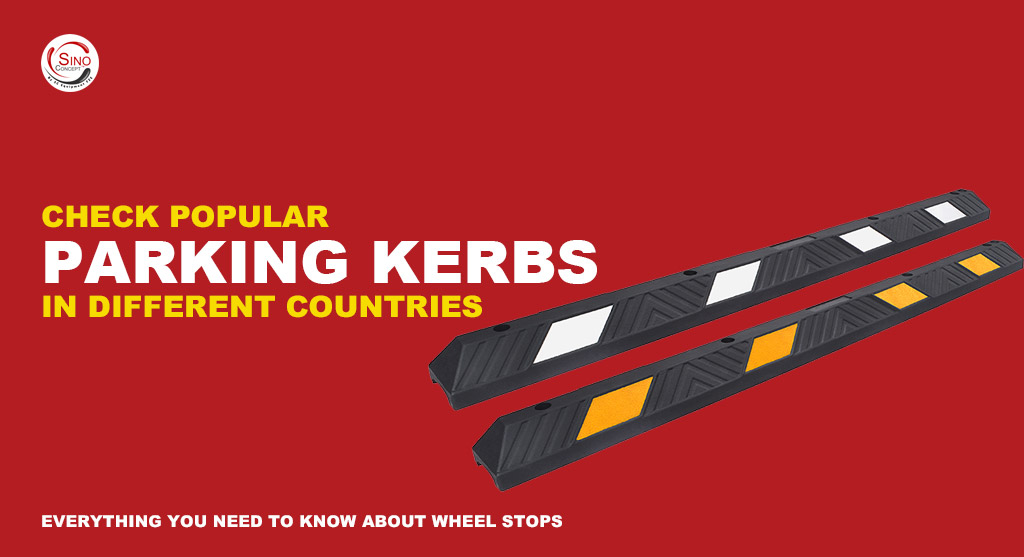 How to say wheel stop in different languages?
There are countless languages in this world, and every language is unique from the other in terms of recognizing things. As wheel stops are one of the significant traffic calming devices, their function remains the same regardless of the country. But they are recognized with a specific name in each language. For instance, if you live in China, you know wheel stops as Chelun dingweiqi.
At the same time, wheel stops in Greek are στάση τροχού. Japanese recognize wheel stoppers as Hoīrusutoppu. While if you belong to Italy, you must have heard of arresto della ruota because it is the Italian name of wheel stops.
Similarly, in UK, USA, and Canada, wheel stops have alternate names like tyre stoppers, wheel stoppers, and parking blocks. These different names just let people know that these are road safety products.
The wheel stops in every country increase parking facilities and improve parking infrastructure by assembling motor vehicles in lanes. Parking authorities ensure users are well-aware of the parking regulations and follow the rules to make the space accessible for all.
Similarly, wheel blocks are also used in limited street parking, public parking areas, employee parking, paid parking lot, parking garage and free parking sites.
Are the wheel stops widely used in the UK?
The UK has world's busiest roads, with thousands of people are on a single road that results in car crashes, road accidents and other hazards injuries. According to a report, 1460 fatal causalities were reported in the UK in 2020. To a great surprise, this number was down from 2019 stats.
With such a huge fatality rate and road accidents, it is evident that wheel stops are widely used in the UK. In fact, the number of accidents and fatalities has reduced to a greater extent with the use of wheel stops and other road safety products.
If the wheel stops are not installed in motorcycle parking, downtown parking, event parking, public parking lots and handicapped parking, there is no traffic flow. People don't bother to park their cars at the side and give way to other road users. In fact, they try to keep parking closer to their premises. This not only makes the space mismanaged but causes inconvenience to handicapped individuals.
So, whether you visit electric vehicle charging stations, city parking garages, parking spaces for oversized vehicles and residential parking bays, UK citizens now use wheel stops to prevent accidents. Police enforcement and transportation authorities also ensure road safety devices to discourage fatalities.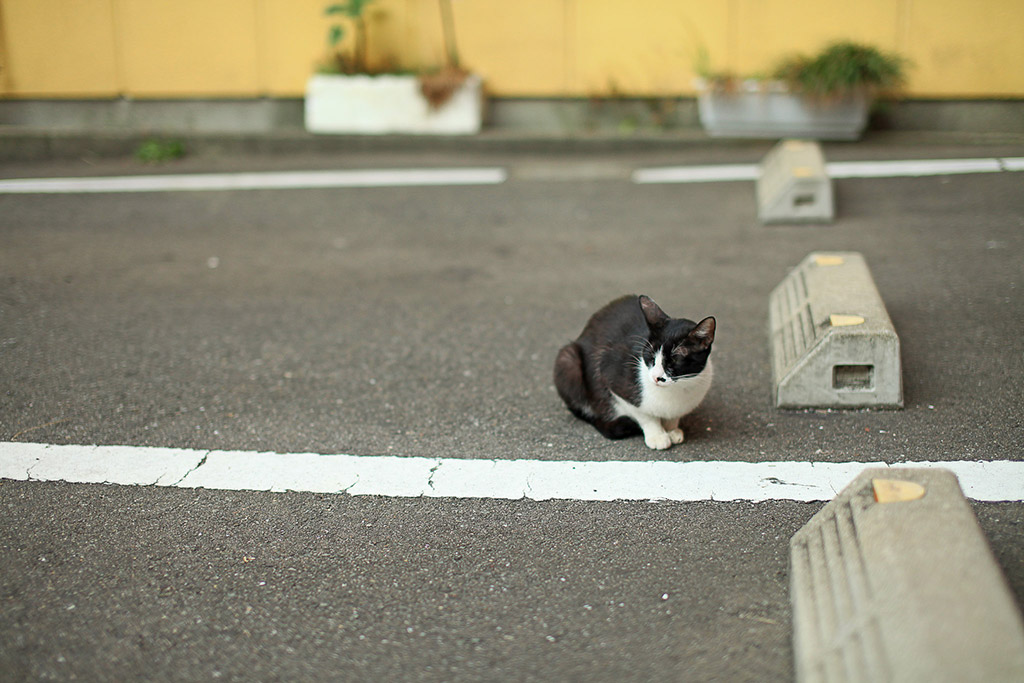 What is the most popular wheel stop in the USA?
Rubber wheel stops are the most popular wheel stops in the USA, and various parking kerb brands are on the list. Wheel stops of Traffic Safety Zone are widely used in the USA, and it is one of the top North American leaders in the traffic safety industry. Their wheel stops are made of recycled rubber and have great durability. They are capable of withstanding various USA weather conditions, snow driving and other road conditions.
Similarly, these wheel stops have yellow reflective strips to increase visibility and have small to large sizes of wheel stops in their parking safety range of products. All these wheel stops are designed as per USA traffic rules and are installed accordingly.
Similarly, USA parking policy allows parking authorities to use wheel blocks in open parking, station parking, car parking, guest parking, and even individual parking areas. But before installing wheel stops, it is compulsory to get a parking permit as you cannot park anywhere on the road. It is prohibited and may result in penalties.
So, make sure to have lots of parking information and use wheel stops and other traffic calming devices for improved traffic flow.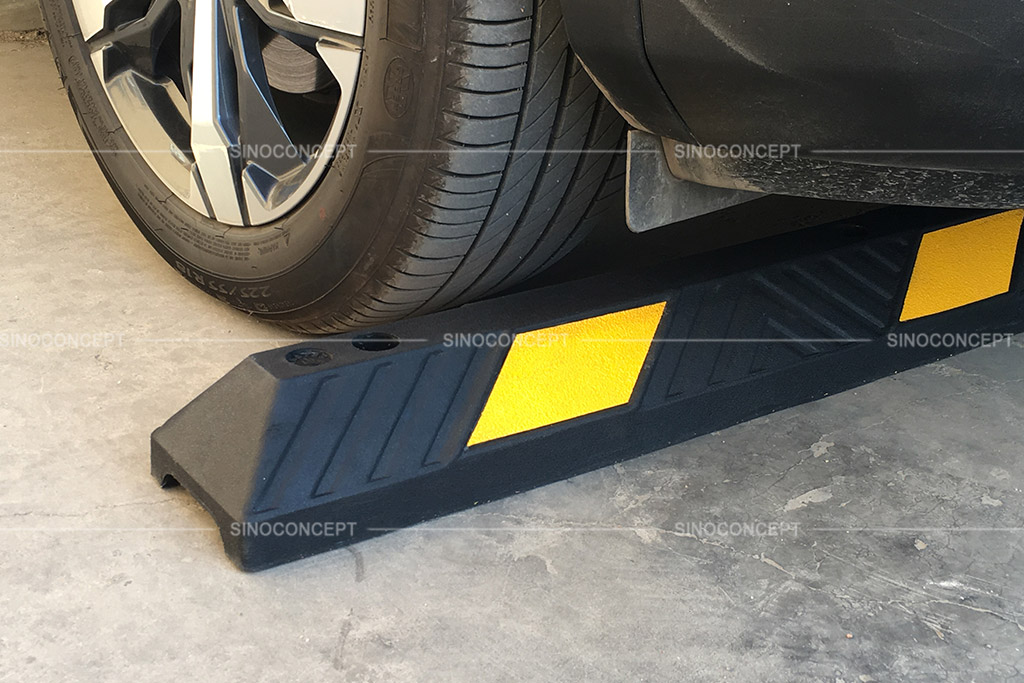 Explore different wheel stops in Australia!
Australia has a good reputation for traffic safety products, and various Australian parking kerb brands offer quality wheel stops. Here are some most prominent wheel stops in Australia:
The Ultimate Wheel Stops are products of 'Ultimate Aussie Safety'. This is a popular Australian brand with different road safety products, but their wheel stops are on the top. Ultimate wheel stops have polyethene LLDPE construction material, and you can find four colours in their wheel stops range. These include; black, blue, yellow and grey. These wheel stops are large and give temporary or permanent parking solutions in parking spaces, campus parking, or other parking sites.
'Safety Xpress' wheel stops are another Australian wheel stops manufactured to ensure pedestrian safety and correct parking of vehicles. Their road safety products have plastic or rubber wheel stops to reduce the impact of cars on buildings, walls of parking zones, nearby cars, trucks and other objects.
'Supamaxx' wheel stops give an ideal car parking solution for commercial and public parking lots, and they are suitable for all car park areas. Their wheel stops are made of recycled rubber, recycled plastic, or concrete. All these varieties require specific accessories for installations on different surfaces.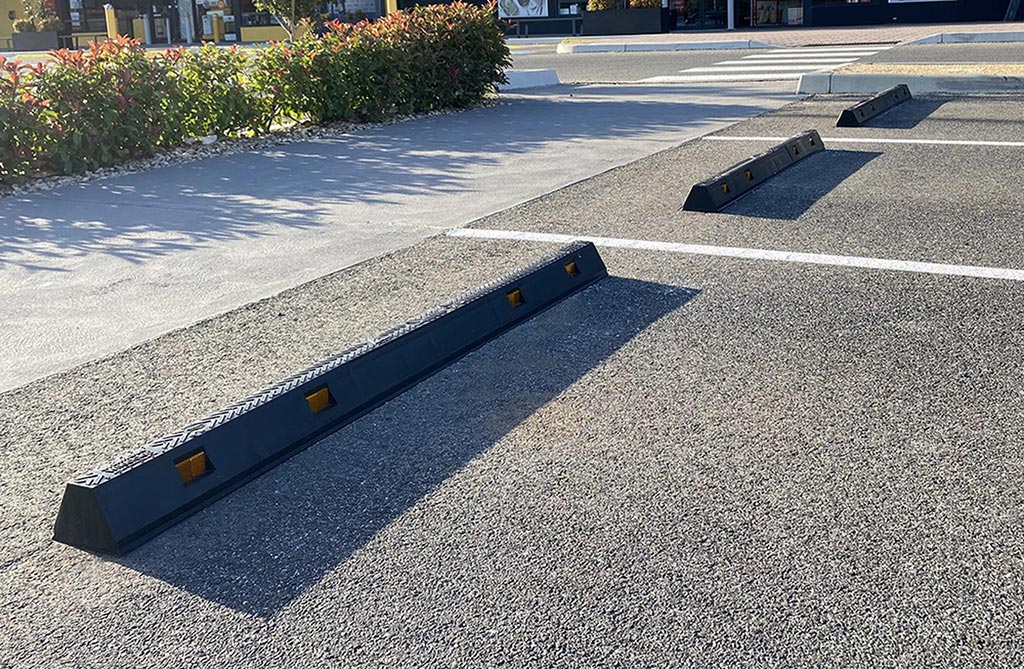 Truth about wheel stops in New Zealand
The wheel stops in New Zealand have great significance, and they contribute to arranging vehicles in car parking zones. These wheels stops are usually made of rubber, but you can also find other construction materials. Similarly, they have reflective strips on all sides for more visibility in day and night light.
The wheel stops are sturdy and can be used indoors and outdoors in New Zealand car parking set up. Heat, cold or water do not affect these wheel stops.
Typically, the standard dimensions of wheel stops in New Zealand are not quite different. They have 100 mm height, 160 mm width and 1,650 or slightly variable length.
Similarly, heavy-duty wheel stops are used to stop the movement of trucks in loading or unloading sites, and these wheel stops are comparatively higher than normal parking blocks.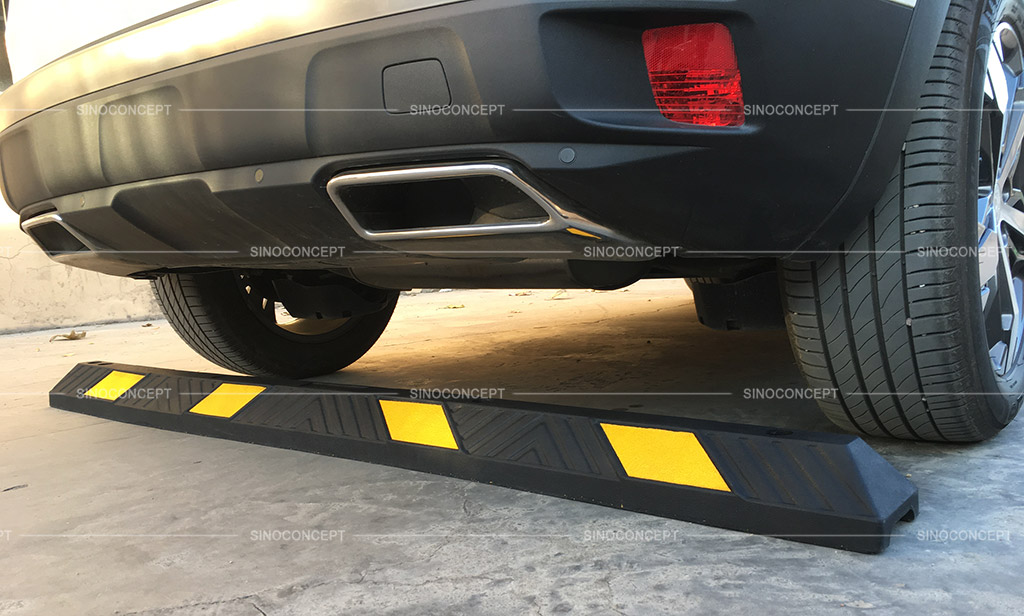 Wheel stops are traffic calming devices widely installed in disabled parking, downtown parking garage, centre parking, and where parking spaces are available. These wheel stops minimize the risk of collision damage to the surroundings and walking individuals.
When parking spaces are secured with wheel stops, ramps and other road safety devices, parking rates are set according to the parking facilities. So, whether you park vehicles in your driveway or the parking garage, make sure you have vehicle registration and License plate number to avoid any theft or damage. Plus, follow parking rules and park your vehicle at the right spot without blocking the pathway for other users.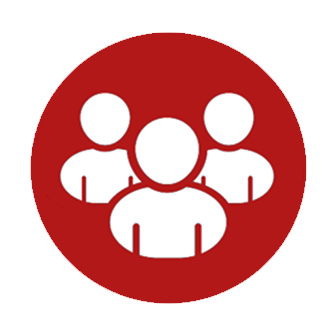 WHO ARE WE?
Are you curious about us? Do you wonder what are our know-hows and where do we manufacture our products?

WHEEL STOPS & PARKING BLOCKS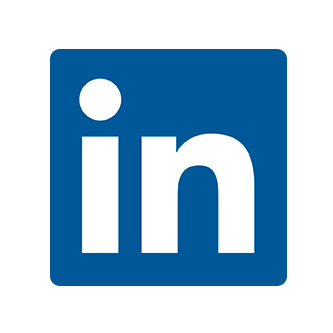 FOLLOW US ON LINKEDIN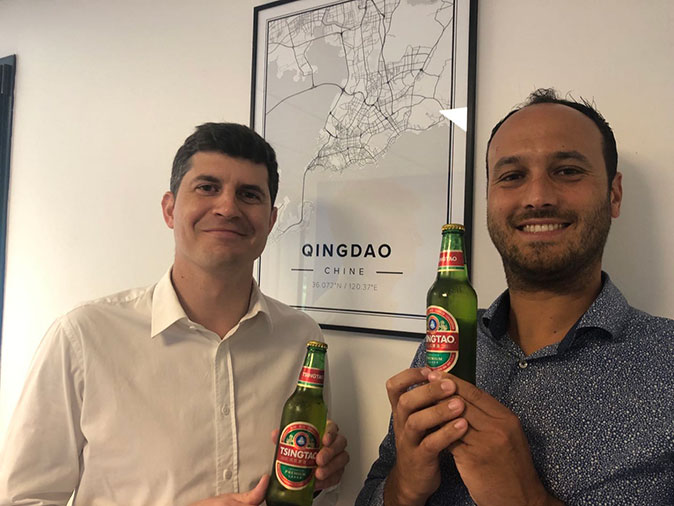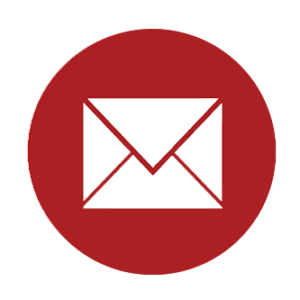 CONTACT US
Need any advice about our products? Do not hesitate to contact us, we will be happy to help.