6 questions you need to consider when buying cable protectors!
Cable protectors are cord management equipment to protect cable wires, network cables, electrical cables and extension cords.
You can efficiently arrange different wires and cables in the reusable ramp sleeving and prevent trips or any hazard.
But, these cord covers come in a vast range, and randomly selecting any protector cannot give you the required protection. Therefore, you must use a good guide for buying cable protectors and know how to buy the best cable protectors for general or heavy-duty purposes. Additionally, these 6 questions will make your buying easy and rewarding.
Topics we cover in this article: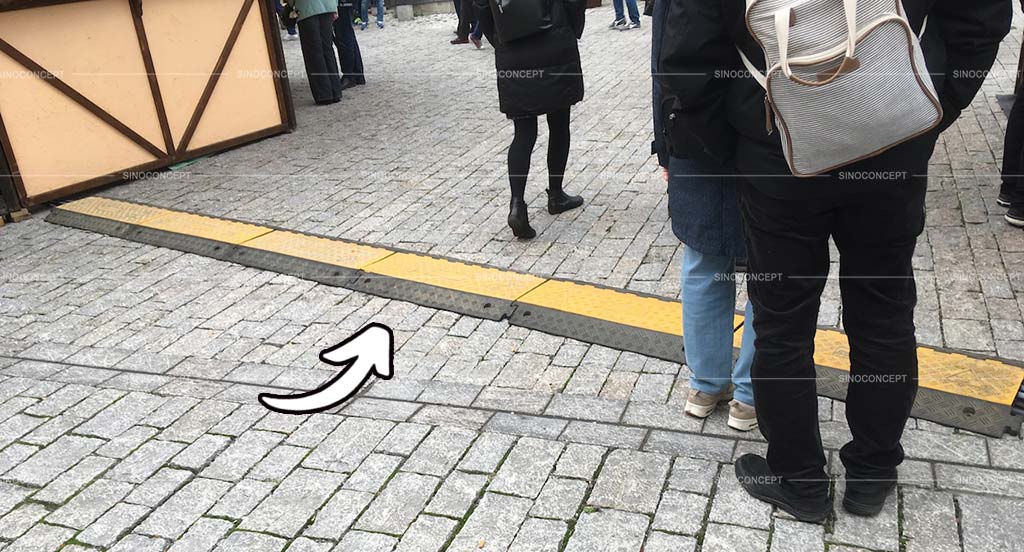 How many cables do I need to cover?
Deciding how many cables you want to hide or cover with cable protectors leads you towards an ideal purchase. There are 1, 2, 3, and 5 channel cable protectors or floor cable covers so you can hide multiple wires using the same cable protector. Each slot is known as a channel, and organizing each cable or cord into different channels gives a mess-free area.
If there are bundles of cables or wires at your place, you must go for the high channel option. It is far better to use a multi-channelled cable ramp than to buy small cable protectors. This mostly happens if you manage events or work in an office with printers, TV screens, speakers, or many other devices. In such a case, you should choose maximum channel cable protectors.
On the other hand, if you want to protect one, two, or three appliances cords in your home, you can select floor cable covers or cable ramps.
As a rule of thumb, you must know that when the number of channels on the cable protector decreases, the channel width will increase. Some people mistakenly assume the contrary scenario and select a cable protector based on the absolutely incorrect size.
So, finalize the number of cables you need to protect first and then decide how many cable protectors you want, whether for your home, office, warehouse, raceway, or road.
What is the outside diameter of these cables?
Remember the diameter of each cable is different from the others and if you want to hide multiple wires in a single cable protector, make sure their diameter must allow them to be fit in the slots.
Usually, cable protectors perfectly fit cables of diameter as low as 20 mm and as high as 120 mm. If the diameter of your home appliance cables is less than that of standard cable protectors', you can use channels of the least diameter and accommodate wires, so they look tidy.
Suppose you want to buy heavy-duty cable protectors for any construction area. In that case, you must consider the wire's diameter because using small cable protectors for thick or heavy wires is of no use. Similarly, hoses are quite thick than typical wires and ideally fit into hose protector ramps.
On the other hand, using heavy-duty cable protectors at homes or events will give off a look for wires of small diameter. So, always check to see what is the diameter of your cables and wires and select that suits your need. It will be safe and prevent hazards from wire heat shrinkage.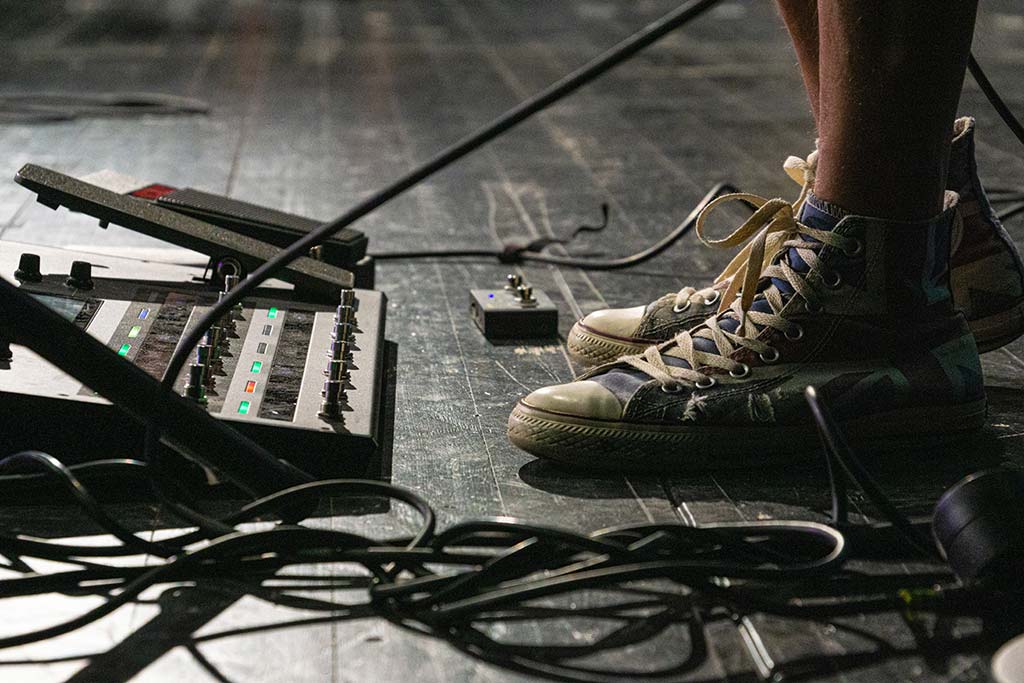 What kind of traffic will be crossing over these cables?
You must think and enquire whether you want to hide cables in your house, outdoors, roads or driveways, or at a construction site. Determining the targeted areas helps to narrow down selection as per the traffic.
If it is intended to protect home appliances, cleaners, tv screen cables, Ethernet cables, printers, or speakers' cables, you need light-duty cable protectors to save wires from foot traffic. These cables do not have much power load, and using these light-duty protectors gives the required protection to your property and equipment. Similarly, low-profile cables help to crossover wheelchairs or trollies without damaging cords.
On the other hand, you can look for modular cable protectors for driveways or roads. These areas have high traffic, and constantly moving cars, motorists, and even pedestrians exert pressure. So, determine the load-bearing capacity per axle or tire and critically choose cable ramps for the best user experience.
Next, consider heavy-duty cable protectors as the best wire protection option if you want to cover heavy-duty construction wires for any project or at any industrial spot. As the heavy-duty wires have maximum power and can quickly heat up, throwing them away can add danger. Secondly, massive foot and vehicular traffic can harm the wire, which will lead to hazards. Therefore, never compromise on the safety and hide bundles of cables and cable with heavy-duty cable protectors to ensure everyone is secure on the working site.

Do you need to consider the connector style for compatibility reasons?
All cable protectors serve the essential function of protecting wires, cables, and cords to prevent damage, but they do not have the exact design specifications. One of the design features the cable protectors that distinguishes one from the other is the kind of connector used to link individual cable protectors.
These connectors allow users to interlock multiple cable protectors and extend cable protection to any length. You must consider the connector style for compatibility reasons as they can separate due to foot traffic, and it will be a constant headache to reattach them.
You can find different connector styles such as below:
Ideal connectors for heavy-duty to lightweight or general use purposes. These connectors are difficult to pull apart, and if you use these connectors, you would not need to worry about cable protectors coming apart due to the weight of heavy vehicles or tremendous loads.
hese connectors can also bear the heavy load, and you can uplift these connectors and slide to different angles. As dog-bone connectors give the dual advantage of convenience and toughness, extending cable protectors helps a lot.
These connectors are highly suitable for light-duty cable protectors in light traffic areas. A considerable advantage of L-shaped connectors is their ease of use and quick deployment.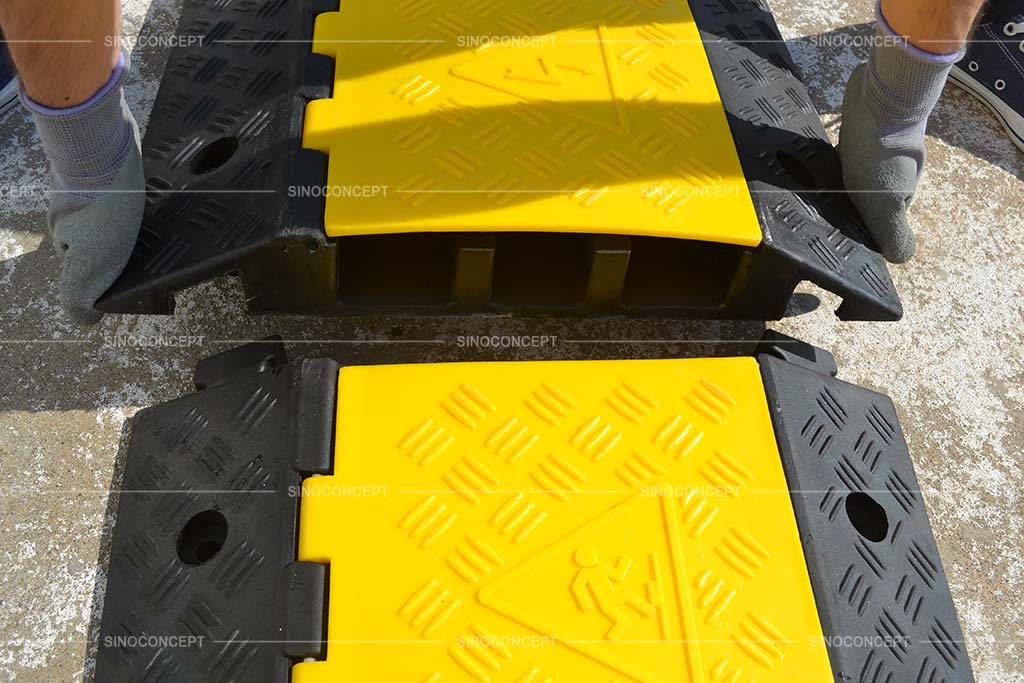 What material should be the best for cable protectors?
It is one of the most important questions to ask about the best cable protector materials. As low-quality material neither saves wires nor the owners.
Primarily, you can find rubber or polyurethane cable protectors. Rubber withstands pedestrian traffic and light vehicle traffic and is best used in homes, offices, or events.
In contrast, polyurethane can bear light to extreme load and be used for general to heavy-duty purposes.
This material also withstands harsh weather conditions and is equally suitable for entertainment, construction, material handling, or even home or streets.
Will cable protectors be visible enough?
Cable protectors' visibility is a primary concern, especially for high traffic areas, as the ramps give a slight bump in the road.
Therefore, the colour of cable ramps must be highly visible so that pedestrians or traffic can guess their presence.
Mostly, yellow cable protectors covers are considered visible for the bright and easy to recognize colour.
On the other hand, orange, black, and blue colours are also used to make cable protectors' covers visible in low or high traffic areas. So, ensure your protection system must be safe for all.
Cable ramps or cable protectors can give help for their efficiency to minimize trip hazards. They conceal industrial cables, Ethernet cables, cords of electrical boxes, and give cord management solutions.
Their expandable plus locking power to hide wires makes these cable protectors extraordinary and makes a cluttered site a pleasant working space. So, if you want to take the protection system to the next level, buy a cable protector keeping in mind these essential factors.
You will see these non-conductive cord covers make you stress-free, and you will be able to work in a productive environment.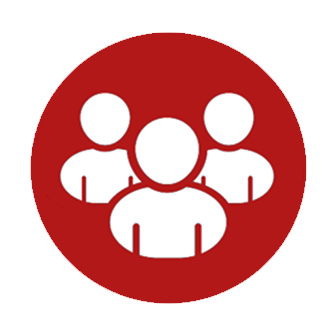 WHO ARE WE?
Are you curious about us? Do you wonder what are our know-hows and where do we manufacture our products?
CABLE PROTECTORS & CABLE COVERS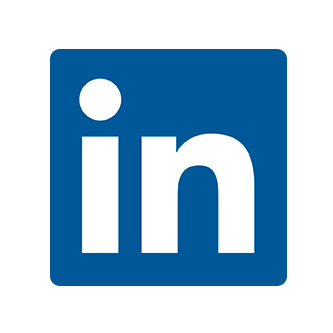 FOLLOW US ON LINKEDIN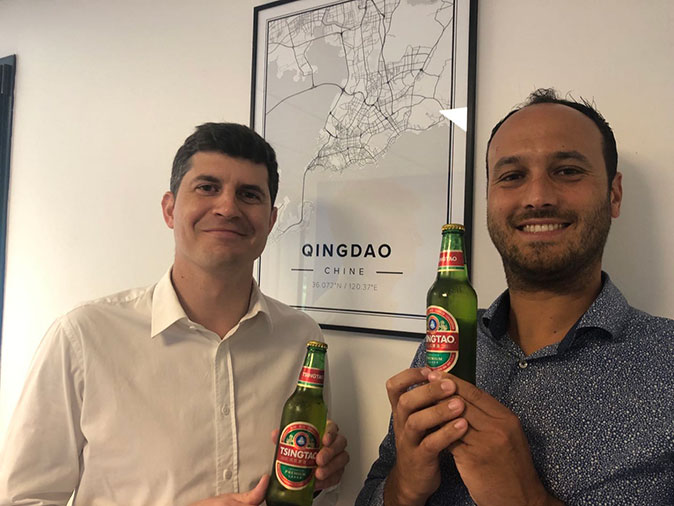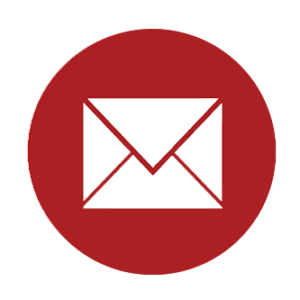 CONTACT US
Need any advice about our products? Do not hesitate to contact us, we will be happy to help.