Check the most common speed bump colours!
Traffic calming measures are used on roadways, city streets, and similar areas to slow down speeding vehicles and provide safety and protection to pedestrians and drivers.
Speed bumps are a widely used traffic-calming device. They have a raised surface that makes the drivers lower the speed of their vehicles.
Speed bumps are available in different colours, styles, designs, and materials that can help people choose from various options based on their needs and requirements. We also have an article about a list of speed bump types.
The two most popular colour choices for speed bumps are yellow and black and white and black colours. These contrasting pairs of colours are used to make speed bumps noticeable even when there is no light, or the path is nearly invisible due to bad weather conditions.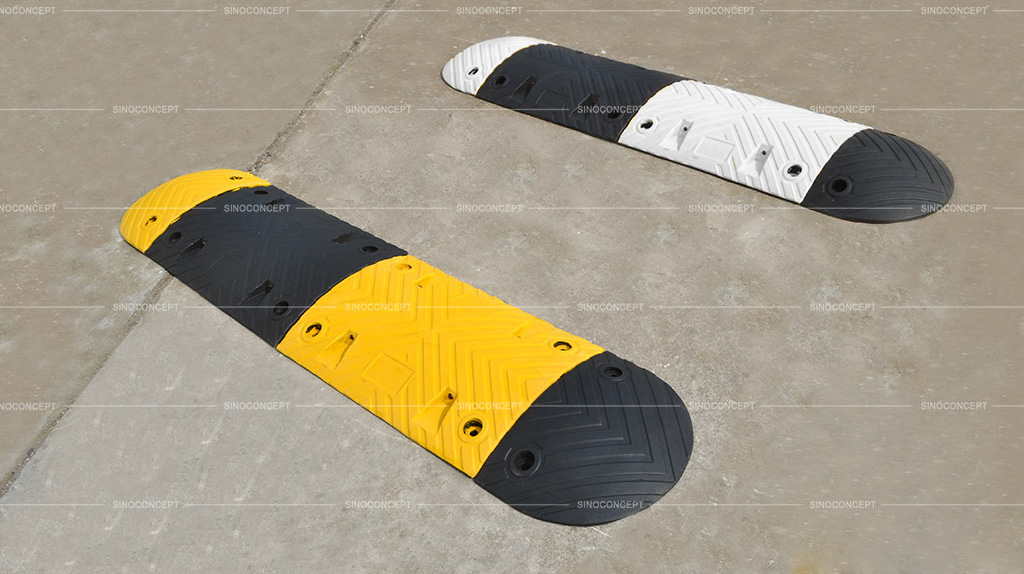 Get to know about the black and yellow speed bumps!
The black and yellow speed bumps make vehicles move in particular lanes, and they reduce their speed below 20 miles per hour (mph).
The regular speed bumps and speed breakers have black and yellow stripes on them. These stripes are either made with the help of paint or coloured construction material.
A bright colour like yellow has the power to grab the attention of drivers. Therefore, it is used to make drivers attentive to the presence of a raised surface on the road.
This way, they lower their speed on time and cross the bump at a speed that does not damage their motor vehicle much.
Get to know about the white and black speed bumps!
Black and white is also a popular colour choice for speed bumps. This colour contrast is used to make speed bumps in the road observable for drivers even when they are at a great distance.
If a road is dark due to the absence of street lights, an attentive and sensible driver will still be able to see them and lower his vehicle's speed.
Similarly, if there is heavy rain, a coloured speed bump will help a driver find speed bumps even when driving in a vision zero area. Some black and white speed bumps also have a reflective surface or cat-eye reflectors that help with their detection on the road.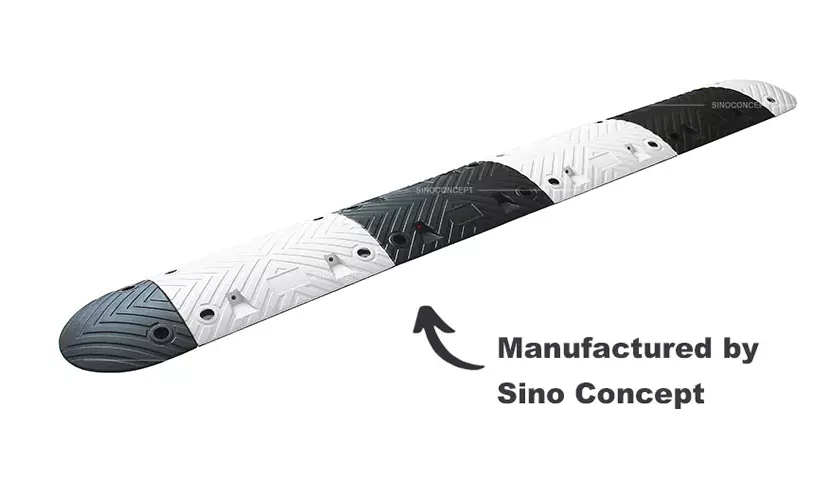 More about the colours of seed bumps
Speed bumps are installed in different locations. Some of these locations have street lights, while others are usually in the dark. It is important to make speed bumps visible to drivers like motorists, cyclists, etc., with the help of different bright colours.
These colours are usually reflective, and they shine when a ray of flashing light falls on them. It makes them visible to the vehicle driver even when he is far away from them.
When speed bumps become visible to drivers, they get plenty of time to use brakes and reduce their speeds accordingly to avoid vehicular damage and health injuries.
Plastic, steel, and rubber speed bumps are ready-made and come in coloured forms. They usually have a reflector to support their visibility. Concrete and asphalt speed bumps are made coloured with the help of black, white, and yellow paint colours.
Get to know more background of speed bumps
Speed bumps, speed humps, speed cushions, speed tables, traffic cones, speed limit signs, speed signs, stop signs, traffic signs, and traffic signals are all popular speed control devices. They are used all over the world to enhance traffic safety and pedestrian safety.
A speed bump is found in the market in many different forms. These forms differ from each other based on the colour, shape, construction material, and location in which they are installed.
Based on shape or style, speed bumps exist in their regular form, square and circular forms; cable protector speed bumps have cable channels and rumble strips.
Based on construction material, these traffic control devices are available in asphalt, concrete, steel, rubber, and recycled plastic materials.
Based on colour, this traffic management tool is commonly found in either black and white colour or black and yellow colour.
All kinds of speed bumps perform the same function. They impose a speed limit to control a high traffic volume in a slow, school, or work zone.
Speed bumps are installed by the transportation department and municipalities mainly for speed control purposes. But they have diverse applications, and you can use them for different purposes.
The below points highlight when you should use a speed bump, speed hump, speed cushion, or speed table.
You should use a speed bump when there is high traffic on a street or road where pedestrians and vehicles are close to each other.
These are the sites where hit-and-run kinds of accidents usually occur. You can avoid such accidents by forcing vehicles like cars, buses, etc., to reduce their acceleration.
You should also use them when there is a high volume of vehicles and you want to reduce the number of vehicular collisions or crashes. You can achieve this goal by making vehicles travel at a slower speed.
Sometimes, it gets hard to make drivers follow traffic, stop, parking, road, and speed limit signs. You can increase their attention towards a sign and signage by making them reduce their speed with the help of a raised section.
Speed bumps can be used in many different locations. The popular locations where people usually install them are described below.
You can use them before a pavement, crosswalk, pedestrian crossing, railroad crossing, sidewalk, pavement markings, or red light to offer pedestrians road safety and protect their lives by making vehicles drive slowly.
You can install them in parking lots to make public parking spaces safe for everyone. It will protect not only the drivers but also the walkers. Traffic data shows parking lot speed bumps significantly reduced parking space accidents.
The Federal Highway Administration installs them on main roads to control the road traffic speed at critical points such as an intersection, roundabouts, and cut-throughs.
You can install them in a school zone, work zone and other slow zone areas to provide road safety to walkers. Police enforcement also ensures that a bicyclist or any other driver does not cross their speed limit and makes a roadway dangerous for pedestrians.
If road construction is going on and you want to provide workers with some safety, then you can use construction signs and speed bumps to limit traffic speed in that area.
There are some regulations and ordinances regarding the installation of speed bumps. Learn these rules before you invest in the road bumps.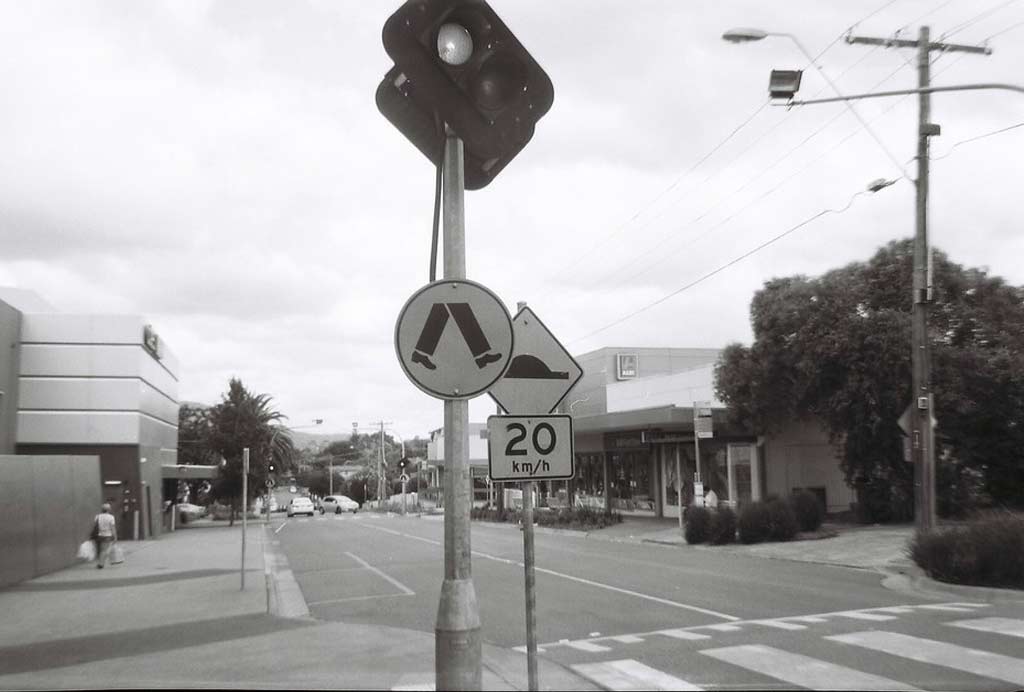 A speed bump on the road is a must-have tool if the number of accidents increases in your area due to high-speed vehicles. These tools have reflective tape on them that makes them noticeable even when the driver is on a dark road.
Speed bumps come in different colours to increase their visibility. The most common colours of speed bumps are black and white or black and yellow. These pairs of contrasting colours help drivers see them even when they are far away from the speed bumps.
You should also install speed bumps if you want to improve pedestrian and traffic safety in your area.
To learn more, we advise you to refer to the following pages: