What are other different names for cable protectors?
Cable management is an important part of most job sites. The reason is an influx of cables, wires and cords used for power transmission.
However, the setups are usually a safety concern as they're a trip hazard. Damaged wire and cable systems on the floor can be a bigger concern as they can electrocute workers and are a fire hazard. Cable bundles are unsightly as well.
As a result, many cable management solutions are available in the market. They act as a combination of a cable protector and a cable organizer. But it is important for a buyer not just to know what is a cable protector.
But also which one will benefit them based on their applications and needs. Hence, cable protectors are of several types known by many names.
Knowing about them can lead to more accurate purchases.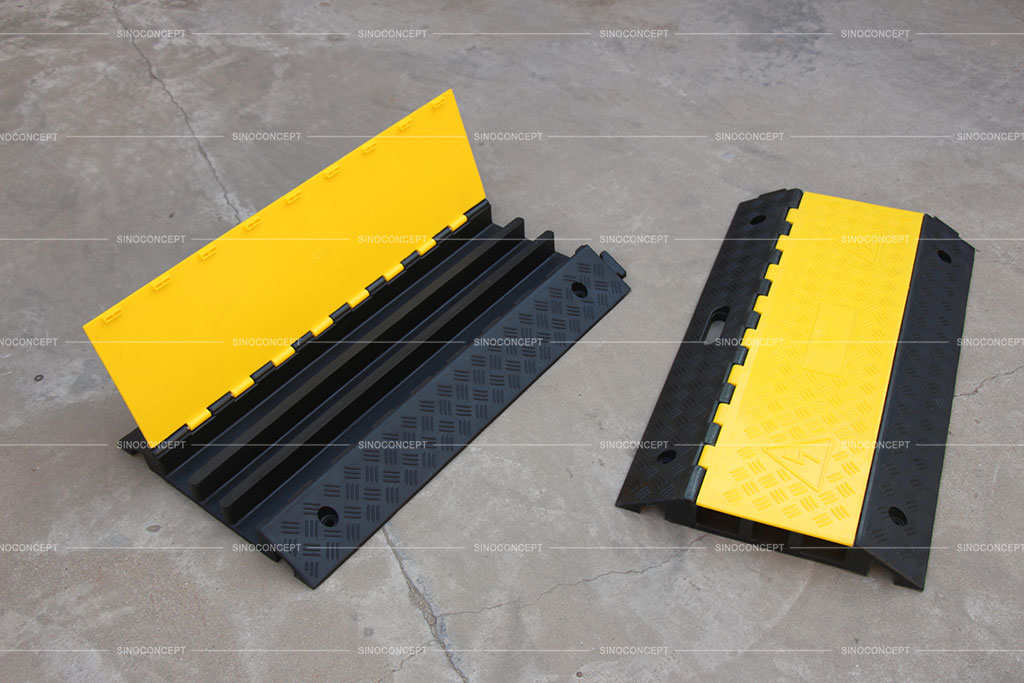 Some different names for cable protectors
A buyer can find many names online for cord management systems. Some of these wire management techniques are similar in nature, and their names only differ due to the region in which they're sold.
Others may possess different applications and be used for specific cords. A common denominator amongst some is that they behave like a ramp for oncoming traffic.
The other is that they aim to conceal and hide cables from sight.
The following are the other names for cable protectors:
The cable ramp is arguably the industry's most important and best-selling cable management system. This is because it is versatile and can be found in various sizes and channel numbers.
This means that one can easily find a ramp for their particular need. Ramps are mostly used for temporary placements. Examples include events and festivals, warehouses, trade shows, etc.
The best cable protector providers offer these in 2-, 3- and 5-channel configurations. Made out of vulcanized rubber, they all offer heavy-duty cable protection as they can manage a weight of 5,450kg per axle.
Ideally, they're supposed to be visible to all the road- and foot traffic. They're also supposed to have anti-slip surfaces to prevent tripping further.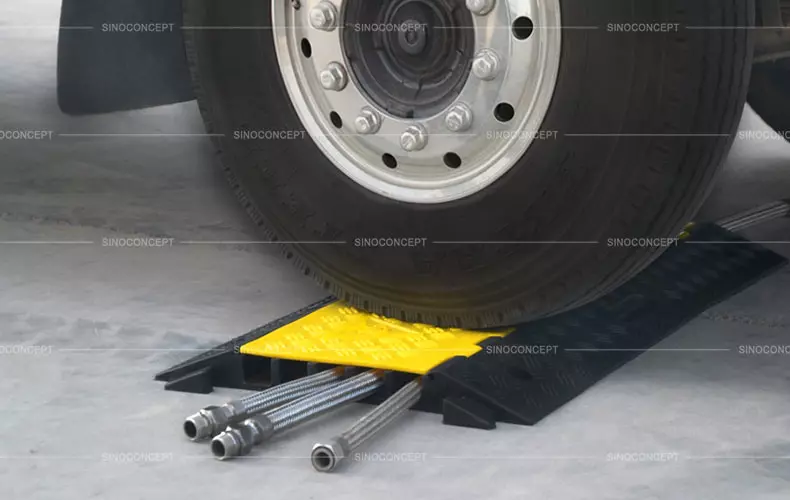 Also known as floor cable covers, these are used in indoor spaces. These also have simple construction, just like the drop-over cable protectors above. The difference is that the wire must pass through the channel instead of the cover being dropped.
These covers are used particularly when the cables need to go through open indoor spaces and aren't suitable for industrial cable coverings.
These economical cord covers are designed as slopes with cambering on both sides. They are usually made from rubber or PVC, making them durable. Moreover, they are ideally meant to be waterproof and anti-slip. For connections, these tend to use connector pins that differ according to the manufacturer.
Another type of these covers is more flexible than usual. This type is usually longer in length, and it comes with circular channels. The major function of this one is the concealing of cables and wires.
The heavy-duty nature of these covers allows up to 40 tons of weight to travel at once over them. The highest-quality ones usually have adhesive rubber exteriors for maximum grip and stability.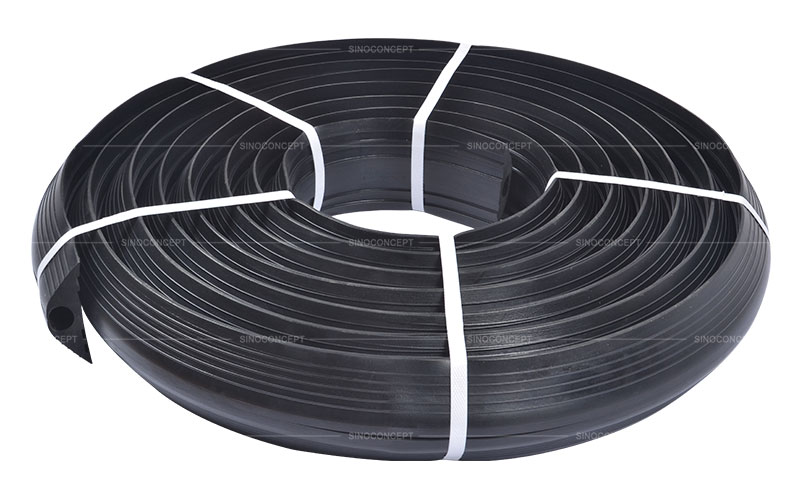 A recurring name for cord organizer systems used in the industry is the cable guard. It is a term often used in the United Kingdom to describe the various types of cord, cable, and wire management systems mentioned above.
Cable guards are used everywhere, from offices to industries to homes. A cable guard can cover an ethernet cable, a TV cable, a power cable, or any other type of electrical cable available. As a result of this, anyone looking to buy a cable protector should be aware of this term.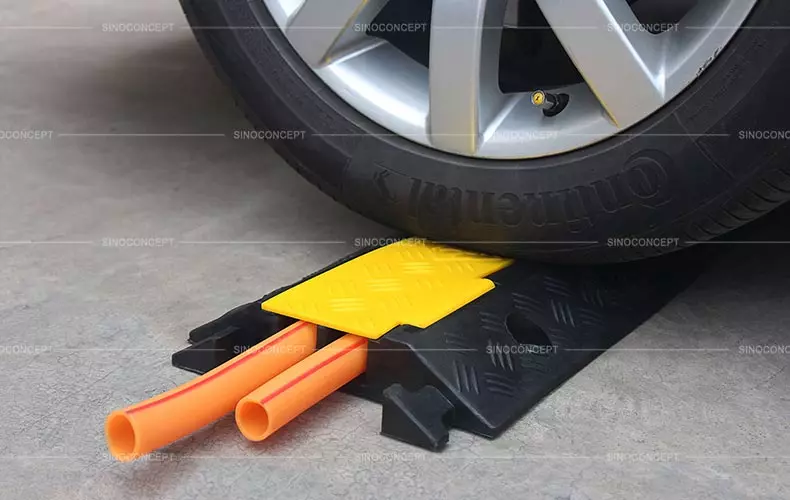 Drop-over cable protectors
Drop-over cable protectors are another cable cord protection solution. These are also used as temporary measures.
A drop-over protector has a simple configuration just for dropping over the cable wire. It is made out of polyurethane and is lightweight. Like the ramp, it also has a locking system in case the electrical wires are longer.
Drop-over cable protectors are usually available in small and large sizes. The advantage of the larger wire cover is that the channel is wider. At a minimum, each protector can usually withstand a weight of 1500kg per axle.
Buyers seeking high-quality drop-over wire covers can also find those with anti-slip surfaces and radiant colours.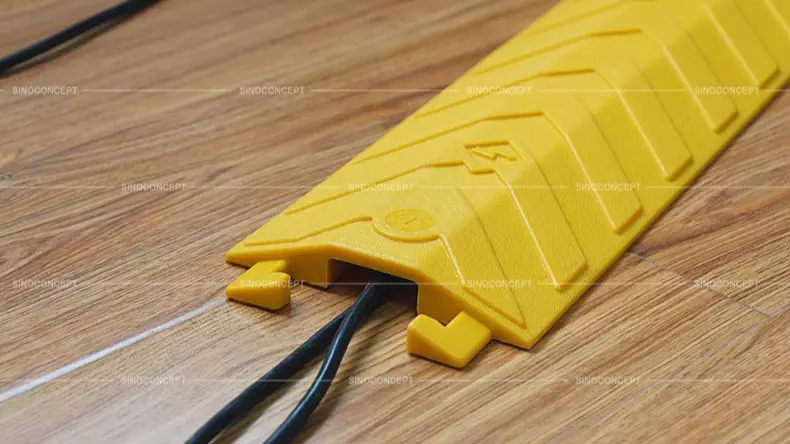 Hoses are one of the most important tubings to deliver water. These are also prone to trampling, and their thick sizes can cause pedestrians to trip. As a result of this, they're also to be protected. Hose protector ramps exist for this purpose.
These allow the hoses to be placed in a stable position. The best setups also feature interlocking dog bone systems for connections.
Made out of rubber, they come with reflective strips for maximum visibility. Hose connectors usually come with two channels; the best ones grip well to the ground.
As a result, they won't slip as force is provided to the hose while firefighting. Furthermore, these are built for heavy-duty applications as they can withstand around 9 tons of weight.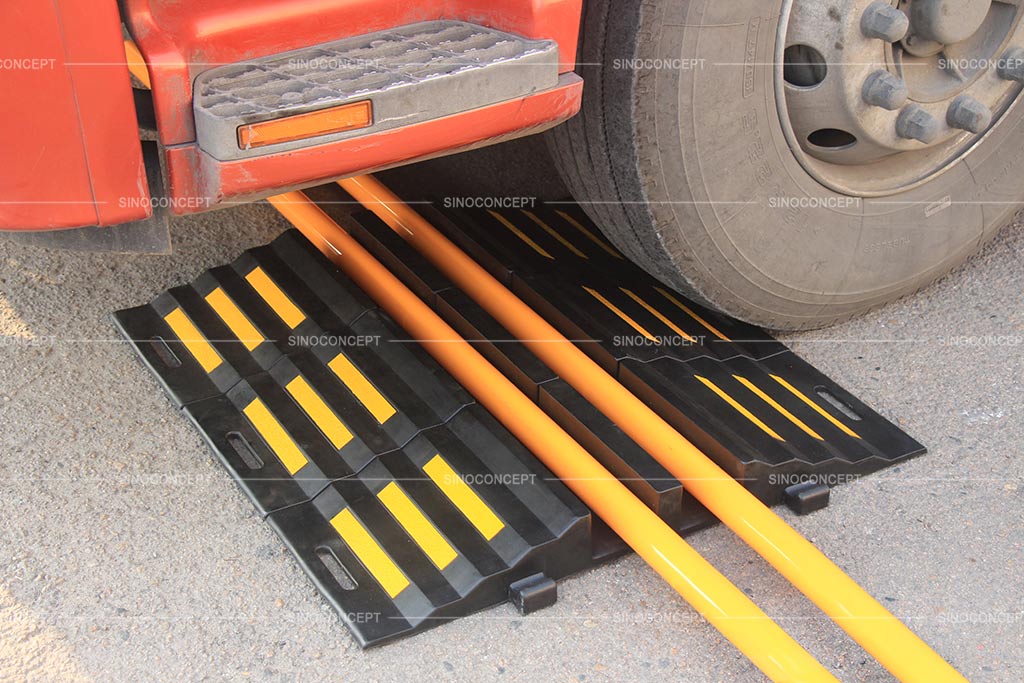 Light-duty and heavy-duty cable protectors
Another common term while shopping for wire cable protectors is light- and heavy-duty. These terms can confuse some buyers because of the difference in their capabilities and their prices.
While both can be used to hide wires, knowing their capabilities' differences is important. One should also understand where they're supposed to be implemented.
The light-duty ones are mostly not suitable for industrial usage. One can find these indoors, usually in office buildings and houses.
On the other hand, heavy-duty cable accessories are more oriented for factories, roadworks, and warehouses. They can withstand a lot more weight and are stronger. However, they are not recommended for use in people's homes because of their higher parameters.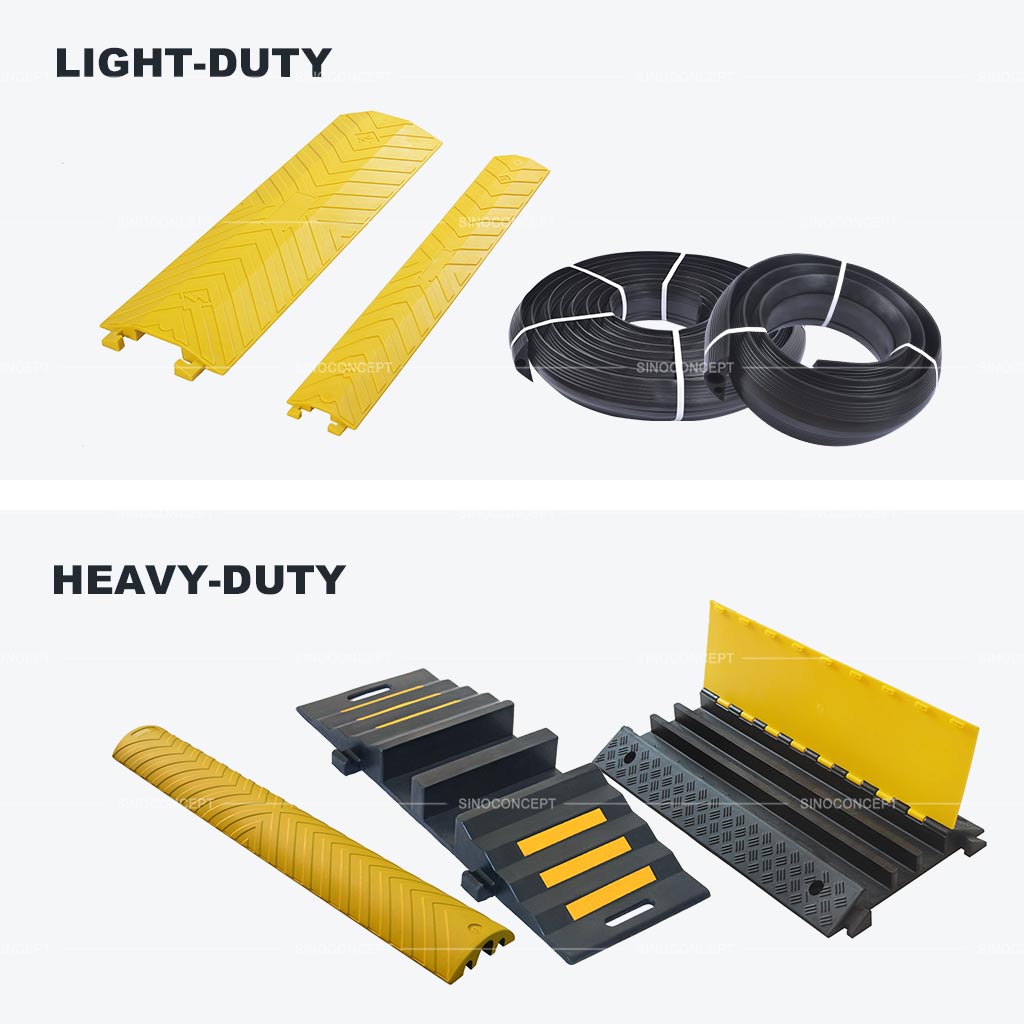 Sizes of cable protectors in the market today
As indicated above, cable protectors can be found in various sizes. In the United Kingdom, however, they are usually around 1.4-60 centimetres wide.
In the case of their lengths, one can expect to find these from 8 to 900 centimetres.
Before making a purchase, it is important that the buyer is aware of the space available and the size of the wires to be covered.
Very small cable protectors cannot fit in larger cables, which can be hazardous when considering floor cable covers.

It is a fact that electric wire and cable bundling is a nuisance and a safety hazard. This is why any job site or household manager must look to protect cables from harm while also keeping their space tidy.
However, there are some challenges while purchasing the right cable concealer.
The general conclusion is that one must conduct significant research before buying a cable cover. Before purchasing, the buyer should consider costs, dimensions (of the area and the electric cord), and their needs.