What is a cable protector?
A cable protector is an important cable management component. This is a cable cover that is used to protect all types of heavy-duty cords and hoses that are lying on the ground.
It not only offers cable protection to prevent workflows from being stopped. But it also protects the surrounding workers or pedestrians from tripping over the cables.
Cable protectors are implemented in a variety of different areas. These cable management solutions have applications in various industries and construction-related work sites.
Extensive knowledge of these protective measures is imperative. Anyone supervising safety in a job site must know everything about cable protectors and employ these accessories to prevent losses and injuries.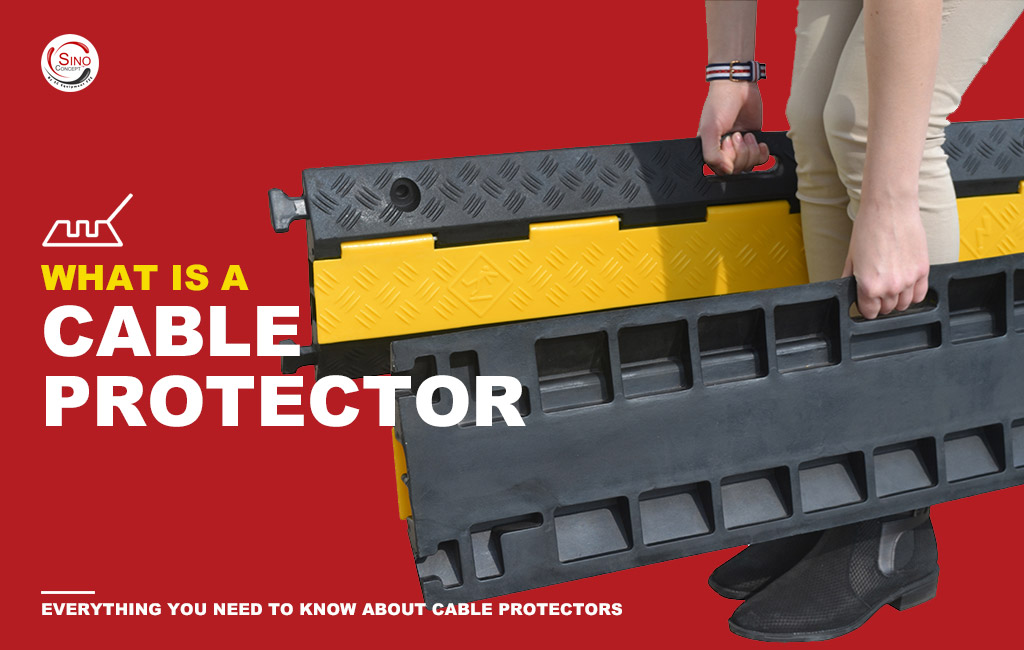 What are other names for cable protectors?
Cable protectors are known by several other names. Two of these are the cable guard and the cable ramp. The latter consists of a ramp that allows vehicles to drive over them.
At the same time, the cables pass safely below the ramp through the channels. These are available in several sizes based on weight capacities and are useful for different applications.
Cable ramps can be made out of several materials. For example, polyurethane is a durable polymer that is resistant to wear and corrosion. Even a plastic form can be sold in some stores for light-duty usage.
However, the most widely used ones are made up of vulcanized rubber. This is more suitable for some applications.
The most sought-after versions of these cable protectors come with anti-slip surfaces. If ramp-style cable protectors aren't suitable, drop-over cable protectors are also available. They take up shorter amounts of space than their ramped counterparts.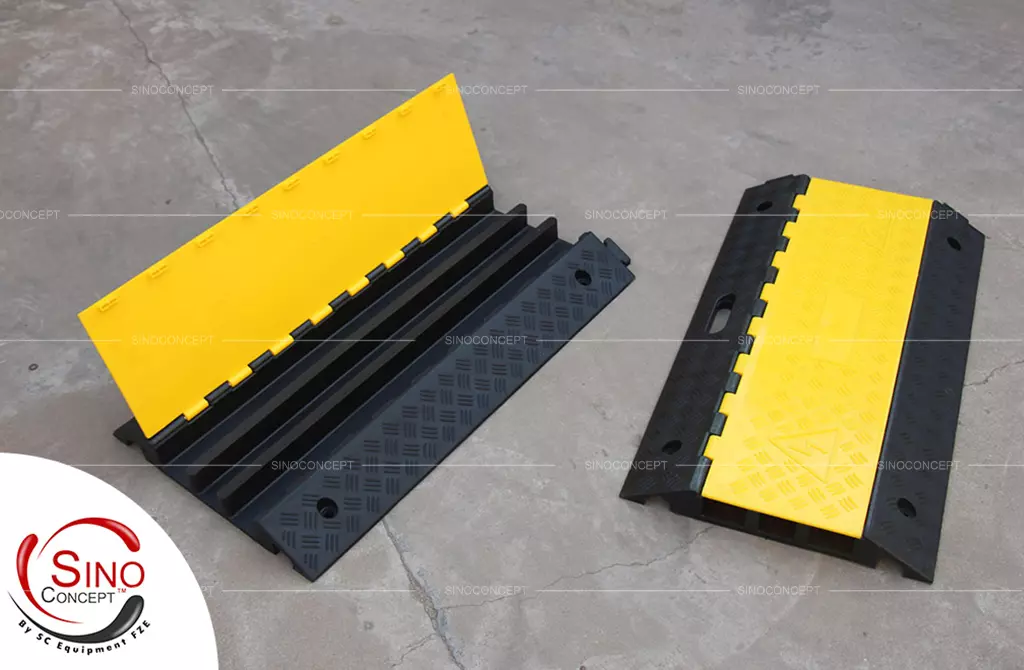 They can be used for wires and hoses. This makes them lightweight and provides a sturdier drop to the vehicles passing over. They are also categorized as cable covers. Cable covers are wire covers and are an effective part of wire management systems.
They're used to hide wires instead of bundling them, but they're more than just for concealing electrical wires.
They are important when organizing wires to tidy an event or job site. The good wire and cable covers are also created from vulcanized rubber, making them flexible and strong. There is a miscellaneous category as well.
This includes the hose protectors used to protect all types of hoses carrying water.
These cable covers are available in multiple sizes and behave as road bumps so other vehicles can pass through without blockage. They are useful for water applications, such as when firetrucks put out fires. They can support many tons of weight as a result of this application.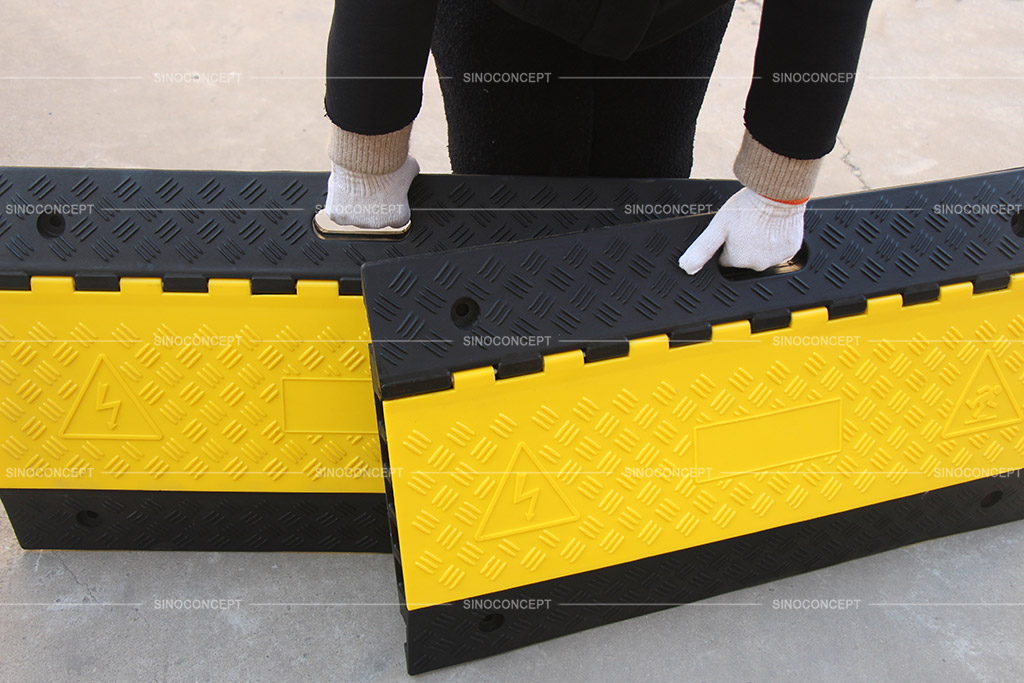 Top 5 frequently asked questions about cable protectors
Many people looking to purchase industrial cable protectors tend to be confused by some of the features offered in the market. Not being knowledgeable before choosing a cable holder can lead to them making an incorrect purchase.
This leads to them sacrificing their time, money, and efforts to correct their mistakes.
The following are some important FAQs related to cable protectors:
What are cable protector channels?
These essentially behave as tunnels for the cables to pass through. There are singular and multiple-channel cord covers that are available. They are found in 1-, 2-, 3- and 5-channel cable protection configurations.

Rubber vs. polyurethane cable protectors
Users often consider the materials for their cable protectors. It is a fact, however, that polyurethane is more flexible, durable and resistant to cuts. Each cable ramp is designed specifically for a load range.

Locking systems are required as wires and cables are long, so they need more cable protectors to be connected together. As a result, there are several locking systems, which can be different based on the brand.
Do colours matter when choosing a cable protection system?
The colours are important when choosing any cable protectors. This is because they need to be visible to the upcoming traffic.

Are cable protectors used for cell phones?
Users often confuse heavy-duty covers to protect cables with the ones available with chargers or chargers. However, industrial cable protectors are used for different and more enduring applications.

Where are cable protectors used?
A cable management system is required at any site where cords, wires and connectors are exposed on the ground. Cables are widely used for power transmission and connectivity.
In some places, the cables are placed temporarily as their positions are changed according to the needs of transmission on the site.
At the same time, there are many areas where the cabling is permanent.
As a result, they have temporary applications in roadworks and special events. Roadworks equipment is consistently being moved to the road to be constructed. This also applies to construction sites where buildings are being built. Events, ceremonies, and occasions also use cords and cables for connectivity.
So, cable protectors are vital to cover the many cables that can be a trip hazard for the workers.
They also have many permanent applications and can be used indoors. A prime example is a warehouse where forklifts can drive over the cables and damage them. Factories utilize the most wires, cables, and hoses.
These are not just for cable routing, but they're also used because cable bundles are unsightly as well. This is why cable protectors are a major requirement in industries.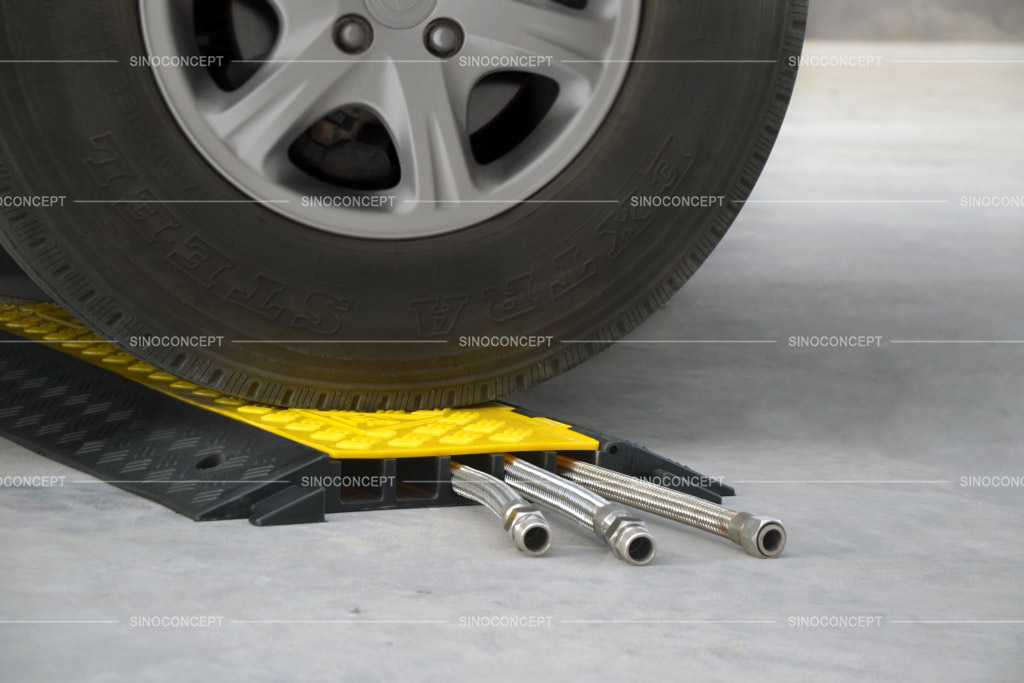 How much weight can cable protectors withstand?
A cable protector can be of several types, but the most common is the ramp type. This is dual purpose as it behaves as a cable guard and allows vehicles to drive over it.
But there are levels to its capabilities. One mustn't overload it beyond its capacity as it can lead to failure while also allowing the cables to be damaged. This can even cause fire and adversely affect the vehicle passing over it.
The minimum weight a cable protector can manage is around 900 kilograms. These are light-duty methods to protect and hide cables. This type of cable guard can be used where there's an influx of pedestrians, such as on a footpath.
It is unsuitable for handling most vehicles but can manage cyclists. For vehicles, medium-duty cable protectors are used; these can handle ten times this weight.
Heavy-duty cable protectors, such as buses, trucks, forklifts, etc., should be used for heavy traffic. These can withstand weights of more than 9 tons. These can be used in warehouses and industries as they're more expensive and durable for regular applications.
The cable protectors that can manage more to hold more weight fall into the extra heavy-duty category that isn't needed for most applications.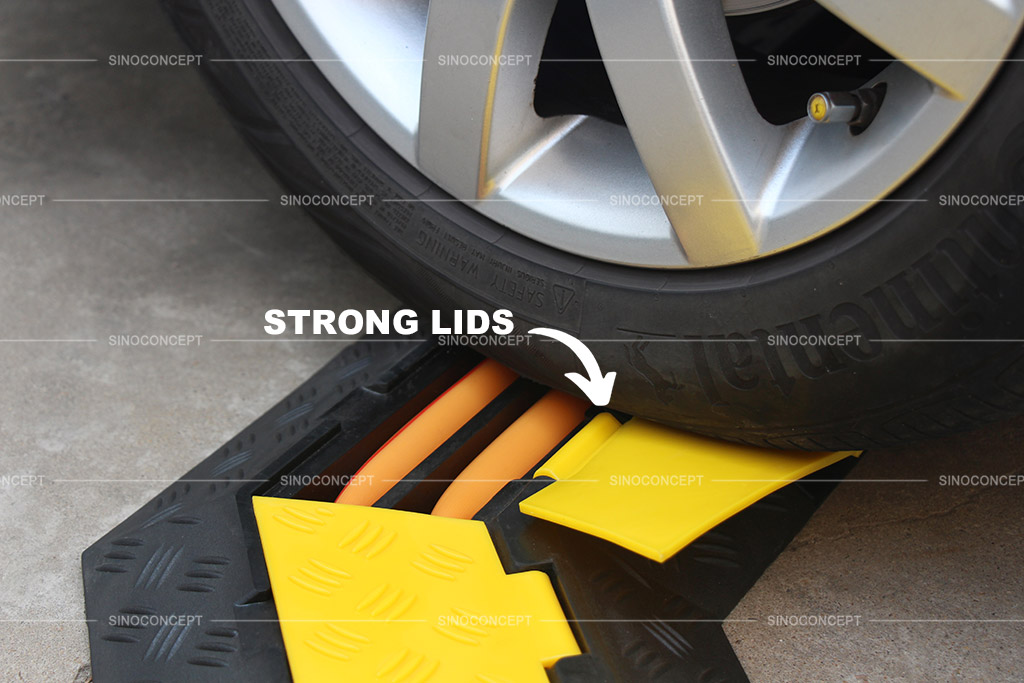 To conclude, it is imperative that electrical wire cable covers and protectors be used.
A cord organizer or protector can protect the cable wire and the workers moving around it. It can also be beneficial to the city and foot traffic during roadworks as well. Before buying them, however, one should conduct research on them.
For example, the consumer should check the type of cable protectors, the number of channels they have, the material they're made of, etc. This is important information that one must know to make the purchase fruitful.
To learn more, we advise you to refer to the following pages: