Traffic cones are an essential piece of temporary traffic control equipment. Our PVC cone selection is used to regulate traffic, warn drivers about potential hazards and dangers along the road, and delineate or separate driveways. Our road cones are an excellent choice for short-term traffic management and guaranteeing the safety of pedestrians and drivers.
We at Sino Concept offer a wide selection of traffic cone supplies at attractive and low prices. Since 2009, we have been manufacturing our plastic cones in our in-house factories in Qingdao, China. That's how we understand the high importance of providing reflective PVC cones at cost-effective prices with excellent product quality. Our strict quality control measures, careful packing, and European management team will be a great help in your business!
Buy high quality but low-cost reflective sleeve cone supplies directly from the manufacturer
We offer the following safety cone models at attractive prices:
Our highway cone selection is perfect for improving safety during federal highway maintenance or roadway projects. Also, the highly reflective sleeve strips enhance visibility during the day and nighttime.
We offer a broad street cone selection and accessories to fulfil your traffic management supplies.
We manufacture our traffic cones with a 100% virgin plastic injection technique that offers optimal product durability. Besides, our safety cones withstand years of challenging weather conditions.
Are you a reseller of highway management equipment or a manufacturer of traffic signs?
Is your company specialising in roadway signage or street furnishings such as post guard bollards, single post cross bollards, parking signs, and post guard bollards or bollard posts?
In any case, we are sure that our street cone models would be a great addition to your product range.
Do you need information regarding delivery times, cone price UK or product accessories? Please feel free to contact our professional sales team today. We are glad to be of your assistance.
Road cone supplies by Sino Concept
To meet all your needs, we divide them into two main categories:
Category 1: Standard-type traffic cones;
Category 2: Weighted base heavy-duty roadway cones.
And more than the traffic cones below, we also manufacture a safety cone with a 100 cm height. This large plastic cone with a height of 1 meter is the largest cone size used in the European market. Because of their large shape, they are ideal for busy traffic areas. Also, this 100 cm reflective cone has incredible stability and visibility.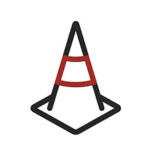 Construction cone – 30 cm height
Convenient and easy to handle, our injection-moulded 300 mm caution cone is ideal, especially for private traffic control.
We advise using these safety cones in commercial areas such as shopping centres, parking lots, car parks, sports events, driving schools, camping areas or football fields.
Because of their smaller size compared to our higher 50 cm and 75 cm roadway cones, the 30 cm cone is unsuitable for areas with higher speed limits.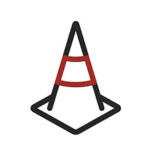 Our 50 cm height cone is primarily famous in the United Kingdom (UK). The 500 mm height provides stability and visibility for low to medium-traffic areas. This type of 50 cm PVC cone is also known as a street cone.
For example, this single cone is ideal for small construction areas to secure the safe passage of vehicles while ensuring employee safety.
Due to its convenient size, it takes up tiny space and can be easily transported, for example, to temporary work sites.
In addition, the two highly reflective tape films allow them to be easily spotted during low-visibility conditions or at nighttime.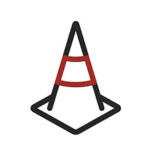 Traffic cone – 75 cm height
The higher 75 cm height safety cone offers more stability and safety. Indeed, the 750 mm cone is an ideal choice for long-term roadway works or maintenance projects.
Also, they are excellent to place on highways, roadways, and national roads.
Due to the higher height, it is a reliable solution to improve the safety of roadway maintenance operators, for example, on major roads and motorways.
In addition, our 75 cm high warning cone is standard equipment on municipal roads in the countryside and urban areas.
Advantages of using our wholesale traffic safety cones

Standard traffic cone for an easy handling
We integrated a specially structured anti-slip surface onto our stackable cones.
The enhanced grip makes them easy to carry and allows quick set-up to secure your temporary traffic management plans.
At Sino Concept, we always try to optimize handling and make our product installation more profitable for you.
With this anti-slip surface, our traffic cones will be installed fast and without damage.
To get more information about how we improve our products to be easier to handle, don't hesitate to contact us!

High-visibility traffic control cone
We recommend choosing our safety cones with class 2 reflector strips to make the highway construction marking as visible as possible.
Indeed, our highly reflective tapes will allow excellent visibility of your temporary road markings day and night. And our folding cones with class 2 reflective striping are optimal for all road management measures.
Indeed they secure smooth traffic flow of motorists and pedestrians. Besides, we can also apply our weighted highway cone models with elastic prismatic high-intensity retroreflective sheeting.
We recommend class 2 reflective sleeve films to ensure street cones stay visible in poor light conditions.

Excellent quality weighted PVC traffic cone
To enhance the quality of our parking cones, we manufacture them of carefully selected bending fluorescent plastic.
Also, we guarantee that our standard and highway cone perform excellently through impacts and climatic hazards.
Please note that some of our heavy-duty road cones have built-in heavy bases: They are incredibly durable – even in a traffic hazard or collision, the cone and base piece will stay connected.
Moreover, the heavy base safety cone gives excellent stability thanks to the lowered centre of gravity. Indeed, we at Sino Concept have several weighted base cones available to fulfil your safety cone supplies.
Which type of clients acquires our reflective cone supplies?
We manufacture cone supplies for wholesalers, construction professionals, pavement marking companies and road signage companies.
In addition, the work cones we manufacture are compatible with the code EN-13422 standard. Feel free to contact our sales staff for more information, for example, on our product price per unit.
If your company needs to be supplied with products related to car park barrier systems, barrier gates, speed limit signs, highway safety signs, guide signs, and speed control signs? Or information signs, highway signs, or stop signs, we are sure that you could benefit from working with us.
And for any customer, we recommend accompanying our reflective cones with our expanding construction barriers and road beacons.
Which class of reflective strips to choose for warning cones?
We highly recommend choosing class 2 films for public roadway cones, even though it is possible in a private setting to use:
Standard fluorescent PVC cones;
Sticking white types of vinyl strips;
Or apply white silkscreen bands.
As a direct manufacturer of temporary traffic control devices, we can modify the reflective films according to your requirements.
A short guide to help you to choose the correct reflective class film according to the use you need:
Stackable safety cone without retroreflective strips: Can be used only during the day and particularly on private roads;
Construction cone with white films or class 1 reflective film: Recommended for daytime use, in urban areas and outside city areas;
Collapsible cones with class 2 or prismatic film: Provides excellent visibility even in low-visibility conditions. Indeed, they are ideal for outside city areas on separate carriageways such as highways.
Customisable wholesale PVC traffic road cones
Many roadways marking businesses, public works, and communities ask for custom-made safety cones to better identify their work zone equipment. Indeed, we can apply a logo, image or text with the name of a company into the roadway cone.
Important to know: It is essential to print the desired text between the reflective road cone stripes not to alter the film's function. And for your information, the printing method we use at Sino Concept is screen printing.
Our plastic cone selection will be a great addition to your business if it relates to caution signs, wheel chocks, post guard covers, safety footwear, pavement markings, security signs, safety boots, or traffic safety product accessories.
Mostly our UK safety cones are of colours orange and white. However, we can also personalise the colour and offer them in various colours such as red-orange.
Different colour PVC cones are available for different purposes.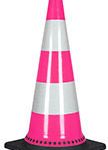 Pink roadway cone
The pink cone is mainly used in nursery schools, primary schools or nurseries. Also, they are an excellent choice for birthday parties or events for children.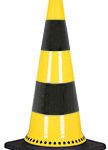 Bright yellow & black maintenance cone
The black and yellow-coloured cone is intended mainly for pavement marking businesses. Indeed, the yellow and black colours are fantastic for indicating a temporary hazard on the road and prohibiting dangerous areas.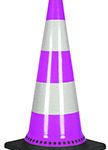 Purple road safety cone
The purple cone is especially popular at sports events, basketball matches, parties and indoor and outdoor events. In general, people love using them at football matches.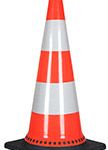 Plastic orange cones
Safety orange cones are the most popular in the industry, as the bright orange cone is ideal for traffic management on public roads. Indeed, it is a classic construction site cone colour.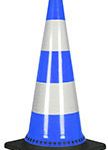 Blue road cone
Blue cone is commonly used at sports and recreational events and exhibitions. They may also be utilised to direct vehicles and increase pedestrian safety in private car parks.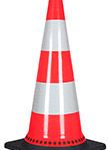 Red road cone
A red roadway cone is mainly used to signal or represent an unsafe or prohibited area.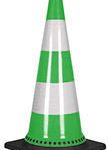 Green warning cone
A green cone is ideal for instalments on entrances of construction sites or where the green colour matches the facilities.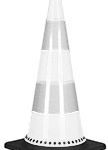 White parking cone
A white parking cone is ideal for valet parking areas and to mark out temporary parking areas.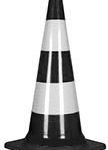 Black PVC cone
A black PVC cone is an excellent choice for parking management, for example, in valet parking areas or entrances of shopping centres.
Sturdy materials of our crowd control cone
Our construction cone selection benefits from excellent durability due to its manufacturing material and pure PVC injection process. Indeed, the solidness of our roadside cones makes them ideal for temporary traffic management projects and fulfilling your product supplies.
As a traffic safety product manufacturer since 2009, we have acquired the know-how to meet your strict requirements. Indeed, our objective is to help you succeed in your business. To discover more information on our entire cone selection, please get in touch with us – we are waiting to be of your assistance!

Safe and durable driveway cones
Another crucial aspect to consider is road safety.
We ensure that each PVC safety cone our factory produces has a long-distance visibility guarantee thanks to their fluorescent retroreflective films.
Indeed, day and night, each collapsible road cone must ensure maximum efficiency to avoid any potential road accident.
Besides, we recommend contacting us if you require polyethene or recycled PVC traffic cone models from local wholesalers or suppliers.
Like famous brands in the UK such as JSP, Melba or Swintex, we at Sino Concept can highly meet your requirements.

Competitively priced low-cost PVC street cones (VAT excl.)
Are you interested in our safety cone price? We do not provide famous brands (JSP, Swintex, Melba) since we manufacture our own high-quality traffic cones at factory-direct prices.
Thanks to our in-house factories and internal quality controls, we have greater control of the raw materials, quality and, thus, pricing.
Indeed, when operating with us, you work directly with a factory located in Qingdao, China.
That's why you can benefit from working with our European management team and getting street cones that make you want to purchase rather than rent.
Please note that we do not include VAT (excl.) in our cone prices.

Worldwide traffic cone delivery service available
Do you require immediate delivery of numerous traffic cones?
As a worldwide traffic cone manufacturer and supplier, we offer reliable shipping service to any delivery destination.
Indeed, our safety products are available to traffic professionals like contractors and utility companies working on highway construction sites.
To ensure safe delivery, we pack our folding cones into sturdy wooden crates and keep you updated throughout the delivery.
Please contact us for further information on our product range, accessories or delivery conditions. Our versatile and energetic team is waiting to be of your assistance.
To whom are our folding road traffic cones suitable?
Our roadway cone selection complies with European standards (sizes, colour, weight, stability). However, if you need a customised safety cone model, we will do our utmost to produce a PVC cone that meets your expectations.
They are ideal to be used by numerous professionals in the UK road construction industry. Indeed, they can be used to mark out worksite's road restrictions and dangerous areas due to digging or excavation. Whether you require temporary traffic management accessories or new car park bollards, we deliver affordable products of excellent quality at Sino Concept.
In addition, we believe that our road work cones would be an excellent match for your company if your business is related to parking signs, sign stands, no-parking signage, marking tape, road flares, receptacle trash bins or street curbs.
So we can assist if you need reflective cone delivery in the United Kingdom. Indeed, we deliver our products with speed and precision to ensure you receive plastic cone supplies on an agreed schedule.
Besides, our wide product selection includes traffic calming and parking equipment such as speed bumps, speed humps, wheel stops, sandbags, cable hose protector ramps and street furniture such as parking bollards, street benches, litter bins, and expanding steel barriers.
To discover our entire product list, please view our new catalogue page, or feel free to contact us if you require more information regarding our product delivery conditions, price information or safety equipment product accessories.