Take 5 minutes to learn about bicycle parking racks standards and regulations!
Cycle racks are used worldwide to make bike parking safe, secure, and convenient. However, their design, construction, and installation regulations are different everywhere. Bike parking regulations in your country may differ from another country.
This is the reason it is recommended you first learn about cycle racks' standards and regulations and then purchase a bike stand that follows those standards or regulations. Don't hesitate to find out everything you need to know about cycle racks.
Don't know the basic bike parking standards and regulations? Worry not; this article will tell you precisely what you need to know. Keep reading to understand the standards and rules for bicycle safety stands.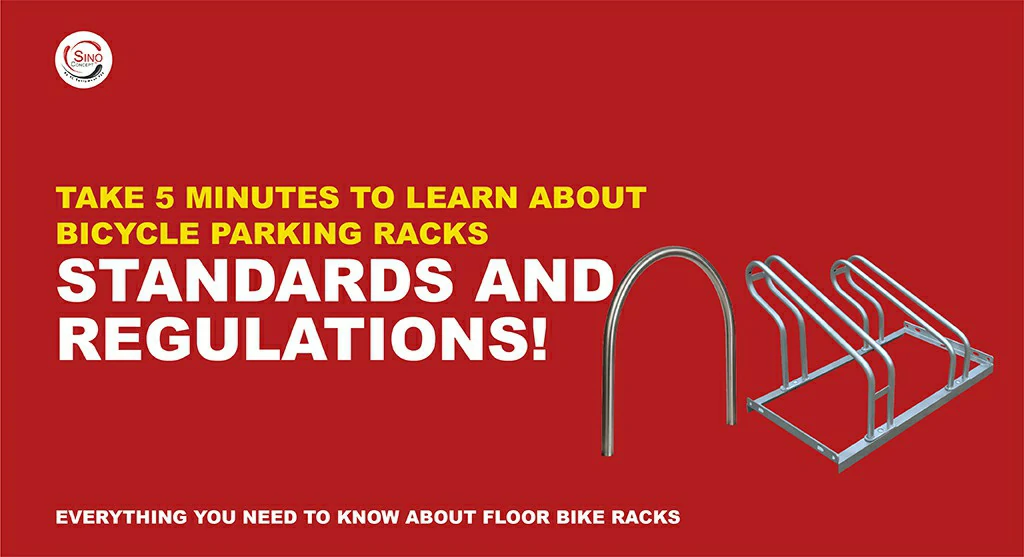 Standards for the best bike rack dimensions
Wall-mounted and floor-mounted bike storage stands are created in different lengths, widths, and thicknesses. You need to know which dimensions are standard to select a product accordingly.
Standards for bicycle racks and bike lockers differ from area to area. You should contact your local municipality to learn about parking standards and regulations.
However, here are some measures that are generally followed in most countries.
A standard bicycle or bike storage rack should be about 27 inches long. If you need the cycle storage rack for junior cycles, it is recommended to select 24 inches long bike storage racks or car racks.
Likewise, the height of a standard bicycle stand or bicycle parking rack should be nearly 33 inches. It should be 30 inches for junior bikes or cycles.
Discover in this article: Standards for bike parking rack dimensions!
Facts about Sheffield Stand dimensions
Sheffield powder-coated bicycle parking stands are among the most popular and secure bike storage hitch racks worldwide. The reason behind their popularity is their simple structure and usefulness.
Here are some facts about this famous form of mountain bike stand. These facts will show what makes them different from the rest of the parking stands.
Manufacturers produce Sheffield City bike stands and bollards in numerous different sizes. This gives users plenty of options to choose a bike rack, bike hitch rack, truck rack, rear rack, or hitch-mounted bike rack size that suits the size of their road bike frame or bike wheel.
The most common size of a Sheffield floor stand is height: 1,100mm, width: 750mm, and diameter: 50mm.
The good thing about this bike stand is that its size can be customised per the user's needs and requirements.
When people install a heavy-duty Sheffield parking stand using the in-ground method, they measure the total rack height by excluding the size of the rack legs fixed within the ground. Let's say you need a folding bike rack of 33 inches. The installer will select 2 inches of the rack within the floor during installation.
Therefore, you must get a 35-inch street bike stand so that you don't feel the reduction in height after installation.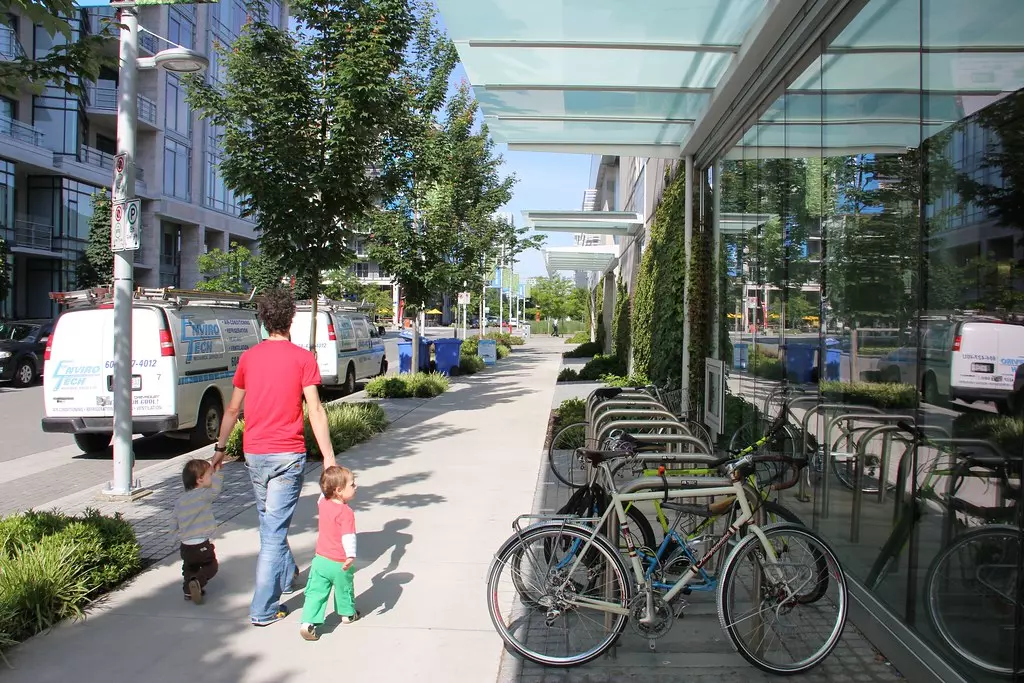 Discover in this article: Facts about Sheffield stand dimensions!
Where should cycle parking be implemented?
You should establish a free bicycle storage system in places where cyclists and bikers often park their vehicles unsupervised when they cannot find any other secure and suitable location. It can be created in a residential building, office, university, school, or public space.
Cycle parking has two basic types:
Short-term bicycle parking spaces
Long-term bike parking areas
Both forms have different requirements. Short-term parking can have a car bike rack, hitch mount bike rack, secure bike storage rack, or front wheel car rack to lock an upright bicycle frame, handlebar, or bike tire for up to two hours.
It would help if you established short-term parking facilities or cycling facilities in areas where:
There is high pedestrian activity, which helps prevent robberies and ensures ease of use.
The area is well-lit, and cyclists can quickly locate floor-mounted racks.
The parking space is within 50 feet of the main entrance of the destination.
In long-term bike storage facilities, cyclists park their vehicles for longer (up to days or months). Therefore, they have different requirements than short-term event parking lots.
It would help if you created a long-term bike garage or storage solution in areas where:
Racks are installed in enclosed rooms or lockers.
Cameras or security guards are within 100 feet of long-term parking spaces or garages.
Indoor bike racks should be visible to employees to ensure parked bike frames are organised and protected.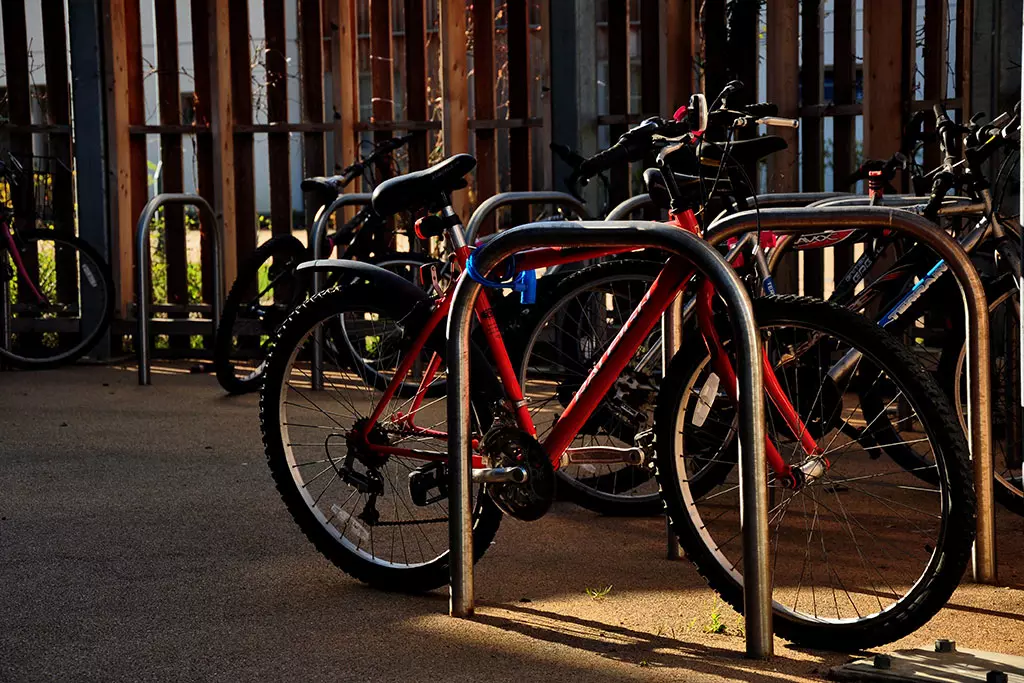 Get to know the regulations for bike racks in the UK
There are no specific laws about a new bike work stand, wall rack, roof rack, galvanised bike locker, bollard, locker, freestanding custom bike rack, or truck bed bike rack.
However, local municipalities have created some rules and regulations about bike garage storage. You need to follow them to create an effective free bike storage system.
Here are some regulations for bike stands in the UK:
You should install a bike stand in a well-lit area so pedestrians can see it and prevent unwanted collisions or tripping hazards.
A sidewalk bike rack should be placed so parked vehicles leave sufficient space for foot traffic. Any part of parked vehicles should not come beyond the curb.
The distance between the two installed parking stands should give enough room for cyclists and bicyclists to easily park their vehicles without colliding with neighbouring vehicles or racks.
The standard height of a bike stand used for regular bikes and cycles should be 33 inches. It will reach slightly above the top tube of the parked cycle.
The standard thickness of a bike stand tube should be 1.5 inches to 1.75. Users can easily use U-locks and cable locks on an inverted rack having the mentioned tube thickness.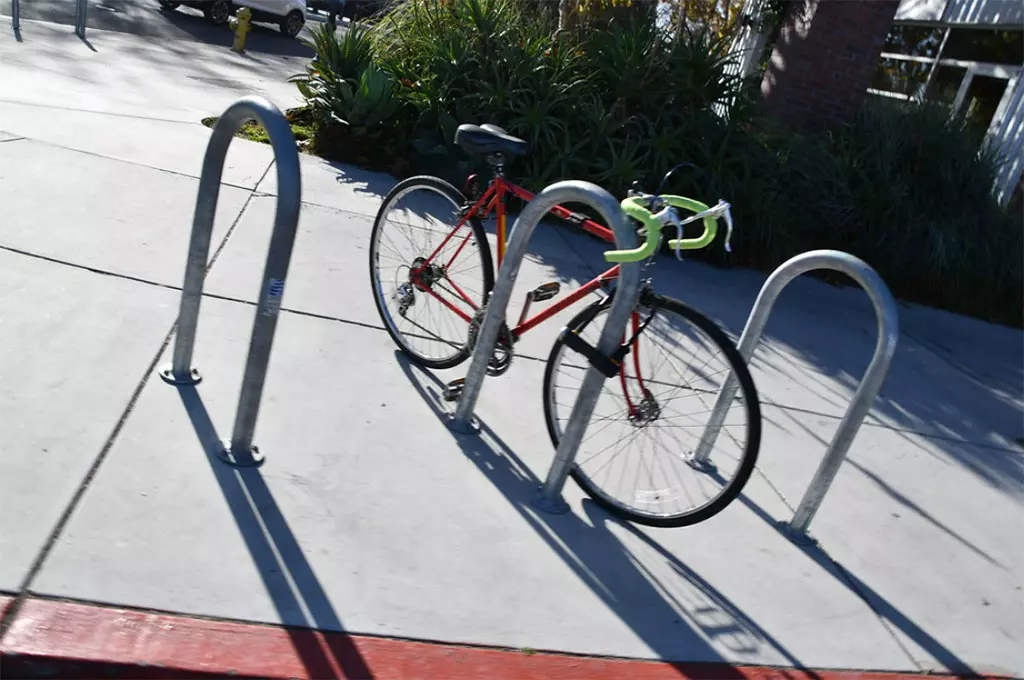 Characteristics of a good bike parking space
Your bike parking area should be created thoughtfully so people can get the most out of it. Here are some characteristics that define good quality bike parking.
It is well-organised and designed. The distance between adjacent racks and obstacles is adequately maintained so people can quickly bring in and take out their vehicles.
The bike storage location should be accessible for a bicyclist or cyclist. There should not be any stairway, slope, or huge obstacle around it.
Visibility of the area should be increased to increase the usage of the parking lot. Use bright red racks, place road signage, and mark the ground to increase visibility.
Use the in-ground installation method in areas that are prone to theft. This method is considered the safest bike installation because it ensures the rack is firmly grounded.
Conclusion
Bike parking and storage racks are installed on sidewalks and parking spaces. You cannot just install them in your parking area as you want. You must follow specific standards and regulations to use and install these devices accurately.
The size of the bike rack should also be according to the set regulations. Otherwise, it may not be as effective as for cycles.
Before you create your bike storage space, ensure you learn all the basic standards and regulations for bike rack installation.
To learn more, we advise you to refer to the following pages: