What is an ORCA lane separator?
Lane separators are used for numerous traffic management purposes. However, their main role is to create safe and separate cycle or bike lanes. You can also use them between two vehicle lanes to prevent vehicles from leaving their lane or entering the other lane.
There are multiple brands of lane separators, and the ORCA lane separator is one of them. It is different from the other brands based on its structure, shape, and design. It has one concave face while the other face is a half-battered kerb in shape. For more detailed information, we suggest you check our brief purchasing guide of cycle lane separators!
The former face is kept towards the cycle lane to make it cycle-friendly, while the latter face is kept towards the vehicle traffic lane to prevent vehicular intervention.
This article explains all that you need to learn about ORCA lane separators and whether they are suitable for your cycling infrastructure or not.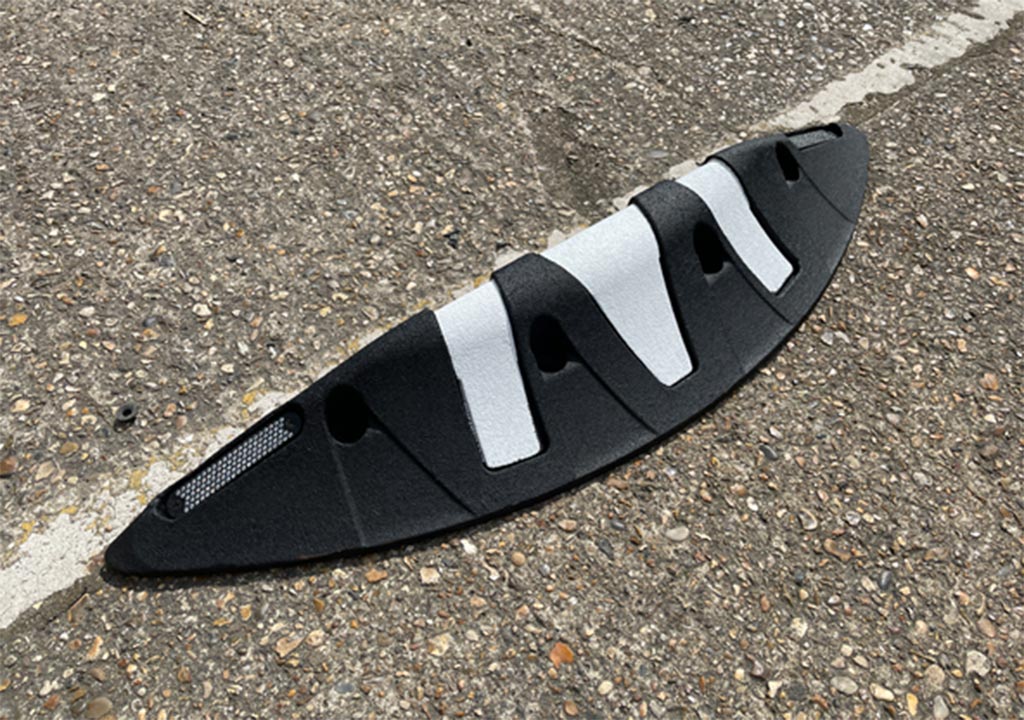 A brief introduction to ORCA lane separators
ORCA lane separator is a popular brand of lane separators that is primarily used for creating light segregation for bikers (also called bicyclists, cyclists, bicycle riders) and motorists to reduce collisions and offer needed protection to riders.
It is a stand-alone product, which means you can use them by placing them at a distance from each other. You do not have to place each product with the next one or create a proper line of lane separators to create a bike route (also called cycle path, travel lane for bicycling, bike lane, bike-friendly bikeway for cyclists and cycleway), and side path for pedestrians.
ORCA lane separators are installed within protected bike lanes (also named bicycle routes, bicycle lanes, bike routes, separate lanes, and bikeways) by the transportation department. The distance between two ORCA lane separators differs from one location to the other. However, they are typically spaced 2.5 metres apart.
Their two faces differ from each other. The half-battered kerb face is kept towards the motor vehicle, motor traffic, or vehicle traffic side. On the other hand, the other concave face is kept towards the cyclist, bicyclist, and motorist to create a bicycle-friendly cycle lane (also named bike path, protected bike lane, or cycle track) or any other cycling infrastructure.
There is no need to excavate the road to install them on a roadway. You can simply bolt them down and save time. Since they are stand-alone products, they cause minimal disruption to a pedestrian and people biking and walking.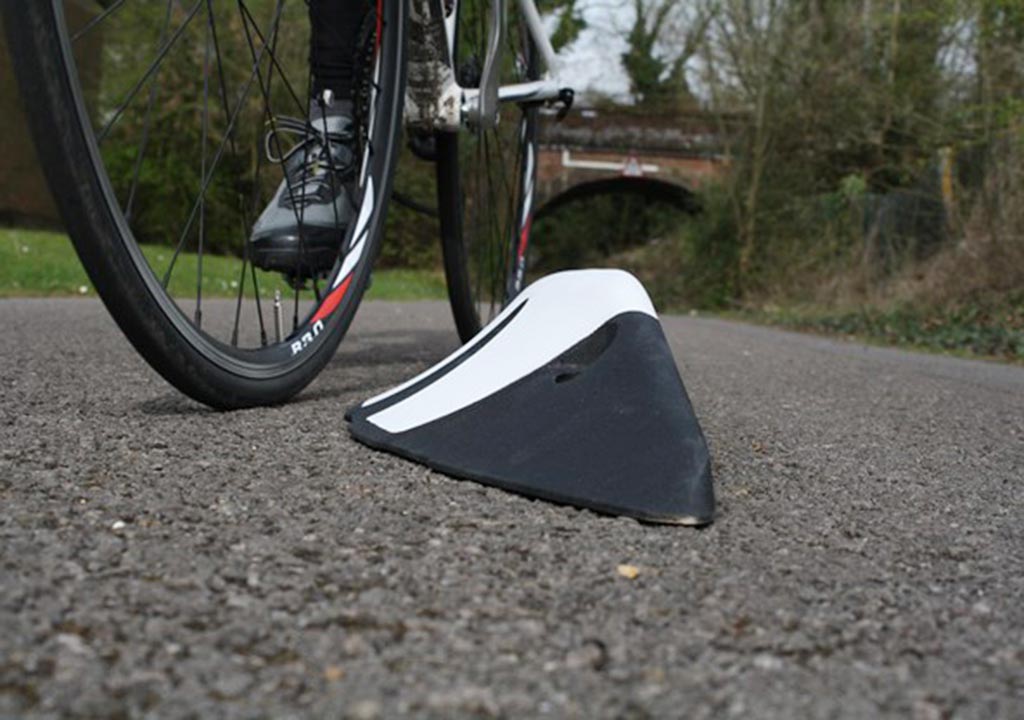 Pros and cons of using ORCA lane separators
ORCA lane separators are very beneficial for their distinct structure, formation and other features. They can be used as a traffic calming and cycle lane defender tool.
Here is a list of the popular benefits of using ORCA lane separators.
You can install them separately at a particular distance. This helps people who are riding a bike and other similar vehicles to enter or exit cycling tracks, also called bicycle lanes and cycle paths, at different points. It also allows emergency vehicles and police vehicles to use bicycling or cycling tracks when they have to reach their destination fast.
They are cycle-friendly, which means their material and structure are designed while considering a cycle track's basic needs. Their inner concave surface protects the tires of bikes and other vehicles travelling on the lanes.
They are made up of recycled plastic, which makes them good for the environment. They also do not require excavation for installation. You can install them by using bolts only without needing any heavy equipment.
They have highly visible markings on them that make them visible to bicycles and vehicular traffic even when the road is dark. It helps in preventing crashes between lane separators and people on bikes.
ORCA lane separators are very effective in channelizing cyclists and motorists. They are manufactured in multiple sizes so that you can get the size required for a particular bicycle infrastructure or cycle infrastructure according to your basic needs.
There are some disadvantages to using ORCA lane separators.
Some of these cons are described below.
They are made up of plastic, which might not be as reliable as some other materials. It may not tolerate extreme weather conditions.
ORCA lane separators are spaced apart, creating enough distance for motor vehicles travelling on roadways, driveways, complete streets, crosswalks, crossings, and roundabouts to enter the cycle lane as well.
What to consider when purchasing ORCA lane separators
Since there is a huge variety of ORCA lane separators available in the global market, you should be aware of the elements that you must consider when buying these products. Having knowledge beforehand will help you make a good decision and choose a product that can meet your needs better than the other products.
ORCA lane separators for bicycle safety, bicycle parking, physically separated bicycle lanes, sidewalks, bicycle transportation, on-street parking, and city transportation are manufactured in multiple sizes. You should buy an ORCA lane separator that is suitable for the bike lane in which you want to install it. It should neither be too large nor too small for the lane.
An ORCA lane separator, which people on a bicycle can easily see even when far away from it, is considered safer and better. Therefore, buy a product that is of bright colours or has reflective tape on it.
Most ORCA lane separators are made up of plastic. However, some can also be made up of rubber. Both materials are suitable for different locations. Therefore, choose a material that goes well with your needs related to traffic control or cycling facilities.
Different ORCA lane separators have different installation and spacing guidelines that vary from city to city. Check your city's lane separator rules and regulations before buying them.
Guidelines for the use of ORCA lane separators
The general guidelines for ORCA lane separator usage in the UK are described below.
When installed in a clear zone, ORCA lane separators should be installed such that they do not block the pathway of motor vehicles.
They should be well-maintained during the winter season when snow can accumulate on them and cause hindrance. If you are installing them in a high turnover area, they should be removed temporarily during winter to improve snow operation.
It is recommended to keep a large distance between these separators so that vehicles can pull into the bicycle lane to give way to an emergency vehicle.
It is recommended to avoid installing lane separators in public parking areas.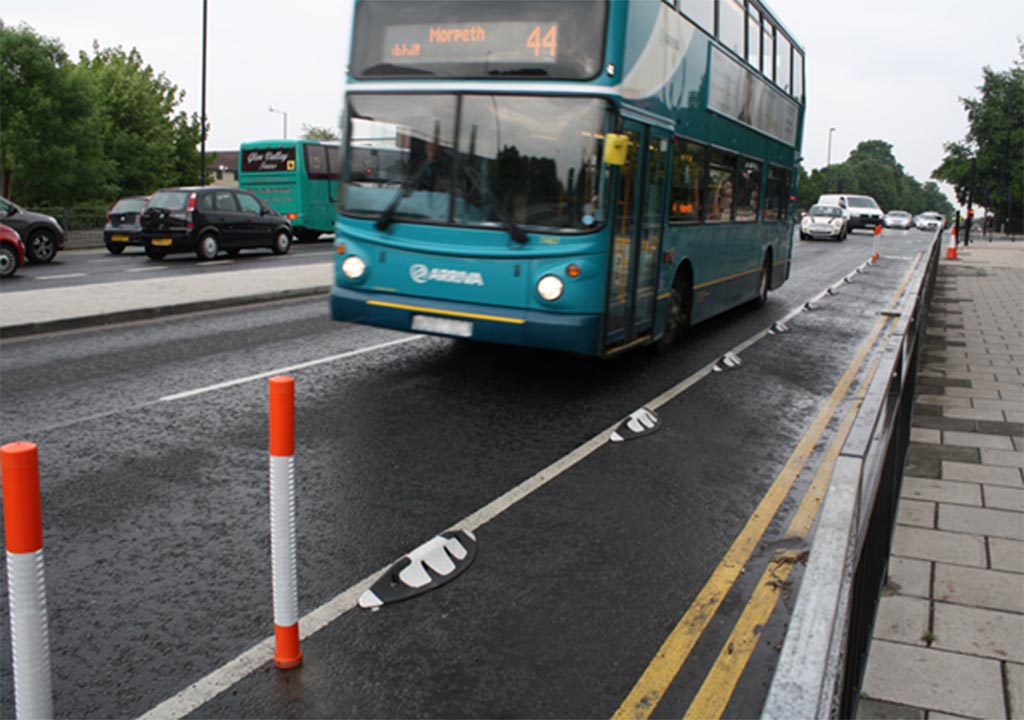 ORCA lane separators are a great traffic management tool that you can use for many purposes. You can use them to separate one traffic lane from the other or create a separate cycling lane.
They have distinct structures because of the different shapes of their faces. One face is a half-battered kerb face that prevents heavy vehicles from entering a cycle lane.
In contrast, the other face has a concave shape that makes the cycle lane safer and prevents damage to cycle or bike tires when they collide with the lane separator.
ORCA lane separators are available in different sizes and colours. You should select them according to your needs and requirements so that you can make the most out of them.
To learn more, we advise you to refer to the following pages: