What is the role of cycle lane dividers?
Cycle lane dividers mark or divide lanes on roads by physically making routes for bicyclists, motorists, cars, buses, and other motor vehicles. These lane dividers are ideally traffic calming measures that greatly help to make a steady flow of traffic by reducing crashes of bicycles with motor vehicle traffic.
The specific cycle pathways or bicycle travel lanes make crossing the road easy and promote bicycle culture. In this way, many bicyclists or people on bikes safely travel, keeping in lanes on highways, complete streets, parking lots, and other vehicular traffic areas.
Thus, cycle lane separators ensure a safe zone; therefore, getting everything about lane dividers is essential. These mentioned roles of lane dividers will significantly help in understanding their basic use.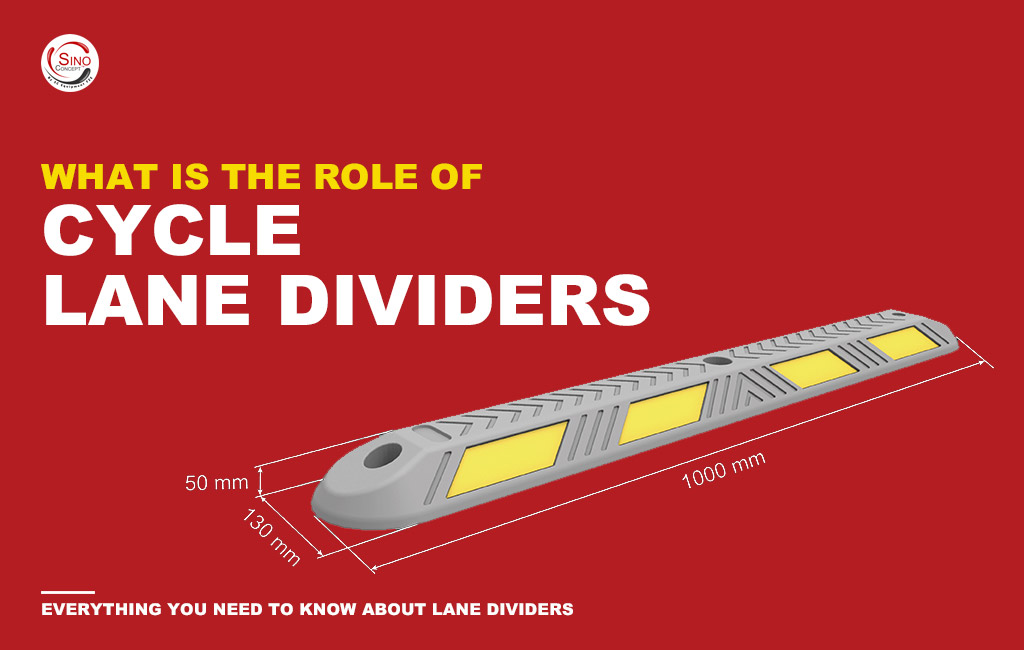 How do cycle lane dividers work?
Cycle lane dividers are simple lane segregating and traffic-controlling devices that ensure cycling pathways or cycling routes. These lane segregations mark a secure line by making physical boundaries for bicyclists, motorists, buses, and other vehicular traffic.
As traffic is quite fast at roundabouts, junctions, intersections, and highways, and in such an overspeeding situation, riding a bicycle is no less than a danger.
So, to give a separate route, these lane dividers are installed on routes as per traffic flow, and separate bicycle and motorbike lanes are made.
This oncoming traffic is divided into different lanes, as drivers can drive as per the allowed lane speed. When every vehicle goes steadily, there are neither chances of vehicle collision, but many other road traffic issues are also solved.
In addition to high-traffic roads or curbs, you can also use lane dividers in city streets. Sometimes, a street is used as an alternate route due to a road construction project or for any reason, so you can make your street safe for permanent residents and other road users.
The same is the case with highway roads. In fact, these are busier roads with countless scooters, bicycles, buses, cars, and emergency vehicles.
Despite all road signs, road markings, traffic lights, stop signs, and speed limit signage, drivers undermine traffic rules, and it becomes vital to segregate traffic as per their speed.
Cycle lane dividers also create a physically raised boundary between vehicle pathways and walkways. This division makes walking zones safe and helps pedestrians walk at crossroads easily.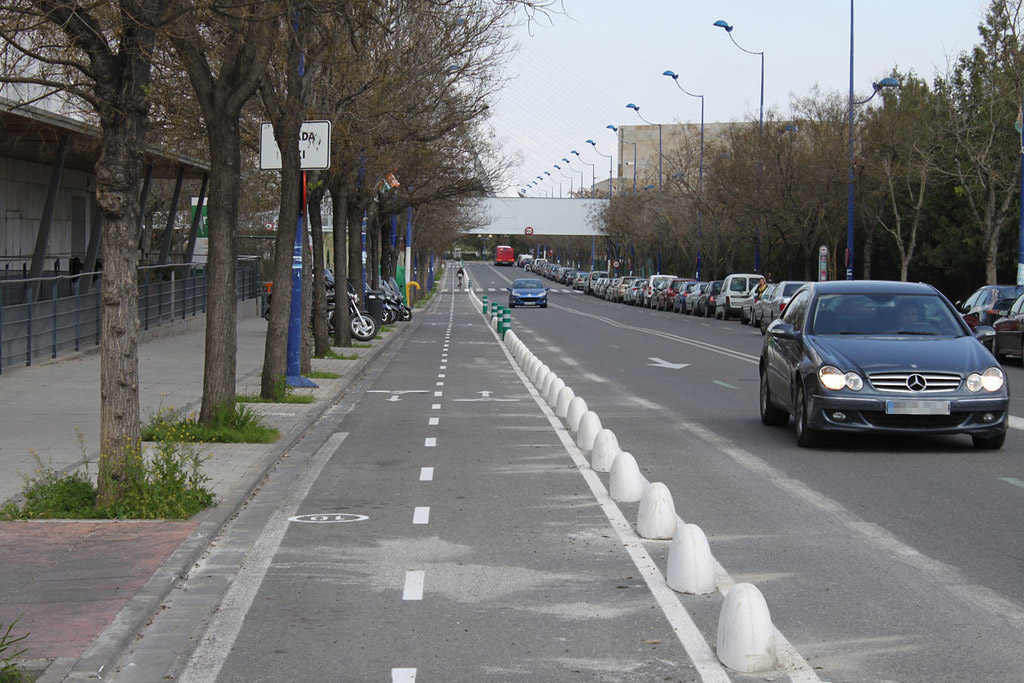 Pros and cons of lane separator curb!
Lane separators are a great way to make protected lanes and comfort drivers and travellers. The protected lanes allow drivers to travel in safe lanes without the risk of road accidents.
But as with every road safety device, there are some pros and cons of lane dividers. The ups and downsides of lane separators show that you need to be very careful in their use and get as many benefits as possible to get comfort and convenience. Their proper use and awareness can improve their functionality to give a full user-friendly experience.
Pros of lane separator curbs
Here are some pros of lane separator curbs:
One of the basic advantages of lane dividers is the safety of bicyclists, motorists, and pedestrians, as they are at the highest risk of high-speed vehicles. When traffic lanes are marked with lane dividers, riders are secure from collisions and crashes;
Similarly, lane separator curbs greatly contribute to decreasing fatalities. Secured pathways give drivers comfort so they do not rush to chase other vehicles. If a bicyclist hits a pedestrian or other vehicle by any chance, the chances of injuries are very low. In another case, if lane dividers are not installed, a rash driving car collides with a bicycle, motorist or pedestrian, mostly causing the death of the affected person;
Cycle lane dividers calm traffic and help the transportation department ensure road safety for every road user;
In addition to many other advantages of lane separators, you cannot forget their role in making your property's premises safe and favour your neighbourhoods. You can make a safe pathway for bicyclists in city streets or driveways;
Above all, if there is a cycling track near a recreational spot, you can also use lane dividers so recreational bicyclists can benefit from bicycle lanes;
Lane dividers also allow people of all ages or difficulties to crossroads and drive in dedicated traffic lanes. When there are no crashing cars, they will be safe from accidents.
Cons of lane separator curbs
See below details:
Sometimes, marked lanes can confuse drivers and riders, taking the wrong pathways. Thus, it is necessary to mention lanes in signs or markings to identify them and clearly avoid confusing situations. These signs help to recognize drivers that they are going in the right lane;
If a bicyclist loses control of the bicycle, it may pass over the lane dividers and fall off the road. It can happen in many cases as motorists or bicyclists often cross the lanes either to enter or exit the lane.
Can lane separators be used at recreational cycling lanes?
Cycle lane separators make a boundary for bicycle and bike routes and give them separate pathways to enjoy bicycle rides. These bicycle lanes keep bicyclists away from heavy-duty vehicles, overspeeding cars and motor vehicles in order to give a sense of security.
Some areas or driveways have one road for recreational bicyclists and public vehicles, which is inconvenient plus dangerous. The use of lane dividers becomes necessary if kids or children use the track for bicycling.
Above all, safe routes encourage people to use bicycle transportation and play their part in making the environment clean.
So, whether it is a road or a recreational cycling route, you can use lane dividers without any doubt.
Are lane separators used for temporary lane segregation?
Lane separators are traffic control devices that are permanently installed on roads and give permanent lane separation. They are not vertical alignments on roads; instead, they have specific dimensions that are ideal for installation.
When you buy lane dividers, their installation accessories, such as bolts and anchors, are provided in the package so you can fix them. They have a quick installation procedure, and you need to secure them so a vehicle does not disturb their location.
Similarly, if they are left unattached, there will be chances of tripping hazards and pedestrians and bicyclists can slip over them.
On the other hand, if you want to make temporary lanes for a short period of time, you can benefit from some vertical barriers.
Lane dividers have various benefits for city cycling as they make traffic lanes, protected bike lanes, and bike paths and help to make cycling infrastructure. The lane dividers also allow safe left-turn and right-turn without chances of being hit by a car.
Similarly, lane dividers make routes bike-friendly and bicycle-friendly and give pedestrians or crossing roads safety.
That is why, if you also want to make physically separated lanes and play your part in ensuring bicycle safety, you must use lane divider curbs and reduce fatalities after getting approval from the transportation department, city council, and other higher authorities.
So, let the bicycle network develop with active transportation and follow all traffic rules for everyone's safety.
To learn more, we advise you to refer to the following pages: