Is plastic lane divider good to use?
Since people are becoming more health-conscious and want to stay fit, the Department of Transportation has been increasing cycling facilities for cyclists. Besides increasing cycling facilities, several steps have been taken to improve cyclists' safety.
One great safety measure is different types of lane dividers, which can create separate bike routes and bike paths for cyclists. A separate designated area for bicyclists helps them to ride their bikes without any worries of possible accidents.
However, different materials can be used to make lane dividers. Plastic is a very cost-effective and popular lane separator material that has proven successful in delineation. Let's see what makes it special compared to its counterparts.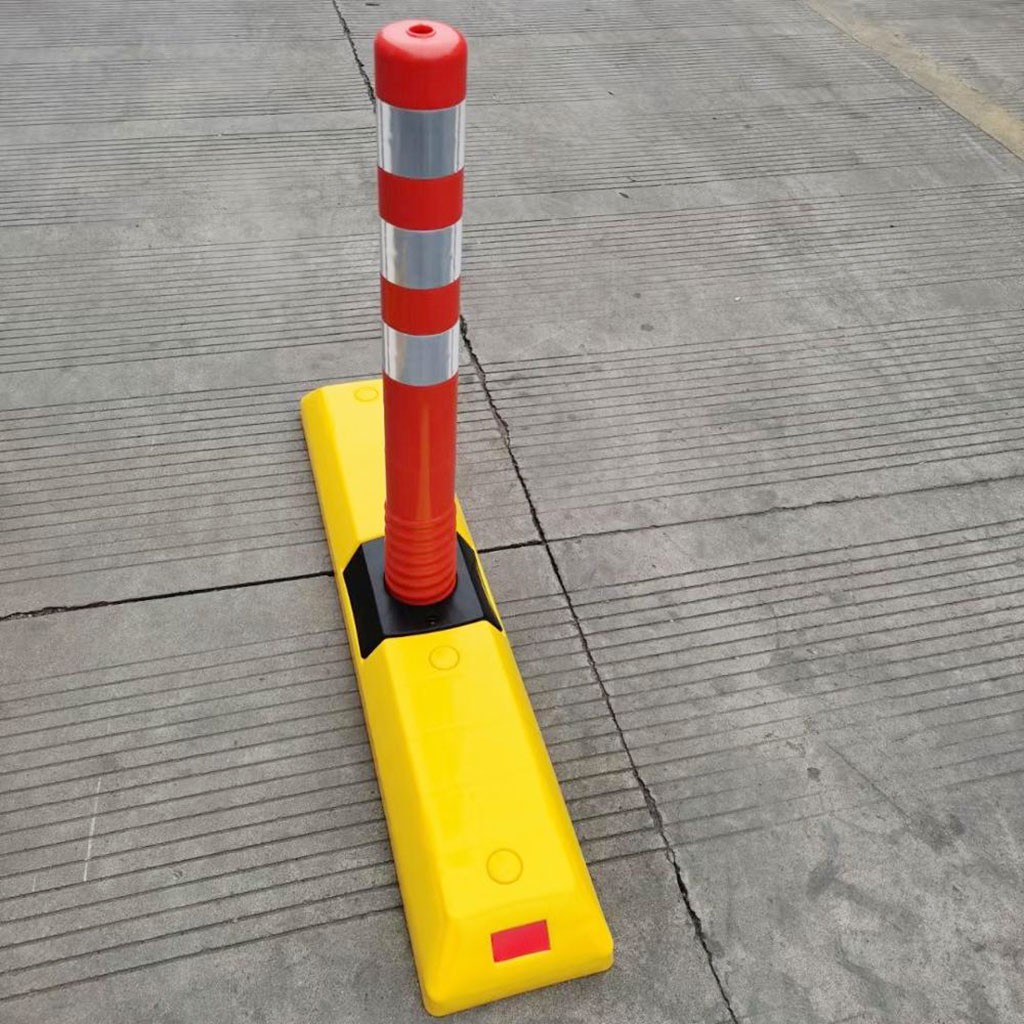 Pros of plastic lane dividers
Plastic lane dividers can be useful in many places, such as parking lots, cycle tracks, and bicycle lanes. In many countries, including China, plastic lane dividers create diversions, two-way, and multiple lanes on roads.
Despite having innumerable applications, plastic lane dividers have a common purpose of protecting cyclists.
Some of the benefits that make plastic lane dividers a useful tool include the following:
The low production cost of plastic makes it a widespread material for innumerable plastic products, including speed bumps, lane dividers, ramps, plastic containers, and cans. Thermoplastics is one of the cheapest materials found.
Therefore, you can fill your city streets with many lane separators at a cheap cost.
PVC, polyethene, and polypropylene are some plastic polymers that can create plastic lane dividers. Since they are recycled plastic materials, they are usually soft and not hard for cars and bikers.
If any motor vehicle crosses over them, they will feel a slight bump, and it won't hurt the tires too bad.
Injection moulding is a process that makes plastic in any shape possible. Due to high pressure in the moulding process, the machines can create difficult and complex designs. The production process is also quite efficient, which makes production cheaper.
Most of the designs of plastic lane dividers don't have sharp edges. Therefore, they won't burst your vehicle's tires or cause wear and tear to them. Plus, they are quite good at shock absorption.
You can get plastic lane dividers in several reflective, shiny colours, making spotting them easier. Yellow and black, black and red are amazing combinations that increase visibility even in dark areas.
Moreover, most of these plastic lane dividers can have glass beads or road studs, increasing reflectivity and warning drivers about a specific bike path. Therefore, this will reduce the chances of collisions and fatalities, which will increase bicycle safety.
The installation process for plastic lane dividers is also very quick. They have three fixing bolts, and you can easily cover 100 metres in a day.
Cons of plastic lane dividers
Despite having countless exciting benefits, plastic lane dividers have several downsides, some of which can be serious.
Plastic pollution is a serious problem. While recycling them and making good use of them is fantastic, they still have downsides as traffic calming measures.
Some of them are as follows:
While many people claim that plastic lane dividers are weather-friendly, they cannot withstand cold weather. During winters, they can become fragile and may break due to an impact.
Therefore, some plastic lane dividers may not be durable in the long run. However, the moulding process can generally make them a little dense and increase their strength.
Due to UV rays and vehicle impact, most plastic lane dividers can lose their painted colour over time. As a result, their visibility may decrease, and it can get difficult for vehicles to spot a separate bike lane in a dark place.
The burning of plastic can release toxic fumes, which can be dangerous. However, this is not very significant because no one would deliberately burn a plastic lane divider.
Other materials for lane dividers
Despite being a very popular material for numerous applications, plastic is not the only material for creating lane dividers.
Some other useful materials for creating lane dividers include:
Traditionally, Asphalt and concrete were the infamous options for creating lane dividers. They are sturdy and will fixate on one position. Plus, they are strong enough to withstand repetitive collision impacts from vehicles.
Hence, they are great options for delineation between bicyclists and other traffic vehicles. However, their installation takes time as excavation is needed, increasing pollution.
Rubber is also a great material for lane dividers. Vulcanized rubber, in particular, increases the strength of lane dividers, making them durable. Plus, they are elastic, which means they cannot harm a vehicle badly. However, they can be more expensive than plastic ones.
Metal is also a choice, but they are not commonly used to create lane dividers. They are more suitable on a freeway or highways.
Secondly, the railings can act as metal lane dividers because they create separate lanes for pedestrians and cyclists. Since there are no gaps and the lane is completely sealed, there are rare chances of accidents.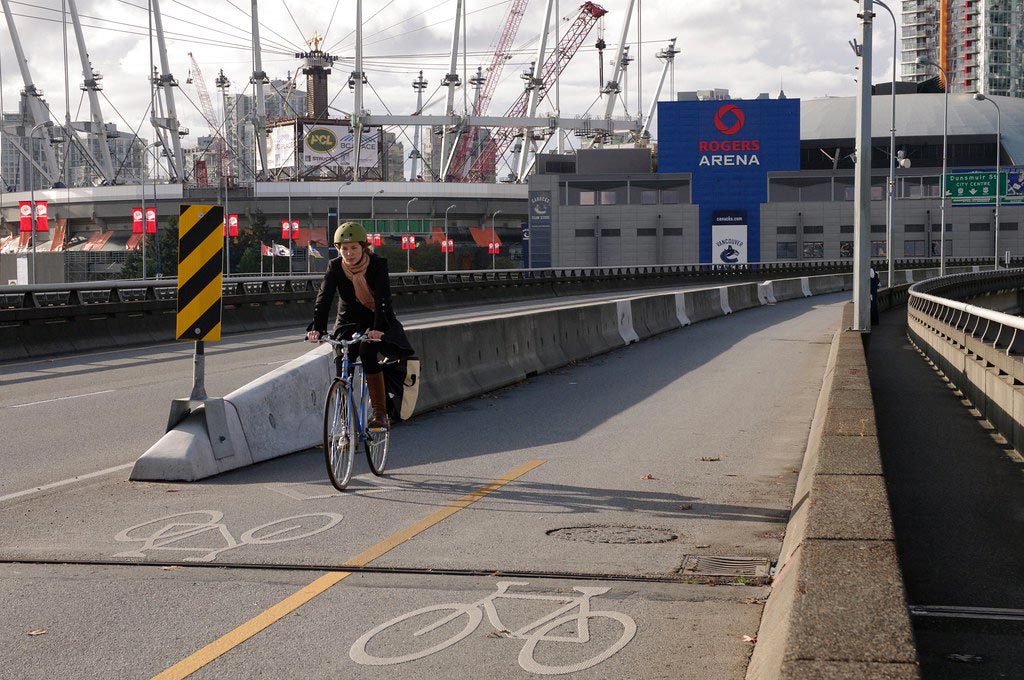 Different shapes for plastic lane dividers
Over the years, there has been the production of different shapes of plastic lane dividers. "Armadillo" is one shape that is quite popular worldwide.
Similarly, there are other designs which include:
Standard rectangular design
Lane divider with delineator guidepost
Armadillo plastic lane dividers are of oval, round shapes, which are around 620 mm in length. They are quite popular.
You can install many of them in a series with suitable gaps, which allow bicyclists to switch lanes if needed. Also, the gaps aren't wide enough to allow vehicles to trespass on bike paths.
There are also standard designs that can come in varying sizes. Most of the lane dividers are 1,000 mm in length, but some may be shorter in length, i.e., 740 mm.
Some designs may even incorporate lamps or road studs, which can ignite in dark places and help in detecting lane separators easily.
Some lane dividers can insert a delineator post, which is around 740 mm high and made of plastic. The guideposts also have reflective films, which makes it easy to spot them. Such posts act as bollards and warn other traffic vehicles about lane dividers.
Conventional tools for lane separation
Traditionally, there were no lane dividers at all. Before them, lane markings were common and still widely used.
Moreover, some other tools include:
Lane markings involve creating painted lines that warn a person about separate bikeways. Paints are the marking material used to create solid white lines, buffered, and dashed lines. Buffered lines create a separate bikeway with an additional space between vehicles and bicyclists.
Curbs, bollards, and traffic cones are some traffic control devices that affect the road infrastructure and create separate lanes for bikes. A bike box is another way to place a separate space for bicycles in traffic lanes where no other vehicles can stop.
In this way, no vehicles can hit any cyclists at turns, intersections, and roundabouts.
Traffic signals and signages, including stop signs, road signs, and regulatory signs, can alert people about any lane separator ahead.
Therefore, these conventional tools are equally essential in improving overall road safety and bicycle safety.
It's essential to carefully choose a lane separator because you may need it for a long time.
Therefore, selecting a lane separator that will last a lifetime and protect cyclists from other vehicles is important because if you choose something that doesn't serve its purpose, then it's not worth it.
Plastic lane dividers are a suitable solution because they are quite cost-effective. Therefore, you can always purchase more when they wear out. Secondly, injection moulding also makes them strong enough to withstand impact from vehicles.
Therefore, plastic lane separators are quite good at serving their purpose. If you're looking to purchase high-quality lane separators, contact Sino Concept. We have multiple traffic calming measures that can increase your area's safety. Visit our website to place your order.
To learn more, we advise you to refer to the following pages: