Why are speed bumps important?
Road safety has become more crucial than ever due to the ever-growing traffic on the roads. Undoubtedly, there is a surge in demand for traffic control equipment as the need to make roads safer for pedestrians, cyclists, and motorists has grown tenfold.
Essentially, governments and agencies are always on the hunt for road safety products that are easy to install and disassemble simultaneously. Likewise, speed bumps are one of the prime examples of needful road safety products.
It is high time to understand the significance of implementing high safety measures to avoid hazardous situations like car crashes that result in life-endangering conditions and fatalities.
Speed bumps are an excellent solution for speed reduction and help to keep the pedestrian zone free from hazardous incidents and casualties.
Speed bumps, also called speed breakers or sleeping policemen, are one of the most integral road safety devices.
Speed bumps are vital in improving the safety of pedestrians, reducing and eliminating noise and air pollution from traffic, and much more.
When placed and installed correctly, speed bumps help improve the safety of uncountable lives and promote smooth traffic.
If you want to learn more, we have an article discussing the role of speed bumps.

What are speed bumps and their types?
Speed bumps belong to a class of traffic calming devices that are often vertical, bent in shape, and used to slow down the speedy traffic flow while maintaining safe traffic conditions.
Furthermore, the use of speed bumps is prevalent worldwide because of their effectiveness in calming traffic.
Primarily, speed bumps get installed to enforce a specific speed limit, which is usually under 40km/h but proves to be a lifesaver for millions of people on the road. The traffic calming products category variations include speed humps, speed tables, speed cushions, and more.
Traditionally, vertical deflection devices like speed bumps are made of concrete or asphalt because of their rigidness and ability to withstand varying temperatures and loads.
Although they are highly durable, they can be hard to dismount or dislocate. Additionally, high-quality speed bumps have bolted-down installation, making them hassle-free to test and position before final implementation on a large-scale traffic control project.
On the other hand, rubber speed bumps have become the talk of the industry for all the right reasons. Rubber speed bumps are not only easier to remove and install but do exceptionally well when it comes to traffic safety measures.
Why are speed bumps so integral these days?
It is known that speed bumps have been here for a while now and will surely be around for a long time.
Understandably, speed bumps are hailed for numerous reasons, some of which are listed as follows:
Statistics prove that pedestrians are most likely to suffer from collisions due to traffic and speeding. It is evident that collisions with pedestrians can happen at times; municipalities should take prompt safety measures and curate a solid traffic control plan.
Despite uncountable speed limit signs on the roads and patents, one high-speed vehicle can put the precious lives of those around us at a high stake.
Sometimes, no pavement markings or road signs are enough to ensure the safety of people like motorists, bicyclists, and pedestrians.
Therefore, installing speed bumps is essential to lower the casualties caused by car collisions. Speed bumps allow the pedestrian to cross the pavement smoothly.
So, traffic law enforcement authorities should install speed bumps specifically in slow zones such as schools, parks, malls, and residential parking.
It has become human nature to avoid streets that are lined up with speed bumps. Since slowing vehicles for those little bumps on the road is never fun, most will try to take another path that redirects traffic to another pathway and reduces the risks of collisions.
Speed bumps are one of the best ways to ensure road traffic safety, specifically during heavy oncoming traffic flow.
In addition, installing speed bumps on places like school crossings, bus stop signs, and railroad crossings can prevent uncountable hazardous accidents.
Moreover, if the traffic directions change towards the freeway or any other path, traffic will no longer be congested, and people can avoid uncontrolled intersections.
Besides, speed bumps slow down speeding vehicles on the motorway, reducing traffic connections. The soft undulations of vehicles down the highway are always a sight to behold!
Effectively reduces speed
Traffic management and transportation engineers suggest speed bumps are greatly more effective than speed limit signs/variable message signs and reflective tape pavement markings.
Consequently, speed bumps reduce the number of hazardous and life-endangering collisions way better than just traffic signals, road markings, and speed signs.
Speed bumps prove to be a fresh breeze for federal highway administration and police enforcement authorities as installing speed bumps on roadways, and intersections saves them money they would pay to a police officer.
Therefore, traffic engineering experts emphasize installing speed bumps to make sure crosswalks and pedestrian crossings remain safe.
Why choose rubber speed bumps?
Several factors improve speed bumps than any reflectors, speed limit signs, and other traffic calming measures.
Some of those are listed below:
Easy to remove or relocate
One thing that sets rubber speed bumps apart is their quality of universal placement.
Rubber speed bumps can be deployed or relocated depending on the weather conditions and traffic volume on the roadway or neighbourhood.
Speed bumps are weather-resistant and can withstand wear and tear from heavy loads simultaneously. Moreover, the rubber backing on the speed bumps and speed humps helps keep them in place securely.
Therefore, rubber speed bumps can be installed in neighbourhood parking, street parking, or any parking space.
The classic black and yellow speed bump with reflective and flashing yellow light strips improves visibility tremendously. Thus, it will help prevent excessive acceleration and hazardous accidents.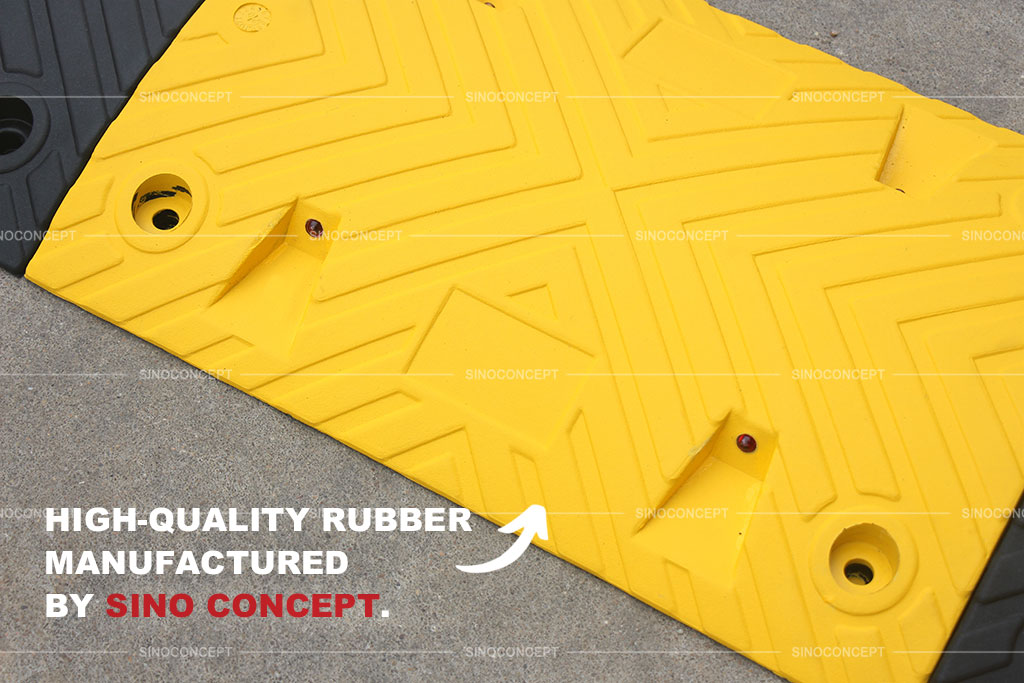 Speed bumps are among the best traffic control devices. The size of the speed bump varies according to traffic regulation laws and the area available for installation.
Moreover, there is often a significant space between the speed bumps to allow an easy pathway for emergency vehicles. Correspondingly, the effectiveness of speed bumps depends on the road design, types of vehicles, and average traffic flow.
Other than that, speed bumps are a massive help to drivers and the business community simultaneously. Strategically, installing speed bumps also aids in increasing sales. Who would have thought, right?
Speed bumps slow down the vehicles and allow consumers to get entranced by the marketplace around them. Therefore, it brings a significant rise in business.
What is the final verdict?
Although the critics of the rubber speed bumps would love to bring up all the possible negative aspects, the pros undoubtedly outweigh the cons effortlessly.
Speed bumps help slow traffic and prevent congestion in traffic lanes, including bike lanes and separate lanes for emergency vehicles. It is clear that speed bumps perform exceedingly better than pavement markings, road traffic signs, and other signs and markings.
Rubber speed bumps are not only durable but weather and chemical-resistant, too.
Speed bumps and speed humps are ideal for traffic calming as they are relatively cost-friendly, last longer than the traditional concrete or asphalt speed breakers, and are incredibly easy to install and dismount.
From controlling traffic speed to avoiding heavy traffic congestion on the roads, speed bumps surely aid in traffic calming exceptionally well.
Speed bumps came around long ago, but rubber speed bumps were able to put checks on every right box effortlessly.
To learn more, we advise you to refer to the following pages: