What is the purpose of speed bumps?
Imagine a situation where you drive at a slightly fast speed and pick up your children from school. Suddenly, you spot herds of children coming out and can't reduce your vehicle speed in time.
Miraculously, you were able to stop it before crashing somewhere. Are you aware of what helped you do this?
If you didn't know, a speed bump could cause a speed reduction in your vehicle and ensure pedestrian safety. That's the role of speed bumps.
In the above scenario, the purpose of speed bumps is clear: traffic control and pedestrian safety. However, the purpose and importance of road bumps go into much deeper in-depth details. Without any further ado, let's see why speed bumps are so important.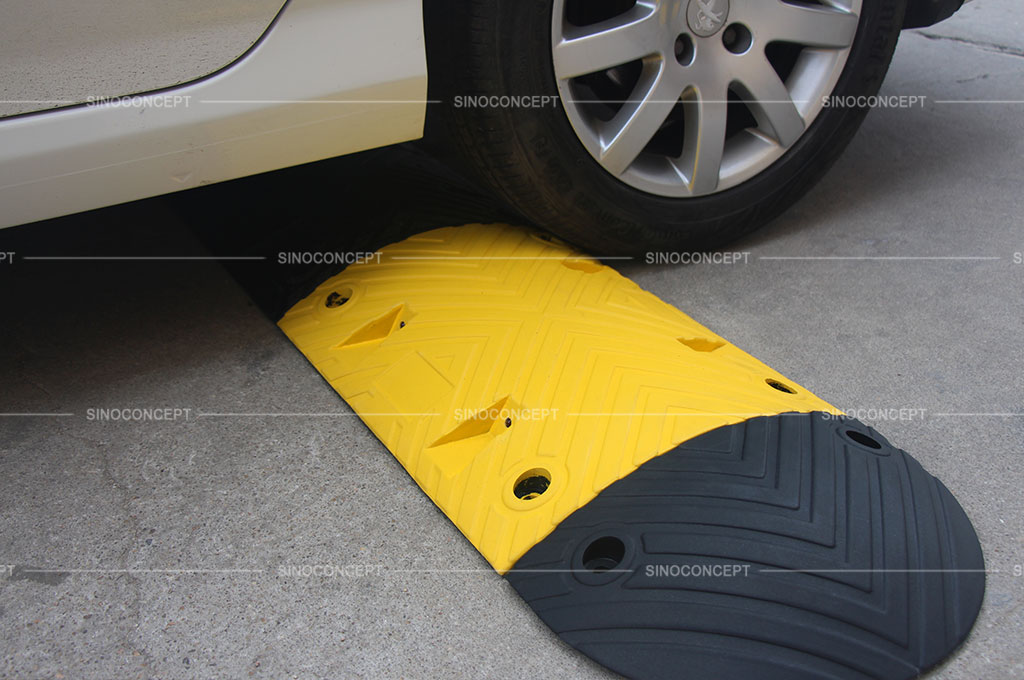 Why are speed bumps important?
The first speed bumps in the UK were seen around the 1950s, which were one of the most common and important traffic calming measures. The first of these speed bumps was made from asphalt or concrete.
Over time, transportation engineers started producing new traffic calming measures, including speed humps, tables, cushions, and ramps.
Moreover, recycled plastic and rubber speed bumps are also growing popular because they are very easy to install. Even a layman like you can install the speed bump by himself. You just need to place them on the roads and attach the bolts.
Iowa Department of Transportation has a study that states that speed bumps successfully reduce the speed of vehicles and the chances of accidents and injuries. That's why using speed bumps is important.
These traffic control devices are installed in places with a high turnaround of pedestrians. Some places include school zones, parking lots, city streets, and pedestrian zones. Their installation has a remarkable impact on highway safety.
These calming traffic techniques successfully discourage drivers from riding at a dynamic speed and care for pedestrians.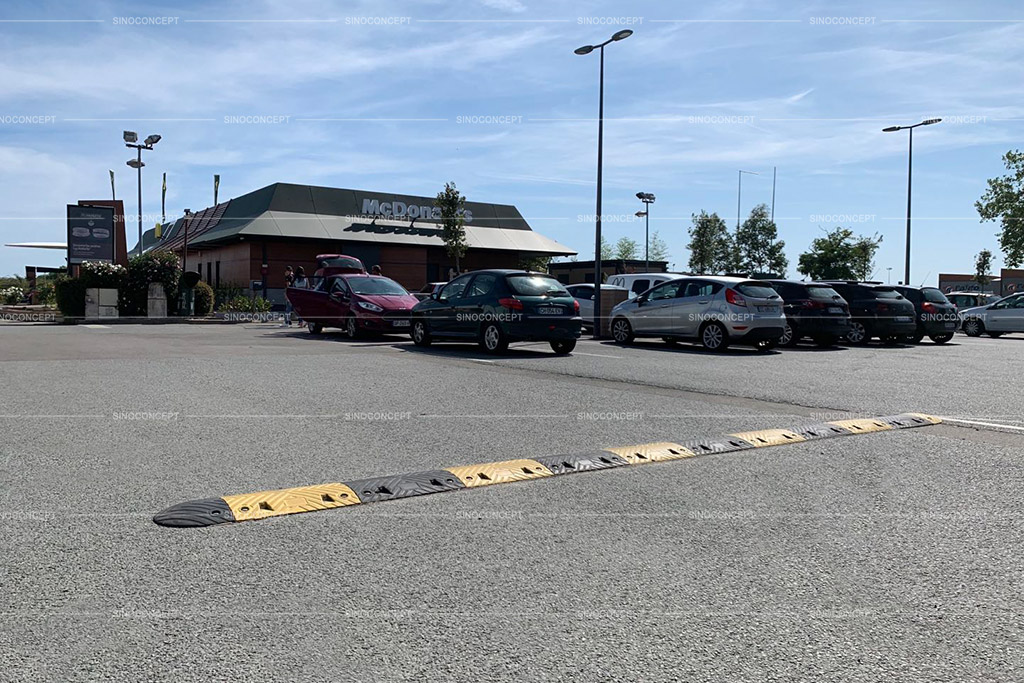 Do speed bumps really work?
As mentioned in the earlier source, speed bumps really do serve their purpose. Over the decades, these reflective devices have been the predominant method of reducing traffic speed.
However, transportation engineers and traffic police enforcement have developed new ways to reduce the miles per hour (mph) of vehicles and ensure traffic safety. Some of them include traffic lights, signages, LED lights, and speeding tickets or fines.
According to one study, installing speed bumps makes roads safer by around 53-60%. This means that pedestrians can roam the street at their designated traffic time without worrying about vehicle collisions.
The benefits are numerous. Besides the usual benefits, these speed breakers also help to divert traffic, leading to low congestion and discomfort on roads. Similarly, it can also play a vital role in busy areas.
Motorists who dislike driving on roads with speed bumps would find alternative routes, easing traffic and low traffic volume.
While all of this sounds very promising, plenty of speed bump flaws make them unattractive. Let's briefly go over them.
Some of the major flaws are as follows:
Firstly, these speed bumps make a lot of noise in the neighbourhood. It can disturb your peacetime, and the constant loud noises may make it impossible for you to read a book, watch a movie, sleep, or even eat peacefully. Many property owners contend with this issue and avoid installing one on their streets.
Most of the speed bumps are hard with tensile strength. A person who drives too fast might likely end up crashing their vehicle with a speed bump. Therefore, it can cause damage to the exterior of the vehicle and possibly lead to wear and tear.
Many environmentalists contest that speed bumps are a major factor in pollution. According to one study, pollution increases by around 58.6% in areas with speed bumps. Besides, carbon monoxide emission also rises by a significant amount.
On the other hand, speed bumps can also reduce fuel efficiency because the drivers have to brake and accelerate constantly.
Installing speed bumps can hinder the time and effectiveness of emergency vehicles, including ambulances, fire trucks, and police vans. These vehicles are fast, and they have no room for delay.
However, speed bumps can cause a massive hindrance in their speed.
The areas with speed bumps tend to have low property value. Moreover, many people can evade the areas with speed bumps, which causes scary impediments in other areas.
Do speed bumps make the roads any safer?
Speed bumps serve the purpose of making the roads safer for pedestrians. However, the maximum benefit is achieved by incorporating all the necessary requirements and regulations. Several factors affect the efficacy of speed bumps.
They are as follows:
It is imperative to install speed bumps which are according to the road designs. Otherwise, poor speed bumps in irregular places can worsen situations. Installing rough speed bumps can cause trouble even for wide-wheelbase vehicles like buses, which can't counter their effect.
It also depends upon driver awareness and safety programs on the roads. If the people are illiterate, they might not even slow even after spotting a speed bump.
Police and law enforcement also play a vital role in assessing the effectiveness of speed bumps. They can enact laws and more measures like speeding fines, tickets, traffic flashing lights, signages, traffic cones, barricades, and crossings to reduce the risk overall.
Speed bumps alone can't promise safety on roads. Therefore, it is important to pursue other measures. Many authorities like Vision Zero, federal highways, and Intelligent transport systems have new measures for various jurisdictions and municipalities.
Some of them are as follows:
A driver's awareness program should teach the traffic rules and the purpose of various traffic signals.
Installation of signages, including stop-sign, speed limit, parking, regulatory, and speed bump signs.
Using bollards, chicanes, raised sections, and speed bars. Moreover, transportation engineers create illusions for roads that urge drivers to reduce their speed.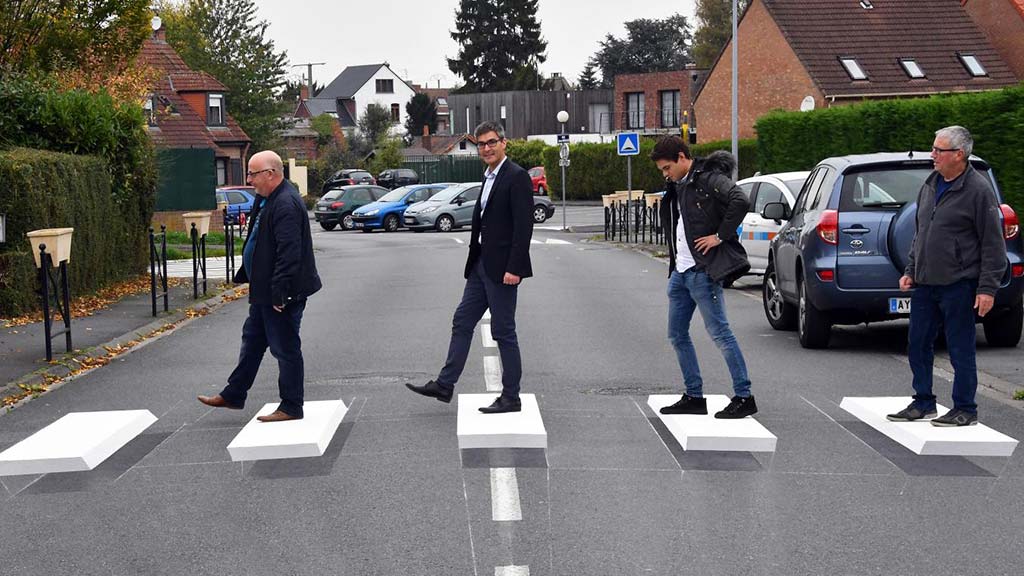 Transportation engineers have never stopped to take in critics and design some great traffic calming techniques. The future of speed bumps will change because, over time, there has been a transition in their primary material.
In the future, we can expect liquid speed bumps already appearing in a few states. These liquid speed bumps consist of a flexible plastic tube that depresses under pressure. It'll cause no damage when empty, so drivers driving at the speed limit will face no discomfort or issues.
However, this tube can fill up with non-Newtonian liquid and become hard when it comes in contact with a vehicle that is driving at a generally higher speed than the stipulated speed limit.
It's a great invention because it'll be stricter towards harsh drivers, while it won't cause any harm to people who drive at a reasonable speed.
The field of traffic calming measures is evolving rapidly. Due to globalization and the massive turnover of vehicles on the road, it has become imperative to invent new traffic management solutions to ensure pedestrian safety.
Besides speed bumps, there have been several crossings, like a zebra crossing, pavements, and curbs, which aim to improve the traffic flow and save the lives of pedestrians.
Since they are an integral part of improving our life's safety, why don't you go ahead and install one near your office, home, or even in your neighbourhood? It'll be quite beneficial not only for you but for your society as well.
If you're making up your mind to purchase one, check Sino Concept to find quality rubber speed bumps.
To learn more, we advise you to refer to the following pages: