Top 5 materials to manufacture speed bumps!
A speed bump, also called a sleeping policeman, is a traffic and speed control device installed on roads, residential streets, parking lots, and other high-traffic areas.
This device enhances pedestrian safety by forcing vehicle drivers to reduce their speed below 10 miles per hour.
Initially, concrete and asphalt were the main materials to construct speed bumps. However, with the advent of technology, other materials such as rubber, plastic, and steel are now used to make them.
This article talks about the top 5 materials to help you understand the usefulness of each material.
For more information about speed bumps, feel free to check here: Everything you need to know about speed bumps!

Rubber is a popular, cost-effective material used to manufacture traffic control devices such as speed humps, speed bumps, speed tables, speed cushions, and rumble strips.
Rubber speed bumps are usually constructed from recycled tires, meaning they are eco-friendly and help reduce greenhouse gas emissions.
Most rubber speed bumps have channels in the bottom. They help with drainage. A rubber speed bump is usually used in low-traffic areas such as residential development units.
You can use them in various places, such as in front of stop signs, speed limit signs, traffic signs, and parking signs to further support them.
Why choose rubber speed bumps
Rubber is a flexible material. It means you can place it on almost any form of road as it takes the shape of a surface easily. Depending on your traffic-management needs, you can use it for asphalt, dirt, and gravel roads.
Rubber is a maintenance-free material, so you will not have to worry about maintaining this device occasionally. Rubber speed bumps take only a few minutes to get installed, and you can install them for temporary and permanent traffic control needs.
They are less damaging for vehicles as they compress and give vehicles a smooth experience. They also help in reducing traffic noise pollution.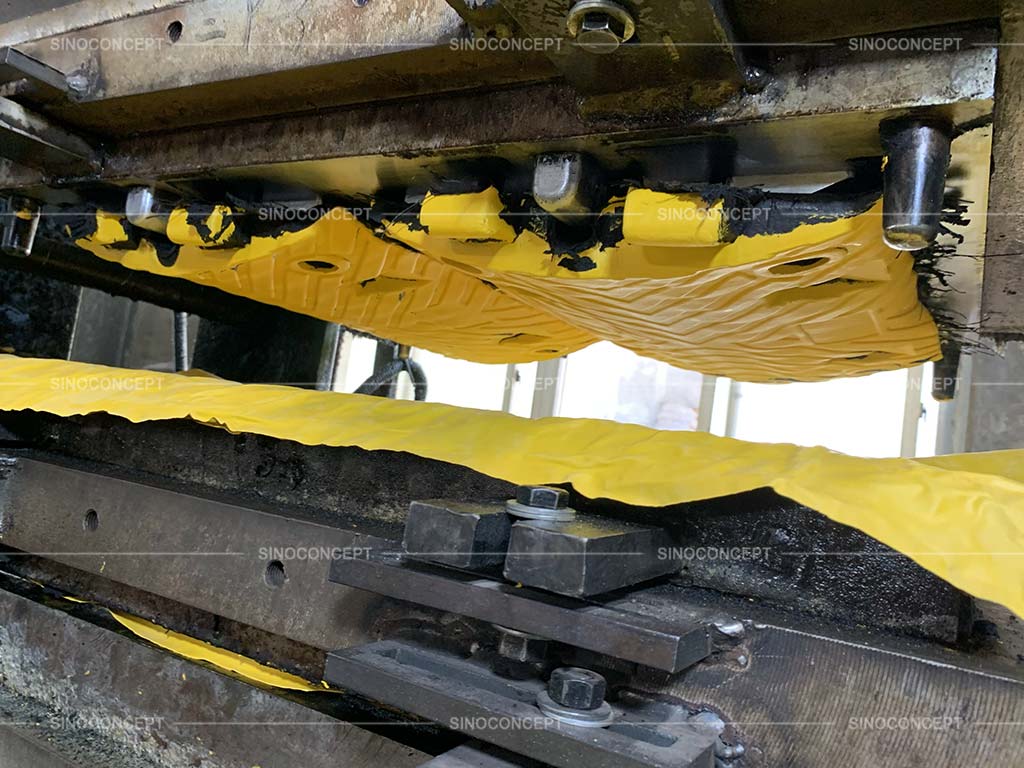 Plastic is another reliable material for speed bumps.
Plastic speed-limit devices such as speed bumps, speed humps, and ramps effectively reduce traffic speed around the pavement, crosswalk, curb, zebra crossing, traffic signals, stop signs, and speed signs.
This durable material can withstand heavy vehicles like buses, trucks, and emergency vehicles without damage. It makes plastic speed bumps suitable for main roads and parking spaces.
They can also have end caps on their ends, providing vehicles and bumps protection they need.
Plastic speed bumps come in different lengths. They slow down vehicular speed below 10 mph.
Why choose plastic speed bumps?
You can improve traffic safety and pedestrian safety on a roadway, road intersection, roundabout, pedestrian crossing, pavement markings, city streets, parking lots, and many other high-traffic volume areas with durable plastic speed bumps.
Plastic is a light material, so plastic speed bumps are also light in weight. It makes them easy to carry and set up.
Plastic speed bumps also come in a portable form that you can roll and pack in a carrying bag to take to any place and install temporarily for calming traffic.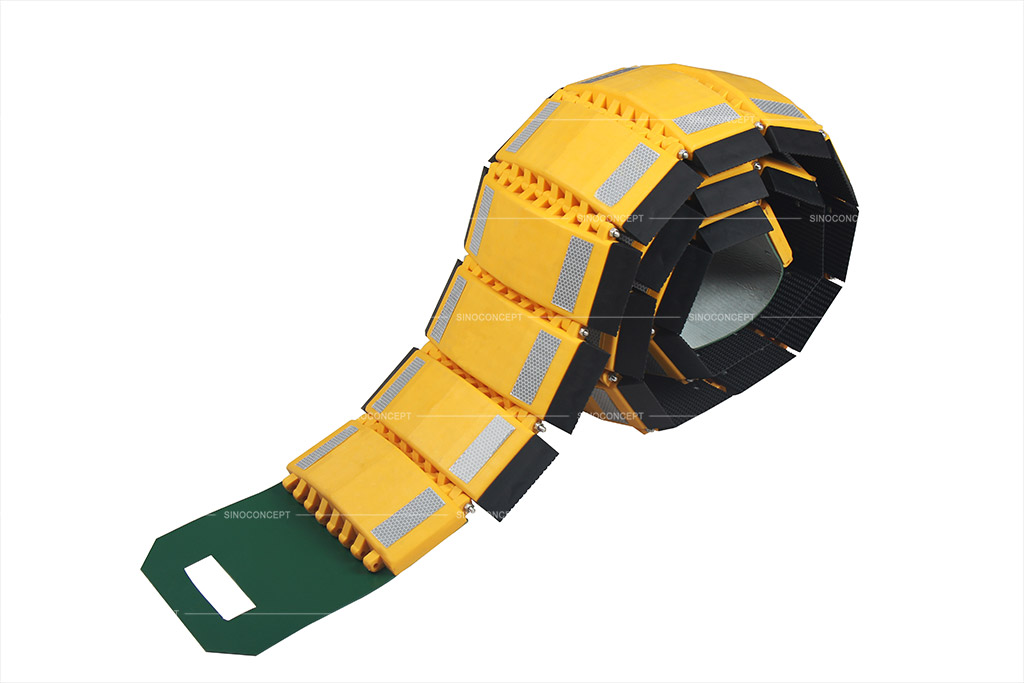 Unlike asphalt and concrete, plastic speed bumps are almost maintenance-free. They can maintain their colours for years after installation.
The other material used to make speed bumps is concrete. You can install these speed bumps on your own and customize their size according to your needs (if your local ordinance and authorities permit it).
Concrete speed bumps are quite durable and long-lasting forms of speed bumps.
The traffic-management authorities and municipalities often install them as calming traffic measures on roads where the high acceleration of vehicles is the main culprit behind accidents.
It significantly helps in reducing the risk or hazard of collision between vehicles. Since concrete is harder than rubber and plastic, its speed bumps cause more traffic noise and damage to vehicles.
Why choose concrete speed bumps?
You can customize the size of concrete speed bumps according to your needs. Concrete is a sturdy material, so speed bumps made up of it are also hard and last long. They can withstand heavy vehicles such as an ambulance, buses, etc.
Though it's a reliable form of a speed bump, it often gets flattened due to excessive use in high-traffic areas. It means the Department of Transportation and police enforcement will have to occasionally check their form and maintain their original height.
Asphalt is a customizable speed bump material. It provides ease of customization. You can pour asphalt on the road and customize the speed bump design to cater to your traffic control needs on pedestrian crossings and streets.
Traffic data provided by the Federal Highway Administration shows that speed bumps, traffic cones, ramps, and other traffic and speed control devices increase road safety and offer protection to pedestrians.
Asphalt speed bumps are not as flexible as rubber so they can slow down the response time of an emergency vehicle more. They may also produce more noise when brakes are applied by vehicles or when vehicles cross bumps.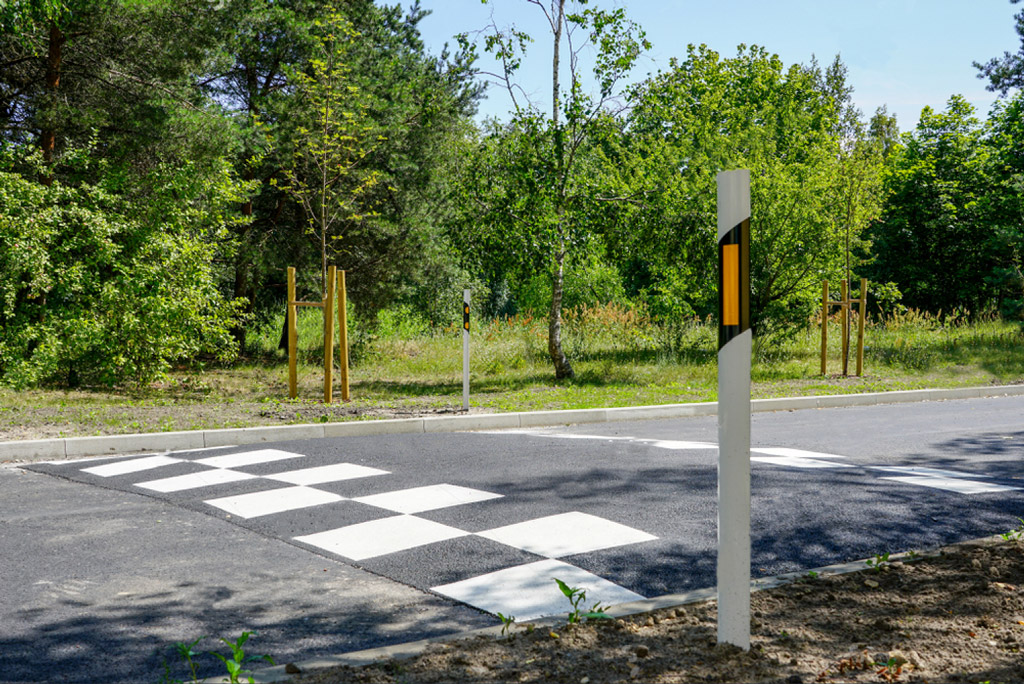 Why choose asphalt speed bumps?
Like concrete speed bumps, asphalt speed bumps are known for their durability and longevity. However, they cannot be imported from one place to another like rubber and plastic ones.
Instead, you will have to construct a new asphalt speed bump whenever you want to control a speeding motorist, bicyclist, and drivers of other vehicles on traffic signals, etc.
Asphalt speed bumps resist weather conditions, making them suitable for various places. But, they require maintenance from time to time if they are installed in a high-traffic volume area.
Steel is also used to construct speed bumps. Steel speed bumps are aggressive speed bumps that force vehicles to drop their speed significantly.
Those metal speed bumps come in different shapes, such as square and circular. You can use different shapes for different situations. Circular steel speed bumps are usually found in a driveway and garages to diminish vehicle speed and increase road traffic safety.
Steel speed bumps are more aggressive than rubber and plastic, which means they have a high potential to cause vehicular damage.
Why choose steel speed bumps?
Steel speed bumps are durable and come in various shapes and sizes. So, you can install them in different places according to your needs.
They have a reflective surface painted with catchy paint colours like yellow and black. They can also have reflective tape that helps make them more visible during bad weather conditions and at night.
You should avoid using steel road bumps near water sources and seashores as they can get rusted if the steel quality is not high. Use them in dry places like garages and parking lots.
Speed bumps in the road are an efficient tool to be used in the slow zone, work zone, and school zones to reduce the speed of a cyclist or any other vehicle driver.
Different materials are now used to make them. Each material is suitable for a particular environment and traffic conditions. Plastic and rubber speed bumps are cost-efficient, durable, and suitable for diverse environments.
They come in different sizes and shapes. Do consider them when buying speed bumps for your garage, parking lot, driveway or any other place.
To learn more, we advise you to refer to the following pages: