Take 5 minutes to learn about speed bump standards and regulations!
Speed bumps are effective traffic control devices like speed cushions, minimizing crashes, reducing accidents' severity, and increasing traffic safety.
If someone on your property is engaged in an accident, they may suffer terrible injuries or other hazards. Hazardous situations like this might expose your organization to costly lawsuits, so it's in everyone's best interest to take precautions to avoid accidents wherever possible.
Installing speed bumps on your property is an excellent method to lessen the hazards for motorists, bicyclists, and pedestrians being injured.
However, if speed bumps or speed humps are installed poorly, they might be more dangerous than safe. We also have an article about everything about speed bumps.

SPEED BUMPS IN DIFFERENT COUNTRIES
Speed bumps are globally used traffic calming tools that stop vehicles from exceeding the speed limit and prevent hazardous incidents.
Get to know about speed bumps in different countries:
Types used in the UK: In the UK, various speed bumps are used in different places. Though the regular speed bump is more common, circular and square speed bumps are usually used in parking lots.
Regulation in Canada: Toronto is called the "capital of speed bumps in Canada", for it has speed bumps in several places. According to Canadian regulations, if you want to install speed bumps on a public road, the traffic on that road should not be more than 1,000 cars per day. After this, official committees decide whether to install it or not.
Regulations in Australia: A regular speed hump in Australia is usually 22mm to 75mm in height and has a 100mm to 150mm wide top. It can be made up of different materials.
Speed bump regulations in the UK by the Federal Highway Administration
When you finish reading this, you'll have all the information you need to comprehend the Department of Transportation's speed bump legislation in the United Kingdom! Get to know more about speed bumps and UK regulations.
It controls the transportation system and tells all about speed limits, traffic control devices, traffic signals, and other traffic laws and regulations.
One of the most important rules about speed bump guidelines in the UK is to contact the chief officer of police enforcement in the local council where the speed bump is to be installed near the crossing signs. The local fire department and ambulance services are two other consultants you should contact.
Locals may be endangered by speed breakers in specific areas, speed signs, and warning signs, such as the flashing yellow lights and bumps in the road in the United Kingdom.
Their use can make roads and roundabouts even more dangerous; the UK government has traffic calming measures in place that include legislation governing the dimensions of pavement markers.
How to get speed bumps installed in your neighbourhood?
Installation of traffic management devices like speed bumps, humps and cushions will address your problem if you are concerned about the traffic speed and collisions in your neighbourhood. Speed bumps considerably slow vehicles, making outdoor spaces safer and more pleasurable.
Let's take a look at how to go about installing speed bumps in neighbourhoods.
Speak With Your Neighbours: It's crucial to find out if your neighbours think speeding is a problem. Neighbours who are concerned about the speed with which cars speed down the street will be valuable allies.
Find out the Details of Your City's Procedure: Determine the peculiarities of local practices to reduce traffic congestion. These particulars will influence your subsequent actions (s). Before traffic calming devices are installed, some municipalities require a speeding/traffic study.
Meet With Others and Plan Your Action: Share your results with concerned people in the neighbourhood once you've figured out what your municipality allows for traffic calming.
Reach out to Local Officials: The appointed community liaison should maintain a connection with all local officials, from the councilperson to the fire station and police station.
Define the Problem: If your neighbourhood lacks a local application form for speed bumps or other traffic calming improvements, write an informed description of why speeding is a problem in your area.
Present the Case: To your local councilperson, send the signed petition and application/documentation, along with a cover letter including your contact details.
Go for the speed bump: Once you are done with this process with a positive outcome, you are liable to install the speed bumps.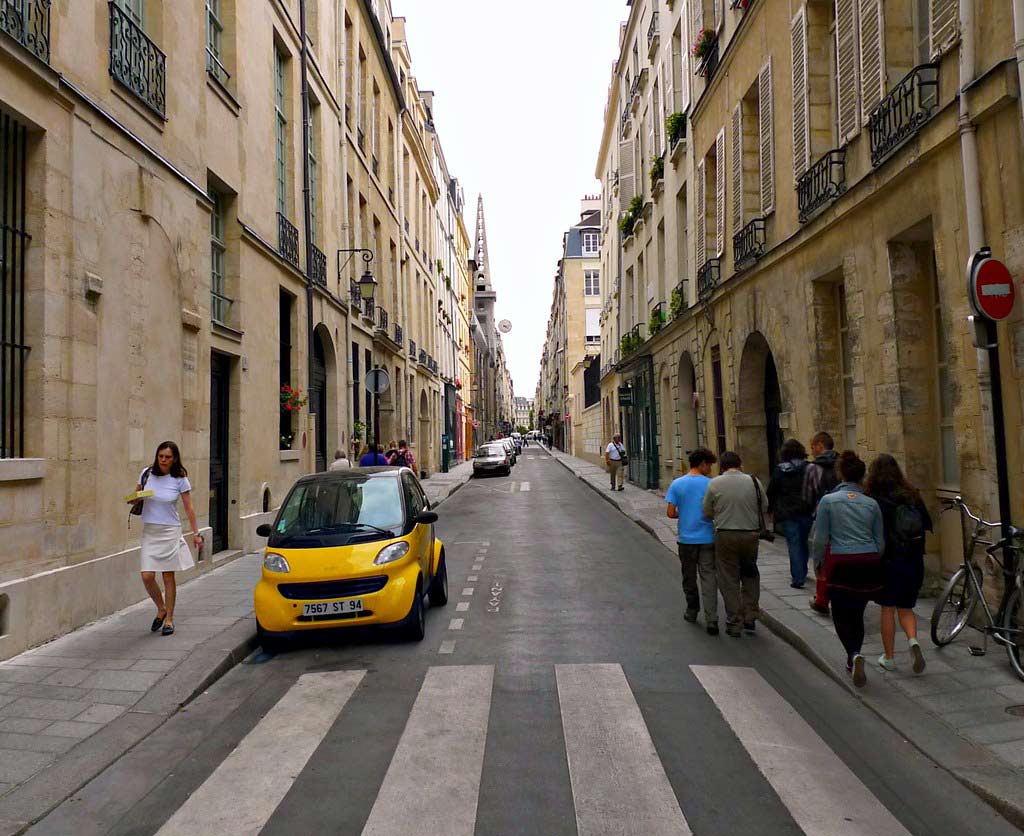 Facts you need to know about speed bump design standards!
There are some facts that you need to know about the design:
Speed bumps are usually found on private roads and parking lots, and their design parameters aren't always consistent from one location to the next.
Speed bumps range in height from 3 to 4 inches and have a length of 1 to 3 feet (0.3 to 1 m).
The minimum height of a speed bump should be 25mm.
A speed bump's maximum height is 100mm at its highest point.
A speed bump must have a ramp with a gradient of no more than 1:10. However, a shallower gradient is considered to avoid vehicle grounding if the route is utilized by emergency vehicles, service trucks, or fire trucks.
Speed bumps must always be placed at a right angle to an imaginary line that runs down the centre of a road.
Speed bumps are only installed on roads with a speed limit lower than 30mph.
Speed bumps are not permitted within 30 meters of a zebra-controlled area.
The vertical face or the material constituting the speed bump must not be more than 6mm thick.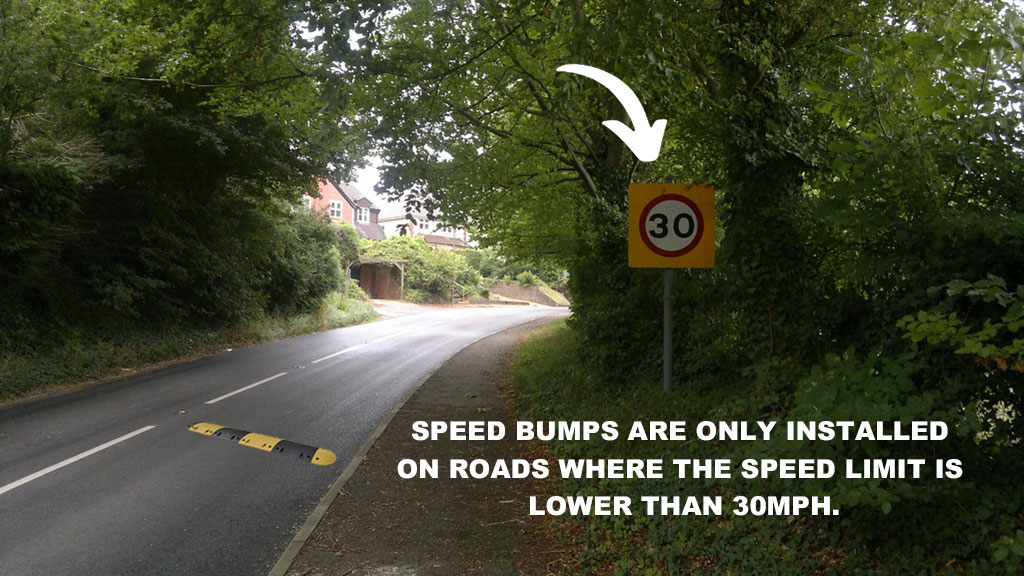 How to drive over speed bumps smoothly?
Pedestrian crossing is a problem whenever they are close to places with high traffic volume. In the presence of excessive speeding, slow zones such as school zones, roadways, work zones, and parking lots are hazardous for pedestrians. Speed reduction is one approach to avoid tragedy in these areas.
Lower speed restrictions combined with speed limit signs and speed bumps can drastically lower the risk of an accident or fatality. Speed bumps are the physical bumps in the road designed to slow cars down.
If drivers drive too quickly over them, it may be a very unpleasant experience and may cause vehicle damage over time.
We also have an article that explains in detail what happens if you drive fast over a speed bump.
Is there a "correct" method to drive over speed bumps? When driving over speed bumps, how fast should you go? The solution is straightforward. Simply drive slowly.
Even if your vehicle is lowered, going over speed bumps at an angle is not beneficial for your vehicle. You risk scraping the underneath of your automobile in either case. When going over a speed bump, the best and most comfortable option is to accelerate moderately or avoid braking.
When you stop, your vehicle's front end is dropped, and when you accelerate, it is raised. Slow down and release the brake before the bump in the road. Once you reach the top of the bump, accelerate. The straighter your vehicle is while going over the speed bump, the better.
Speed humps and speed bumps are used to slow down traffic on the road in pedestrian zones, neighbourhoods, parking lots, and school zones. When you approach a speed bump at a high rate of speed, it's as if you slam a hammer into every section of the car.
While automobiles are designed to resist some road abuse, the more frequent and severe the impacts, the sooner those parts begin to degrade. No matter how big your car is, don't make it a habit to fly over speed bumps.
Constant strikes also generate annoying noises, squeaks, and weakening and even dropping parts. It is really simple for your car to drive gently over a speed bump. This allows the springs and shocks to compress and decompress to absorb the bump slowly.
Speed bumps are beneficial and encourage safe driving, especially in areas with a lot of pedestrian traffic. Speed bumps help keep traffic moving at a normal speed when people and vehicles share the road.
Compared to one-way streets and roundabouts, they are smoother and less stressful. When speed bumps are crossed wrongly, they are merely a nuisance. To safeguard your vehicle from harm and the safety of others, drive gently and carefully over speed bumps.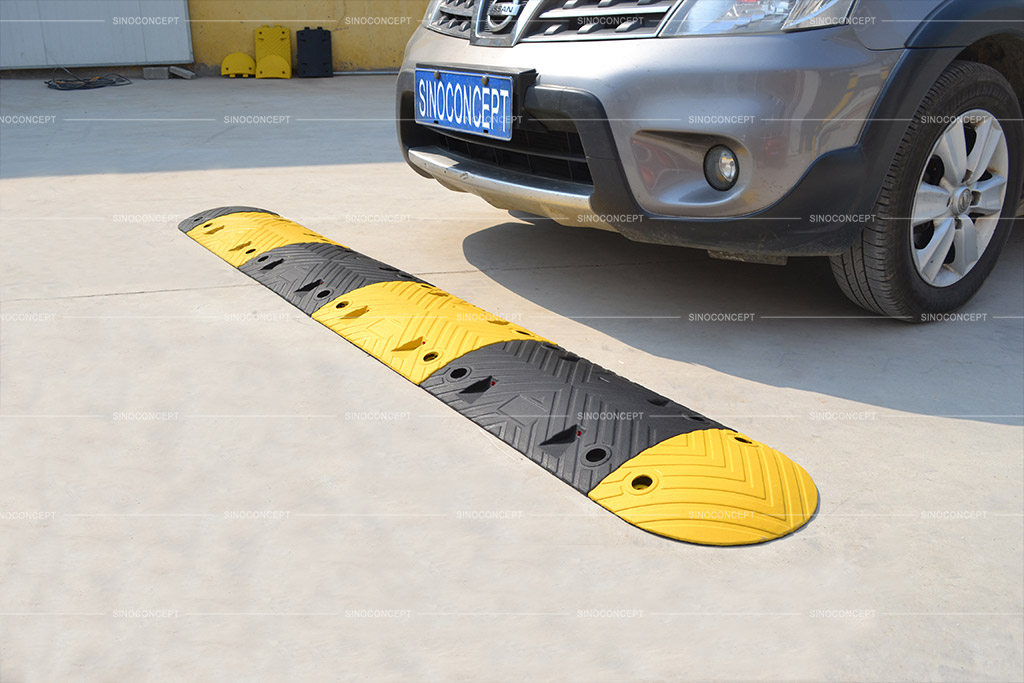 Can you park on a speed bump?
Speed bumps, which are traffic calming measures, can be used to encourage safe driving when there is a lot of pedestrian traffic.
Although there are no rules about parking your car on speed bumps, we don't suggest you park on any speed bumps. Because it affects traffic efficiency. What's more, if your car is blocking driveways or is prohibited from parking, you could be fined for parking on speed bumps.
How to install a rubber speed bump?
The disadvantage of ground speed bumps is that they are not always suitable for road conditions and types. While the rubber speed bump can be used for all types of roads.
In addition, ground bumps require a coating to make them function optimally, while rubber speed bumps do not require it. This will make it easier for transportation engineers to build cost-effective driveways.
Several things must be done to install a speed bump on the road. You cannot install speed bumps on your road haphazardly without the approval of several parties, such as the federal highway administration and local residents.
In addition, a few requirements must be met before this traffic calming measure may be installed.
The above article talks about the UK's speed bump standards and regulations and also the traffic rules.
Some of these are also designed to match traffic signs and incorporate lighting and speed bumps. As a result, the government advises that the above rules must be followed when speed bumps are installed on roads.
In addition, keep an eye out for commercial and domestic speed bumps throughout the UK for better traffic control.
Take a glance at each section to verify that speed bumps are used and installed properly on UK private roads and in remote areas.
To learn more, we advise you to refer to the following pages: