Rubber speed cushion – your best choice!
Rubber speed cushions are a type of speed table made of rubber to calm traffic speed or overspeeding at road intersections and city streets to ensure controlled traffic management.
These traffic-calming recycled rubber speed cushions differ from speed humps and road bumps to slow-down road traffic noiselessly.
Rubber speed cushions also have the advantage of being easily installed and removed from one place to another and do not develop any holes or cracks like asphalt or concrete speed cushions do.
So, never compromise on traffic calming measures for controlled traffic volume and consider the best supplier of speed cushions to discourage fatalities.
Get into the details and know why rubber speed cushions must be your best choice of all types of speed cushions.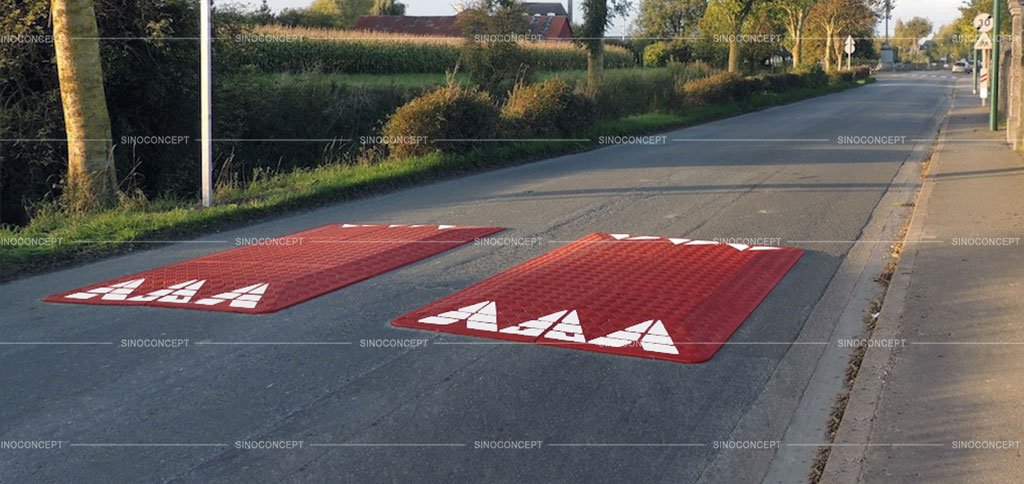 Why are rubber speed cushions your best choice?
Rubber speed cushions are among the best traffic control devices for motorists, bicyclists, emergency vehicles, and cars.
Here are the practical benefits of rubber speed cushions to show their usage for road traffic safety and traffic control plans.
Flexible and compressible
When counting the multiple benefits of speed cushions, flexibility and compressibility of the material come first, and rubber speed cushions have these top-notch qualities.
When speed cushions are installed on roadways, crosswalks, sidewalks, driveways, street parking, near roundabouts and public works (also in a pedestrian zone, school zone, and at an uncontrolled intersection), traffic gets a directional flow without jolts thanks to the fact that rubber is soft.
Rubber speed cushions slow traffic to about 15 – 20 mph (miles per hour). When the wheel stops gradually and the speed limit, collision chances of vehicles decrease, and the driver plus passengers remain safe.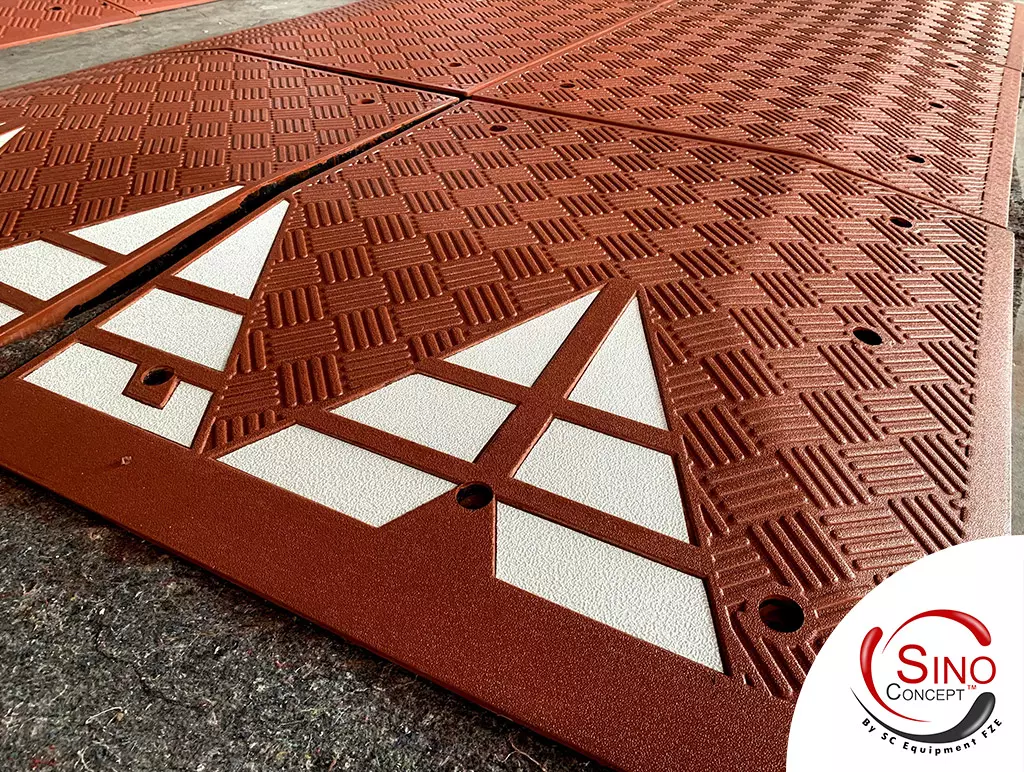 The durability of traffic control measures is inevitable as Federal high-way oncoming traffic and other residential vehicles can wear out speed cushions in no time.
Breakable and untrusted speed cushions would keep you frustrated and need additional costs to repair and replace after a short period.
Highly visible-reflective
Signs and markings on road subdivisions and junctions greatly help in speed reduction, but striping or reflective tape helps to make speed cushions visually reflective and prevent hazardous accidents.
Solid white lines on the cushions also warn to get in a slow zone. When two-way speeding traffic, motor-vehicle, and school buses come into traffic lanes, apprehend speed cushions for speed reduction.
Road markings and highway signs are also visible enough to alarm drivers for speed reduction.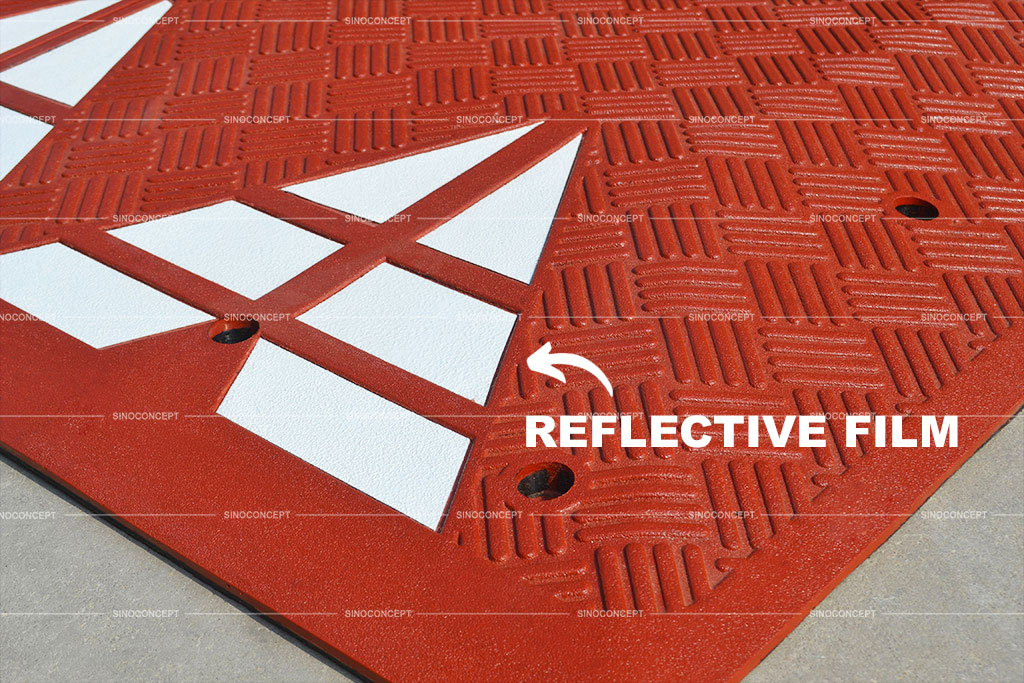 What makes rubber speed cushions stand out?
Rubber speed cushions have much to offer. The traffic data also suggests that traffic control signs, warning signs, signposts, regulatory signs, traffic cones, traffic barriers, parking signs, and rubber speed cushions contribute to high-way safety and pedestrian safety in residential areas.
Find below some features of recycled rubber speed cushions that make them stand out.
Traffic engineers understand the road rules well and put their efforts into minimizing plenty of speed with anti-slip rubber speed cushions.
Slipping or less grasping speed cushions and speed breakers are unsafe for drivers, vehicles, and pedestrians. Signage, traffic, speed, stop, pedestrian, limit, and yield signs warn drivers to be cautious and fully control their vehicles.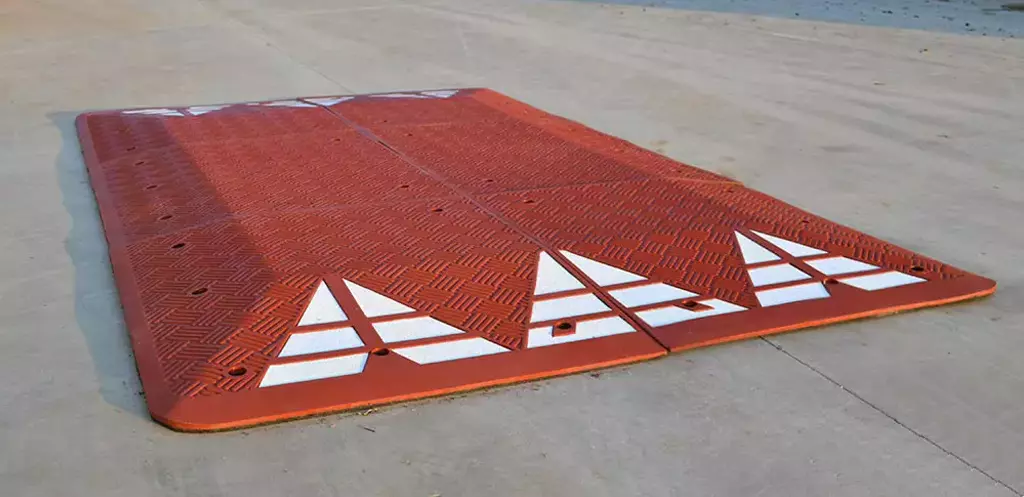 One of the best features of rubber speed cushions is their sound-absorbing power. Speed cushions are made of high-quality compressed and recycled rubber that acts as a sound absorber when passing cars, buses, cyclists and fire trucks.
You cannot find this sound-absorbing feature in recycled plastic, concrete or asphalt speed cushions as they produce traffic noise, which is a considerable disadvantage.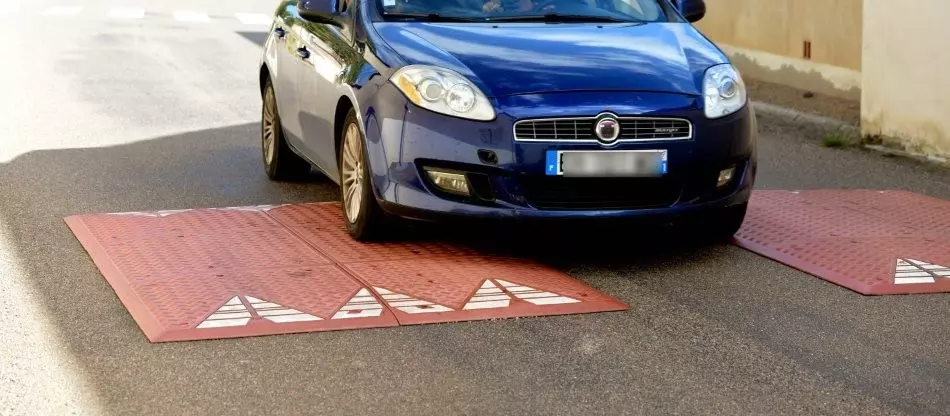 No impact on heavy vehicles
Speed cushions are designed wide enough for buses, heavy traffic straddle, and other vehicles to go without difficulty.
Still, heavy vehicles can pass on taper cushions for road construction and bumps in the road and traffic lanes. Rubber speed cushions are robust enough to bear heavy loads without any indentations or holes.
When speed cushions remain intact and free from damage, their life increases, which keeps them perfect for years to come.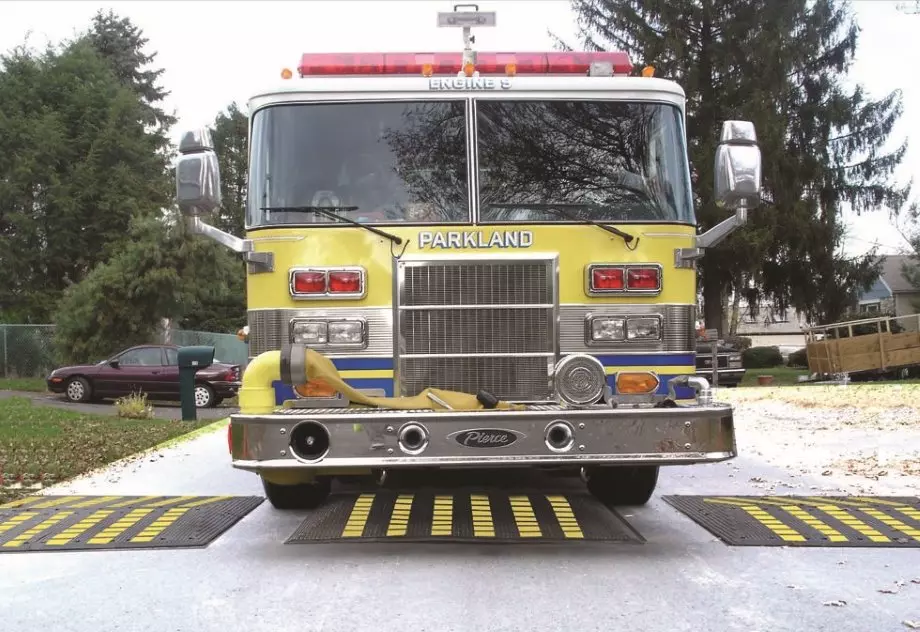 Are rubber speed cushions more expensive than asphalt and concrete?
There are different price ranges for all types of speed cushions, depending on quality and features.
But rubber speed cushions are pretty reasonable and do not require a heavy crew to install on roads and streets. High installation costs and shorter duration can blow up your budget even if you prefer other materials.
After approval from local municipalities, you can have speed cushions in your vicinity and make the pedestrian crossing safe.
So, never run for the cheap purchase and keep safety standards your first priority. Once the best quality rubber speed cushions are installed, there will be no heavy maintenance costs or replacement issues.
What are the best layouts for rubber speed cushions?
Rubber speed cushion layout mainly depends on the street and road size. The cut-through road has a different spacing than the work zone area.
Similarly, city streets need fewer cushions at smaller distances while highways require several speed cushions at reasonable distances.
Good to know relating to the speed cushions' installation: they are intended to be installed in public areas, while speed bumps are intended to be placed in private areas.
To get more information about this, don't hesitate to read below about the three significant layouts mostly followed to install speed cushions.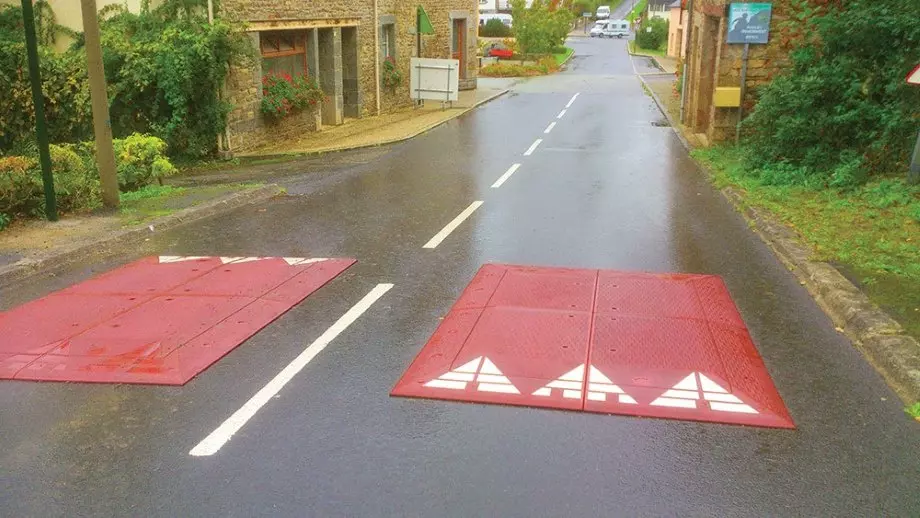 How to install speed cushions?
1. Find the right place
First, single-speed cushions are spaced in series combined with carriageway narrowing or yellow arrows. Solid white lines and pavement markings on the road also guide vehicles to be in that direction. This model is usually used in streets where the traffic load is less than the road.
So, when installing speed cushions, beware of your fellow residents and don't make it disturbing to your neighbourhood. Plus, make your street signalized.
2. Use pairs of cushions on higher-flow roads
The above model will be ruled out if the road is quite broad and has a significant traffic flow, and pairing would go best.
Keep a reasonable distance between two-speed cushions. Neither makes it too wide nor keeps it narrow. Two-way work areas are also suitable for installation as they immensely reduce miles-per-hour speed.
3. Adapted to the environment
The best layout for maximum traffic-loaded roads or highways is grouping three cushions. It is also suitable for high-speed areas, but roads must be broad enough to maintain spacing between successive speed cushions.
When the road is equipped with street lighting, stop lights, traffic lights, and other traffic signs, it is obvious to get calm traffic and better livable conditions.
Therefore, observing which speed cushion installation model can work best for your residence is necessary. Selecting the wrong system cannot meet your needs, and you fail to maintain a regulated traffic flow.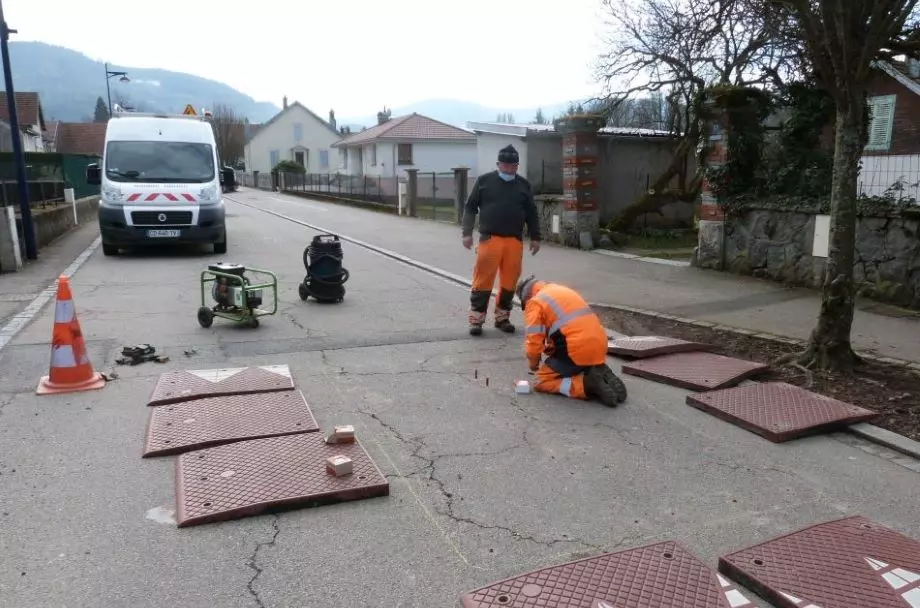 Rubber speed cushions are among the best traffic calming techniques to keep parking lots less crowded and residential communities safe from road accidents.
When cars, bicyclists, and all other vehicles dedicatedly follow traffic rules and signs, the directional traffic goal is achieved. Well-organized traffic also helps traffic regulation authorities to make road procedures easy and workable.
Above all, high-traffic streets regulate traffic without any sound and discomfort. Ambulances easily reach their destinations, and fire trucks' response increases for good traffic outflow.
So, when travelling, carefully obey variable message signs and play your part in road safety goals.
To learn more, we advise you to refer to the following pages: