How to install rubber parking stops?
Parking stops are small tools that are fixed in the parking space of a parking lot, asphalt driveway, street parking, or any parkway by a property owner or the department of transportation to make a roadway, sidewalk, asphalt driveway, and parking area safe for the pedestrian and vehicle.
They guide drivers on where to stop a vehicle without moving too far in a street parking space and reducing pedestrian safety.
They are made from different materials, providing users with many options. A parking stop can be made of rubber, recycled plastic, steel, and wood.
This article explains the rubber parking stop installation process in detail so you can learn and do it yourself. Keep reading the article to find out how a rubber parking stop can be installed on the pavement in simple steps.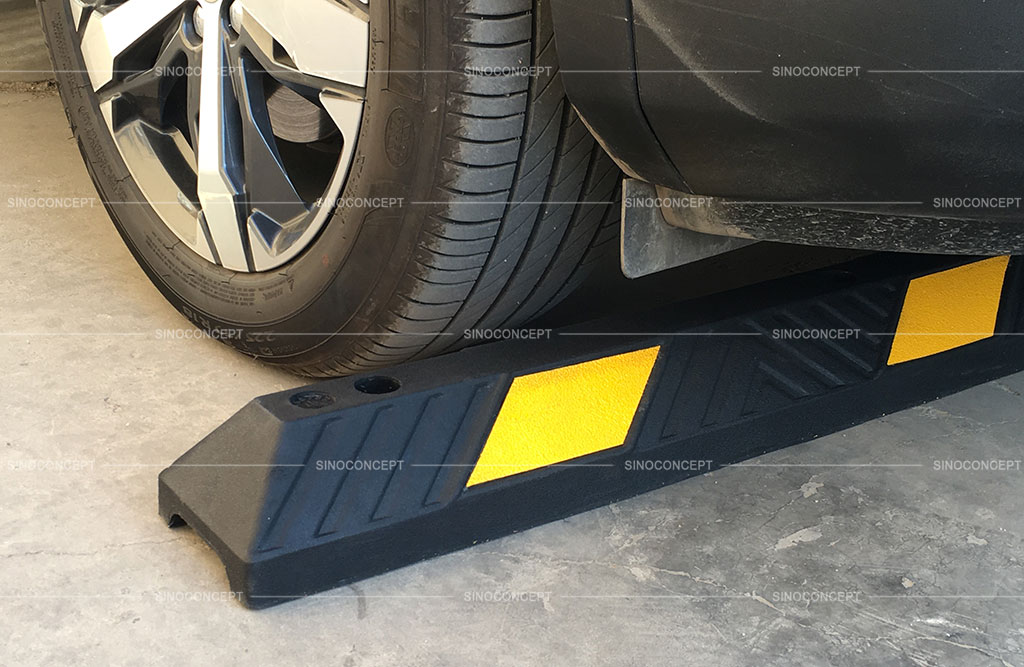 Traffic-control tools, including speed bumps, traffic cones, speed ramps, reflective bollards, bike lanes, trailer wheel stops, race ramps, levelling blocks, speed humps, and motorcycle wheel stops, can be manufactured from different kinds of materials, including powder-coated polyurethane, polypropylene, urethane, rubber, and galvanised metal.
A parking car stop made of rubber is known as a rubber parking stop. Property owners install them on pavements and surfaces of driveways, parking lots, sidewalks, parking spots, warehouses, and garages to help people park their vehicles correctly.
Rubber parking stops are flexible and lighter compared to steel wheel stops and plastic parking stops. It makes them easy to carry, store, and install. They also do not damage wheel tires and withstand the impact when a vehicle drives over them accidentally.
They are drilled into the ground with the help of bolts. If you know that using a screwdriver, ratchet, wrench, masonry drill and hammer drill, positioning and installing a parking stop in asphalt paving, garage parking, or handicapped parking will not be very difficult for you.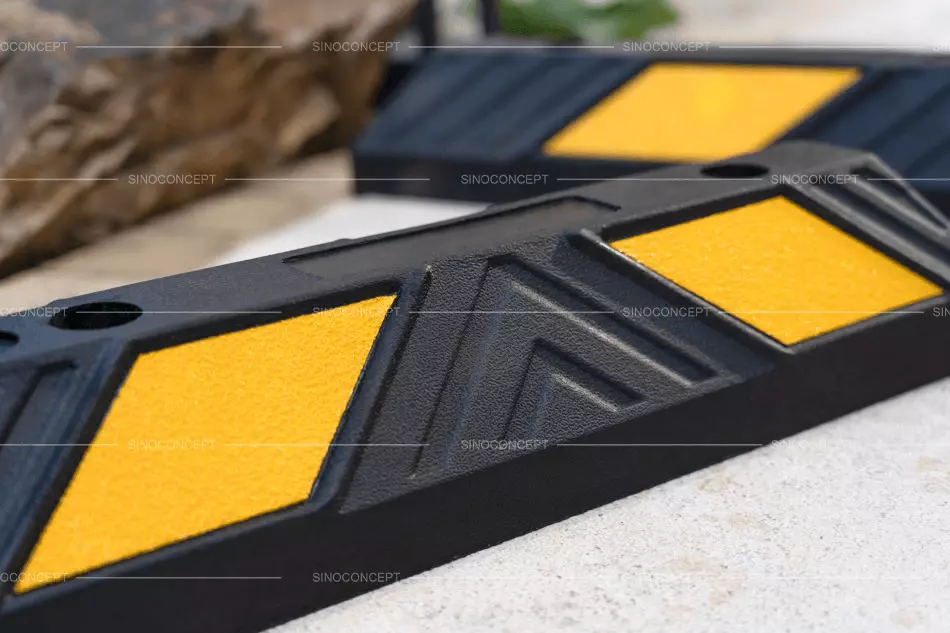 Steps to install rubber parking stops
You can install a parking stop, motorcycle wheel chock, or other basic traffic calming tools like a speed bump, speed hump, lane separator, heavy-duty speed ramp, truck wheel stop and bollard on several places.
If you want to install a parking stop in your space, here are the general steps you must follow.
Step 1: First, identify your requirements. It means you should determine your area of installation.
Now, consider the vehicle type and size as well. Are you interested in installing a wheel stop for buses, trailers, fire rescue vehicles, or cars? Identifying the traffic type, volume, and wheel stop installation area will help you select the right rubber wheel stop for your parking garage.
Step 2: After selecting the suitable parking stop, gather basic equipment, including a hammer drill, socket, hammer, chalk, and hand broom.
Step 3: Mark the exact place with the help of chalk. Place the parking stop on the selected location and mark the exact place of bolt holes in the pavement, gravel ground or loading dock.
Step 4: Make holes in the pavement with the help of a drilling machine. Make sure they are exactly where the car wheel stop holes are.
Step 5: Remove the dust and debris from the selected paved areas of roadways with the help of a hand broom.
Step 6: Get the plastic plug components and start fixing them in the holes with the help of a hammer.
Step 7: Put the parking stop over the surface and insert screws through the holes.
Step 8: Tighten the inserted screws using a socket.
Clean the entire area once again. Congrats, your parking space is now secure for vehicles and pedestrians.
Tips to keep in mind when installing a rubber parking stop
As you have read above, installing a rubber parking stop is easier. You can do it yourself or with the help of one or two other individuals.
You can improve the lifespan of your parking stops and enhance their efficacy if you use the right method of fixing wheel chocks or wheel stops on asphalt pavement.
Follow these tips to increase the effectiveness of your wheel stops and install them the right way.
Learn the building codes or local requirements for using curb ramps, wheel stops or similar tools. Ensure that you buy the product that meets those rules or codes.
Rubber wheel stops come in varying thicknesses. Thicker parking stops are preferred for heavy traffic volume, while thinner wheel stops are preferred for low traffic volume.
So, consider the traffic volume when selecting the product for installation.
Do not forget to remove dust and debris before securing wheel stops to the paver according to the pavement marking.
Use glass eye bolts and laminated reflector striping to improve the visibility of the wheel stops. You should also use a powder coat or sealer during the sealing process. It will help increase the longevity of the car truck wheel stop.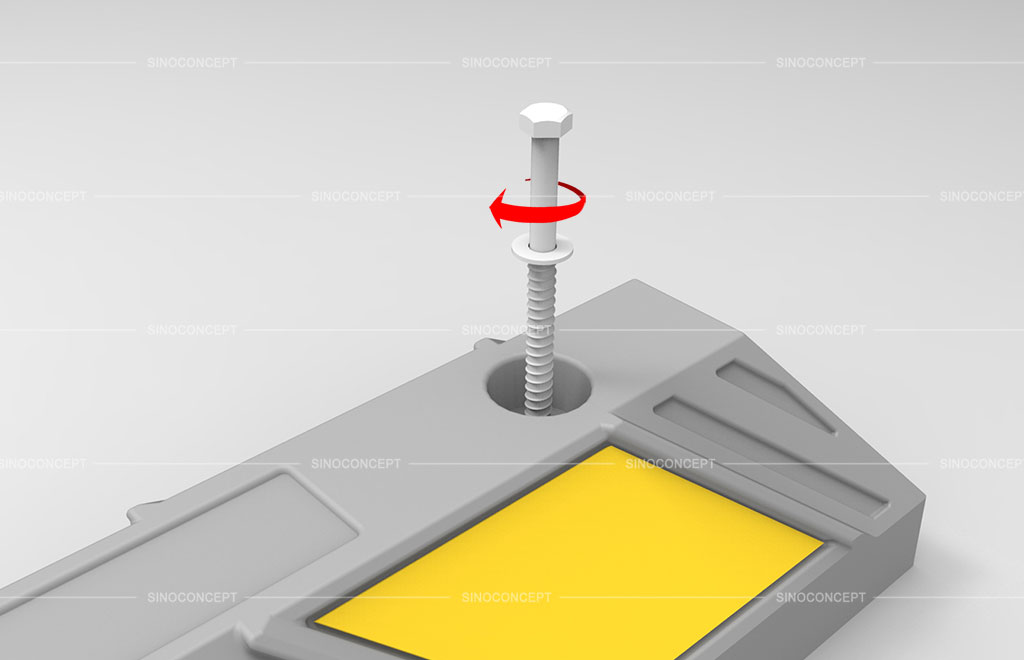 How to select rubber parking stops?
You must consider many things when selecting a rubber wheel stop to protect parked vehicles in your parking lot. Some of these things are:
Rubber parking stops are manufactured in different sizes because different parking lots and vehicle types have different parking stop requirements. Larger vehicles need longer, wider and more heightened wheel stops than smaller vehicles like scooters or cycles.
Therefore, select the right size of the wheel stop after considering the traffic type.
Not all wheel stops are manufactured equally. Some are made from high-quality materials, while others have low-quality materials. If you want something that lasts for years, you should buy wheel stops of high-quality rubber.
There are many manufacturers of wheel stops. Their products vary based on quality, material type, and other features. You should select a manufacturer who is experienced and well-reputed.
Wheel stops come with different features. Some have bright stripes on them, while others don't have any such thing. Some come with fixing kits, while others do not provide additional accessories.
You should select wheel stops that offer many beneficial features, including additional accessories, bright strips, moulded logo customization, UV protection, etc.
Rubber parking stops are installed on property, commercial buildings, industrial areas, or any other place to protect their parking lots safe for vehicles, drivers, pedestrians, and other things present in the parking areas.
There are many advantages to choosing rubber parking stops over concrete, plastic or steel parking stops. You can easily carry them on your own because of their lightweight. They are also highly visible because of their reflecting stripes.
Moreover, you can install them independently and save the installation cost.
Following the above-mentioned installation procedure, you can secure the tool on the pavement just like a professional. If your parking lots do not have parking stops, it is time to install this tool and make the parking space safe.
To learn more, we advise you to refer to the following pages: