Secrets you didn't know about Sino Concept lane dividers!
When it comes to enhancing the safety of cycle traffic and motor vehicle traffic, products like lane separators prove to be very effective and valuable.
They reduce the need to construct a separate cycle lane by physically separating an existing road into two paths – one for cyclists and the other for motor vehicle drivers.
If you are looking for lane separators for your roads, you may find it challenging to select one brand from diverse brands of lane separators. Sino Concept is a reliable company that offers durable rubber lane separators. For more details, our brief purchasing guide of cycle lane separators will certainly help you!
Read this article to learn the secretive benefits and a lot more about two forms of Sino Concept lane dividers.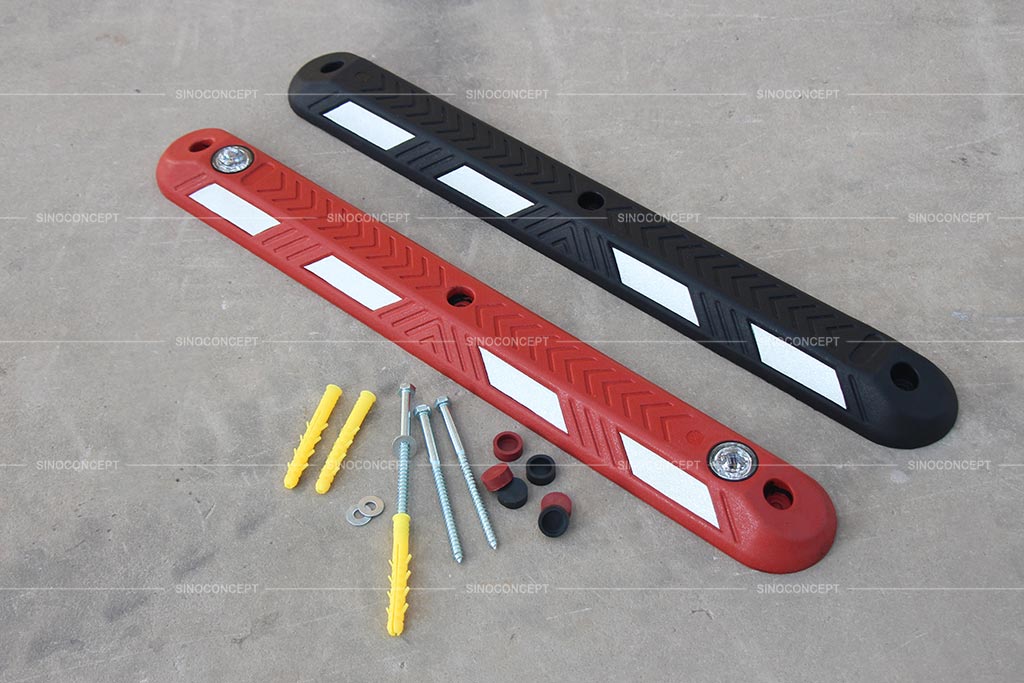 Sino Concept cycle lane separators
Sino Concept is a company that has been providing a variety of products for more than a decade now. It manufactures speed bumps, speed cushions, parking stops, lane dividers, and a lot more to help people create a safe environment and roads for all.
One of the well-known and useful products of the Sino Concept is the lane divider. Like other forms of lane dividers, Sino Concept lane dividers are also fitted on roads or complete streets to form physically separated lanes such as:
Cycleway for bicycle traffic (also can be called a bike route for bikers, cycle lane for cycling or bicycling people, cycle path for cyclists, two-way cycle tracks, bike-friendly travel lane, bikeways for bicycles, cycling tracks, protected bike lanes, bicycle-friendly bike paths, bicycle routes for bicycle riders)
Cycle infrastructure (also called bicycle infrastructure, cycling facilities for cycling people)
Separate lanes for motor traffic or motor-vehicle
People also use them to create bus-only lanes, keep traffic coming from different directions in their specific lanes, form pedestrian pathways, and make emergency vehicle routes.
The main purpose of creating these tools is to offer safety to pedestrians, motorists, people riding a bike to work, and cyclists.
Sino Concept lane dividers come in two different forms. One product is called the Eco lane separator, and the other product is called the Premium lane separator.
Both have some common characteristics as well as unique or individual characteristics. Let's understand them separately.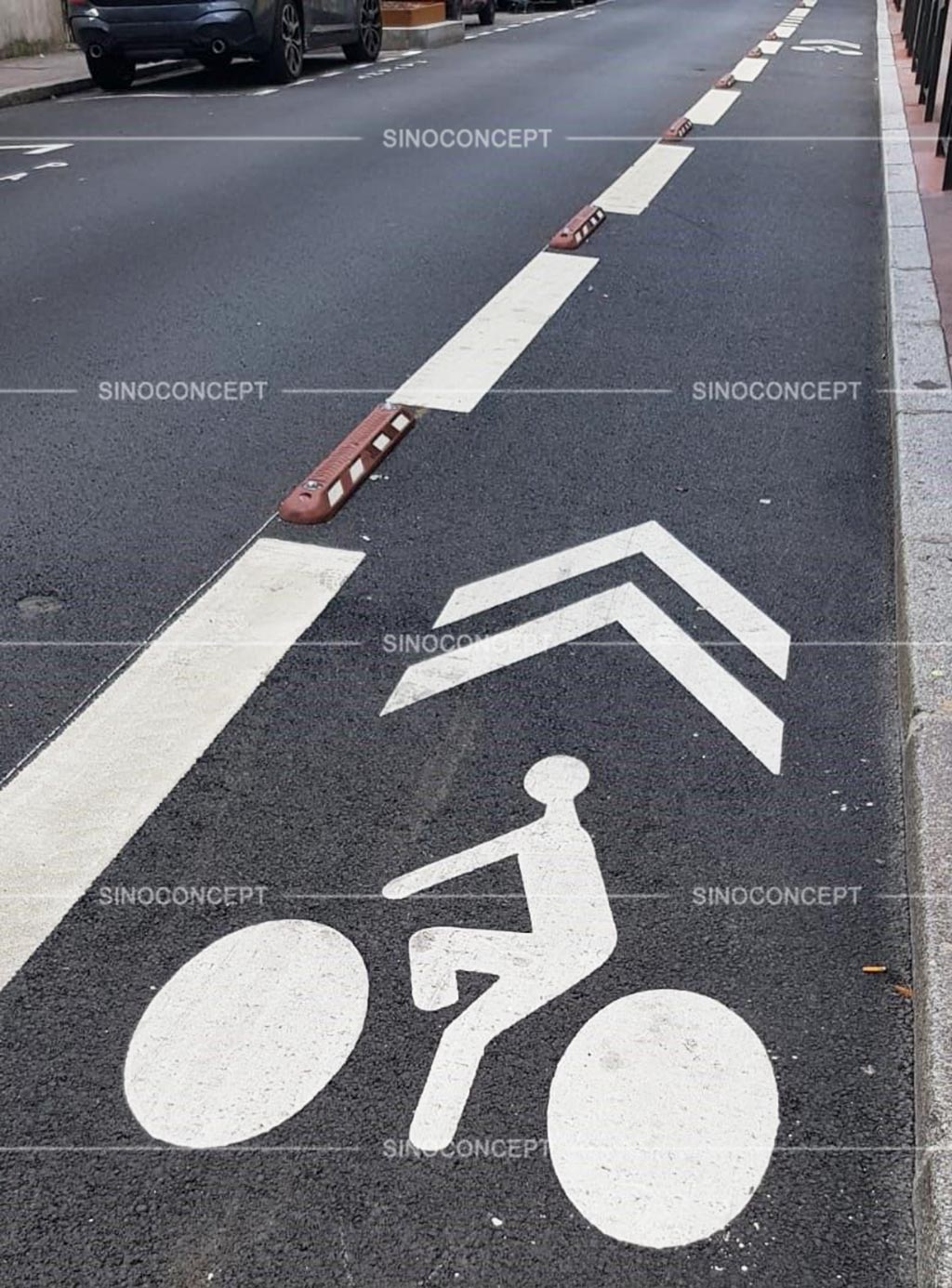 This vehicle traffic calming product is manufactured to segregate a roadway, bicycle lane (also named cycle track, bike path), cycling infrastructure, on-street parking (also called bicycle parking, bike parking, street parking), shared-use path, and car traffic lane in order to reduce the number of vehicular crashes and collisions.
The Premium lane separator is made up of 100% vulcanised rubber, a form of rubber treated with heat and sulphur to increase its hardness.
It indicates that Premium lane separators are hard yet soft enough to perform their function without harming the wheels of motor vehicles or cycles, etc.
This product is available in two colours, black and red. However, you can get them in customized colours as well. There are reflective polyresin stripes on the lane dividers to enhance their visibility and warn motorised vehicle drivers of their presence.
Two tempered glass studs are inserted at the top of the product to further enhance its visibility and make it more effective for street bike lanes. The product is finished with an anti-UV treatment that helps in improving the lifespan of this lane divider.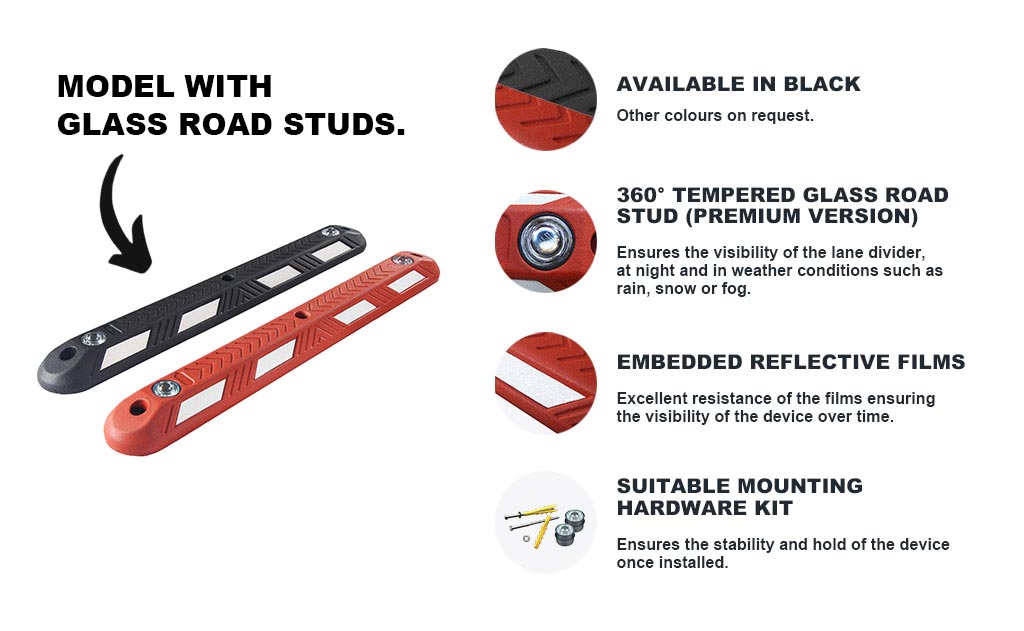 The Department of Transportation uses Eco lane separators on road pavement to control bicycle transportation and city transportation with the goal of reducing the number of per annum fatalities.
It is a multi-use tool, meaning you can use it around on-street parking areas, too, to keep traffic passing from the street away from the parked vehicles.
Like the other product, the Eco lane separator is also manufactured of vulcanised rubber.
This traffic-control tool is a great choice for complete streets or roads where you think a green bicycle or motor vehicle driver has a high chance of colliding with the lane separator.
It has four reflective stripes on each side to make it prominent for traffic coming from both sides of the lane separator. The striping makes Eco lane separators visible at night, too, when there are no lights in the area.
Thanks to the special anti-UV treatment, this product can endure different weather conditions. It is 1,000 mm long, 130 mm wide, and 50 mm high above the ground surface. You can fix it on the road or any other surface using nuts, bolts, and a hammer drill.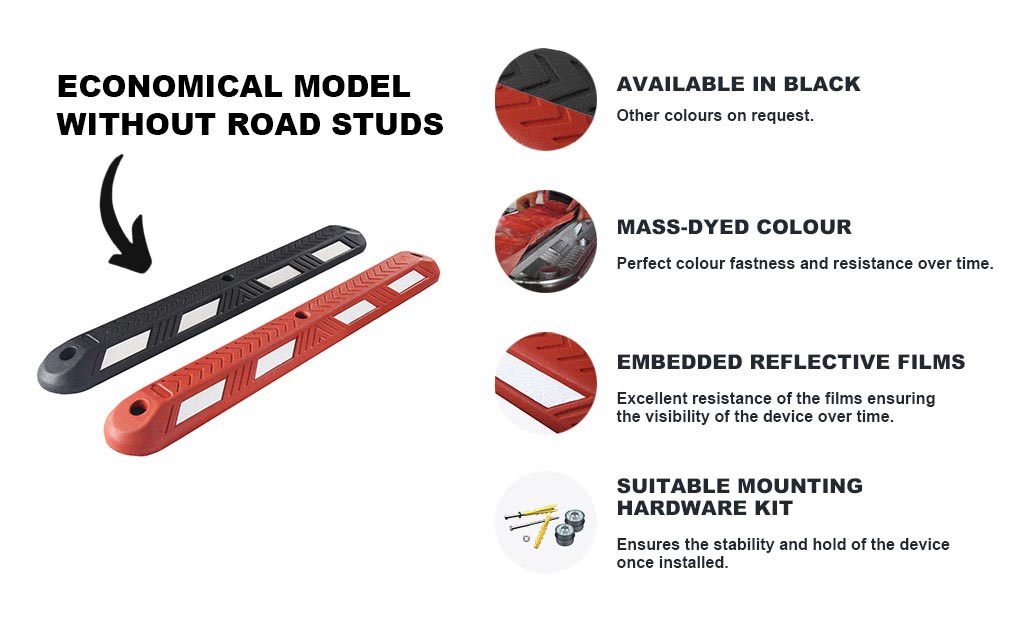 How is a rubber lane separator better than a concrete or plastic lane separator?
A rubber lane separator for bicycle safety on driveways, sidewalks, roadways, and intersections is advantageous in many ways compared to a plastic or steel lane separator.
Here are the reasons why plastic lane dividers are not a good choice:
Recycled plastic lane separators usually become brittle in winter, which makes them a poor choice for cold areas.
They do not have a pleasant appearance as rubber separators have.
Plastic separators are painted in different colours. Their painted surfaces fade over the years due to environmental elements.
The following reasons explain why concrete lane dividers are not a good option for the creation of cycle lanes.
They can be a source of dust pollution.
The concrete lane separator curb comes only in grey colour. You will have to paint them to improve their visibility and appearance.
It is not flexible like rubber and can break down as a result of high impact. It shows that the product does not have high longevity.
The installation process of concrete lane separators is also difficult because they are very heavy, making it hard to move them from one place to another.
The secret benefits of using Sino Concept lane separators
If you are looking for beneficial and lasting rubber lane separators, you should consider Sino Concept lane separators. It is because they offer the following advantages.
They are very easy to install. If you know the basics of the lane separator installation process, you can install these tools on your own. It will help you save installation costs.
You can purchase these products directly from the factory of Sino Concept. Factory products are mostly cost-effective compared to market products. Again, it will help you save money.
If you want a lane divider in different sizes and colours, you can always share your product requirements with the Sino Concept team and get customised products whenever you want.
Sino Concept is a reputable company offering two kinds of lane separators – Eco lane dividers and Premium lane dividers. Both products are similar in many ways.
They are made up of the same material (vulcanised rubber) and have reflective stripes on either side.
They come in black and red colours. However, you can get them in a customised colour as well. You can also request them in any size.
You should consider lane dividers if your roads are unprotected for cyclists and motorists due to the lack of cycle lanes. This tool can offer safety to motor vehicle traffic and cycle traffic by creating physically separated lanes for them.
To learn more, we advise you to refer to the following pages: