Discover here different types of Speed Hump!
Traffic safety has remained a major concern for most economies. High rates of accidents, drastic pedestrian fatalities, property damages, and low traffic controls can prove to be a menace.
Hence, to prevent such disastrous incidents, transportation engineers came up with a less aggressive traffic calming measure known as speed humps.
Speed humps have been around for quite a while. However, they are slightly different from their counterpart, i.e., road bumps. They are an amazing traffic calming tool that can reduce traffic speed and improve traffic regulation.
If you're interested in learning about the structure and specifications of speed humps, then you're at the right place. Here you'll learn everything about speed humps. Without any further ado, let's get started.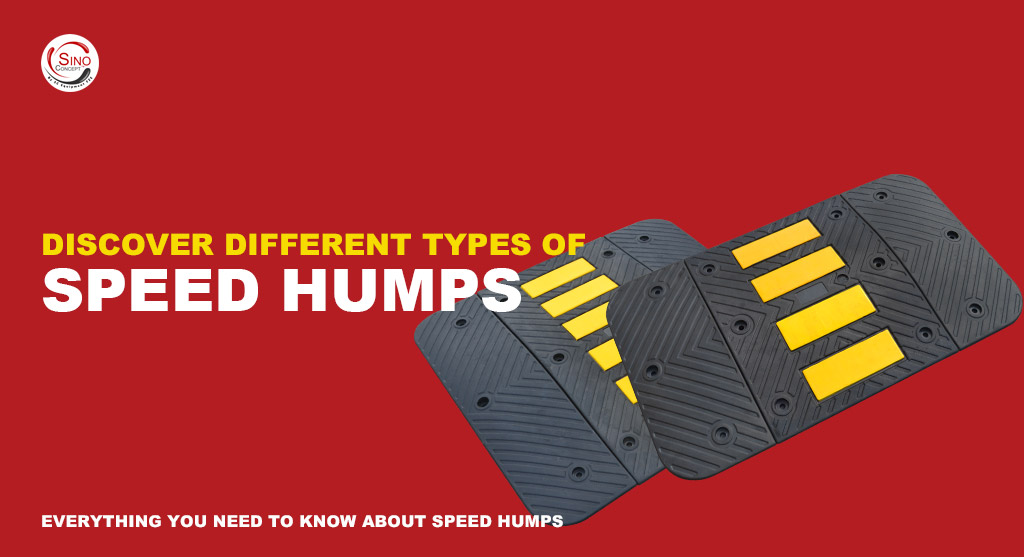 Top 3 materials to manufacture road humps!
Speed humps aren't of one type. Instead, they differ in terms of material composition, size, height, and colour. Let's start with one of the most important pieces of information regarding speed humps, i.e., the material composition.
Usually, speed humps are made from one of the following materials:
All these materials are special in their specific way. Recycled plastic is one of the sturdiest and cheapest materials available. With recycled plastic, you can build strong speed breakers that can last for a long time.
Moreover, they can also act as temporary speed control devices because they are available in segments, enabling you to set them up temporarily.
So, if it seems that traffic is increasing in your area, you may install these temporarily until traffic situations normalize. However, they can be quite noisy too, as evident from the screeching noise when motorist stops their vehicle.
Similarly, rubber is another useful material for creating speed humps. Most commonly, high-quality speed breakers are made from vulcanized rubber – a stronger version that reduces deformity in the rubber.
Therefore, you can expect a durable speed breaker with rubber lasting for a long time. Furthermore, most rubber speed humps incorporate shiny reflective tapes or shiny stripes, making it easier to spot vehicles from a distance.
So, even if a motor vehicle is racing at a high dynamic speed, the motorist can spot the speed hump and reduce the speed. Furthermore, rubber speed humps are even pedestrian and cyclist friendly.
They have anti-slip resistance, making it easier for cyclists and pedestrians to walk over without worrying about skidding. Rubber Speed humps are also less noisy than other materials, and the material is not hard on a vehicle. Even if you rode over them at a fast speed, your vehicle would not face any damage.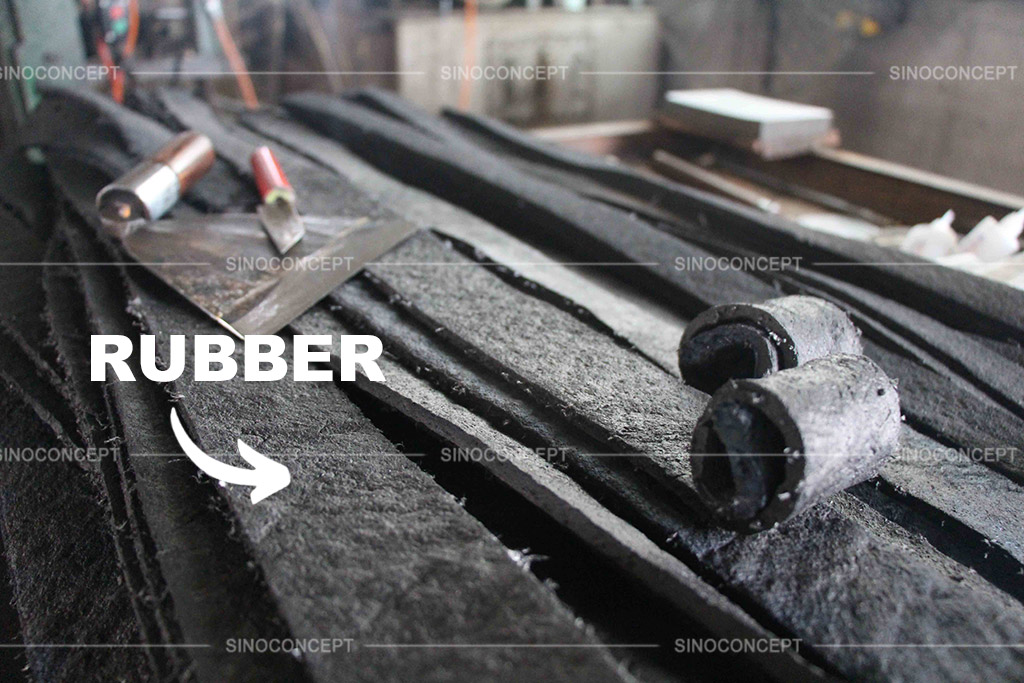 If you want to learn about rubber speed humps in detail, free free to check here: Discover here everything about rubber road humps!
Concrete is another useful traditional material for speed breakers. While it's quite strong and performs a really good job at reducing speed, it can be harsh on vehicles. Their paramount weight and structure can cause damage to vehicles' bodies, which may require costly repair.
Not only that, but it can also chip away because it's not weather-resistant. While installing them is quite easy, the process can be expensive due to the involvement of heavy machinery and power support.
Needless to say, all three of them are different, and their differentiating features make them perfect for their respective roles.
What are temporary speed humps?
Most speed humps are now temporary, so you can easily replace them. For example, suppose that your area gets more traffic during summer than winter. You can maybe install speed humps during summer to prevent vehicles from driving at high speed, which can be hazardous for pedestrians.
Similarly, once the traffic count reduces, you can simply unfasten the bolts and remove the speed humps from the roads. Temporary speed humps are very convenient traffic tools that can easily regulate traffic.
You can install them in parking lots, driveways, streets, or even in front of your property. They are the best way to ensure safety from high-speed vehicles. Temporary speed humps are usually in a modular shape and are available in sections, allowing you to increase the length of speed humps by adding more segments.
Plus, they come with round end caps to complete the shape of speed humps.
Usually, plastic and rubber speed humps are available in speed hump design because they are bolted into the ground. If you decide to remove speed humps, simply unfasten their bolts, and store them in your basement.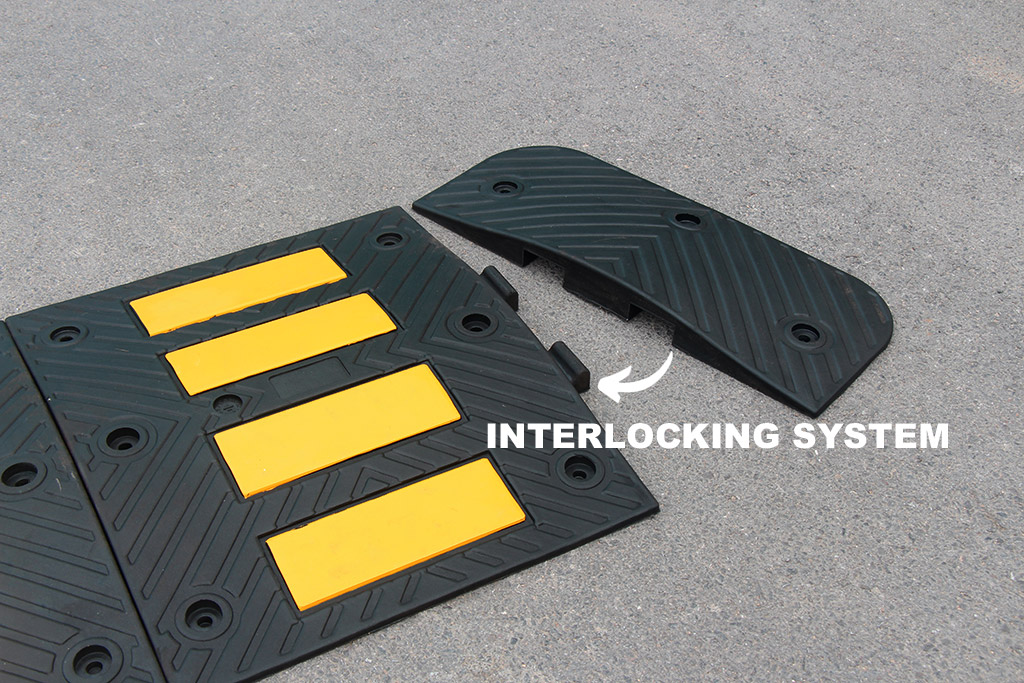 Facts about heavy-duty speed hump!
Usually, all types of speed humps are durable and can bear the load of any vehicle type. But if you're looking for a more robust version, heavy-duty speed humps are what you need. They are made from steel or heavy-duty plastic.
Here are some of the lesser-known facts about them:
Steel speed humps have a floor plate and steel fixing bolts, making them indestructible and able to withstand high loads. Even if huge emergency vehicles such as buses, ambulances, fire trucks, or police vans cross these heavy-duty speed humps, they will counter the heavyweight.
Steel speed humps can also come in a temporary part version, allowing you to add more segments and remove the entire speed hump when it's not needed.
Usually, these heavy-duty speed humps have 4x more load-bearing capacity.
Some heavy-duty speed humps also incorporate channels, allowing you to accommodate cables and hoses under the humps. In this way, the important cables can be covered. So, if you have any event, these heavy-duty speed humps can be placed over important cables for protection.
Steel speed humps are also weather-resistant, allowing you to use them all year round.
They are available in numerous vibrant colours, perfect for increasing visibility.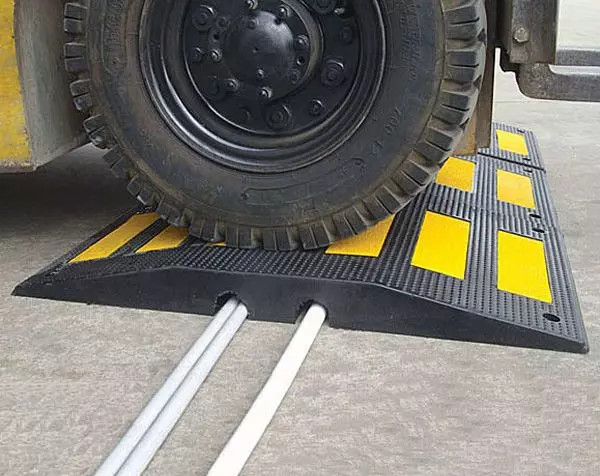 What is the difference between a speed bump and a speed hump?
Both of these traffic tools have a similar function. The only difference is in their design, particularly in height and width. Speed humps are shorter than speed bumps and are less aggressive tools.
Speed humps are quite shallow and appear as a gentle mound on the road. However, on the other hand, speed bumps have a steep rise and a tighter curvature than speed humps. Moreover, speed bumps are narrower and act as gradual ramps.
In the case of a speed bump, they tend to reduce speed as compared to speed humps. However, they can also be more damaging to vehicles' bodies.
Both tools are not used alone. Instead, several other traffic calming measures ensure effective traffic control.
Some more ways include:
Installation of rumble strips, curbs, and bollards can reduce lanes' width and discourage drivers from speeding.
Installing numerous signages and markings such as road, speed, stop, and speed limits. Moreover, there can be displays of road markings, pavement markings, and instructions about warning signs and traffic control rules to reduce crashes and accidents.
Traffic enforcement is also a good solution. F fines and speeding tickets issued to fast drivers may discourage them.
Installing other horizontal reflections such as traffic barriers, traffic cones, roundabouts, regulatory signs, and parking signs. All these can change the road design, which can be more suited for reducing traffic problems.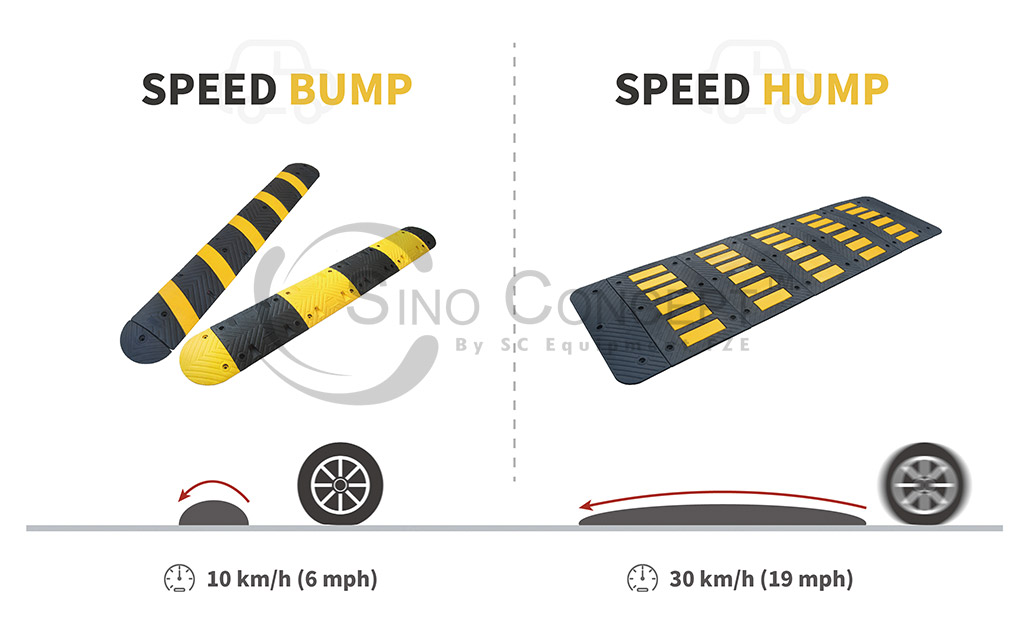 Speed humps are one of the most common traffic tools to reduce speed and improve traffic control. Even many municipalities are required to install them to avoid traffic casualties. Do you have them installed in your area?
If not, then you can play a pivotal role in working for the safety of the entire society. Not only for society, but you can also install speed humps in city streets, driveways, or even in front of your property. Want to have a safe environment for your children?
Look no further than Sino Concept, experts in creating traffic control devices. Check out our product page for our huge collection of different traffic-calming solutions. Reach out today.
To learn more, we advise you to refer to the following pages: