Discover our traffic speed hump purchasing guide!
Speed humps are one of the most important traffic calming devices to reduce the speed of oncoming traffic and increase traffic safety.
These road safety equipment discourage drivers from going fast with a hump in the road and ensure smooth traffic flow with controlled traffic speed.
If road accidents are also normal in your city streets, property zone, and other high-traffic areas, you must increase livability with speed humps and give road users a safe travelling zone.
Thus, there is no second time to know everything about speed humps and clear all your doubts. Then plan to install speed humps at your place after taking all considerable information from this purchasing guide.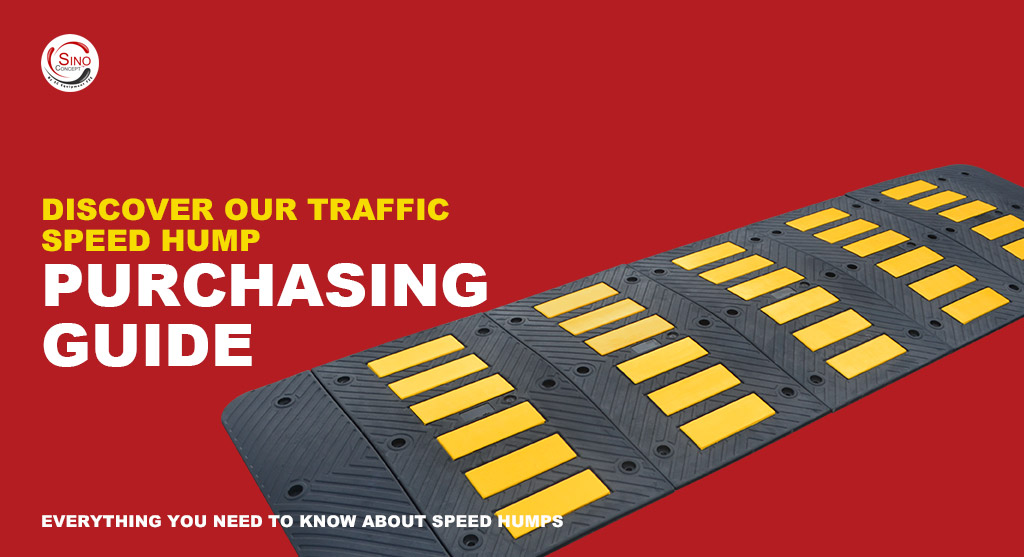 Factors need to consider before buying a traffic calming hump
Buying speed humps or other traffic control devices without considering essential factors can ruin your investment. Multiple suppliers have countless features, and you cannot randomly select a product. Visual appeal, construction, functionality, and many other things make speed humps the best.
So, mark these factors you must consider before buying speed humps:
The first factor not to overlook when purchasing speed humps is the construction material.
You can find speed humps made of rubber, plastic, concrete, and asphalt. Speed humps of all these materials serve differently. Rubber has high compression and can bear frequent traffic flow, including bicycles, motorists, buses, and other vehicles.
Materials other than rubber have less compression and may give a tough time. Similarly, rubber is noiseless and proves best for residential areas where constant traffic is a headache. You cannot bear the additional sound of vehicles passing over speed humps.
When talking about visibility, the reflectivity of speed humps comes on the top to make traffic calming products the best among all. So, select highly visible speed humps, which could be bright overall or with reflective strips.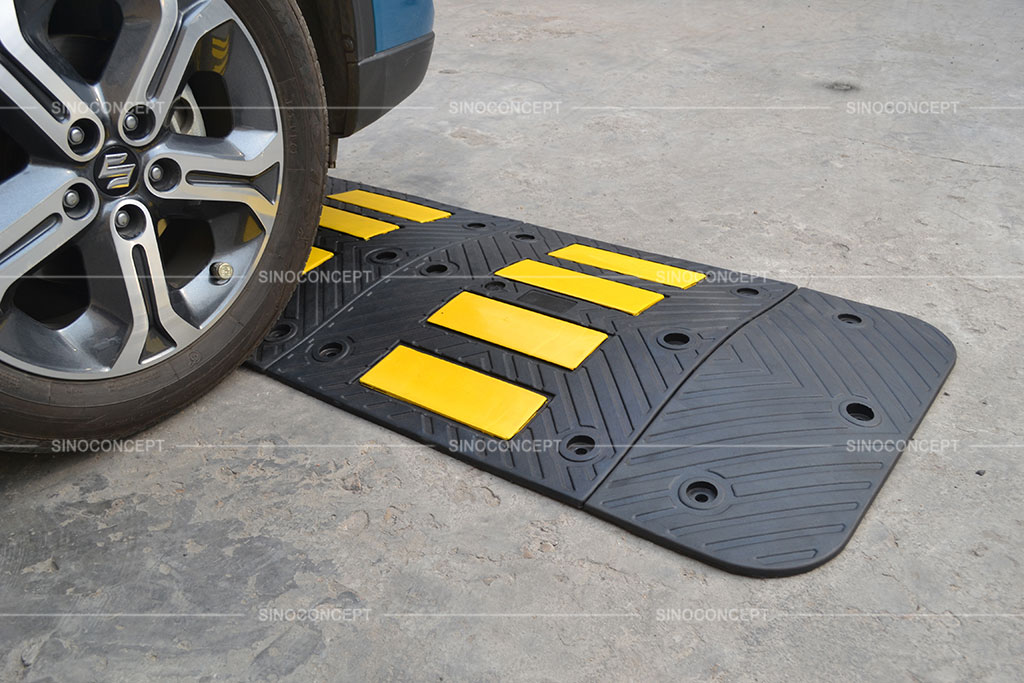 Durability is another prominent factor not to forget when buying speed humps, as there is no use in installing breakable or fragile speed humps.
You should go for sturdy yet flexible speed humps to get the maximum benefit from a one-time investment in speed humps. So, buy highly durable speed humps to use on public, private or commercial sites.

Features that determine the cost of speed humps
Features affecting the cost of speed humps are no different from other road safety devices like speed bumps and speed cushions.
These important points will help you find the best speed humps in the best price range:
Certain things determine the overall cost of speed humps, but the quality is the only parameter summarising all other features. You will not use a few saved bucks if you purchase cheap speed humps. This is because frequent repairing and replacing speed humps will double the cost. Similarly, quality is defined by sturdy material, and you can expect good traffic management with well-formed speed humps.
Colour pattern counts to make speed humps a bit high or low price. For instance, you will find surface-coloured speed humps at a low price compared to speed humps with moulded colours. You can find this feature mainly in rubber speed humps. There will be no use for those speed humps if they are poorly visible or road users cannot guess their presence. In fact, such road devices are a little dangerous for pedestrians, teen drivers, and all road users because the road seems flat, but they experience sudden jolts.
So, don't go for cheaply made speed humps to save a few bucks. And keep quality your priority.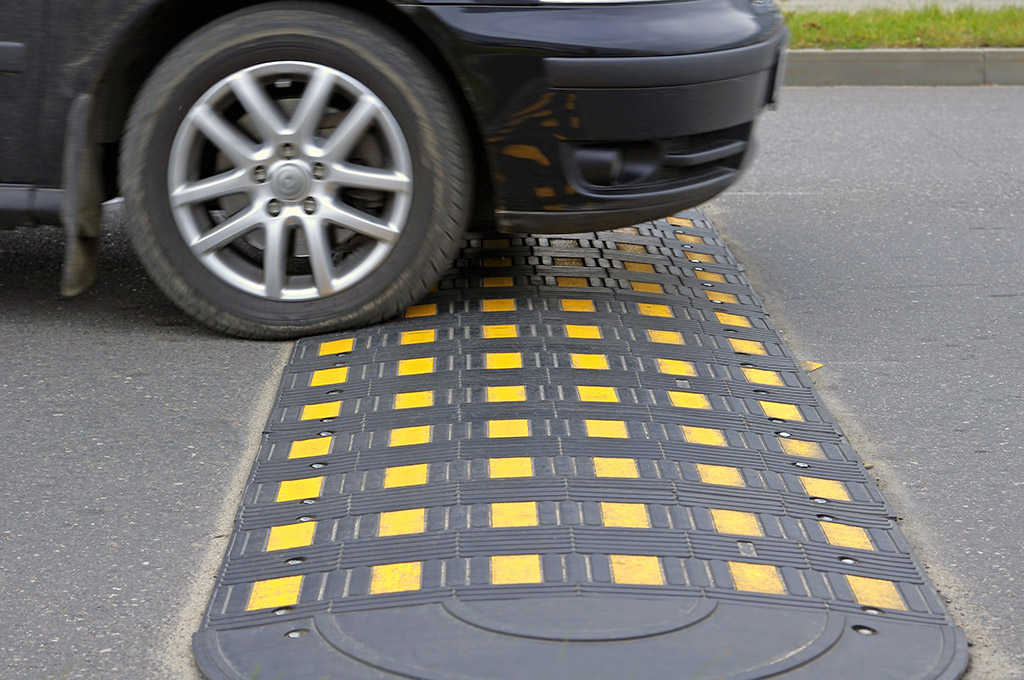 Top speed humps design for sale in the UK!
Speed humps come in different styles in the UK, installed on roadways, driveways, uncontrolled intersections, and traffic lanes to control city traffic.
Typically, you can find speed humps 900mm, 600mm and 500mm wide.
Compared to speed bumps, speed humps are flat and do not give drivers a sudden jolt. The raised section of speed humps allows the driver to slow down and adjust their speed to avoid collision hazards.
Similarly, the height of UK speed humps may vary according to the product, but it is no more than 100mm to discomfort drivers.
When pedestrian safety is ensured at the roadway, crosswalk, intersection, and sidewalk, road users safely crossroads and contribute to traffic management.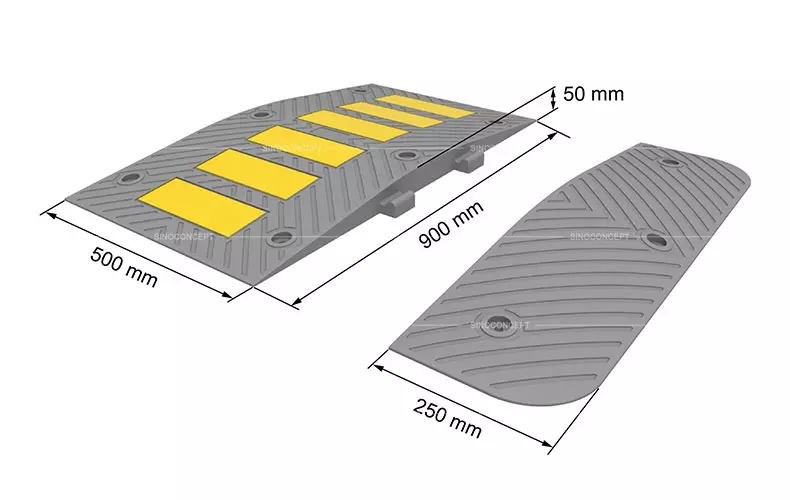 Get to know top speed hump suppliers
Sino Concept, Traffic Logix, Pittman Traffic and Barriers Direct speed humps are some top speed humps suppliers. Transportation engineers of these providers ensure traffic calming measures are of great quality.
All these suppliers offer different speed humps with slight variations, but they control traffic and give secure pedestrian crossing.
Rubber speed humps are the main type of speed humps that makes them long-lasting and durable.
Above all, you can find variety in length, height and width of speed humps for all mentioned suppliers. You can individually visit all suppliers or explore their product range to find your best pick.
Just make sure to get approval from the city-council federal highway administration and contribute to police enforcement to calm traffic with speed humps.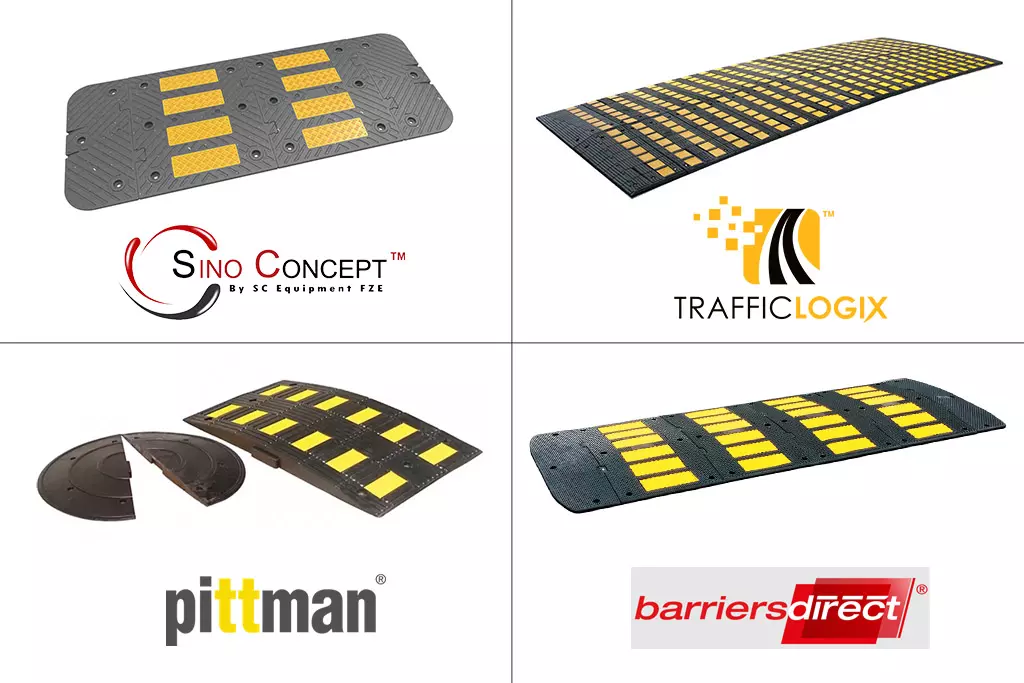 Traffic Logix speed humps
Traffic Logix speed humps are significant road humps installed on roads for speed reduction. These speed humps are recycled rubber with yellow or white reflective markings.
These markings could be either squares or arrows that increase the visibility of speed humps in low-light conditions.
Traffic Logix speed humps are also easy to install and extend on the road to prevent collisions and fatalities. You can use these speed humps for temporary or permanent speed reduction and get controlled speed in your areas.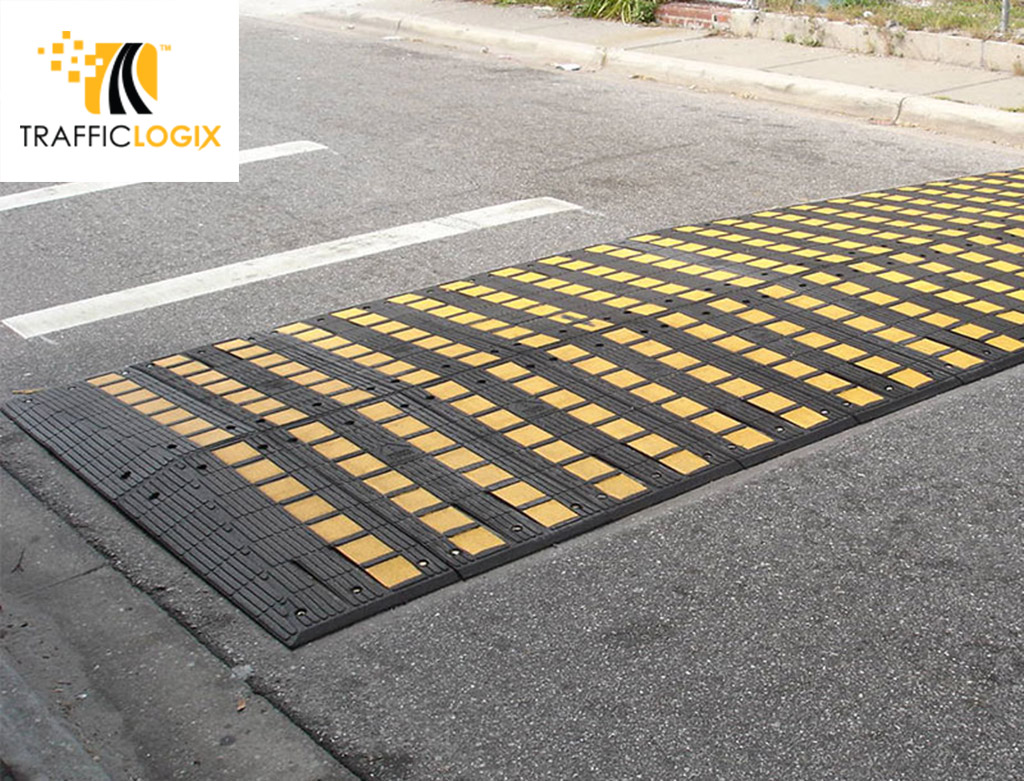 Sino Concept is one of the leading speed hump suppliers with years of experience in manufacturing and delivering quality traffic control devices. Their speed humps are super effective for pedestrian crossing and reduce traffic volume in residential and urban areas.
You can test the tearing speed hump and end up with no damage. Similarly, the construction material of Sino Concept speed humps is recycled rubber, which has high visibility.
Sino Concept speed humps also resist changing weather, high traffic and water. Normally, plastic or concrete speed humps get cracked due to shrinkage or expansion of material during hot and cold weather.
What is the average price of speed humps?
The overall cost of speed humps varies and depends on many vital factors, including draining conditions, materials used, warranty, and the supplier.
For instance, plastic, concrete, or asphalt speed humps may cost less than rubber speed humps, but the risk of breakage shortens their life, and you prefer a long-lasting product with a little more price.
Similarly, the suppliers offering more customer services and warranties may charge a bit higher than others. So it is hard to say the exact price since it has quite a big range. You can get your price directly from the suppliers.
Do you need to buy additional accessories with speed humps?
The installation of different speed humps requires bolts, anchors, spikes, end caps, or other not-so-difficult-to-handle accessories. The accessories' length, width or material may also vary depending on the product design.
So, the well-worth question of buyers looking for speed humps is whether they need to buy accessories separately or if the package includes everything.
To clarify, you can find both types of suppliers offering a complete package, or sometimes you have to buy a few accessories. This is because installation requirements vary according to the surface, and you must fix speed humps to avoid hazards.
Additionally, don't forget to use speed control signs, speed limit signs, and markings for added benefit.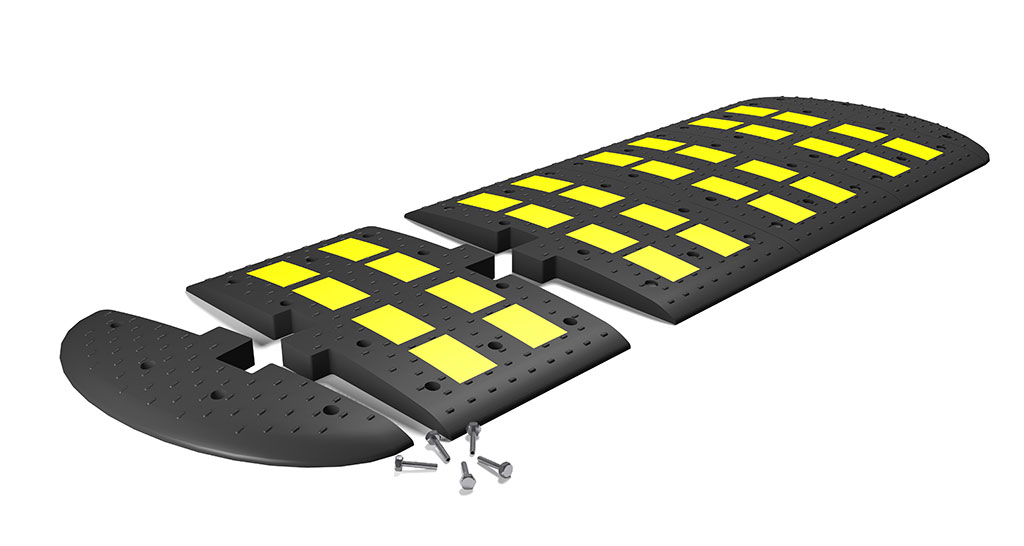 Speed humps are among the most widely used traffic-control devices to reduce traffic volume on roads, streets, and public, private or commercial sites.
These traffic calming devices also give everyone the right of the way, ensuring the safety of emergency vehicles, bicyclists, and other vehicles.
Traffic signals, speed tables, speed bumps, rumble strips, parking signs, road signs, traffic cones, and similar traffic calming devices also help the transportation department achieve steady traffic flow.
Thus, buy genuine and resilient road safety devices to avoid fatalities and accidents without an excess budget.
To learn more, we advise you to refer to the following pages: