All that you need to know about Park-It wheel stops!
Wheel stops are easy-to-install parking blocks that provide excellent means to stop or deter cars from moving beyond a particular point. They are ideal for protecting assets, other vehicles, property and anything near the vehicle.
You can use wheel stoppers to lock wheels in street parking, outdoor parking spaces, airport parking, visitor parking areas, and even parking garages.
Normally, wheel stops greatly increase parking facilities and add value to the parking structure. If you are considering purchasing wheel stops, feel free to discover our brief guide for buying wheel stoppers!
But sometimes you don't know good parking kerb brands and mistakenly select a product. Like many other brands, Park-it wheel stops are used in various parking configurations and have features given in detail over here.
So, let's go on.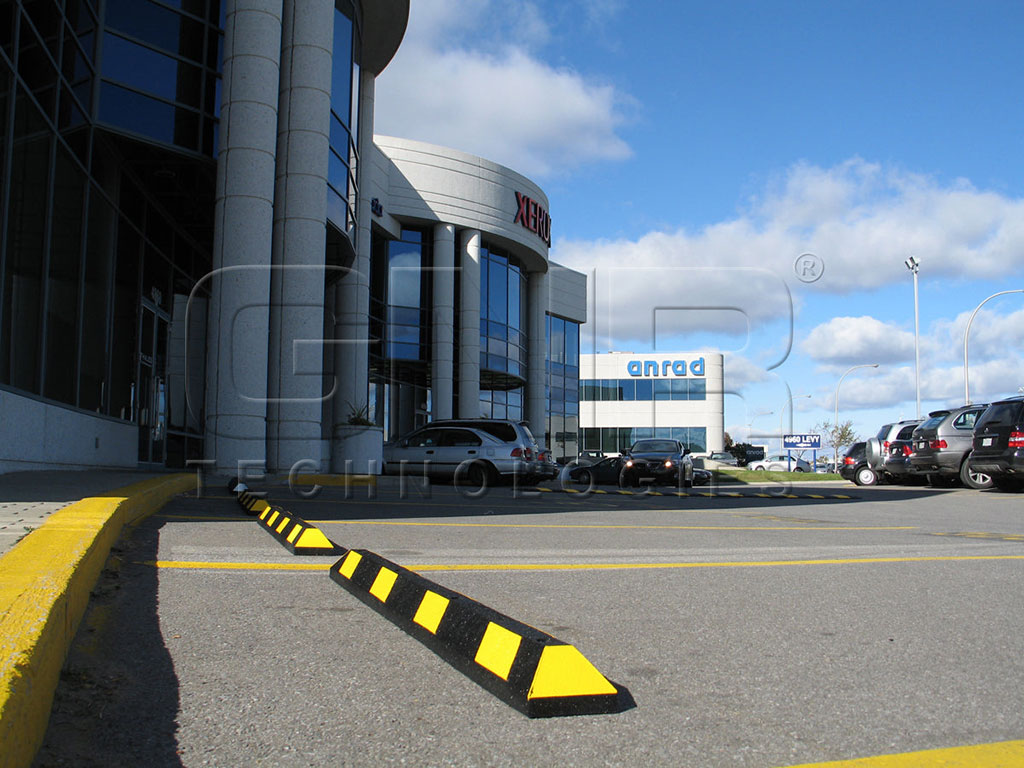 What are the basic facts about Park-it wheel stops?
Park-it wheel stops are made of recycled rubber and are efficient traffic control devices used in indoor and outdoor parking spots. The durability of these rubber wheel stops is comparatively high, and they are resistant to oil, heat, and even chemicals.
The changing weather doesn't negatively affect Park-it wheel stops, and they don't break or crack. Above all, you can install these wheel stops on uneven road surfaces.
These wheel stops are also used with electric vehicle charging bays to prevent vehicles from accidentally striking expensive EV charging points.
Typically, Park-it wheel stops have a black base with yellow or white reflective markings that are moulded in manufacturing the wheel stops. There would be no colour change of these wheel stops, and bright colours make them visible, so drivers get alert and park their vehicles carefully.
The installation requirements of Park-it wheel stops are simple because they are lightweight and can be used in temporary or permanent parking areas.
Whether it is a free parking zone, off-street parking, on-street parking or car parking space for residential areas, Park-it wheel stops help avoid collisions between vehicles.
What are the standard lengths of Park-it wheel stops?
You can divide parking infrastructure into different sections using Park-it wheel stops as their lengths are available. You can get long-wheel stops and medium-sized or short-wheel stoppers for different wheel sizes.
Here are the dimensions of the Park-it wheel stops:
The first length is the longest one, and like many other parking kerb brands, there is a 1,800 mm style. These wheel stoppers are around 6 feet long and have 4 drilling holes. You must have 4 spikes to install these wheel stops on the ground.
Next is shorter than the previous and is 1,200 mm. These are nearly 4 feet long with 3 drilling holes, and similarly, you need to insert 3 spikes as fixtures to install.
The third type of Park-it wheel stops is 900 mm long; on average, they are 3 feet long. Such wheel stops are mostly used in city street parking with limited space, so the vehicles are spaced properly to avoid mismanagement. You can find 2 pre-drilled holes for 2 spikes in these wheel stops.
Here comes the shortest variety of Park-it wheel stops, 550 mm long. They are around 22" in length with 2 holes. Although their length is comparatively short from the last one, they still have a similar count for holes and spikes because one hole would not be sufficient to settle them on the road.
As all these wheel stops vary in length, their weight also differs. It depends on the size you have picked, but generally, they are not quite heavy. At the same time, the height and width of all mentioned Park-it wheel stops are the same.
The number of reflective strips is also different on all these wheel stops.
How can Park-it wheel stops be beneficial?
Park-it wheel stops ensure pedestrian safety at several places. You can use these wheel stops as a permanent or temporary solution to make lanes for parking ambulances, fire trucks, lifting devices, motor vehicles and other four-wheel vehicles.
Park-it-wheel stops ensure traffic safety by locking wheels in the driveway, roadway, pedestrian crossing, or other high-traffic areas.
Sometimes, drivers unconsciously park vehicles in their garage parking, public parking or anywhere parking is available without assuming they need to slow down. This is because car mirrors do not accurately help to stop, so the car extends to the sidewalk or curbs.
When the front or back of oversized vehicles is out of the parking area, pedestrians or handicapped individuals face difficulty moving on the road.
Remember, a combination of traffic calming devices gives ideal traffic management. The overspeeding vehicles cannot abruptly stop and park.
Instead, speed bumps, speed humps, traffic cones, signage, speed limit signs, rumble strips, bollards and other traffic signs work efficiently.
When these devices are installed on roads, loading and unloading sites, the drivers can precisely park their vehicles without experiencing bumps or jolts.
Above all, Park-it wheel stops do not damage cars, and a vehicle with a lower front end does not hit the wheel stop surface.
Do Park-it wheel stops rot or crack in outdoor parking lots?
Park-it wheel stops are made of recycled rubber, and unlike recycled plastic or wooden wheel stops, they are long-lasting.
Oil or chemicals can also damage factory wheel stops, but Park-it wheel stops are not affected by such usage. Similarly, harsh weather conditions, heat, snow or cold have no impact on the wheel stops.
At the same time, Park-it wheel stops can bear the load of vehicles and are not damaged.
Outdoor areas, commercial sites or public zones have huge traffic flow, and it is common for wheel stops to rot or crack. This is because of moisture or extensive use that results in breakage, but Park-it wheel stops can do a relatively good job.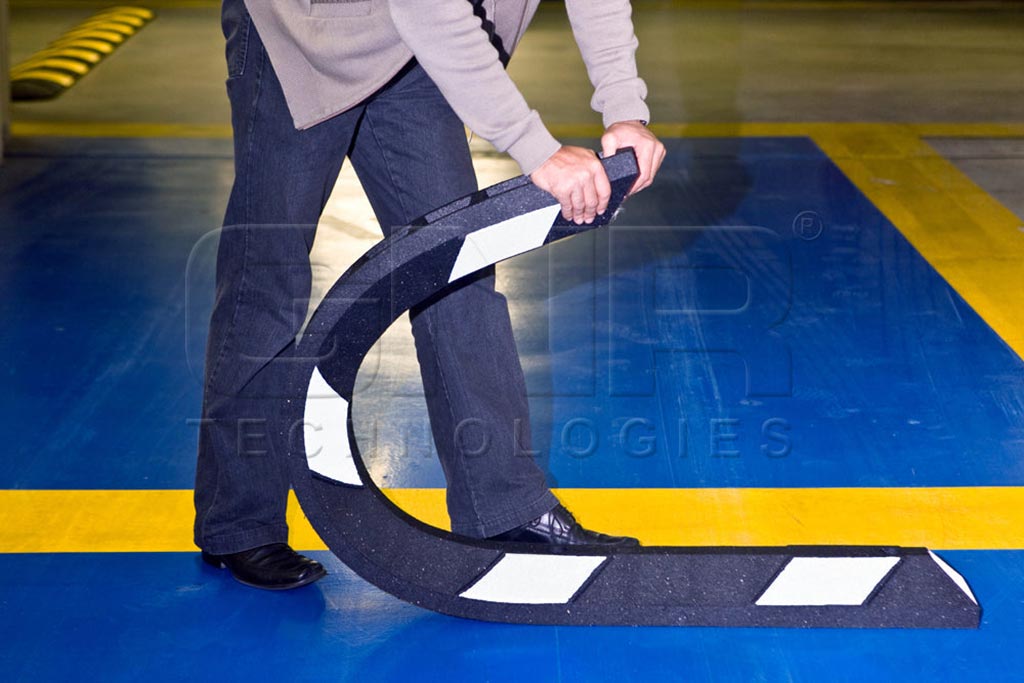 Are Park-it wheel stops good for residential parking?
Park-it wheel stops have a range of sizes, and they do well in residential areas for vehicle parking. If designated parking spaces are not available, you can make individual parking in front of your house, but make sure to get a parking permit to avoid any problems.
Sometimes, parking costs seem unfair, and you want to benefit from a personal garage parking space. You can place Park-it wheel stops as per your feasibility and make a free parking space.
In addition to this, the shortage of parking spaces is common in residential areas, especially at weekends when everyone is home or has gatherings.
If you ever face such a situation, you can make a temporary large parking garage and enjoy your day.
Wheel stops are among the best traffic-control devices to increase parking availability. Typically, parking rules are not followed, and drivers park their vehicles without getting about the inconvenience.
But wheel stops avoid hazards and make parking accessible. This proves safe for riders and contributes to a tidy parking zone.
Transportation engineers and police enforcement also have the vision to discourage fatalities by encouraging safe parking zones with wheel stops. You can also play your part in it.
All you need is to make parking structures that are functional and accessible, display parking signs and play your part in improving city traffic.
To learn more, we advise you to refer to the following pages: