How does a parking bumper work?
A parking bumper is a small barrier at the end of parking facilities that helps drivers park their cars. That is the role of parking blocks.
Parking lot safety may increase by using these blocks. They protect car parking areas efficiently. They can withstand very high or very low temperatures.
Their reflective films offer excellent visibility at night, protecting vehicles from accidents in parking lots. There are different names for parking bumpers, such as parking blocks, wheel stops, parking curbs, wheel stoppers, car stops, and parking stops.
Parking blocks offer long service lives and superior durability and strength to withstand vehicular traffic wheel effects.
However, these parking accessories may act as a tripping hazard for pedestrians. Especially while walking, pedestrians may also trip over them.
Rubber parking bumper has many advantages over other materials. Their installation process is straightforward.
The best thing about a rubber wheel stop is that you can install it anywhere you want, including factories, residential parking, and shopping malls.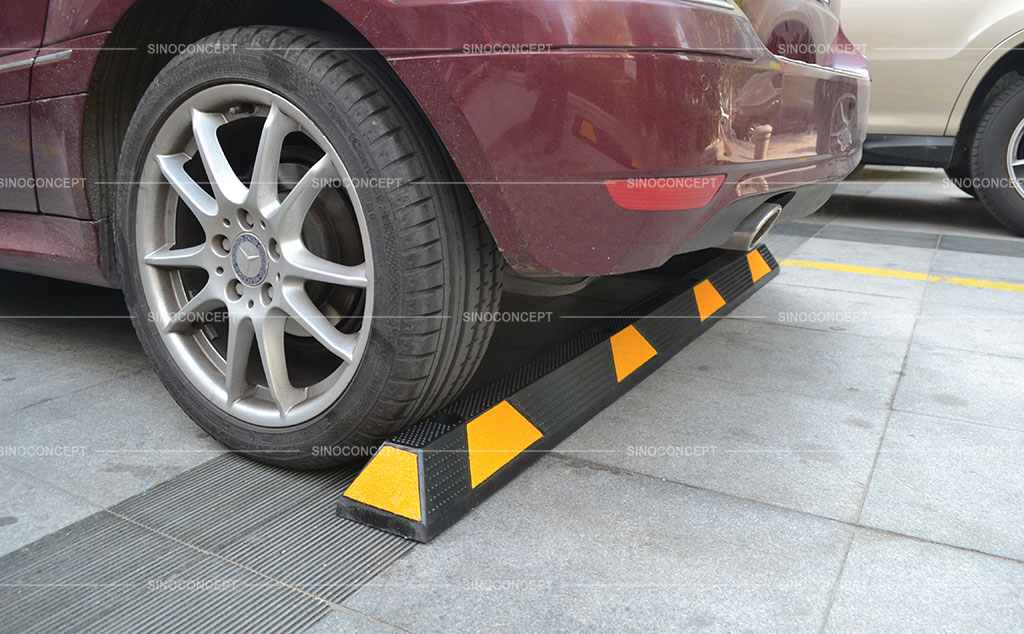 What is a parking bumper?
A parking bumper is an essential tool of traffic safety equipment that protects a wide range of structures and parked vehicles from being struck by traffic. It helps in convenient vehicle parking and is ideal for garages, driveways, and parking lots.
These small strips are substantial, and you don't need to be bolted down. You can stop your vehicle precisely with the help of a wheel stop.
Typically, parking spaces are 8.5 to 9 feet wide by 18 feet long. The mostly 3-foot area should be left between wheel stops for the convenient flow of pedestrians.
The parking lot lane should be between rows ranging between 14 to 24 feet, depending on whether they're a one-way or a two-way passageway. Generally, they're placed in the centre of the parking area.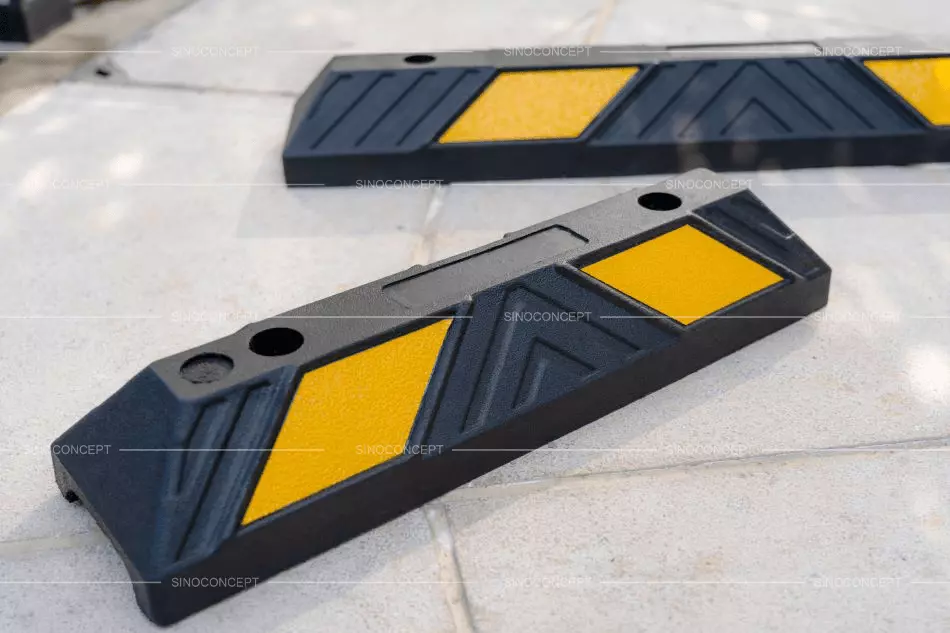 For the safety of buildings, vehicles, and parking lots, you cannot ignore the importance of a wheel stopper.
They are essential tools in safe parking equipment. Parking bumpers are available in different types based on their material, such as rubber, concrete, and plastics.
Concrete parking bumpers are heavier than other parking curbs. Because of their high durability, they are solid and safe. Once installed it, you do not need to worry about them clipping off.
You can repair and repaint if they get damaged. They will likely last longer and look better for longer. However, the cement used in constructing concrete bumper blocks is porous, making it unfavourable for winter weather.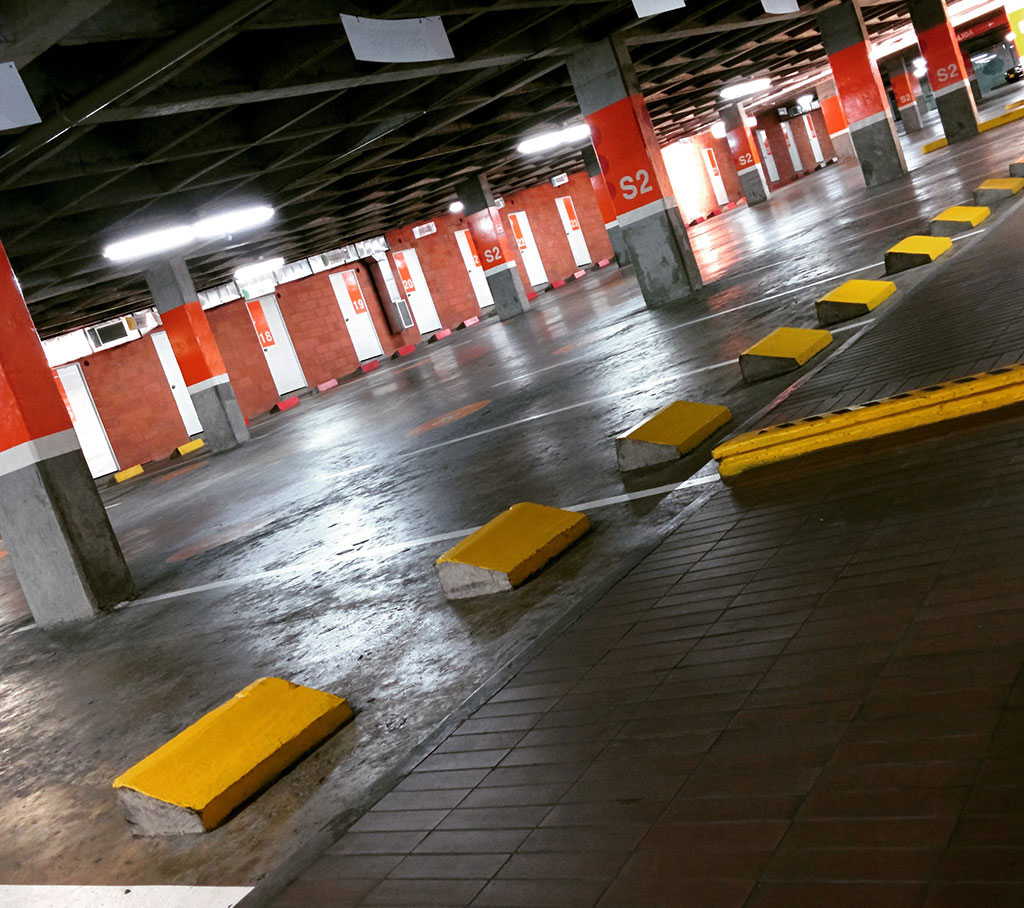 Rubber parking bumper
Rubber parking bumpers are made up of recycled rubber material. They are lighter, and you can easily install them in your garage.
They are eco-friendly, withstand adverse weather conditions, and resist UV light, moisture, oil, and extreme temperatures.
Unlike others, a rubber bumper is flexible and is less likely to crack or break. They are much more sustainable and long-lasting. However, they are still sturdy enough to prevent slow-moving vehicles from going too far forward.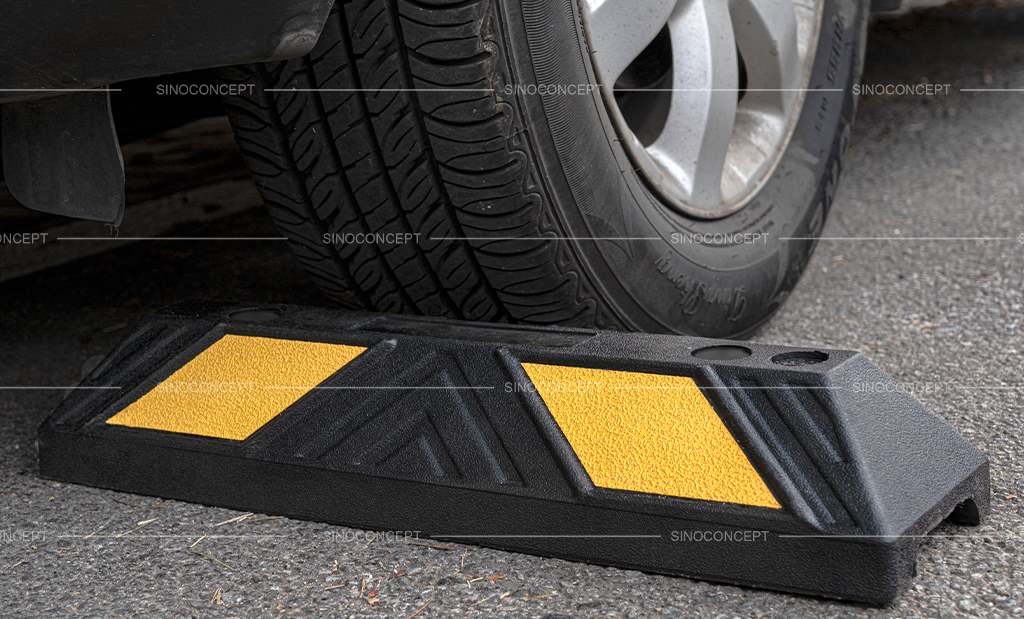 Plastic parking bumper
Recycled plastic makes plastic parking bumpers. They are also lighter, and one person can easily install them.
They are low-maintenance parking lot accessories and highly resistant to chemicals. A plastic bumper is a buffer to protect utility poles, signage, walls, vehicles, buildings, landscaping, and sidewalk curbs.
The plastic curbs are predrilled for easy anchoring to asphalt and concrete parking lots. They are available in different colours and sizes.
The visibly handicapped blue colour parking curbs are explicitly used to designate handicapped parking spaces in your parking areas.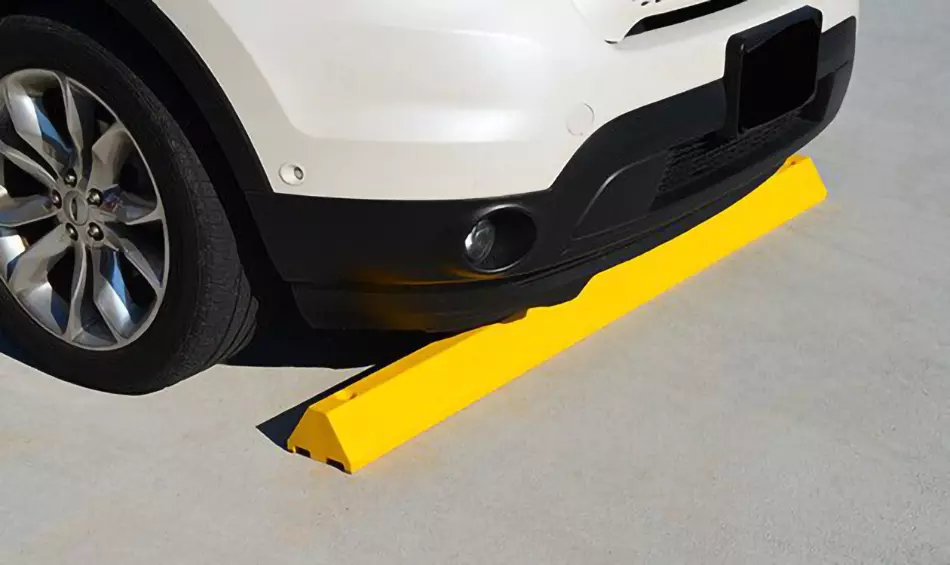 Different parking spots worldwide use parking bumpers to regulate traffic flow. However, it does not stop the vehicle from moving forward. But it helps drivers by providing visual guidance and resistance.
Drivers can make better decisions when and how they stop their cars. Let's see how parking bumpers can help you in your driving.
Protect from damage
Parking curbs are symbols of alert for drivers when they reach the edge of the parking spot. Installing these blocks along the edge of a parking lot protects buildings, landscaping, and pedestrians from sudden collisions and scratches.
Parking curbs are a boundary between roadside obstacles and cars to restrict them from driving beyond the car stop. The purpose of the yellow colour in parking stops is to make them more visible to pedestrians.
You can use it for angled parking by perfectly aligned at the centre of the space. The primary role of wheel stoppers is to prevent a vehicle's projection from dipping into nearby routes, such as sidewalks.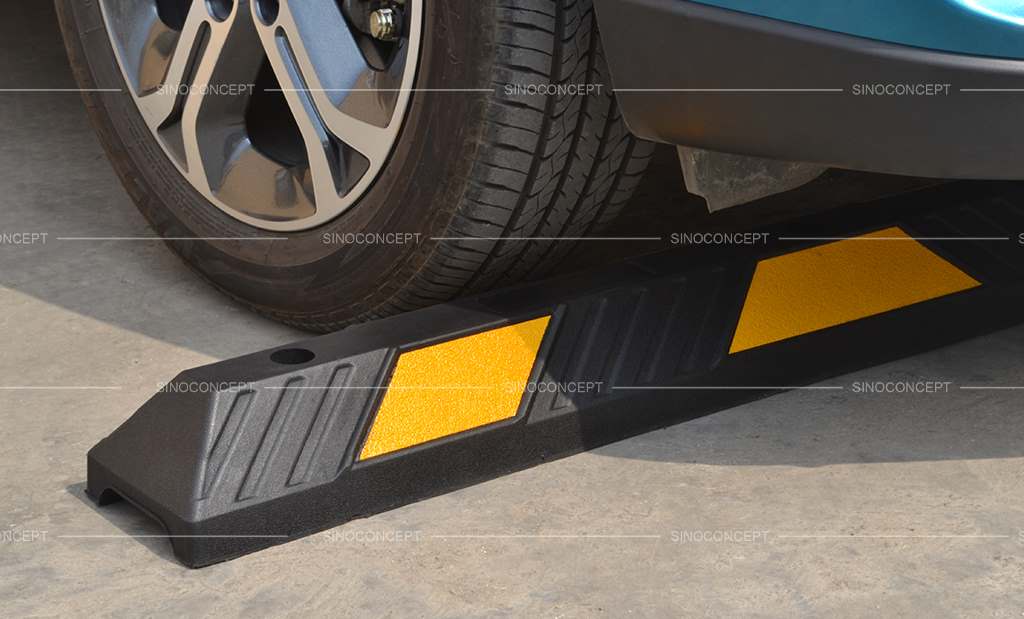 Make parking efficient
No matter what kind of vehicle passes over the parking block, its length is long enough that every vehicle can quickly stop on it.
Hence, it helps the driver navigate their parking spots. In addition, it allows you to get out of your car quickly without damaging the car parked next to you.
It acts as a visual map for drivers that defines the parking lots even when painted lines are absent. It is easier to utilize available parking spaces when drivers know how close together they should park.
Moreover, they help drivers park their cars without causing any inconvenience to other motorists. A well-organized parking lot gives the parking lot and its surroundings a uniform appearance.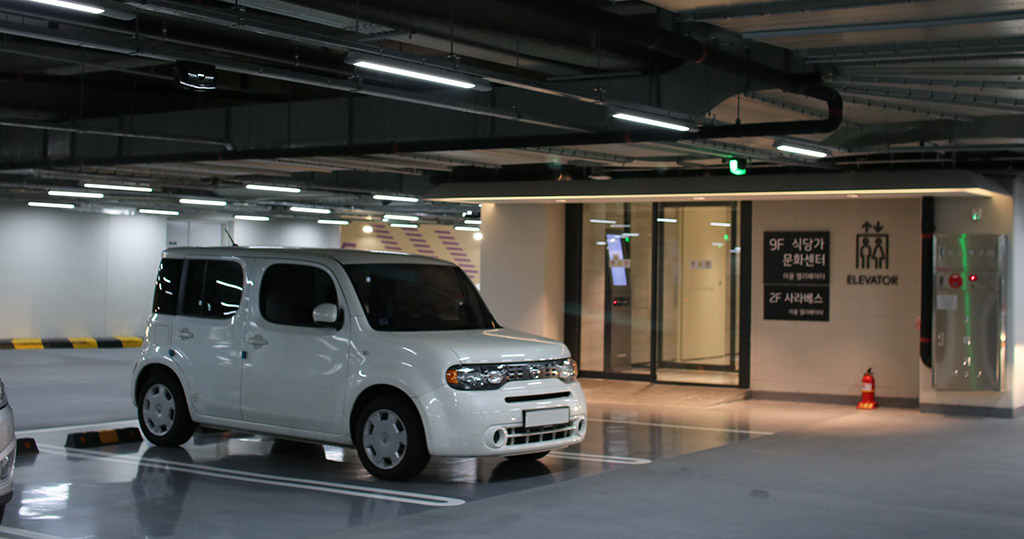 Outstanding versatility
A parking bumper is not restricted to a specific area. You can install it anywhere. There are a variety of locations from where you can install it, such as:
Industrial or commercial parking
Alongside the pedestrian lanes
Parking areas have three or more off-street spaces
Parking lots next to a residential zone
Parking spaces adjoining a public street
You can even use a small parking bumper. It helps buses and trucks by providing guidance that would benefit them to manoeuvre and park in the space.
How to install a parking bumper?
A parking bumper can be installed in various places, including private or public parking. The process of installing wheel stops depends on which type of wheel stop you are using. Here is the general guide and easy way to easily install it.
Material required
A hammer drill, road spikes, a hammer, and a hand broom (optional).
Procedure
You can refer to the below procedures:
Identify the spot where you want to install the parking curb. It is crucial because you should choose the type of parking stop that fits your area.
Make a hole in the asphalt/concrete with the help of a hammer and drill through the hole present on the parking curb. While doing this, ensure the holes are at least ½ inch wide and 3-4 inches deep.
Remove the parking stop and clean the area with the help of a hand broom (if necessary).
Place the parking curb and drive the road spike through holes up to ½ inch.
Leave the parking bumper undisturbed for one day. However, keep checking periodically to see the position of spikes. If they have come up, keep them hammered below the surface of the parking curb.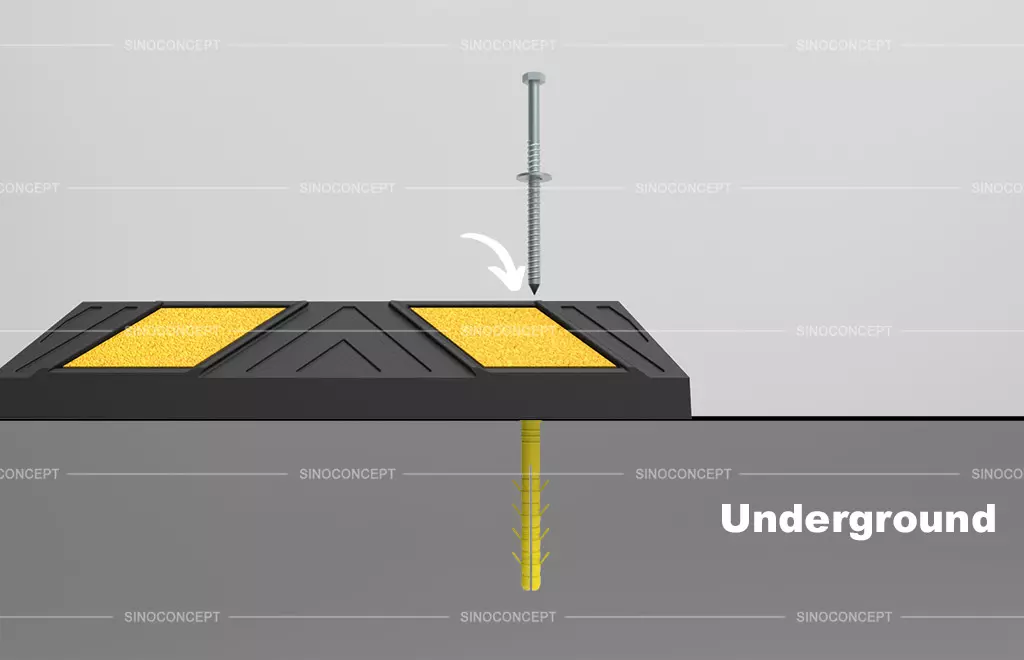 Safety guidelines for parking bumper
If you have a parking bumper in your parking garage, you must follow the guidelines below to leverage this helpful tool.
You should:
Use a wheel stop having a length of 6' and a height of 6.5'.
Put wheel stop at a distance of 3' for an adequate walkway.
Wheel stops should contrast with the surrounding pavement.
Make sure that the wheel stops are adequately illuminated.
You should not:
Place wheel stoppers in a walkway or a foreseeable pedestrian path.
Wheel stops should remain in place if they are damaged or deteriorated.
Assume that wheel stops will prevent vehicles from attacking sidewalks.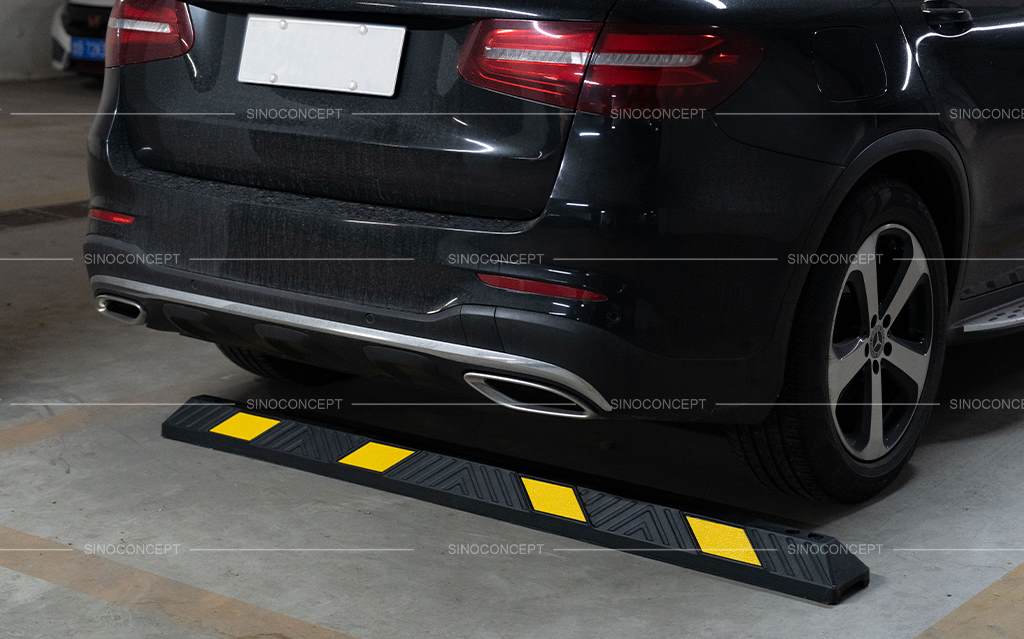 Parking bumpers are integral to any parking area. Just as getting printed lines makes driving easy, parking curbs help people find where they should park their vehicles.
Have you ever imagined how many times people leave their cars? People do it frequently. A wheel stop can prevent others and your vehicles from being damaged.
Parking blocks also prevent curb overhangs that pose a hazard to pedestrians. With parking blocks, pedestrians can pass by freely. Even when parked, any vehicle can suffer damage.
Using parking blocks, people can ensure a barrier between cars, curbs, and perhaps a pedestrian. The parking authority should make sure they use it in public parking lots.
To learn more, we advise you to refer to the following pages: