Pros and cons of wheel stops!
Have you often observed tiny horizontal blocks while driving? You may notice it when you enter or leave a shopping mall or large parking spot.
Do you think they are placed at straight lines with regular intervals? Have you any idea about its benefits and what could happen if they are not present?
If you do not know, then don't get overwhelmed. Read the entire article to get a clear idea about wheel stops.
Whether you design a parking lot in a garage or any commercial space, a parking curb helps block cars from passing over designated parking spots. If you run a business, you may better know the importance of the parking lot.
A property area is the first part of your business that customers see. In fact, it will be the "first impression" of your business. It shows how you keep up with your business and care about your customers.
Thus, the role of parking blocks in the property area and road safety is very important, and most people are unaware of them. It should be everyone's goal to ensure that their parking lot layout is functional and safe for their visitors.
Let's dive deep to see where wheel stops can be used and their pros and cons.
Applications of wheel stop
As the name suggests, wheel stops are used to stop any vehicle. Parking facilities need these safety barriers to ensure drivers park their cars in allocated locations.
Further, they solve many common problems that car owners face when they need to stand their vehicle in a limited area. These small blocks ensure order and spacing between cars.
Rubber parking bumper is mostly used instead of concrete or plastic wheel stop. You can fix it on uneven surfaces or terrain where it is not easy to park any vehicle.
Some of its other applications are as follows:
Rubber-made parking bumper is ideal for indoors and outdoors.
It provides pedestrians a safe path around parked vehicles by serving as a car stop.
It ensures that the cars are parked at the right spots in different parking areas.
You can use it for angled parking by aligning perfectly at the centre of the space.
It protects physical assets from encountering and also prevents cosmetic damage.
They keep cars' front or rear parts from contacting end barriers or high curbs.
It also helps prevent encroachment by forklifts or other heavy vehicles entering a pavement where pedestrians may be walking, such as sideways.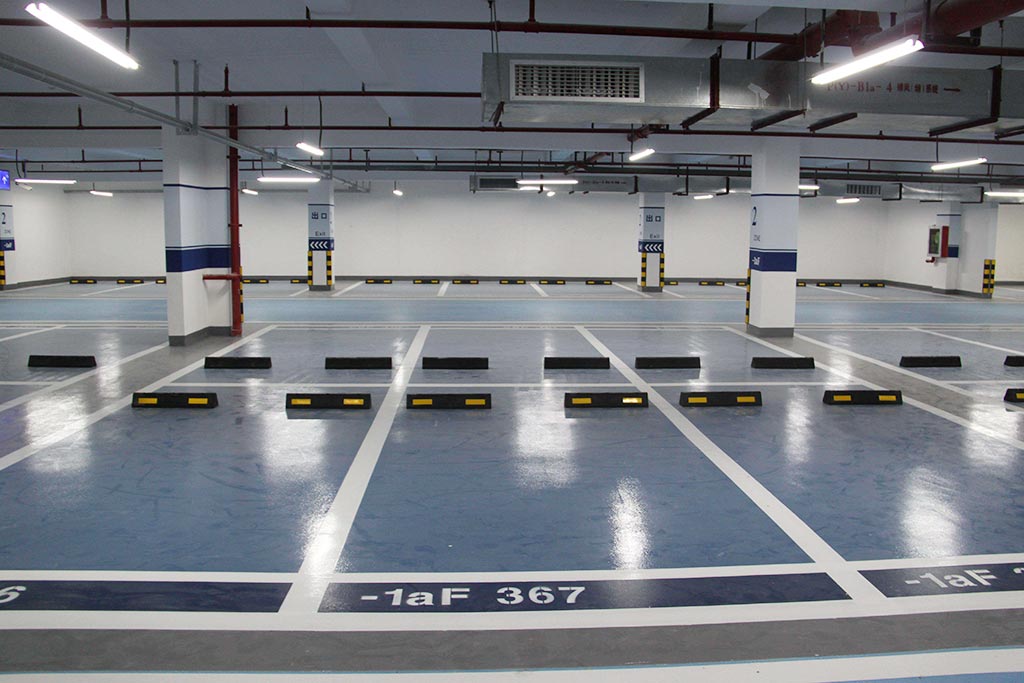 Wheel stops help car owners in many ways. These slightly raised obstructions remind the driver to reconsider their actions. By alerting a driver, you can prevent pedestrians from being injured.
There are so many other advantages of car stops. The traffic control system has made it an essential part of car park equipment. A detailed overview of the benefits of wheel stops is as follows:
Since rubber wheel stops are made from 100% recycled rubber, they are durable and hardwearing. They provide resistance against cracking, corrosion, and crumbling. They do not chip or collapse and can adjust easily.
Even if a high-speed car strikes rubber blocks, the chance of damage to the front wheel may be negligible, if the vehicle hits a cement-made wheel stop, there will be a risk of damage to the front or rear axles of the car.
So, it is clear only rubber parking blocks help you to avoid such circumstances. Further, they are weatherproof, and you can use them in all seasons for longer.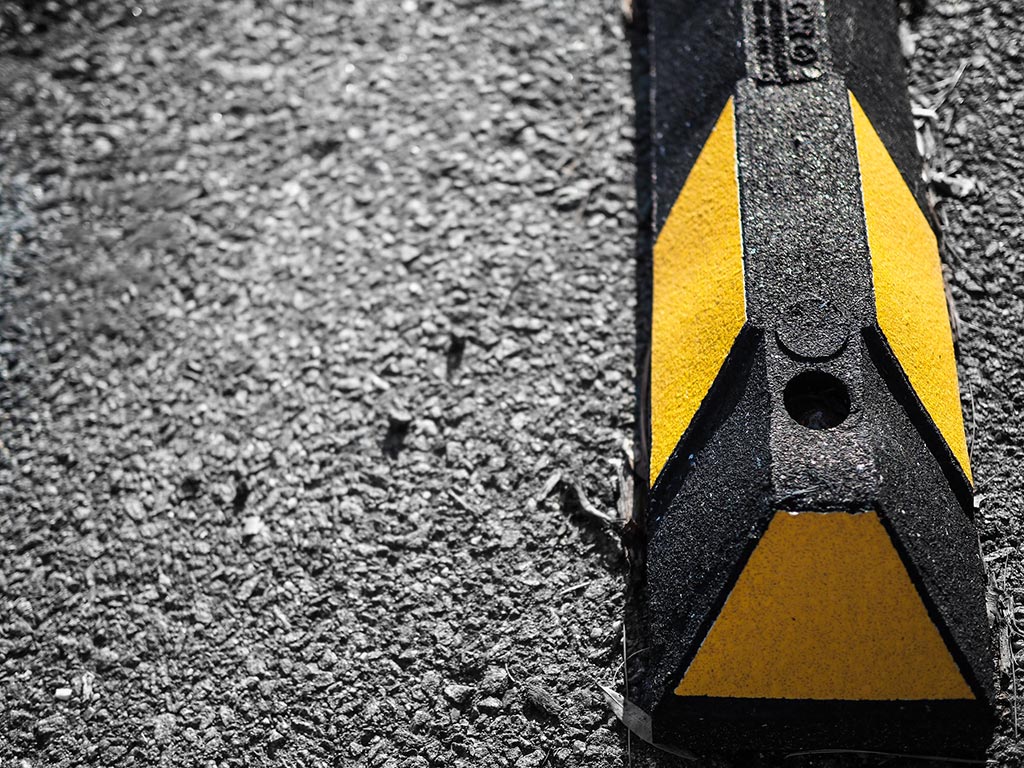 This feature is only in rubber-made parking curbs. Compared to concrete or plastic wheel stops, the rubber car stop is flexible because of the premium vulcanized recycled rubber used in its manufacturing.
Due to its flexible quality, one can be fixed in a wide variety of ground, such as asphalt, concrete, tar, and bitumen.
For instance, if you need to fix it on uneven surfaces with bumps and cracks or even mount them on a surface that is not perfectly level, such as gravel parking lots and paved parking lots, they'll serve their purpose.
The installation process of the wheel stops is not complicated. Rubber parking bumpers are much more easily installed than concrete or plastic due to their lightweight.
Typically, a 6′ recycled rubber parking curb weighs 35-40 lbs. A 6′ concrete parking curb can weigh up to 300 lbs. You don't need to call multiple mechanics. You can do it alone with minimal effort. It dramatically reduces your installation costs, as there is no need for additional requirements.
Plus, you don't need to buy essential tools; they come with fixing kits and a complete instruction guide.
Rubber wheel stops are coated with vibrant colours to enhance visibility. Thanks to yellow reflective strips, the film embedded in the rubber curbs makes them visible to drivers at any time of day, evenly at night.
These reflectors are heavier, holding up well in contact with vehicles and the weather.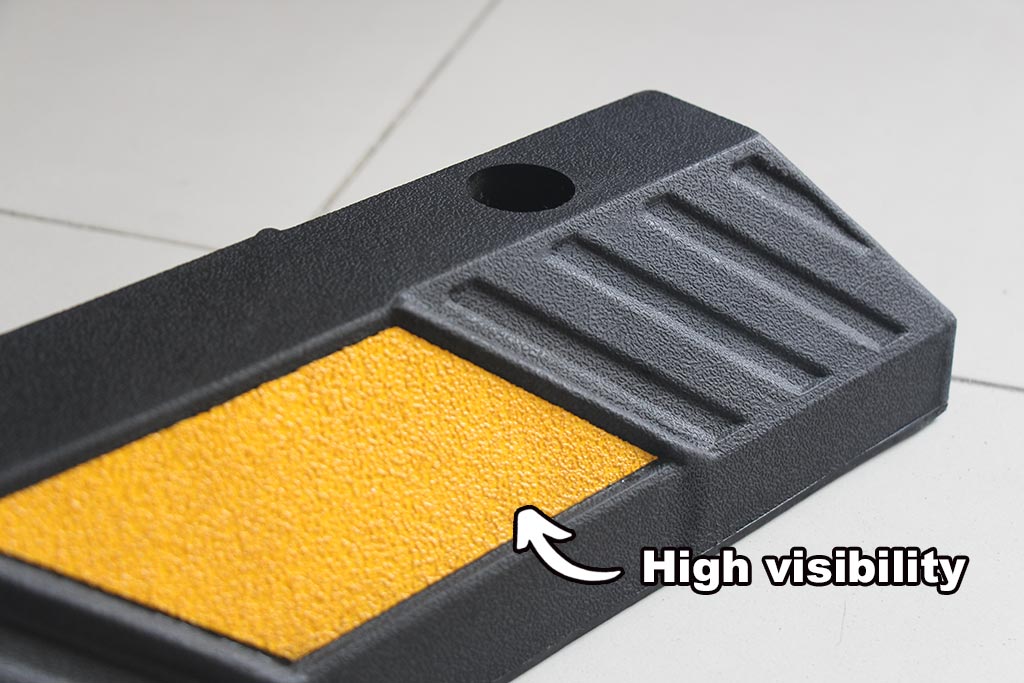 As they are usually installed outside, there is the danger of being damaged or devastated. If these blocks get damaged or broken, they cause hindrances for car drivers, motorists, and pedestrians.
And once cracks occur, water constantly moves into the curbs, leading to more significant deterioration. Rubber wheel stops comprise moulded rubber that maintains its shape even during inclement weather conditions.
Besides, rubber is resistant to extreme heat, cold, water, mechanical substances, impact, and UV radiation.
Apart from the countless advantages of wheel stops, it has disadvantages. Some of them are as follows.
The major disadvantage of parking blocks is tripping hazards for pedestrians during slippery conditions. If they don't line up correctly, they can cause life-threatening dangers.
During winter driving, they can interfere with snow tires and harm pedestrians walking between cars. Another reason walkers skid over these blocks is because they cannot differentiate them on the ground.
Concrete parking bumpers might create a problem as they are usually available in grey colour. When these blocks are inserted into the ground, they create an optical illusion of a level surface.
Here, a rubber parking bumper gives you the solution to this problem. Their yellow reflective strips provide visual guidance and lessen the chance of slipping.
Cement-made parking bumpers are the leading cause of vehicular accidents. You might be confused as their central role is to stop cars and how they cause accidents.
Some factors may involve; a false braking system or becoming distracted while driving. Sometimes, car owners forget to put brakes on the pedal as they reach the edge of the parking lot.
Whatever the reasons, slightly hitting with concrete blocks can harm the front wheels or break the license plate. In the United States, accidental falls account for most injuries among people over 65.
Every year, over 0,32 older adults fall. People above 60 are more susceptible to severe injuries from falls and trips than younger people.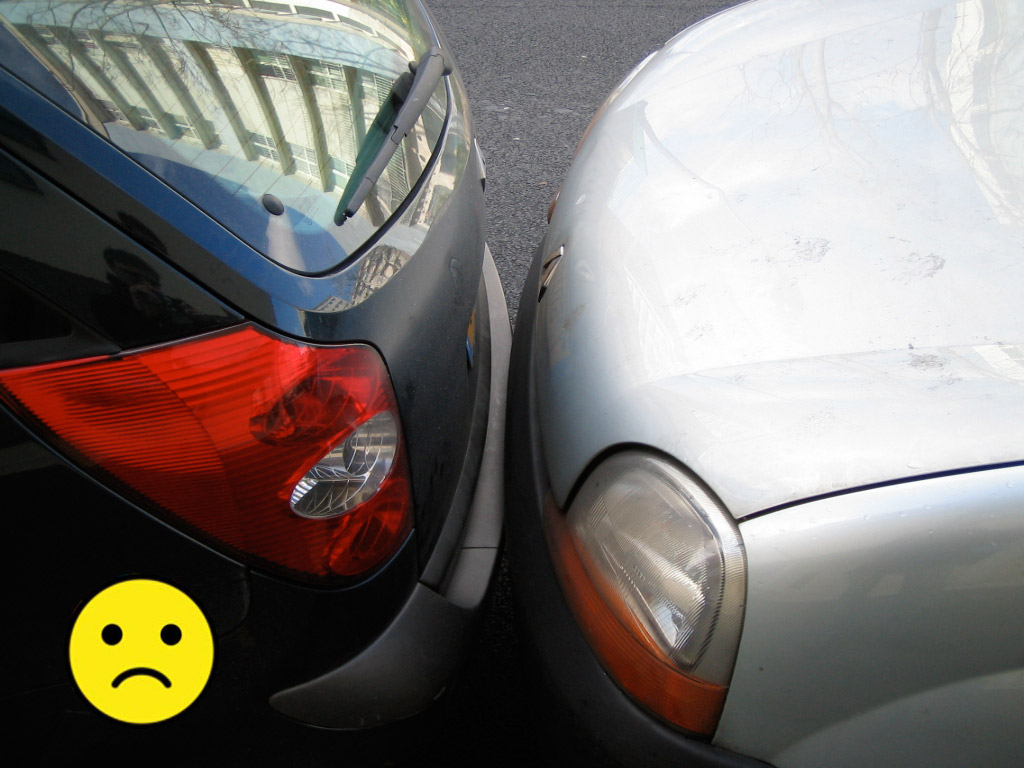 Considerations when buying a wheel stop
When buying a wheel stop, you should be slick and consider the following things.
Colour of the wheel stops
You will find wheel stops in different colours. While installing, ensure the colour of the wheel stops is contrasted with the surroundings where you want to fix it.
For instance, if the colour matches the surroundings, drivers and pedestrians cannot detect these curbs, dramatically increasing the risk of slipping.
Depending on the parking spot, you should choose different colour parking curbs. For example, yellow wheel stops are used for standard parking, red wheel stops for reserved or valet parking, and blue wheel stops are used for disabled parking.

You should select wheel stop according to the type of vehicle you expect. For example, if you're installing wheel stops in shopping centres or other commercial establishments where regular traffic flows, you should choose the standard 6-foot length (1830 mm).
In the case of truck parking, however, you should place two truck-wheel stops side-by-side. Other smaller wheel stops are also available, suitable for buying when space is limited. These are designed to hold one wheel at a time.
Wheel stops are among the most helpful traffic management devices that create a boundary for parking vehicles.
Remember, nothing invention is good or bad in this world. It all depends on how you use it. You can overcome its cons if you use it wisely.
If you want to buy the best wheel stop for your garage, you should choose a rubber wheel stop. Lightweight and easy installation process stands rubber wheel stop among other competitive products.
It is the only wheel stop that meets everyone's needs and never lets anyone in trouble if they buy them.
To learn more, we advise you to refer to the following pages: