6 features that determine cycle parking stand prices!
Each bike rack buyer has unique bike parking needs, due to which bike stands are manufactured and sold in the market in different forms. These forms vary from each other based on their prominent features.
People interested in buying cycle parking stands should know which features influence the cost of a rack so they can choose a product according to their budget and needs.
If you plan to invest in bicycle parking stands, this purchasing guide for outdoor bike racks will tell you about the features that affect the best outdoor bike rack cost.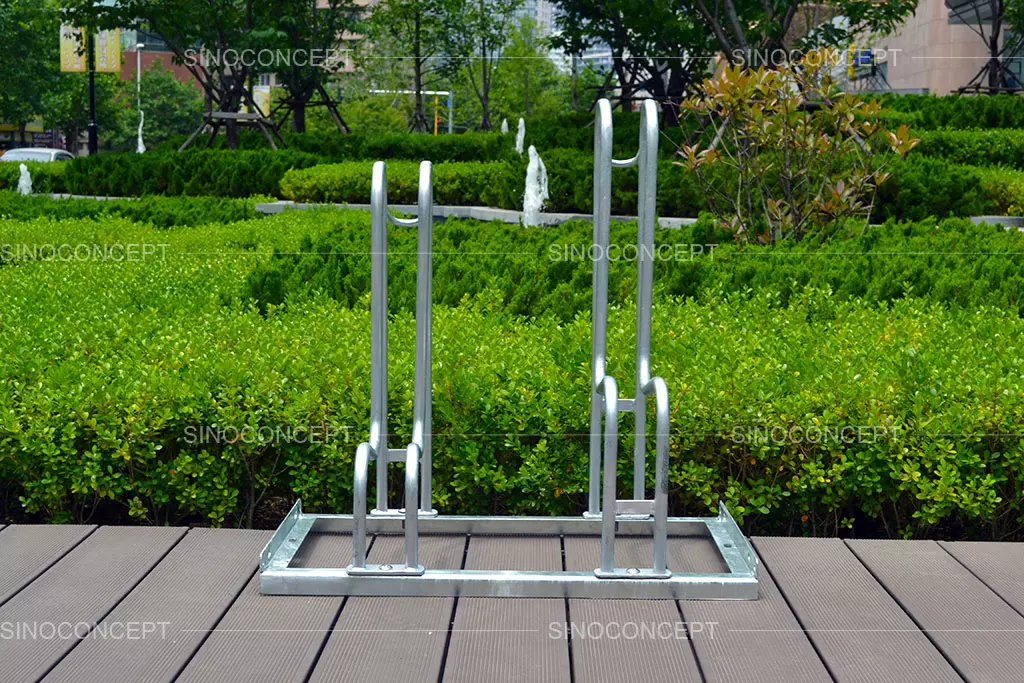 Material
Bike storage rack manufacturers produce this product from different materials. These materials possess unique characteristics; therefore, bike stands made of other materials have variable factors.
Some examples of materials used to build new bike storage racks are:
Wood
Plastic
Concrete
Steel
Plastic and wood are the cheapest among all these materials, meaning wooden and plastic racks cost less than concrete or steel racks. These materials are also less durable and easy to break. A thief can cut or break wooden or plastic racks using simple tricks.
It is better to stay safer and invest in a material that can provide safety to your parked vehicle and function for years to come. Steel and concrete are comparatively costly materials but are more robust and enduring.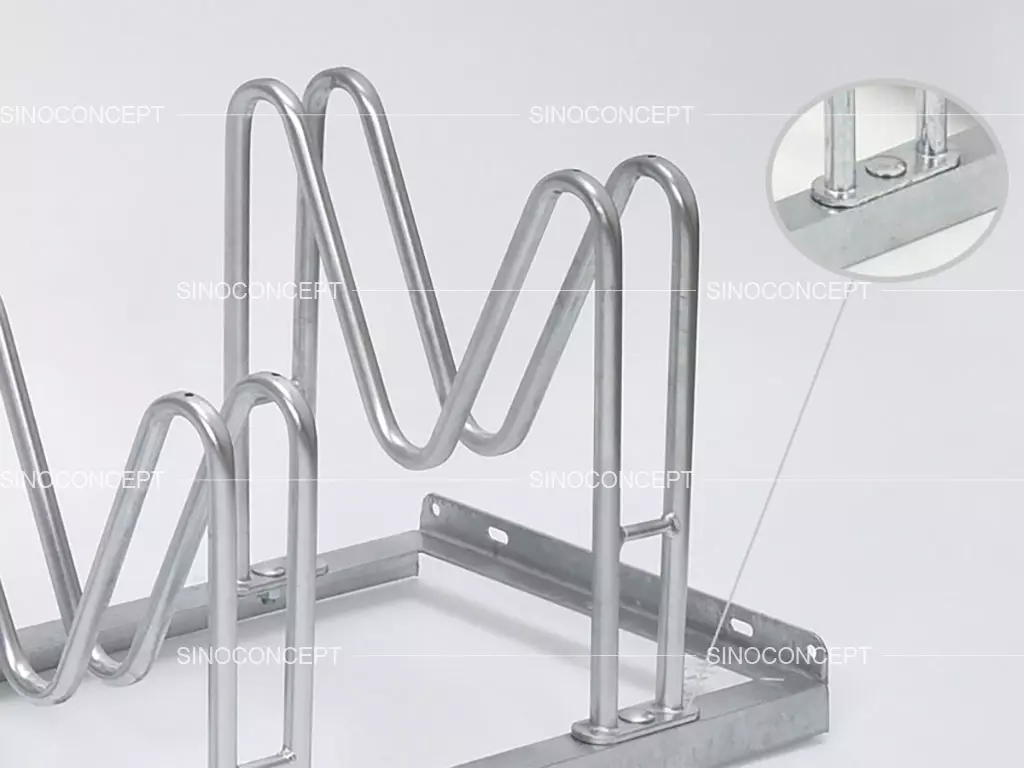 Design
Materials used to form bicycle storage racks can be moulded into different forms. Bike racks have distinct designs that influence their usefulness as well as cost.
Standard bike rack designs are:
U-shaped racks
Spiral bike racks
Grid bike stands
Bollards
Decorative cycle storage stands
A bicycle stand design that is easy to make will be less costly than one that requires more effort and energy. For instance, a U-shaped bike rack is more accessible to construct than a decorative cycle rack. Therefore, its cost will also be lower than the cost of the latter floor stand.
If you need a basic bike stand to store your vehicle securely, you should consider racks used for non-decorative purposes. It will help you save costs while enjoying all the parking-related benefits of a cycle parking rack.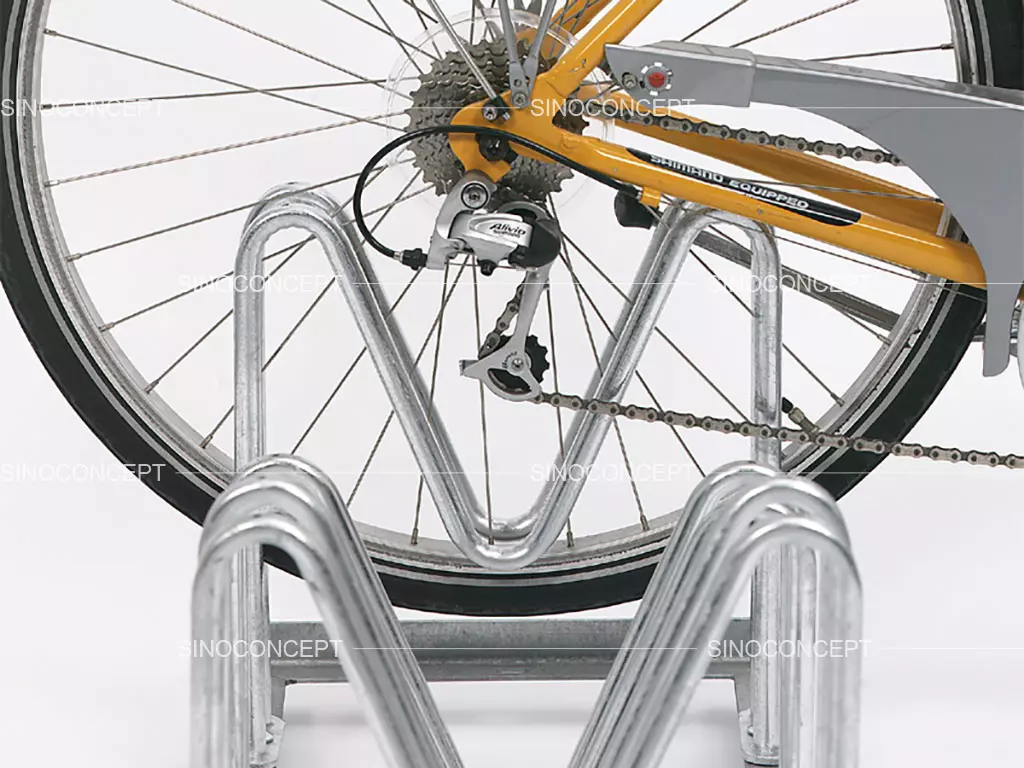 Mounting system
A bike stand can be mounted on the hard surface of a wall and the floor. Generally, the costs of both the floor-mounted bike rack and the wall-mounted bike stand are the same.
Floor bike stands have different mounting systems. Some examples of these systems are:
Surface mount: Mounted directly on the surface
In-ground mount: Mounted within the ground
Removable support: Can be removed from the surface when the need arises
Rail mount: Stands are attached to a rail
The cost of heavy-duty bicycle racks with a surface mounting system and in-ground mounting system is generally lower than that of racks with a rail mounting system and in-ground mounting system.
Indoor bike stands having rail mounting systems come with a rod-like structure on which stands are installed. The additional cost of these rods makes them expensive comparatively.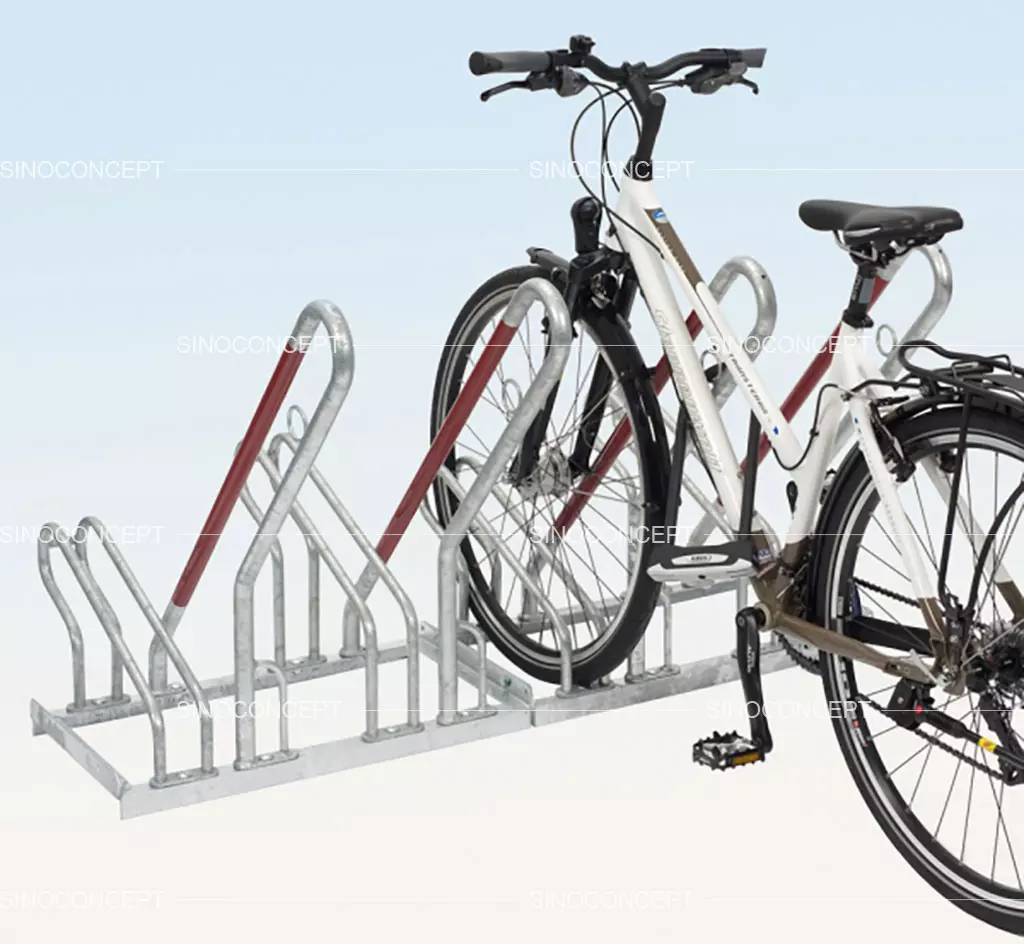 Finish
Bike stands are covered with a finishing material that adds an extra protective layer to the base materials. The cost of these finishing materials is variable, and it affects the price of the folding bike stand used in parking lots or parking facilities.
Some examples of parking stand finishing options are:
Hot-dip galvanisation
Zinc plating
Powder coating
Hot-dip galvanising, often assumed to be expensive as a high-performance coating, is comparatively more economical than other finishing options. Powder coating adds a protective layer and gives the bike rack a beautiful colour, due to which powder-coated racks are relatively costly.
If you want to save a few bucks on the bike rack and not care about its appearance or colour, a hot-dip galvanised steel bike stand is the right choice.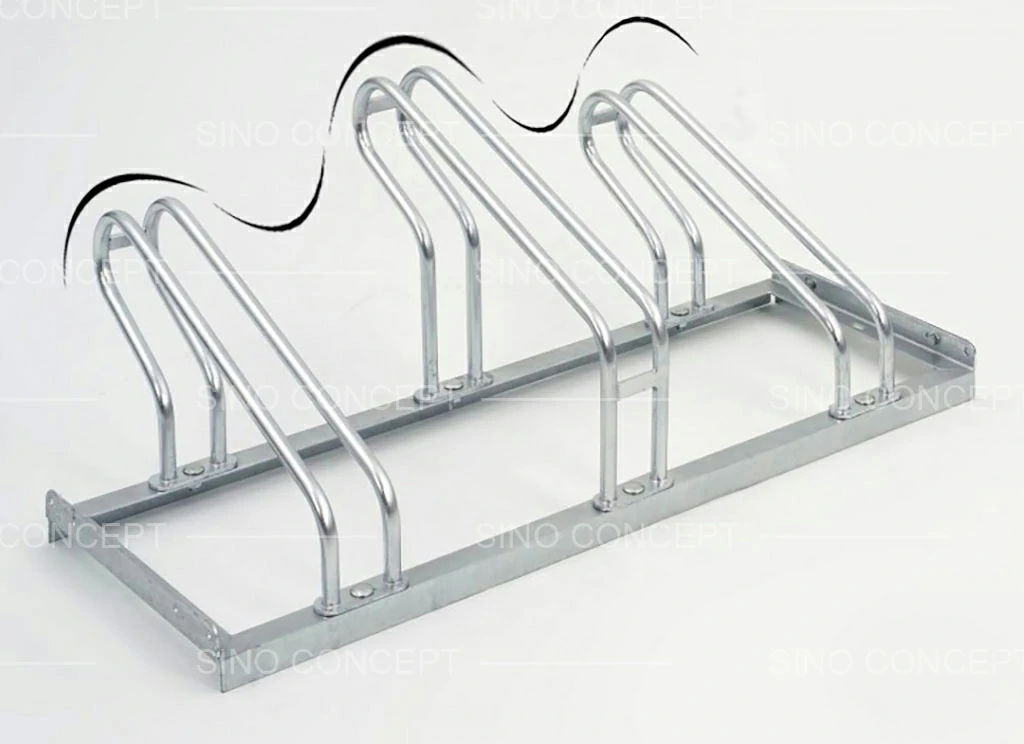 Dimensions
The best bike stands come in different sizes, so users can securely lock bikes of varying wheel dimensions. An enormous bike rack is more expensive than a more undersized bike stand.
Some bike stands can be used alone and come as a single piece. On the other hand, some bike stands (primarily used in commercial places) are installed in series. The former are relatively less costly than the latter.
Choose the size of a bicycle rack or bike locker according to the size of your bike and the available parking space.
Manufacturer
Another element that determines the price of bike racks, custom bike storage lockers, bike tools, and secure lockers is their manufacturers.
Companies that use high-quality materials and the latest techniques sell city bike stands, cycle storage hooks, and mountain cycle racks at comparatively high prices.
It is generally believed that all the products sold at high prices have better quality than those sold at low prices.
Although it has been proved right many times, you should still not choose bike rack manufacturers based on the cost of their products, as some manufacturers can deceive buyers and sell low-quality products at high rates.
You should check their online reviews and reputation in the market to determine whether they are worth investing in.
Why are bike parking stands important?
Make public spaces suitable for all
Several bikes or bicycles may be parked irregularly around a popular public space or building. It happens when bike riders are not provided with a secure bike storage solution. These bikes act as an obstruction for vehicular as well as foot traffic.
Therefore, bicycle parking spaces having a proper storage system should be installed in such areas. It will make public spaces more convenient and accessible for all.
Reduce carbon emissions
The continuous increase in carbon emissions due to fuel burning has drastically affected our environment. People are now adopting alternative modes of transportation, such as cycling, to reduce carbon emissions.
Governments should provide people with short-term and long-term parking solutions to support the increasing use of green transportation.
Improve traffic flow in congested areas
Traffic jams have become common in some regions. People can reduce this issue by using cycles, which take less space, to travel or cover short distances. Installing bike lockers, bike roof racks, and car racks in different community areas will make it easier for people to travel on cycles or bikes.
Make people adopt a healthy way of living
Cycling is a form of exercise that helps you strengthen your muscles, improve heart health, and promote mental health. Creating bicycle safety and storage facilities can encourage people to use cycles and bikes for transportation occasionally.
Conclusion
A hitch bike rack, standard bike rack, wall storage rack, bike display stand, or bike maintenance rack installed in garage storage or sidewalk serves bike storage and parking purposes.
Factors such as size, construction material, finish, and mounting system determine its price. You should know how each element affects the cost of the rack so that you can select a bike stand that falls within your budget.
Hot-dip galvanised bike stands are considered one of the most durable and cost-effective forms. Consider this product if you want something you can use for months or even years. 
To learn more, we advise you to refer to the following pages: