Why are floor mounted bike racks important?
Floor-mounted bike racks, also called bicycle storage racks, are traffic safety equipment to which bicycles are securely clamped for parking purposes. Properly parked bicycles or bikes make parking spaces accessible and add to the commercial value.
So, consider a floor-mounted bike rack the best option if your garage is messed up due to irregular parking of kids' bicycles, sports bikes, and other road bikes. Depending on your installed rack, you can park as many bikes as you want.
Here is more to explore the importance and functions of bike racks, so let's dig in.
We also have an article about the role of floor-mounted bike racks if you want to learn more.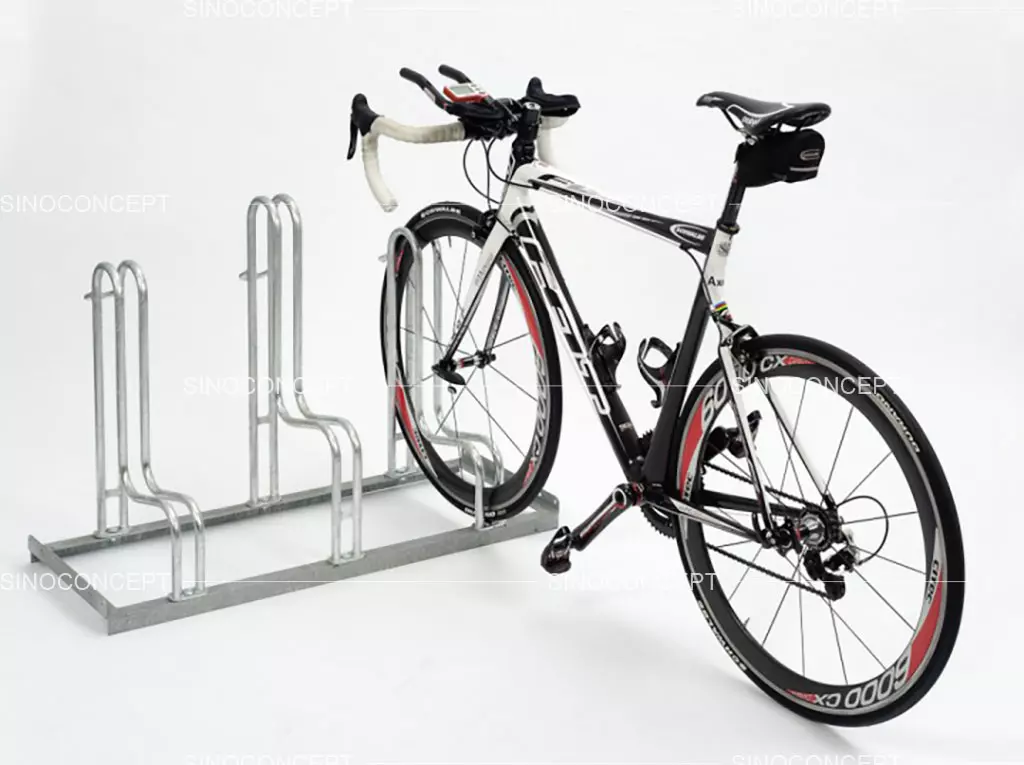 Purpose of bicycle stands
With the growing population, bicycles have become an economically and environmentally essential option that helps people achieve health and fitness goals.
Bike racks are more versatile and space-saving, providing more opportunities to incorporate accommodations into a commercial space. A single bike rack can offer parking for up to 10 bikes in a convenient location with significant access to a building entrance.
The plus point of bike racks is installing multiple units to expand the parking area. This eventually leads to increased customers as cyclists feel convenient visiting places with good parking.
Moreover, the bike storage rack encourages order and organization within community spaces, restricting pedestrian obstruction and destruction of plants, trees, and street furnishings.
Above all, it promotes a healthy lifestyle. When the public knows they have bike racks, they prefer bikes to maintain themselves. At the same time, cycling regularly not only increases cardiovascular fitness but also helps modify body posture.
Last but not least, the fear of infections and contagious diseases has shifted millions of travellers worldwide from shared methods of transport to non-shared methods, including bicycles.
So, installing bike racks will strengthen the economy by allowing residents to travel safely, socially distanced, and healthily to shops, restaurants, and offices.
Do cycle racks make the bicycle parking situation better?
With most of the city's inhabitants owning and using cars, every road is a busy road bound to be jammed at any time. Cycling as a mode of transportation reduces traffic congestion and gives the comfort of navigation.
However, the lack of available parking spaces often discourages people from opting for bikes over cars. With public spaces fitted with a sufficient amount of stainless steel, rust-free, and galvanized outdoor bike racks, people will want to choose the mode of transportation that guarantees lower traffic time.
Overall, bike racks increase parking capacity & space – A wall of bike racks can accommodate more employees and customers than a single car parking space would. It also provides a convenient place for bikes to be stored.
Adequate bike parking will also ensure that bikes are not getting in the way of pedestrians.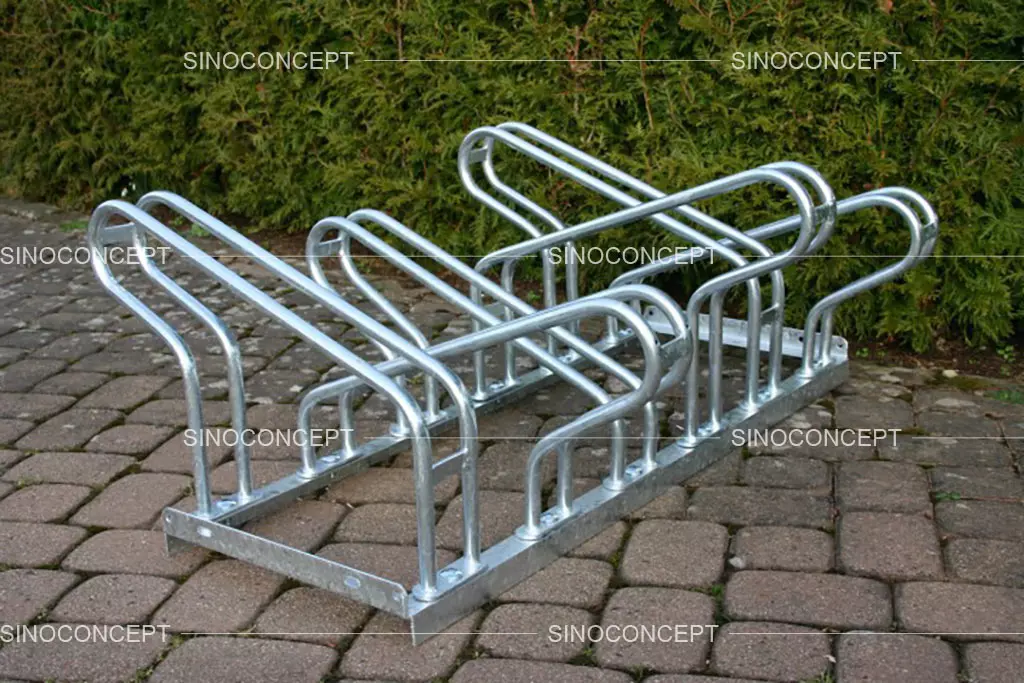 Reasons to ride a bicycle to work
The benefits of cycling to work are nearly countless! All you need is a bike and helmet to have pleasure!
Cycling daily is a great way to reduce weight, as skilful exercise can help you burn 400-750 calories per hour. Also, it should not surprise you that cycling improves your overall fitness and stamina.
Bike usage to work makes a person happier. You might be wondering how. Studies have shown that daily exercise can reduce stress, alleviate symptoms of depression and anxiety, enhance sleeping habits for individuals suffering from insomnia and enrich overall brain performance.
It also sharpens your memory and learning, making you better at jobs.
Save money, save for yourself. Cyclists are better for the local and national economies as cyclists are more likely to stop by and shop, benefitting local shopkeepers. Furthermore, the bike maintenance cost is meagre compared to a car, which will help you conserve some money for yourself.
Above all, travelling by bike saves much of your time in traffic-congested areas and helps you reach your destinations faster.
Cycling gives you freedom because sitting in queues of traffic jams becomes unbearable.

How do bike racks help environment protection?
Including bike racks in your design stimulates an eco-friendly means of transportation that helps lower the overall environmental footprint.
Considering the average road usage of the world's car drivers, driving a car emits about 271g of CO2 per passenger-kilometre. So biking will reduce emissions by more than half, contributing to cleaner and healthier air.
A bike rack will encourage your team to cycle to work rather than drive, helping to reduce the number of cars and buses on the road and ultimately decreasing the dangerous emissions being released into the atmosphere.
Secondly, bike racks prevent the depletion of the ozone layer. If bike rack options are not accessible, cyclists will park their bikes in other areas of the residence, including railings, entrances, fences, stairs, etc.
Repeated contact with metal chain locks, cable locks, and U-locks can damage the bicycle. Including city bike storage or parking options in your property can also decrease the risk of damaging the sophistication of your interior décor.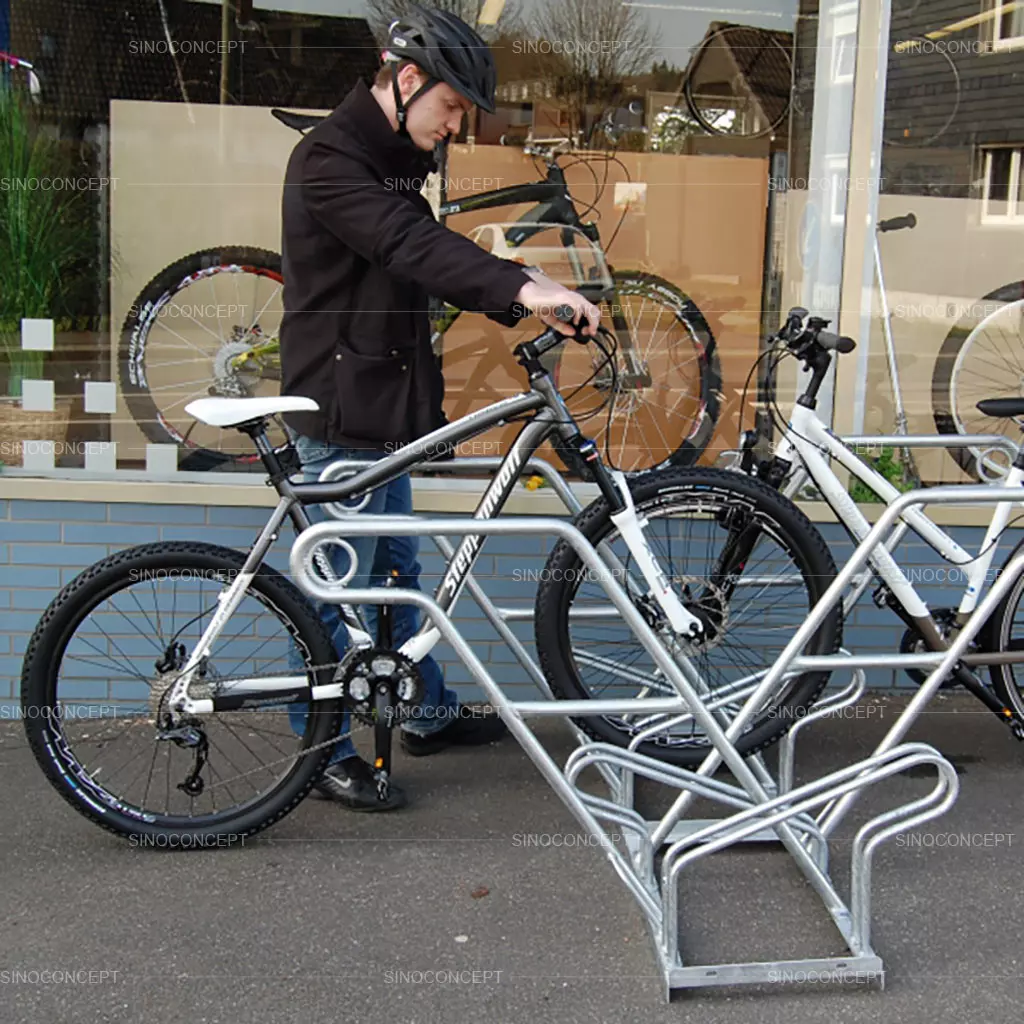 What are the best places to install bicycle racks?
Bike racks are one of the simplest and most economical ways to create a short-term or long-term parking solution applicable outdoors and indoors.
Still, here are some specific sites where the placement of bike racks can help bicyclists, bikers and all road users:
Bike storage racks are perfect for public parks, where thousands of people visit daily. Instead of cars or other vehicles, people should learn the importance of bicycles and habitually use them all the way. This can only be possible by providing ideal parking, and bicycle racks can do wonders. Expanded cycle storage racks allow bicyclists to ride bicycles and safely park to go ahead.
Residential areas, homes, and garages mostly have limited space for parking vehicles. Powder-coated bike storage racks work as organizers and accommodate bike wheels for easy loading or unloading. In other words, you can use bike racks to maximize garage storage.
You can also use bike racks in city streets to facilitate community or personal use.
Commercial areas cannot be neglected regarding bike storage rack placement. It could either be the parking of a shop or the whole building. These bicycle parking racks attract customers because they find parking their bikes in the bike racks secure instead of leaving them on the road.
Marts, restaurants, and other shopping centres should consider bike storage racks to generate more sales and promote eco-friendly transport.

Conclusion
Bike parking is essential in any urban community as it benefits cyclists, pedestrians, and motorists. They help reduce obstacles and clutter without wrecking your apartment's bike frame or walls from bike handlebars or wheels.
Easy-to-install bike racks should be designated to promote a more orderly streetscape, preventing bicycles from falling over and blocking sidewalks.
Bicycle racks further encourage cycling as a transportation means by providing parking opportunities equal to motorized automobiles.
So, give bike racks space in your place, and they will organise bike parking.
To learn more, we advise you to refer to the following pages: