Standards for bike parking rack dimensions!
Each community has bicycle parking standards and regulations that tell you how to install bike racks or create bike parking layouts. People who make bike parking areas should always follow local cycle parking rack regulations. This way, they can avoid legal trouble and give people a secure place to park and store their precious vehicles.
Suppose you want to install a bike rack in a parking space but don't know your local parking regulations. In that case, contacting your local municipality and first learning about these regulations is recommended.
This article discusses the basic standards for cycle parking rack dimensions so you can select the correct rack size for your parking needs.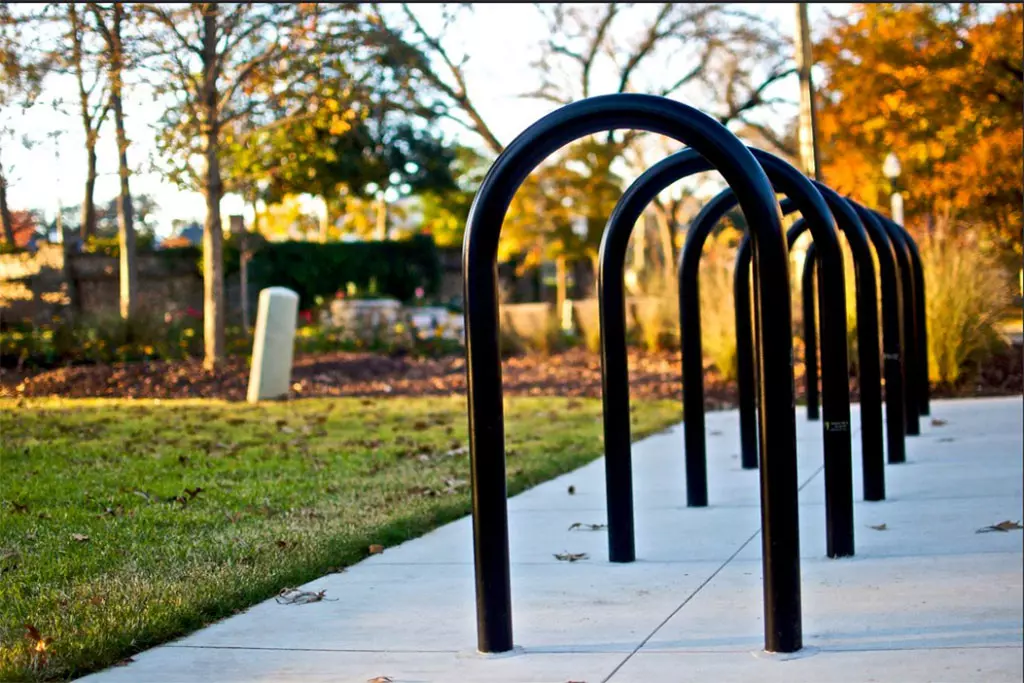 Bike parking rack dimensions
Bike parking racks come in different dimensions that vary from model to model. However, some set standards exist for bike rack dimensions in other communities. You should learn those standards so you can purchase suitable bike stands.
Some common standards for bike storage racks are:
Length: A medium-sized bike stand (most commonly used in public spaces) should be around 27 inches. The size of a small rack (that is generally used for junior cycles) should be about 24 inches. The length of a big frame (generally used for larger bikes like mountain bikes) should be around 30 inches. A cycle parking rack with insufficient length does not provide bikes with adequate support.
Height: The optimal height for a medium-sized bike storage rack should be around 33 inches. These racks are slightly taller than the top tubes of most cycles. The height of a minor cycle stand should be about 30 inches. Similarly, a significant new bike rack should be around 35 inches.
Tube thickness: The thickness of a bike parking stand tube should vary from 1.5 inches to 1.75 inches in total. You can easily use U-locks with racks having the mentioned tube thickness.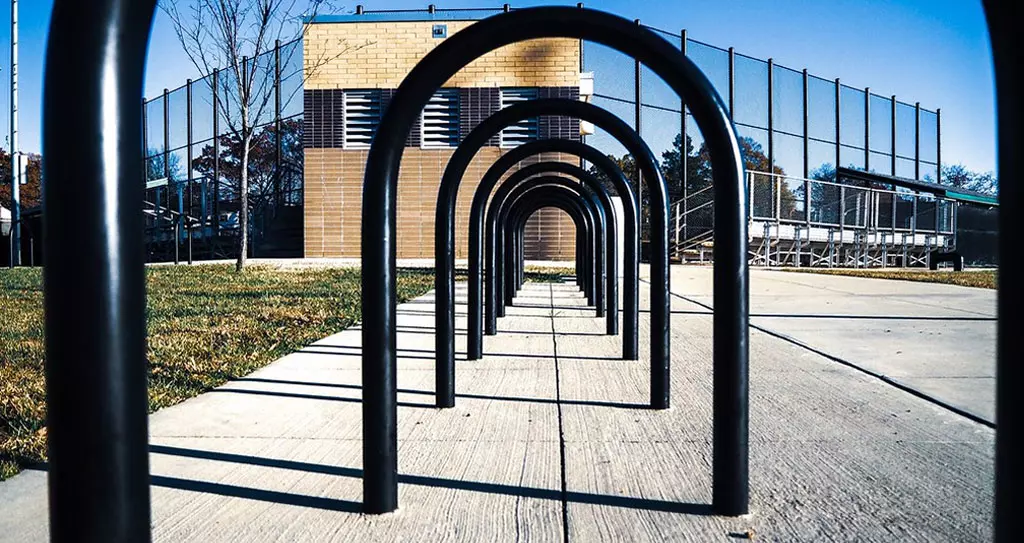 What are standard bike parking dimensions?
Now that you have learnt about standards for bike rack dimensions, you should also know about standard bike parking dimensions to create good quality bike storage facilities or bicycle parking spaces.
Consider these standard bike parking dimensions when creating a secure bike storage space.
When installing vertical racks on sidewalks, maintain a distance of 48 inches from the curb (measured from the centre of the stand). This way, bikes will stay within the parking space without extending into the streets.
When installing parallel bike stands on a sidewalk, maintain a distance of 24 inches from the curb. A bike leg should be 36 to 48 inches away from the wall and portion of the nearest bike.
When you install a perpendicular bike stand near a building, the minimum distance of the nearest bike leg should be 36 inches from the wall.
Similarly, when you install parallel bike stands near the wall of a building, the minimum distance between the rack and the wall should be 24 inches. The space between the two bike stands should be at least 48 inches.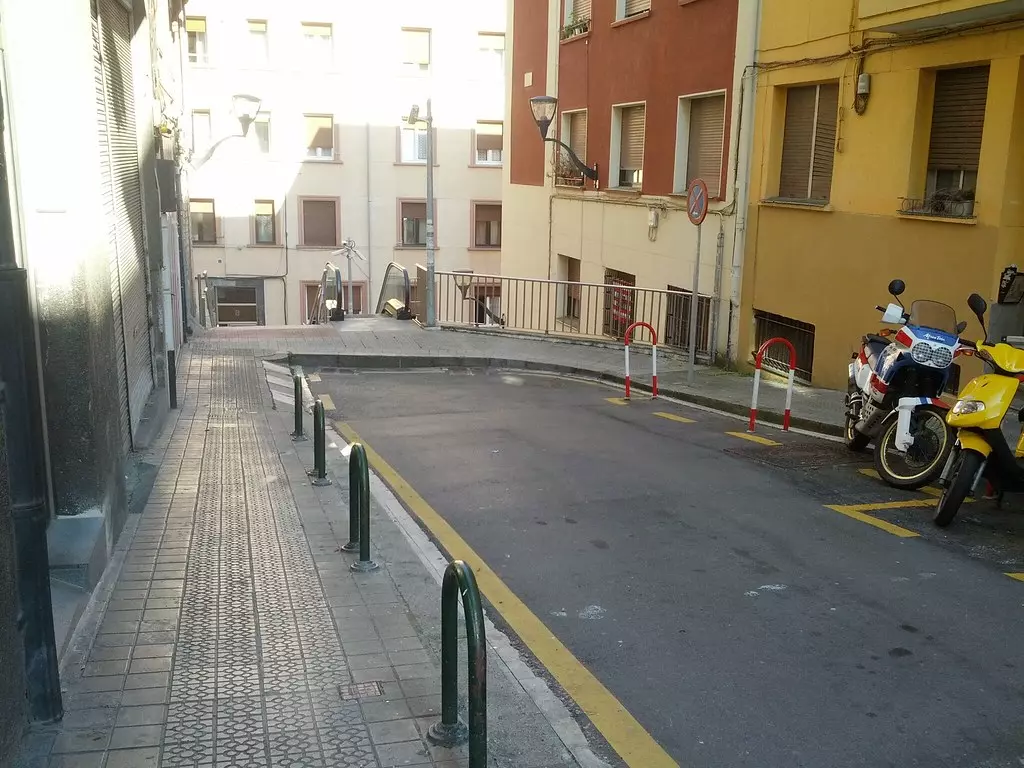 What is the criterion for quality cycle parking?
Although people use different strategies to design layouts of cycle parking, there are three criteria you must meet.
Approachability
Bicycle racks should be installed near the main entrance of the building so that the cyclist or biker does not have to cover a long path to reach the parking space or building entrance.
Road signage and floor markings should guide cyclists and bikers toward the parking lot.
A bicycle storage park should not be created around obstacles like steep slopes, stairways, etc.
Convenience
If possible, a cycle storage area should be installed near cycle routes.
It should be easy to locate and easy to use for cyclists. All the tools, like bike lockers, galvanised bollards, freestanding custom bike racks, and bicycle safety stands, should be user-friendly.
Security
A bicycle rack or bike locker should be firmly attached to the floor.
Parking lots should have mounted racks made up of high-quality materials.
Security personnel should monitor the functionality of heavy-duty bike stands regularly.
All the devices used in parking facilities should follow local parking regulations and parking standards.
A bike roams or bicycle stand should be installed in a well-lit area so pedestrians or bicyclists can quickly locate it.
Short-term parking should be established in busy areas where pedestrians and vehicular traffic pass frequently.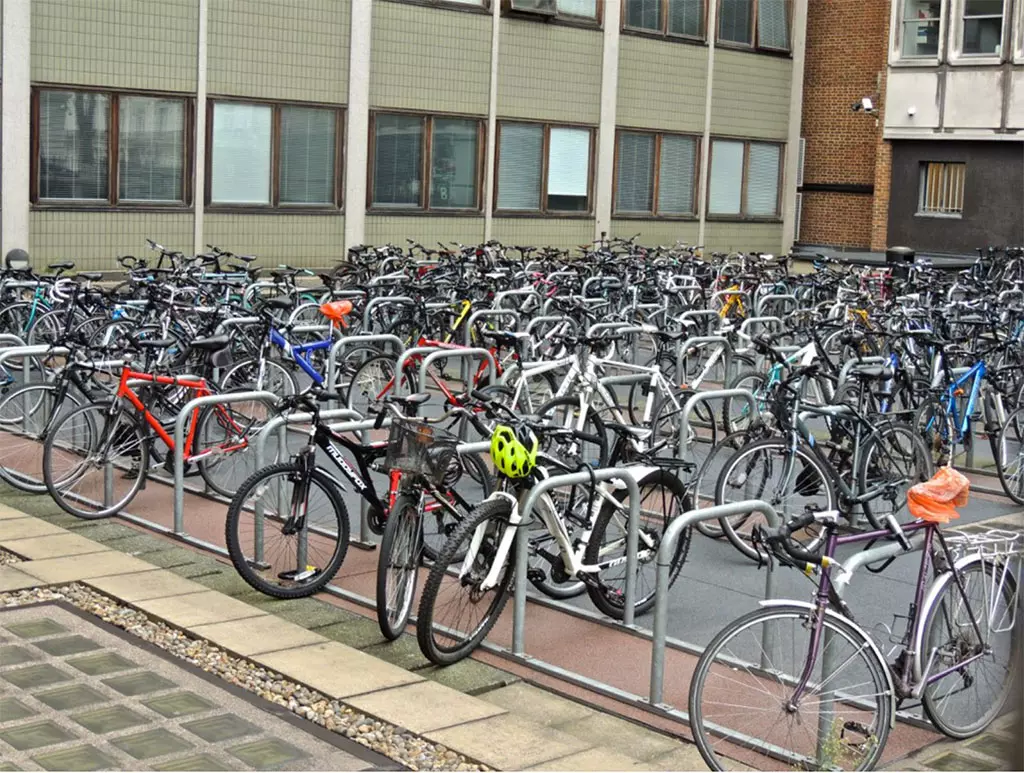 What are the different bike rack options?
There are different kinds of bike racks you can find in the market. They vary from each other based on their prominent features, such as material, style, mounting system, and finish.
Below are a few forms of bike stands that people often see in parking spaces.
Sheffield bike rack
Grid bike stand
Wave cycle stand
Spiral bicycle rack
Bollard
Decorative bike rack
Racks made of galvanised steel and industrial-grade materials are considered reliable and long-lasting. You should avoid soft metals and wood that can crack easily under a little impact.
The finishing of car-bike roof racks, indoor bike stands, space-saver cycle racks, and folding bike stands should be smooth so it does not scratch vehicles.
Features of a good bike rack design
A good bike stand should have the following features.
It should provide the bike and the rack with two points of contact. This way, the bike frame and wheel will be locked to the powder-coated best bike rack.
Racks should be able to park many bikes without taking up much space. There should be sufficient space between two parked cycles.
The rack design should be easy to detect for blind or partially sighted people. People use different techniques to make racks detectable for visually impaired people.
Features of a poor bike stand design
Here are some features that poor bike stand designs offer. Make sure your bike rack does not have them.
It will offer only one point of contact. It means you can lock your bike frame or tire to the stand. You cannot lock both to a rack simultaneously.
It supports only the front wheel of the bike or cycle. It does not allow the user to keep the bicycle frame. They are often referred to as 'wheel benders.'
They are made of a poor-quality material that can easily break or be worn out. Such racks do not offer the required safety and security to vehicles.
Conclusion
Bike parking racks are manufactured in different sizes. Larger frames should be used for larger bikes, and smaller ones should be used for junior cycles. The standard size of racks is commonly used in parking spaces where regular bicycles and bikes are parked.
The right rack size is crucial to make a parking space user-friendly and convenient.
You should first decide which kind of bikes you want to park in your parking space and then purchase a rack that can lock those bikes easily.
To learn more, we advise you to refer to the following pages: