Everything you need to know about cycle racks!
Bicycling and biking are gaining popularity as alternative transportation modes in different parts of the world. As the number of bicycles and bikes grows, the need for accessible and secure bike parking spaces is also rising.
Recognising this need, street furniture manufacturers and cycle racks are putting more effort into producing valuable and beneficial bike stands.
More and more people are investing in bike racks to encourage bicycling and green transportation. They are creating well-designed and reachable bike parking spaces to provide bikers and cyclists with a safe place to park their cycles or bikes.
Are you curious about bike parking racks and want to learn how effective they are? Would you like to learn about the top bike rack brands and this beneficial product? Then keep reading the article and learn about bike stands in detail.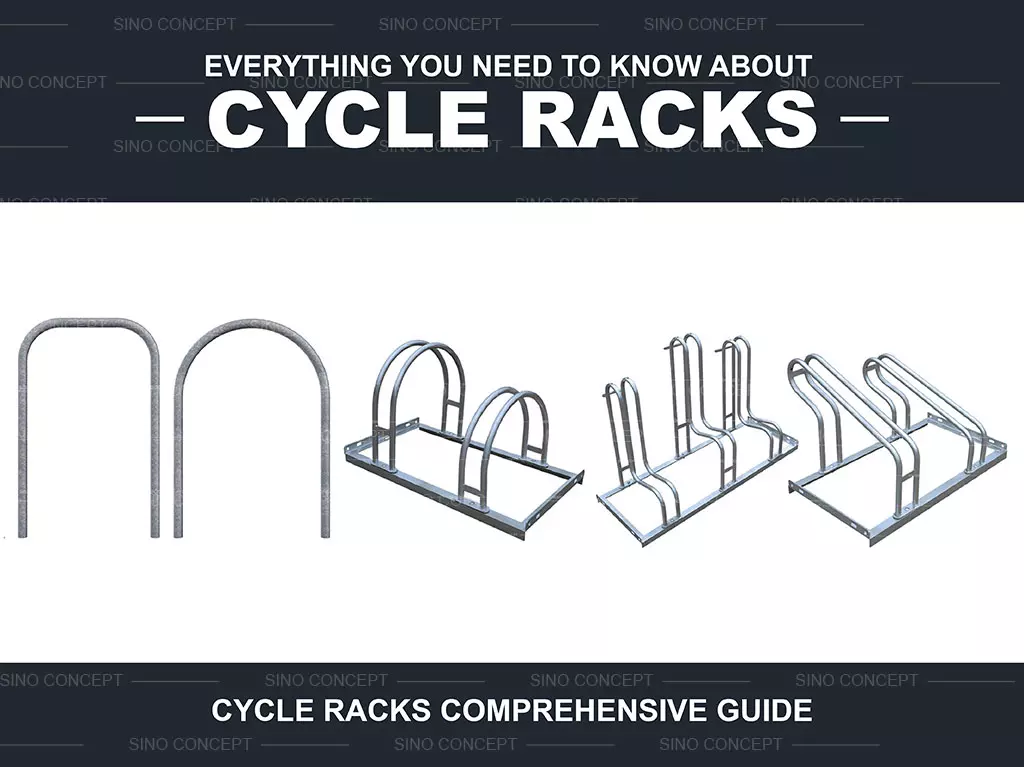 What is a bike parking rack?
Bike parking racks are devices used in parking facilities to attach bike frames or bike wheels and securely park these vehicles. It can be mounted on the hard floor or wall of a building.
Some bike racks are freestanding, and you can move them occasionally based on your parking location needs. You can use them for your indoor as well as outdoor parking.

History of bike racks
People have been using bike stands for centuries now. It is believed they were invented in the mid-'80s when bicycles were one of the most common means of transportation. Since then, bike stands have changed their shapes and evolved significantly. Their manufacturers always try to produce something more reliable and valuable than its previous form.

Other names
They are known by many other names, such as:
Bicycle racks
Bike frame stands
Bike storage stands
Bicycle storage racks
Shapes of bike stands
Bike stands come in different shapes. Each shape fulfils almost the same purpose. The most effective bike rack shape is the one that locks the bike frame as well as the bike wheel.
Materials for bike stands
Bike stand manufacturers produce this device from different materials, including wood, concrete, recycled plastic, and steel. Each cloth is unique from the others and gives bike racks specific unique properties.
Steel is considered the most durable material among all the available bike rack materials. However, it is prone to corrosion, so manufacturers coat steel with a protective material that prevents corrosion growth.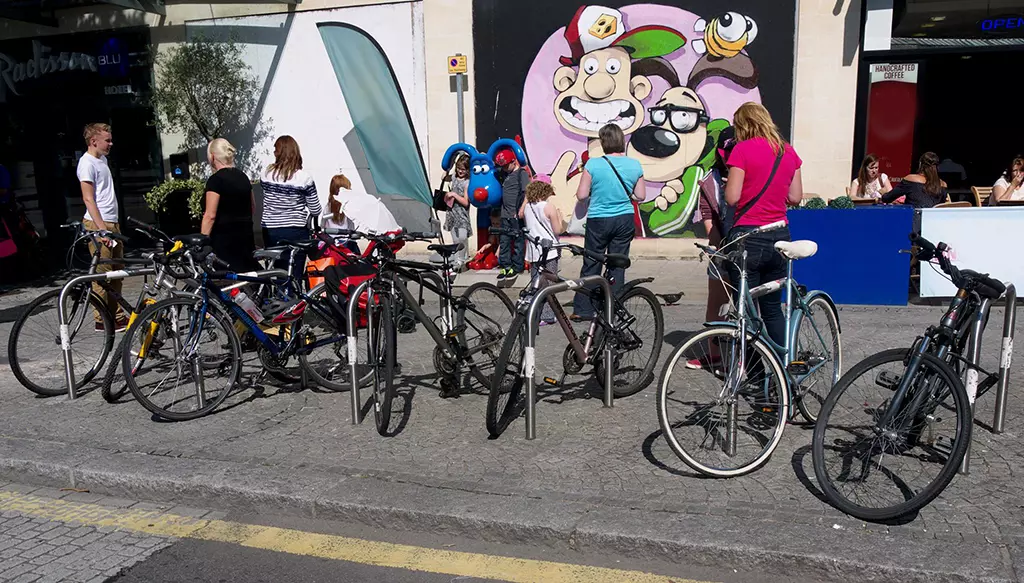 Discover in this article: What is a bike parking rack?
An Introduction to the bike parking system
A bike parking system is developed to provide cyclists, bicyclists, or bikers with a secure area to park their vehicles. There are different bike parking options people use to create parking systems.
Here are some popular options you can use to make bike storage facilities.
Bike stands: A bike rack or bike stand is a device for short-term and long-term parking needs. Some bike stands secure only the bike's front wheel, while others secure both the bike frame and wheel. The former form is safer than the latter.
Bike lockers: As the name suggests, these are box-like structures where you can simultaneously store one or two cycles. They are often installed in areas where people need bicycle parking for an extended period, such as a month.
Bike cages: These are large cage-like structures that can accommodate and store many bikes and cycles. They are often installed in regions that do not have a sufficient number of cyclists or lack cycle stations. It provides people with a safe bicycle parking solution. In this way, it helps encourage green transportation.
Bike stations: consist of large buildings that can store hundreds or even thousands of bikes simultaneously. They are usually built near train stations so that people who ride bikes to reach the train can park their vehicles in a safe place for hours or even days. Bike station owners usually charge their users a certain monthly or daily fee.
Automated parking system: It is a form of parking system used to minimise the bike parking area. It can be a multi-story garage or a below-ground parking lot. The downside of automated parking systems is that they have a high bike retrieval time compared to other parking options.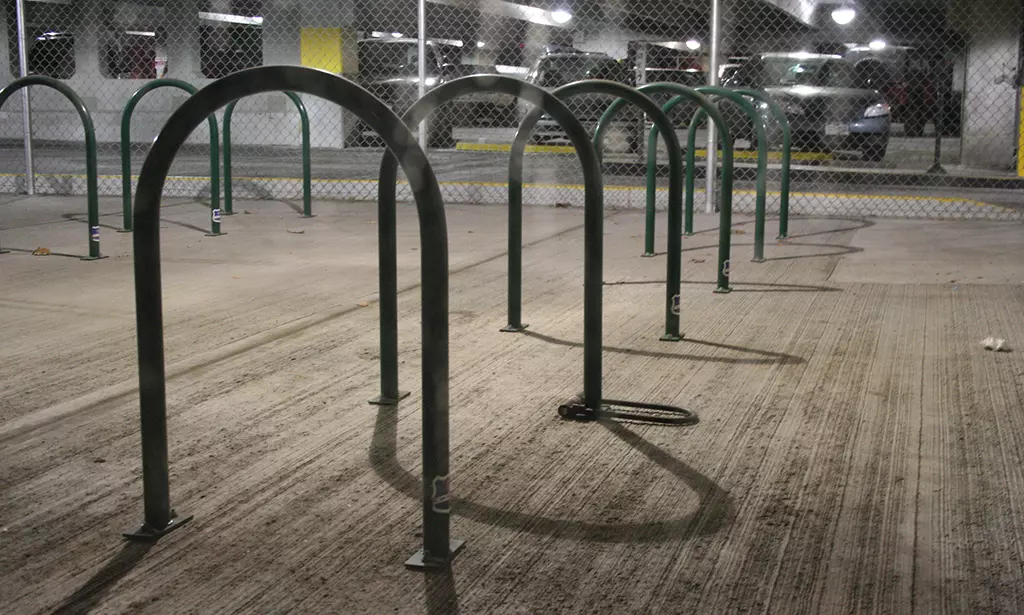 Discover in this article: A simple introduction to bike parking system!
The critical role of floor-mounted bike racks
Floor-mounted bike stands are a form of bike racks fixed on the hard surface of the floor of a parking space.
A convenient way of securing bikes
Bike safety is an essential issue among cyclists and bikers who do not find a secure parking area for their vehicles. Therefore, installing bike stands can help you resolve this issue and attract cyclists and bikers to your parking space.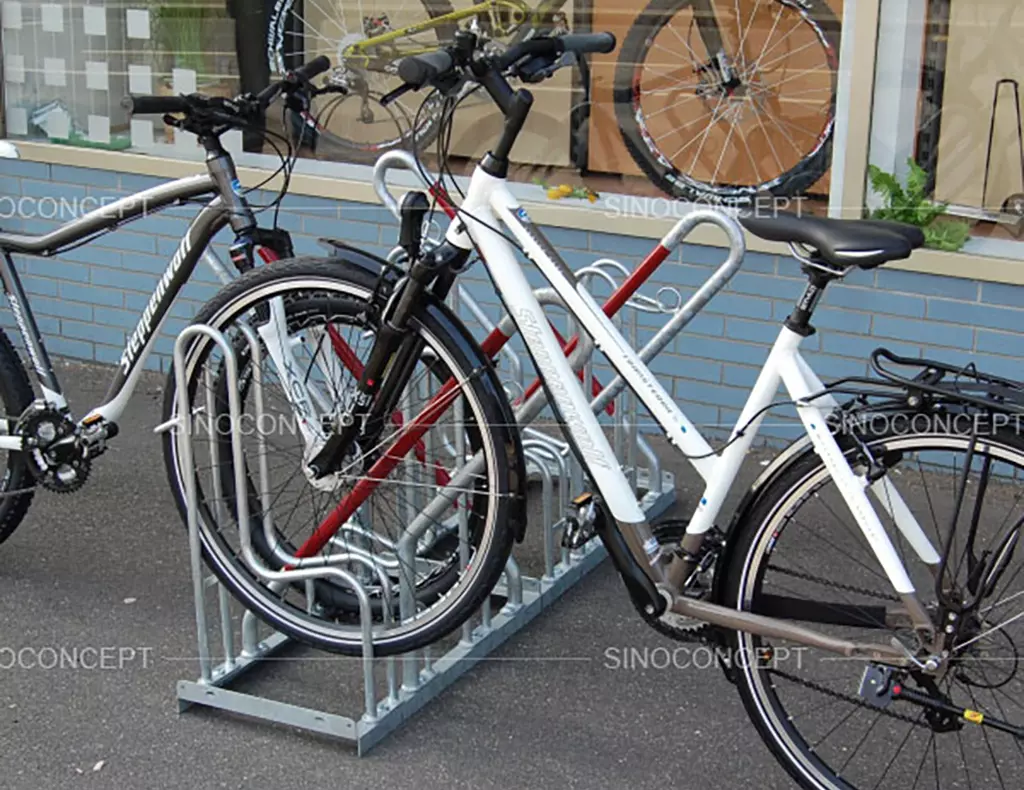 Attract more customers
Do you see bike riders passing by your store? They will likely keep riding and not stop to visit your store if you do not have proper bicycle parking. The trend of bike commuting is rising in certain parts of the world. Creating a secure and organised bike parking space is an excellent way of attracting more customers and increasing revenue.
Encourage green transportation
Carbon emission from fuel burning creates many environmental issues for the global population. Governments are introducing new strategies to reduce carbon emissions and improve air pollution. Installing bike racks encourages people to use bikes and cycles without worrying about their secure parking.

Help people improve their health
There are many scientifically proven benefits of riding cycles and bikes. It improves your mental health and reduces the risk of heart disease. The formation of bike storage spaces encourages a healthy lifestyle among the masses.
Make free spaces available to pedestrians
When there are no proper cycle parking areas, cyclists have no choice but to park their vehicles in the wrong places, such as a sidewalk designed for pedestrians. It disturbs normal foot-traffic flow as well as infrastructure. You can create proper cycle parking spaces and help pedestrians walk through sidewalks easily.
Discover in this article: What is the role of floor-mounted bike racks?
Different styles of bike parking racks?
There are many styles of bike parking racks. Let's briefly check out each one of them.
Inverted U-shape
The inverted U-shape racks are the most traditional ones out there. These simple bicycle hoop stands can be mounted on the ground and take up minimal space. Such style racks are known as Sheffield or Harrotage design; both are sturdy.
Moreover, you can even secure your bicycle with locks on tires and bike frames.
Post and Ring
It's a bollard-style rack with 1-2 arms, allowing you to secure your cycles with locks. Bollards are usually traffic tools for speeding down vehicles; some have components acting as bike lockers. However, locking the bike frame on a post and ring design isn't easy.
Serpentine
This extended version of the inverted U-shape design allows you to park multiple bicycles. However, the serpentine design can only support a single bike if you park two bicycles closely together.
Double-decker
These are substantial tier-version bike racks, mounting multiple cycles at one point. Double-decker racks have a basic design, but it's accompanied by pistons, allowing cyclists to park their bikes on the top tier. It's a tremendously handy bicycle rack, creating additional parking density for cyclists.
Lockable cycle stands
Nothing comes close to lockable stands if you are worried about your bicycle's safety. You can mount your cycles on these stands and lock your process from the rear wheel and the bike frame. Their unique design lets you lock your bicycle and forget any safety issues.
Discover in this article: Top 5 styles of floor bike racks.
Cycle Racks in Different Locations
As you see, parking lots for buses and cars and cycle racks are installed for parking bicycles. There is no one location for cycle racks. Be it a residential block to a university campus, you can find bicycle racks in almost any area.
Furthermore, there are public garages, and even they have specific parking racks for cycles. In most cases, cycle racks are installed on pedestrians' sidewalks and parks, where people can lock their bikes and explore the city.
In big megacities like London, people travel using metros and trains. Hence, you even find cycle racks in public transit stations where people lock their bicycles and hop on trains to reach their destinations.
Not only that, but you may even find cycle racks in big supermarkets and busy commercial streets. Thousands constantly swarm these places, and cycle racks are essential to ensure organised parking.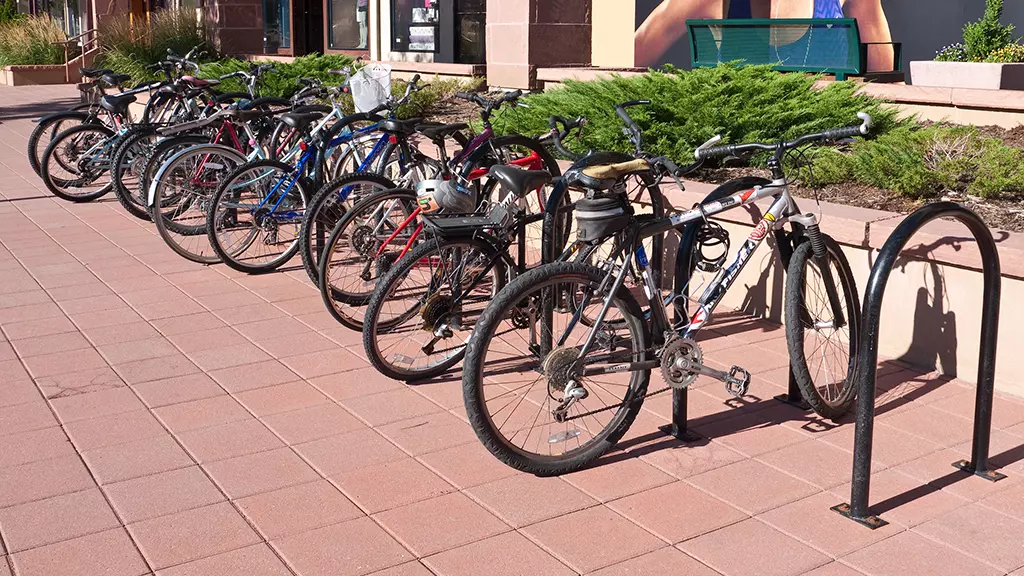 Discover in this article: Different bike parking racks used in different locations!
Cycle parking racks for different bikes!
Numerous cycles range from kids' bikes to sports and mountain bikes. Let's check out the suitable bike rack for different bicycles.
Sheffield and Harrotage designs have reverse U shapes, and as a matter of fact, these designs are suitable for any bike. Whether you have a large commuting cycle or a sports bike, these reverse U-shape designs can help you park any cycle.
Similarly, a serpentine design allows you to have many bikes simultaneously. Plus, the steel rods are perfect for securing bikes with locks. In recent times, double-decker bike racks are also become common. And why not? After all, they are convenient and space-friendly. Fortunately, such two-tier racks allow parking for every kind of bicycle easily.
That's not all. A lockable bike design is designed to secure bikes and prevent theft. Fortunately, these designs can also cater to any bike type, including mountain, sports, or standard kid's bikes.
However, if you have a folding bike, wall mount racks are usually suitable as you can easily lock the bicycle frame and bike tires.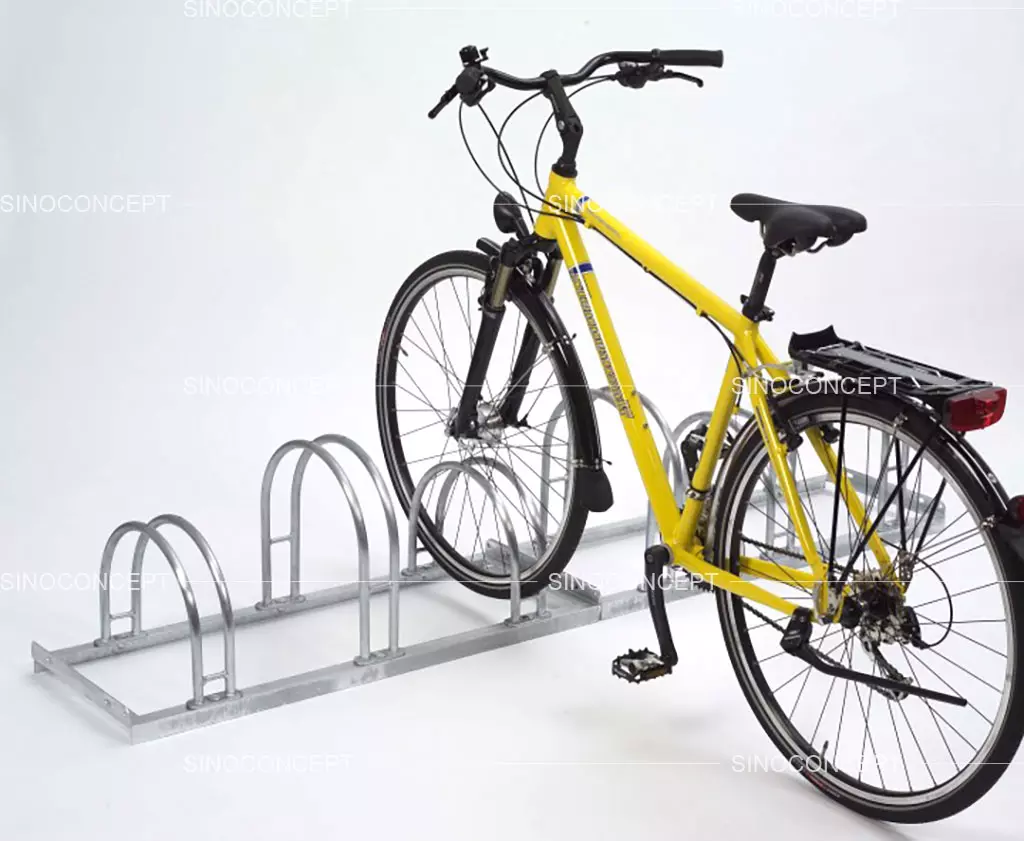 Discover in this article: Cycle parking racks for different bikes!
Pros and cons of outdoor bike racks!
Outdoor bike racks serve as highly efficient traffic safety equipment designed for organizing bikes or bicycles in both public and private spaces. These racks play a crucial role in preventing bikes from falling to the ground, ensuring the safety of both the bicycles and their riders.
Highlighted below are some key advantages of utilizing floor-mounted bike racks, showcasing their positive impact on bike frames, cyclists, motorists, property, and other road users:
Easy to use: Floor-mounted bike racks provide a user-friendly solution for bike parking, making it convenient for cyclists to secure their bicycles.
Organized parking: These racks contribute to a more orderly and structured parking arrangement, optimizing available space and enhancing the overall aesthetic of the area.
Prevent bike damage: By securely holding bikes in place, these racks help prevent potential damage to the bicycles, preserving their condition over time.
Prevent traffic congestion: Efficient bike parking reduces the risk of bikes obstructing pathways or creating congestion, promoting smoother traffic flow for pedestrians and motorists alike.
While outdoor bike racks offer numerous benefits, it's essential to acknowledge potential challenges that may arise. These issues could be related to functionality or physical structures, but rest assured that solutions exist, much like addressing any other problem.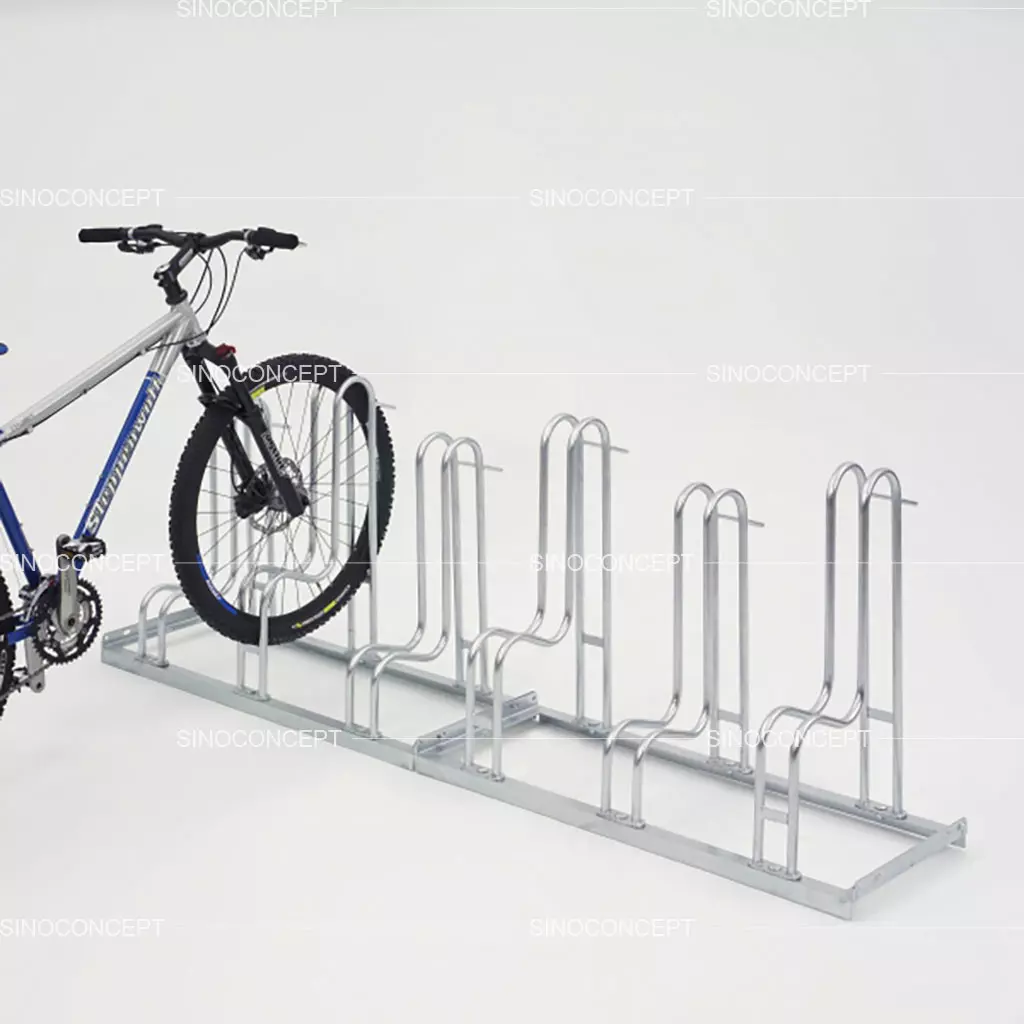 Discover in this article: Pros and cons of outdoor bike racks!
What are outdoor bike stands made of?
Let's start with the basics: the material for making bike stands, providing foundation strength.
Mild Steel Construction
Steel is often the favourite choice for making cycle stands. And why it shouldn't be? After all, steel provides a solid foundation for the racks, and if it has a hot galvanised treatment, it can withstand harsh environments, protecting the cycle from rust or corrosion problems.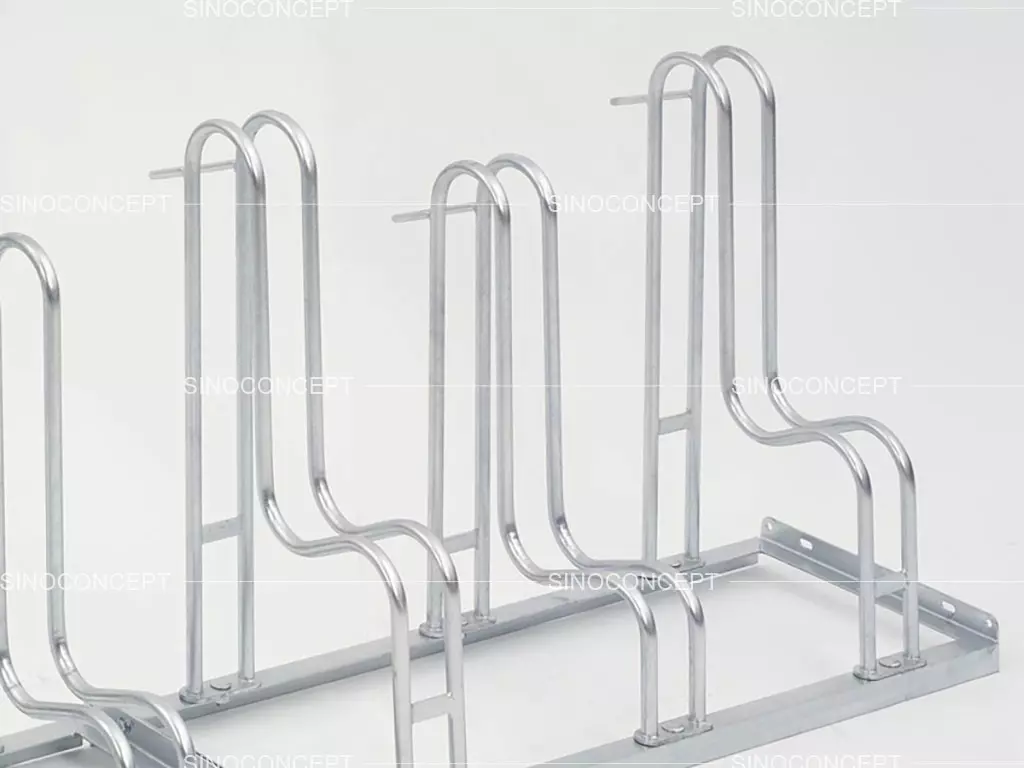 Stainless Steel
Stainless steel consists of a considerable amount of chromium – an element providing a solid structure for cycle stands. This material has maximum corrosion properties, making it durable and last long. Moreover, it has a glossy appearance, allowing you to maintain and clean it easily.
Recycled Plastic
It might come as a surprise, but even plastic is a heavy-duty, robust, durable material for creating cycle stands. What's unique about them is that they don't splinter or crack and are more fire-safe than wood. A final thermoplastic powder coat gives steel stands a shiny colour and corrosion protection.
Discover in this article: What are outdoor bike stands made of?
Parking racks with different mounting types!
Now you know about different cycle racks in the market. But did you know there are various ways to mount these cycle racks? These racks can be cemented into the ground, and you can even climb them over walls.
Interesting, right? Let's check out various ways of mounting.
In-ground mounts
This is usually the most common and preferred type of mounting cycle racks. But why? This mount involves placing cycle racks in designated places below the surface level. After that, cement is poured over the stands to fixate these stands permanently.
Hence, these structures are sturdy, and the cementing ensures they are fixed at their position.
Wall mounts
Some pedestrian sidewalks even have a walk-mounted cycle rack. Although they take up less space, the bike frames are not supported. Hence, there's a high chance of wheels bending out of shape.
Rail Mounts
It's another floor-mounted method for installing cycle racks. But what makes them distinct from the traditional in-ground mounts? A rail mount has multiple U-shaped racks mounted on the rails, with the rails being cemented using bolts or left freestanding.
Surface Mounts
It's another method similar to the traditional in-ground mount. However, a surface mount involves securing the racks using anchors and bolts instead of cement.
Discover in this article: Bicycle parking racks with different mounting types.
Standards and regulations for bicycle parking racks
There are specific rules and regulations regarding the installation of bike racks. You must follow them to create a safe and legal bike parking space.
Some of these standards and regulations are:
Short-term parking should be established in well-lit and easy-to-access areas.
It should be created within 90 feet of at least one building entrance.
The rack should be at a 42-inch distance from the building (measured from the rack centre).
It should not obstruct pedestrian traffic and interfere with the normal flow of vehicular traffic.
Create a bicycle parking perpendicular to the curb only when enough space is left for foot traffic.
The minimum distance between the curb and rack fixed perpendicular to the curb is 4 inches. Similarly, the minimum distance between two racks parallel to each other should be 30 inches.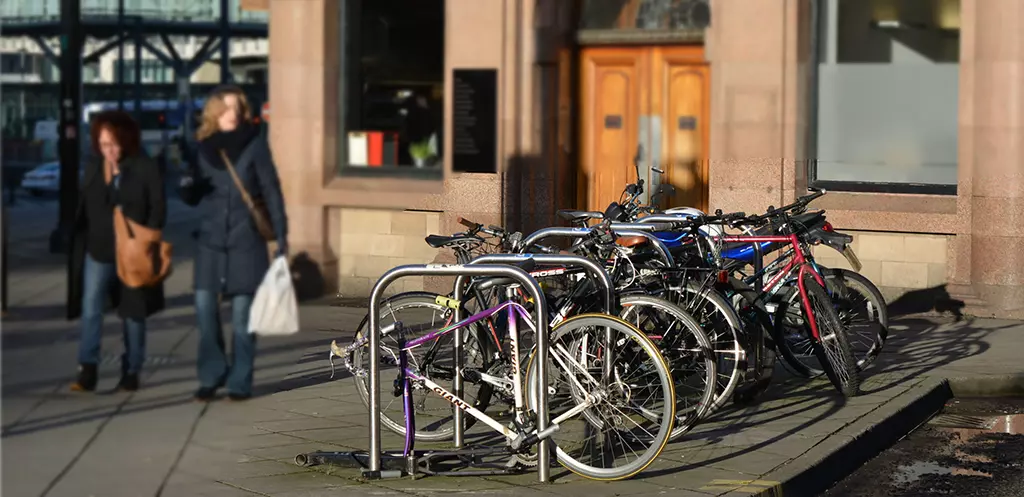 Discover in this article: Take 5 minutes to learn about bicycle parking racks standards and regulations!
Things need to know before purchasing a bike rack
To purchase the best rack, you need to consider different elements. Some examples of these elements are:
Material: Plastic and wooden bike racks are less sturdy than steel racks. Therefore, you should not select them for your outdoor parking space.
Style: Different shapes of bike racks serve different purposes. Select the condition that you find the most appropriate for your needs.
Size: When selecting bike rack size, consider the rack installation area space and the dimensions of the bike wheels you want to lock with the rack.
Finish: For outdoor bike racks, select a rustproof finish.
Mounting system: Select a mounting system according to the installation surface type. The in-ground mounting system is suitable for asphalt and pavers, while the surface mounting system is better for concrete floors.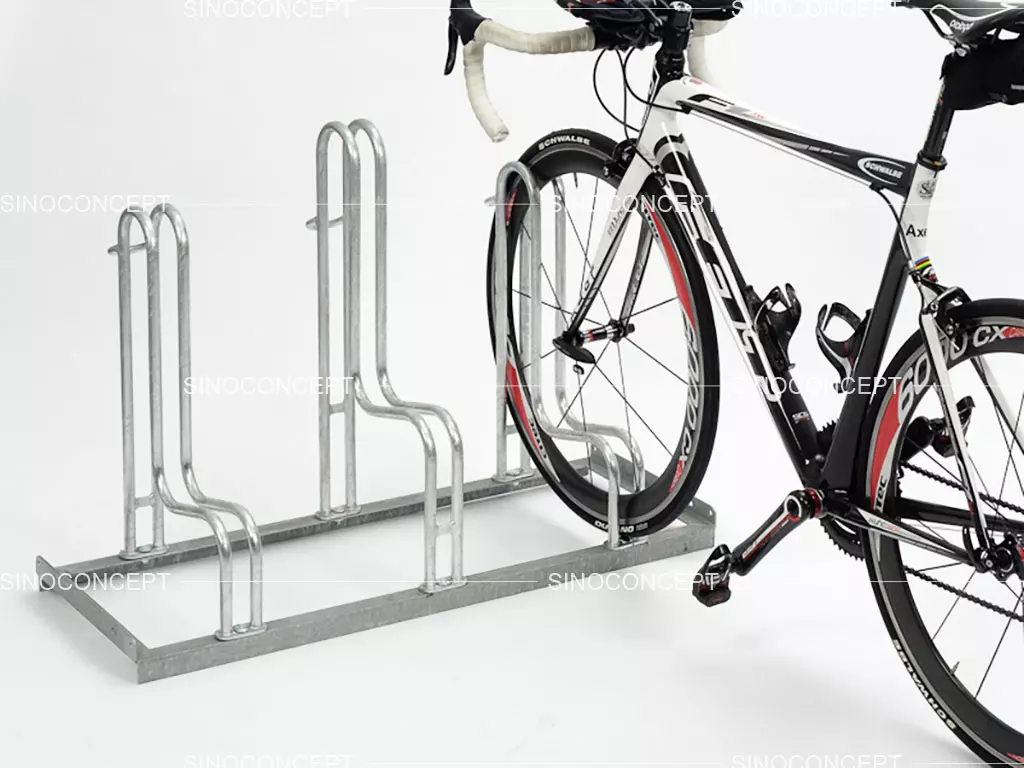 Discover in this article: Things you need to know before buying an outdoor bike rack!
Top 6 famous outdoor bike racks brands
Enlisted below are some famous bike racks you should consider when buying them.
Broxap Sheffield cycle stands
Marshalls Sheffield cycle stands
Sino Concept bicycle racks
Mottez bicycle racks
BTwin bike racks for two bikes
Wiggins bicycle racks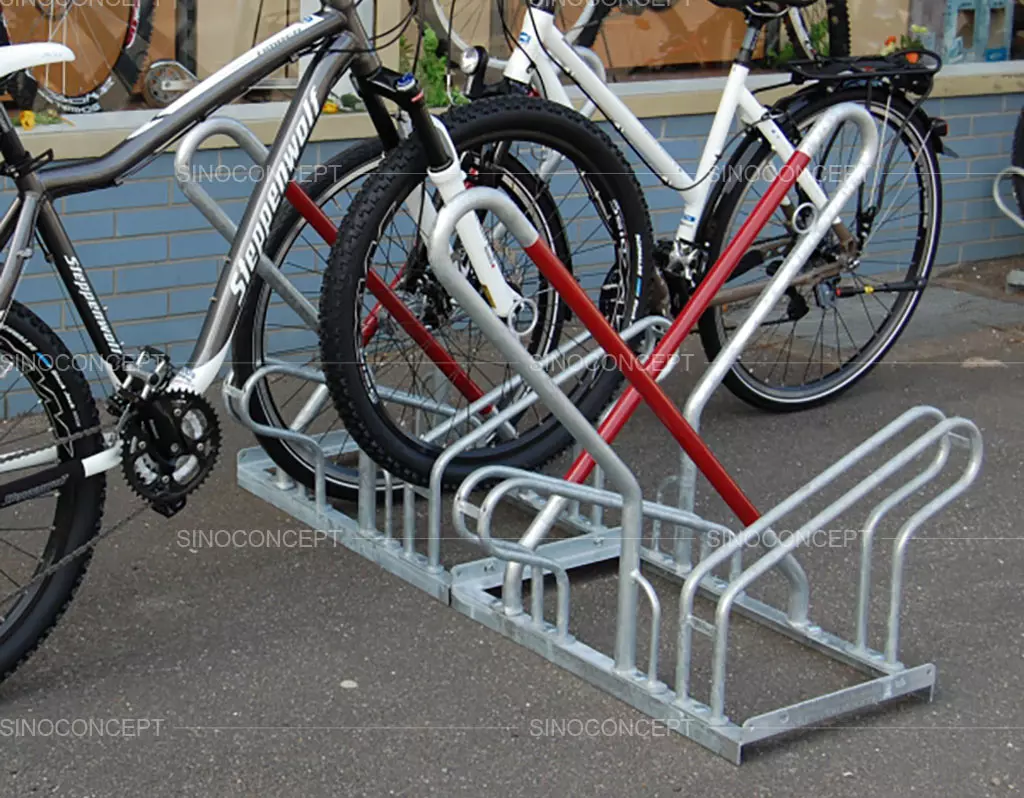 Discover in this article: Top 6 famous outdoor bike rack brands!
Conclusion
popular among bicycle communities. They are highly beneficial and provide a secure area for cyclists and bikers to store and park their vehicles
To buy bike racks for your commercial or residential building, you should first talk to specialists and learn which product fits your needs.
Among many popular brands of bike racks, Sino Concept is worth trying and investing in. Its products are versatile, durable, customisable, and whatnot. Contact their experts today to find the right product for your needs.