Benefits of Stainless-Steel Bike Racks
If you're concerned about your cycle's safety, cycle stands are what you need to secure your bicycles from theft. However, the real problem arises when choosing an appropriate cycle stand.
But why is that even a problem?
You see, numerous outdoor bike stands are constructed with materials ranging from steel to plastic. Hence making the selection a stricter process. One such durable, modern, and sleek material is stainless steel – a robust material to make cycle racks. For more information, we advise you to check what outdoor bike stands are made of.
Want to know more about the endless benefits of stainless-steel bicycle racks? Continue reading to discover more!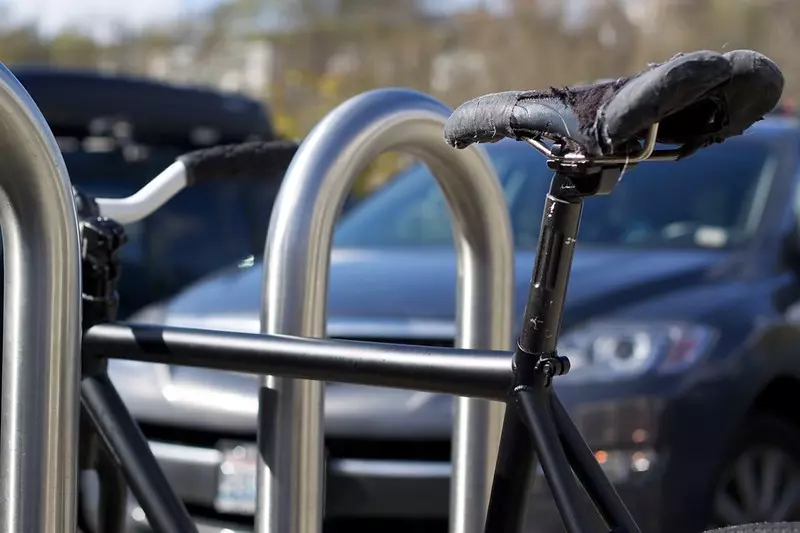 Pros Of Stainless-Steel Bike Racks
Stainless steel racks are known for avoiding rusting and corrosion, which makes them a suitable choice in humid and coastal zones.
In addition, a stainless-steel bike stand is often easier to clean than other racks. These advantages offer stainless steel bike racks and safe bicycle parking spaces.
Let's look at more in-depth benefits of making stainless steel suitable for a bicycle rack.
Fire and heat resistance
Stainless steel bike racks have oxidation resistance, even at high temperatures, making them suitable for resisting fire and heat. But what is the underlying element that makes stainless steel fireproof?
It's none other than Chromium – an element in stainless steel bike racks that enables them to thrive in harsh environments. It's a metal that outperforms powder-coated galvanized steel and aluminium regarding fire and heat resistance.
Such resistances make stainless steel bike racks durable and long-lasting since they cannot be eroded due to high temperatures. Isn't that great?
Easy to Clean
Hygiene is another advantage of a stainless-steel floor stand that you may not immediately recognize.
Stainless steel is usually easy to clean and sanitize. The glistening, smooth, and non-porous surface makes it difficult for dirt, grime, and germs to establish themselves on its exterior.
Even if some stinky dirt finds its way to stick to the surface, you can clean it with ease.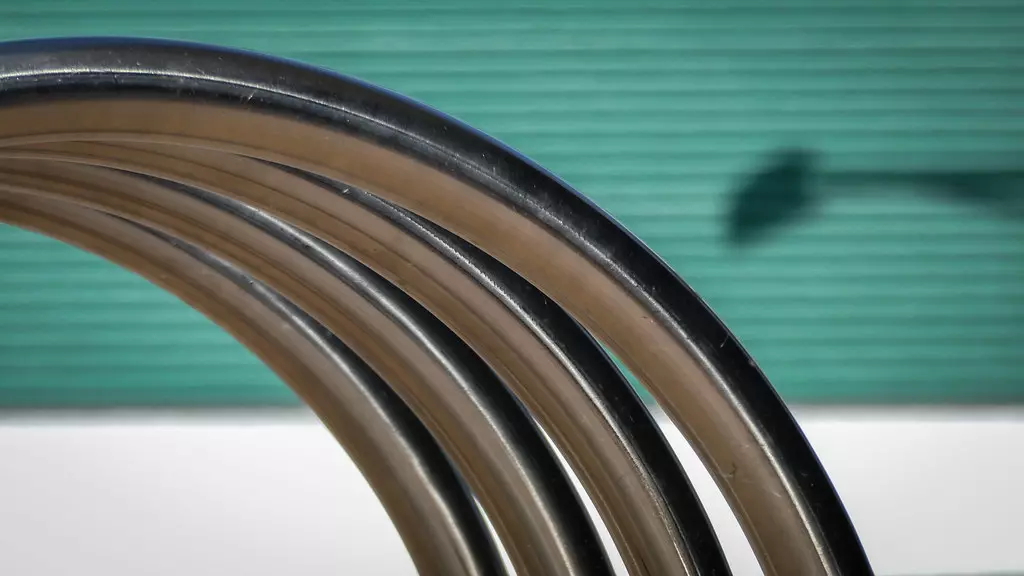 Strength
Bike racks made of stainless steel are highly robust and long-lasting. They have excellent impact resistance, and the racks are less prone to brittle compared to other metals. But what does it have to do with cycle racks?
The impact resistance allows manufacturers to cut and weld the steel easily. Hence, as a result, making customized stainless-steel racks is much easier for them.
Aesthetic appearance
Another reason why many people choose stainless steel bike racks is because they are more appealing to the eye.
Stainless steel racks have long been associated with class, attractiveness, and modernism.
It has become more prevalent worldwide in commercial and business parking as a practical and aesthetic option. It is also a compatible and suitable material for most other materials, designs, and colours.
Sustainability
Stainless steel bike parking racks are popular worldwide since they are environmentally friendly.
The stainless-steel rack is usually built from 70% scrap metal, which implies its foundations are drawn from what isn't utilized.
It's also biodegradable and 100% recyclable in its original form, ensuring that it may be reused over time. Moreover, a stainless-steel bike rack will not leach hazardous chemicals like other materials during recycling, making it even safer.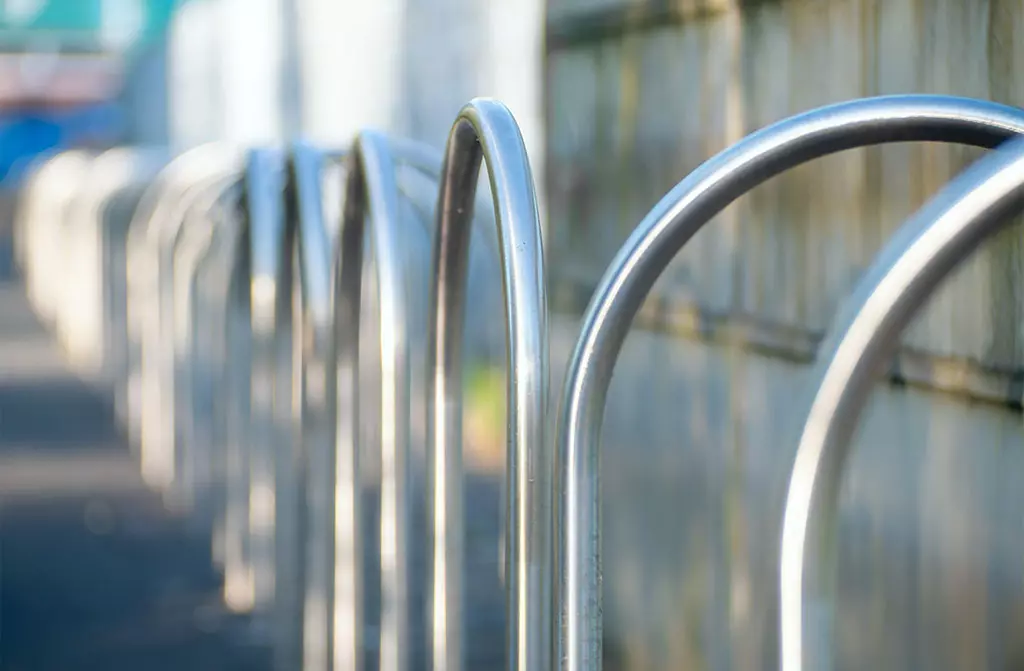 Difference Between Stainless Steel and Steel Bike Racks
Steel and stainless steel are metals and common materials used to create efficient cycle racks. However, there are some notable differences between the materials.
Firstly, steel bike racks are made by adding iron to carbon, which hardens the iron. It is also known as plain carbon or mild steel, with a low melting point. On the other hand, Stainless steel bike racks have a high chromium content that creates an invisible layer on the surface of the stainless steel to prevent it from staining.
Another significant difference is regarding the resistances of both materials. You see, stainless steel bike racks are corrosion-resistant, and steel is prone to stains and rust. Fortunately, if you get a stainless-steel bike rack, it will not rust or corrode easily.
Hence, you can rest assured that your investment in your bike safety will pay you back for a long time to come. Whether you have bought a new bike or have plenty of previous cycles to protect, a stainless-steel bike rack is a practical bicycle storage.
Different Styles of Bike Racks
There are various bike rack styles; fortunately, you can find all of them in a heavy-duty stainless-steel option. Let's briefly look at some of them.
Bollard Style
Bollards are short vertical posts frequently used as calming traffic measures to reduce a vehicle's speed and ensure pedestrian safety.
Fortunately, it can serve a dual function by providing parking space for road, sports, city, folding, or indoor bikes. You can find them on any sidewalk and use a cable lock for securing bike frames.
Usually, the bollards may have two elongated arms where you can lock your bicycle frame and bike tires using bike lockers. The post-and-ring design is a variant of the bollard type popular in North America.
U-Rack
A U-rack features an inverted U shape with two points of contact with the ground. This simple bike rack is designed for placement on sidewalks, ensuring that it does not obstruct pedestrians' line of sight. It allows you to secure your bike using a bike lock around your wheels.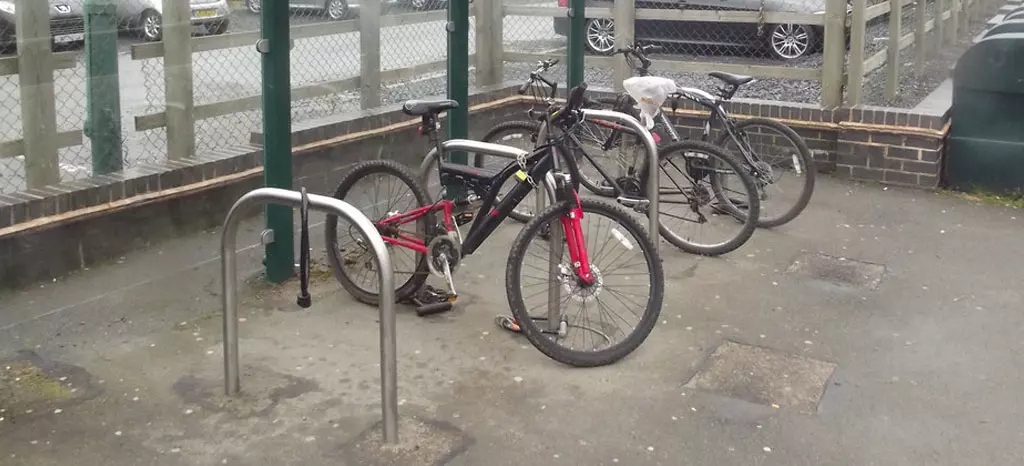 Wave
The wave is a continuation of the U-Rack. A single wave can accommodate two bikes or more than a single U-rack.
However, there is an issue. You see, the bike frame is supported and secured from one location (as opposed to two points with a U-rack). Hence, there are risks of bicycling falling.
Double Deck
This is an artistic and innovative way to park bikes. A double-deck cycling rack has tiers with a hoist option, allowing you to park multiple mountain bikes, road bikes, or indoor bikes in a limited bike.
Most double-decker bike racks utilize hydraulic cylinders to raise the locked bicycle into the rack, facilitating convenient parking on the upper level.
Grid Style
The grid-style cycle rack is another way to park multiple bikes in a single place. The grid-style rack undergoes a steel construction with a galvanized finish, making it rust-resistant.
Moreover, it has a dual-sided parking space, making it easier to park plenty of cycles. However, you can only lock your cycle from the bike frame or the front wheel; it isn't possible to lock both simultaneously.
Conclusion
Stainless steel bike racks are undoubtedly robust bicycle stands, making it easier to park safely in one place. Moreover, they are versatile, allowing you to install them on sidewalks, roadways, residential buildings, storefronts, and commercial buildings.
And what's the good news?
These cycle stands will thrive for a long time. Simply put, it's a one-time investment to ensure your bicycle safety. So, are you also an enthusiastic bicyclist concerned about your bike's safety? Don't worry; Sino Concept has you covered with its range of cycle stands.
Reach out today! 
To learn more, we advise you to refer to the following pages: