What is a bike parking rack?
As more and more people become conscious of their carbon footprint, we see many more bikes on the streets. It means there's a need for proper cycle racks in public areas, especially in high-density neighbourhoods. You might be familiar with parking problems if you have owned a bike over the years.
A bike parking rack can be considered a bike frame where you can securely park your bike outdoors without inconveniencing pedestrians. An ideal bike parking space offers convenience, stability, and security.
A proper bike parking rack allows you to securely park your bike to save space and prevent inconvenience to passers-by, for example, by tripping on a motorcycle insecurely attached to the bike rack.
Your bike won't sway on contact by parking your bike on a bicycle rack. It helps your bike avoid scuff marks and keep its brand-new appearance for a long time. If you want to learn more, we also have an article about everything you should know about bike racks. Continue reading to learn more!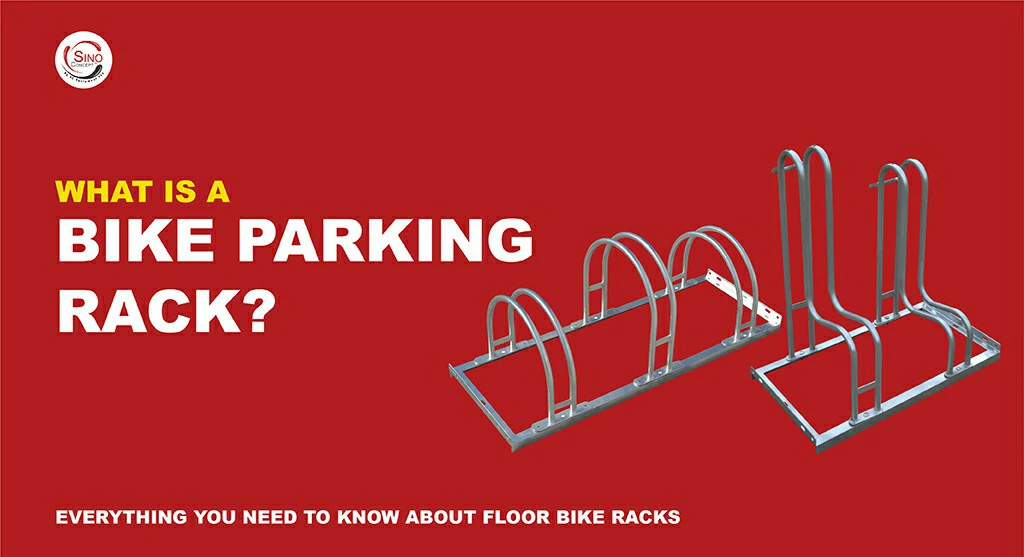 History to know about floor-mounted bike stands
The first ring-and-post bike racks were invented in the mid-1980s by designer David Dennis. He was concerned about the congestion and parking space shortages and sought a sustainable solution. His proposed bike racks had compact footprints, were designed to hold two bikes at a time and had no tripping hazards.
After the idea was popularized, bike racks with an introductory post fastened to the locking rings started to be mass manufactured. The bolts attached to these bike racks were the weak link in their security.
As a result, the post-and-ring bike rack was not a viable option as many quickly realized the design loopholes, and bike theft became common. Despite this, efforts to develop an even better concept were not curtailed.
Afterwards, there was a more contemporary take—the Sheffield designs, which are straight-backed, simple, and low-cost. They took their name after the English city of Sheffield, where they were first used. Another variation of this bike rack included a lower horizontal bar, suitable for parking smaller bikes.
Discover in this article: The history of cycle racks.
Types of bike parking categories
There are two types of bike parking categories: Short-term parking and long-term parking.
It is a bike storage solution that comes without any enclosure. There is usually a time restriction on how long you may park there. It's highly convenient and accessible as it is in high-density neighbourhoods. It provides some level of security against theft.
Long-term bike parking provides additional protection and enclosure, and bikes can be parked for an extended period. Some examples of bike lockers and lockups include bike shelters, bike rooms, and bike parking stations. It provides high-level protection against theft via bike locks.
Trending cycles racks
Some of the best bike racks available on the market are given below:
Delta Cycle: Jumbo Double Racks & Ceiling cycle racks
This upside-down bicycle hanger is probably the most inexpensive and convenient and makes for easy storage! You'll get a couple of threaded hooks –for ten dollars, use one hook on a wall or a combination of hooks for the ceiling. The variety of hooks must be maintained up any bike weighing much less than 30lbs as soon as the bike placing hooks are well hooked up through the roof. It's reasonably priced, versatile, and easy to install.
WaterLuu: Heavy-Duty Storage
It is another reasonably-priced, easy-to-install, well-built cycle rack system that can accommodate various bike sizes. Placing hooks for storage is an excellent way to hold the bikes. Make sure to drill the holes in a concrete/wood ceiling and use plugs for a pleasant fitment. Also, measure the gap among bike cycles to get the best fitment idea.
Portland Design: Hooptie
This wall-mounting, vertical placing hook from Portland Design Works is an excellent rack for small apartments. The curvy bike cycle hook is constructed from hardened metal with a rubberized arm to guard against scratches and calls for holes for mounting.
The small, discreet rack can maintain a bike cycle of as much as 33 lbs. (15kg) with tires as thick as 2.5″. Racks like these make loading and unloading your bike a lot easier.
Feedback: Sports Velo
The Sports Velo wall bike cycle garage rack offers no trouble and maintains your bike stacked towards the wall horizontally and out of the manner. It's a wall-hooked-up bicycle hanger that calls for holes for attaching and is height adjustable to improve a giant bicycle. It can fit one bike cycle and consists of smooth padding to guard against scratches.
FAQS!
How high should you mount the bike rack?
It would help to have the hooks high enough that the wheel striking down does not contact the ground. But you do not need the hooks so high that standing up and raising its top wheel onto the hook is tough. Placing the lowest hooks about 70 inches (178 cm) above the ground improves bike mount stability.
How far apart should bike racks be placed?
Continue putting bike racks every 15 inches, alternating the heights of every frame alongside the period of your wall. The peak of every stand must be staggered. If the vertical bike racks are hooked up at the same height, they may want to be spaced at least 24 inches.
Can you hold the bike from the front wheel?
If you mount your hook low enough so the rear bike tires rest on the ground, you can favour holding the bike from the front wheel. This will make striking an easy process, as all you should do is roll your bike back onto its rear wheel and the hook.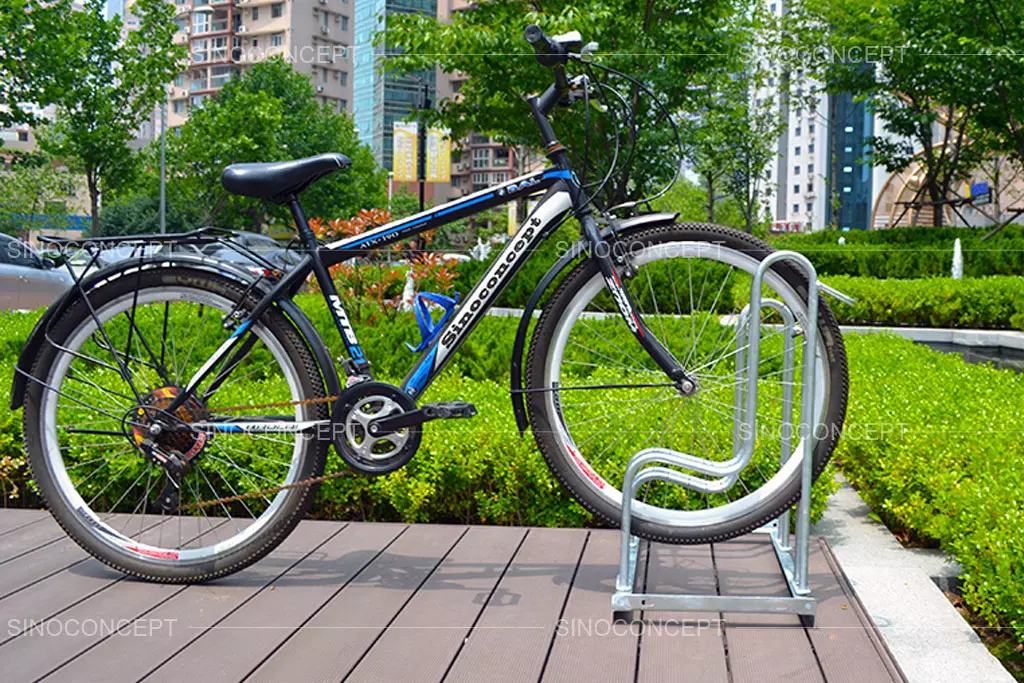 Is it okay to keep the bike vertically?
Keeping a bike vertically at the wall without lifting it is possible. What you want is a wall-mounting bike bracket or hook. This is small enough and stuck on the proper angle without difficulty in shape among the spokes at the front wheel.
Why should you not put a bike the wrong way up?
If a bicycle has hydraulic disc brakes, you should not hold it the wrong way up or vertically. You hang the bikes wrong, causing air bubbles within the reservoir tank or the cables. Hence, it's always recommended to load your bike upright.
Discover in this article: 5 Frequently Asked Questions About Floor Mounted Cycle Racks.
Conclusion
Bicycle storage is the main challenge for most cyclists. Due to their massive volumetric size, finding a storage area for beloved bicycles may be tricky.
A correct bike rack gives a valuable alternative to organizing hobbies, whether a carbon road aluminium mountain or a travelling bike made of steel. All bicycles deserve good quality horizontal time! Using the right bike rack is an excellent way to store bikes.
Depending on the wide variety of bicycles that had to be stored, there are many methods to find one that fits your needs. It is difficult to pinpoint one bike rack that could shape your needs. Hopefully, you found a few ways and ideas to shop for bikes in the garage.
To learn more, we advise you to refer to the following pages: