5 Frequently Asked Questions About Floor Mounted Cycle Racks
A bike parking rack, more often abbreviated to a bike rack and occasionally referred to as a bicycle stand, is a device that allows bicycles to be linked safely and securely for parking.
A bike rack can be freestanding or firmly affixed to the ground or some other immovable object. Indoor bike racks are often used for individual bicycle storage. However, outdoor bike racks are frequently utilized in commercial settings.
The types of bike racks that can lock the bike's wheels, as well as the frame of the bike, are the most reliable and safe. There are a variety of various materials that may be used to make bike racks.
The material used to construct the bike rack is subject to several vitally essential considerations. These include its longevity, resistance to the elements, aesthetic appeal, and practicality.
People must have many questions about floor-mounted cycle racks. Here, we are going to talk about the five frequently asked questions.
We also have an article about what is a bike parking rack if you want to learn more about this topic.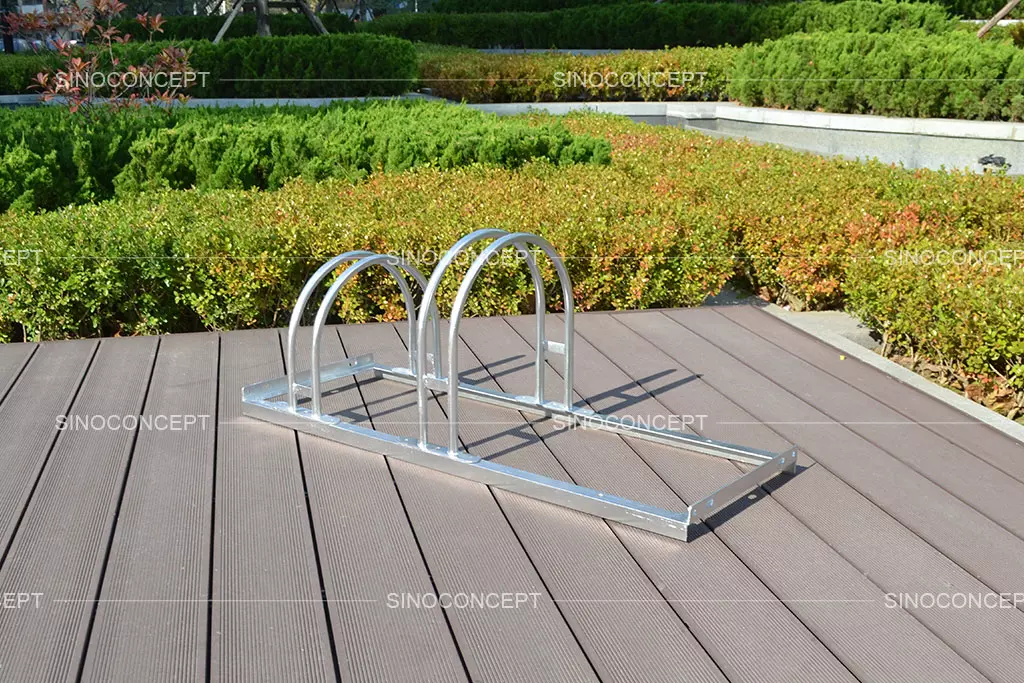 What are floor-mounted cycle racks?
If you live in a small apartment, you may have to bring your bicycle inside. These racks are the best bet if you don't have the yard space to build a storage shed.
A floor-mounted cycle rack is an extended metal piece with two slats running vertically. These slats are designed to accommodate the front tire of a bicycle. It does not take up a lot of room and can be readily put in any location you want.
However, putting the cycle rack at a location not in a high-traffic section is preferable. This is because it may become a substantial obstruction after installing your bike in the stand.
A wide selection of floor-mounted cycle racks is available—from basic models designed to support only one bicycle to more complex models. Your stress about parking bikes will fade away with these racks.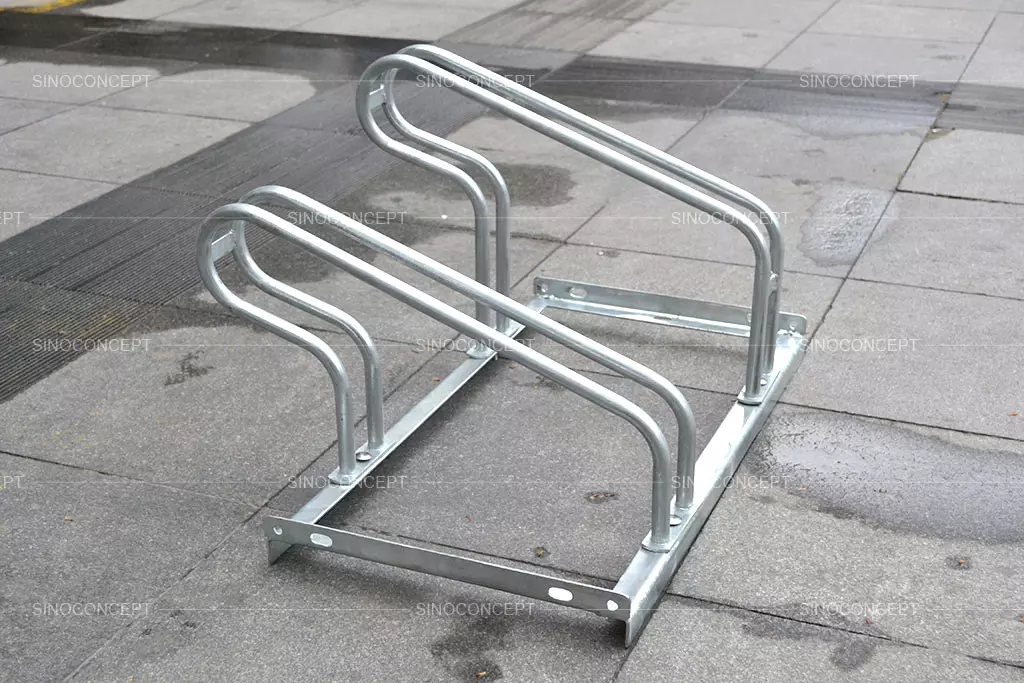 What are the different anti-rust treatments used in fabricating floor-mounted cycle racks?
Please discover the most popular processes used to construct durable bike parking racks below.
This treatment is the best you can find on the market and requires no maintenance. The floor bike racks will have a vintage touch by having this hot-dipped galvanized finish. This treatment is a solution that is both cost-effective and resistant to rust.
Compared to other treatments, this type of finish will have a texture that is noticeably more granular than other treatments.
Powder coating is a viral treatment for outdoor bike racks. An electrostatic gun will apply a generous coat of anti-UV powder to the bike racks. After that step, the cycle racks are placed into an oven and baked for 30 minutes at around 180 degrees.
The powder is then melted, and the cycle rack will have a smooth, long-lasting gloss surface. Powder coating is a treatment that is resistant to chipping and scratching because of the durable nature of the raw material used.
This creates an impenetrable barrier between the moisture and the exposed metal. It prevents rust and corrosion from oxidizing on the bicycle rack.
Zinc plating is an anti-rust treatment that will protect the bike racks from rust. It won't be as efficient as hot-dipped galvanization, but the finish will look smoother and bright.
Therefore, hot-dipped galvanized floor-mounted bike racks will last longer but won't look as lovely as zinc-plating bike racks.
What are the types of bike racks and stands?
Some of the different types of bike racks that you might come across include the following:
Arriving ready for use, you may attach the rack to the floor for maximum security and fix it for convenient usage. It secures all tires securely, even mountain bikes, and the rack can be accessible from both sides, depending on where you set it.
For all users, it's simple to slot your bike in and lock it up. As it's rust-proof, the rack will offer ideal bike storage for an extended period.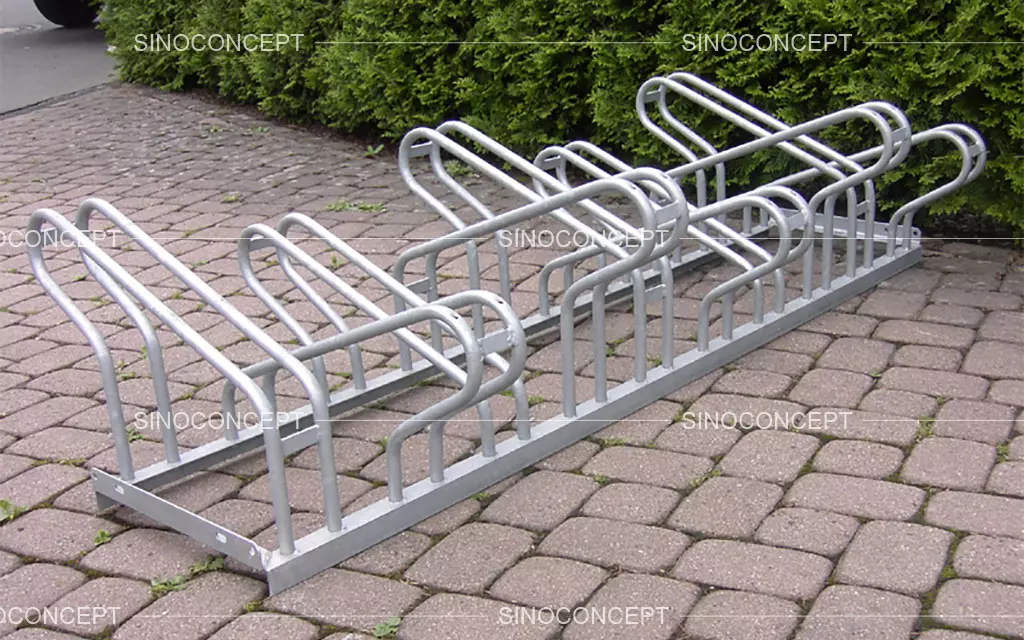 This kind of bike rack is the simplest one. It also goes by U Bike Racks, Inverted U Racks, and Staple Racks. These racks provide the essential elements needed for storing bicycles.
Locking the frame and a wheel to a U-shaped bike rack is possible. They are the best support for the bicycle's structure in two different locations, which helps maintain it upright.
This rack is one of the most secure and long-lasting options available. This particular kind of bike parking rack is available in various design styles. Some of these racks go beyond the traditional "U" form.
Since its introduction, post-and-ring bike racks have quickly become the most popular kind of parking for bicycles. They provide a high level of protection and assistance for bicycles. It is essential to take into consideration the height of the ring.
The traditional design of the Sheffield bike stand is widely known for its dependability. It is also popular in various innovations and continues to be a fan favourite.
A diverse selection of overall sizes and measurements is available for the Sheffield bike stands. It is often regarded as an early outdoor cycle parking solution. It is available in steel or stainless steel in a variety of finishes.
It is possible to install reflective bands around the bike stands so that the visually impaired can easily find them.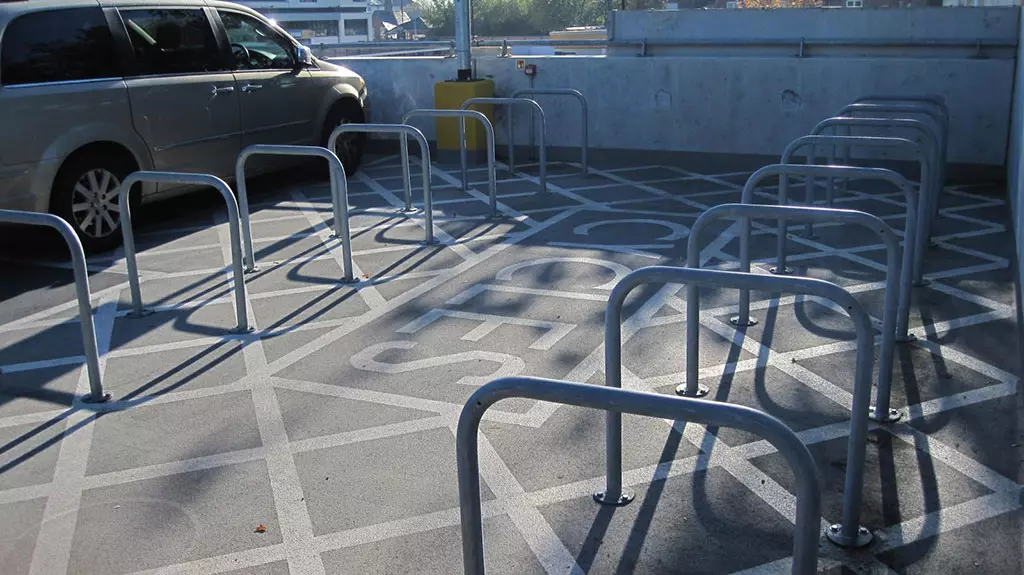 This is an excellent option for those needing a cycle storage solution that is both affordable and practical. The Harrogate cycle stand is made of mild steel and has a standard finish. The bike may be locked to the wheel and the frame, making this a common design choice. This helps deter theft.
Where to install floor-mounted bike racks?
Convenience is of the utmost importance, and one of the defining characteristics of short-term parking is bike racks. They should be placed in locations with a large volume of foot traffic, such as the entrances of buildings. They should be no more than fifty feet away from doors.
Bike racks ought to be able to be seen from neighbouring bikeways. Hence, they should allow quick roadway access while avoiding areas containing steps.
Bicycle racks must not obstruct the flow of pedestrian traffic and are discreetly hidden away from the path of moving vehicles. There should be no projecting bars if the bike rack is on a small sidewalk.
Consider constructing a bike rack along the side of buildings with an overhang or a covered walkway. This will make the most efficient use of the surrounding infrastructure. Bikers will be grateful for the shelter from the elements that this provides.

To what extent should a bike rack be visible?
The utility of the bike rack to bikers will depend on how visible it is. Hence, the requirement that it be seen is quite stringent. When entering a location from the road, cyclists should easily locate the available bike racks.
There should be sufficient spacing between the bike parking rack to make the bike mounts easier and more efficient. They can act as a piece of efficient space-saver equipment while taking minimum parking space.
Not only does the leading site make it easy for the bicycle, but it also reduces the likelihood of theft. In addition, areas should have enough lighting, and bike racks should, wherever feasible, be positioned to be visible from the street.

Conclusion
Parking spaces for bicycles are necessary for every urban community since they provide advantages to walkers, drivers, and cyclists alike. They decrease the rattle from the environment and lower the risk of blockage.
There are a variety of degrees of sophistication for bike parking. The most important thing is considering the site's capacity, surrounding infrastructure, and traffic. The bike carrier should be able to load and unload the bikes quickly.
The viability of bike parking is contingent not only on factors such as ease and safety but also on its capacity to contribute to rather than detract from the natural flow of traffic. Mounted cycle racks help achieve both of them efficiently.
To learn more, we advise you to refer to the following pages: