Get to know about black and yellow speed bumps!
Black and yellow speed bumps are the most popular speed reducers installed on roads at different sites for speed control. And they are the most popular speed bump colours.
They are one of the traffic control devices like stop signs, cones, and speed cushions. A sleeping policeman is another name for a speed bump in the United Kingdom.
Speed bump and speed hump are different from each other. A speed bump is a bump on the road with a height typically ranging between 76 and 102 millimetres (3 and 4 in).
There are many different types of speed bumps, and they come in various sizes, but to allow for drainage, space is usually left between the bump and either border of an enclosed road (i.e., with curbs and gutters).

Types of black and yellow speed bumps
Here are 3 commonly seen types of speed bumps available for customers.
Speed bump made of rubber
The rubber speed bump, often known as a sleeping policeman, is a useful traffic barrier that is commonly found in areas where vehicle speeds are regulated.
The yellow-and-black colour scheme makes this traffic safety device extremely visible during the day.
It can also reflect light at night to capture the attention of drivers and improve safety.
Speed bump made of plastic
One of the newest traffic safety devices is the plastic speed bump.
It's made of high-strength plastic and can support more than 50 tons of weight.
The portable speed bump is available in an eye-catching yellow-and-black colour scheme that will not fade in three years.
PVC speed bump with cable protection
With PVC cable protection, your safety facility will be increased with a speed bump.
The eye-catching yellow-and-black design is crafted from rubber at an ideal angle.
A few channels are available, including 2, 3, and 5.
When a vehicle goes over the speed bump, the rubber speed bump can also operate as a cable protector, protecting the cable from harm.
This type of speed bump is commonly used in events such as outdoor exhibitions, stage shows, etc.
Where to install these speed bumps?
Speed bumps act as speed breakers to control and manage vehicles' speed and road safety effectively. So, any site where traffic flow and vehicle speed must be continuously managed should have speed bumps placed.
Public parking lots require controlled low speeds to avoid collisions between automobiles and people.
To keep employees and visitors to the site safe, industrial workplaces must verify that vehicles such as forklifts, vans, and buses operate at allowed speeds. In low-traffic areas, products such as traffic calming bumps may be used as an alternative warning for cars to slow down.
Speed bumps are effective in any area where the control of traffic management is necessary.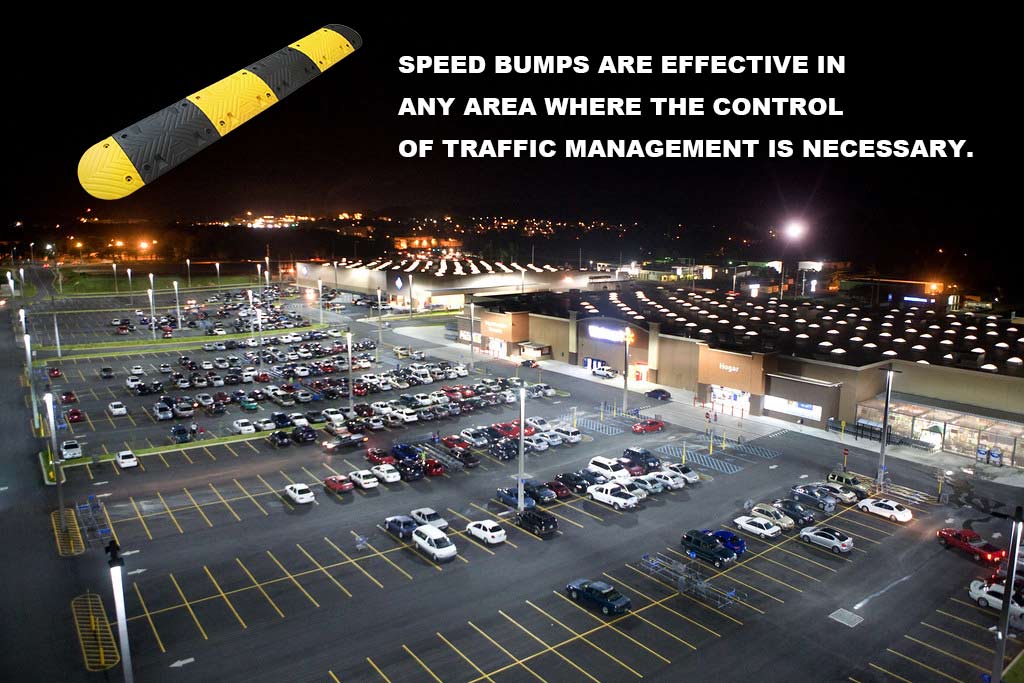 Composition of black and yellow speed bumps
Asphalt, concrete, recycled plastic, metal, and vulcanized rubber are just a few of the materials that can be used to make these speed bumps. Most of the devices, like speed bumps, have traditionally been made of asphalt or concrete.
These materials have higher permanency and are more effective at reducing traffic volume because of their rigidity and endurance. However, shaping and forming them into regular forms and precise dimensions can be difficult.
To fulfil industry requirements, rubber items are already shaped to prescribed sizes.
Preformed rubber goods are usually bolted down to make installation and removal easier. Temporary bolt-down installations are great for planners who want to evaluate the use and placement of speed bumps before putting them in place on a larger project.
Why are they coloured black and yellow?
A speed bump is a little raised pad on the ground that is used to slow cars down when they approach or leave a location.
It may be readily put in locations such as a community, a parking lot, a gas station, and a charging station.
To avoid speeding-related safety issues. The product is black with a yellow checkered appearance and a good reflective impact, allowing vehicles to see it well in a dark basement parking lot.
Moreover, the black and yellow appearance not only helps in underground parking but is also clearly visible to drivers when driving at night or in any other place with less light.
They reflect from a great distance and are visible to the human eye.
The product is difficult to break, even when repeatedly run over by automobiles, thanks to the resilient rubber.

Benefits of black and yellow speed bumps
Below are the benefits:
Reduced Accidents and Damage – Speed bumps can be used in parking lots, roadways, and roundabouts to reduce accidents and damage and avoid unsafe circumstances.
Roadway speed bumps or parking lot bumps increase pedestrian safety, vehicles, and neighbouring structures by speed reduction where needed.
Ease of Installation and Replacement- speed bumps are simple to install and replace, requiring only a few simple tools.
Eco-Friendliness – Speed bumps can be installed without inflicting any harm to the surrounding natural ecosystem, making the installation or replacement process.
Maximum Visibility – The highway speed bumps and parking lot speed bumps are painted in standard yellow and black to provide maximum visibility from afar.
Variety of sizes – Speed bumps come in various sizes and can be tailored to meet your specific needs.
The speed bumps are made of superior technology and may be used with any type of road construction material, such as asphalt or concrete.
These speed bumps are temporary and can be removed or relocated if traffic circumstances change.
Speed bumps are generally self-enforcing and give the appearance that the location is not meant for speeding.
Speed bumps keep a consistent quality when manufactured and fitted correctly and will not rattle or move position over time.
Disadvantages of black and yellow speed bumps
When talking about speed bumps. Whether it is made of rubber, asphalt, or concrete, some disadvantages are mostly reported by people. The following are the disadvantages:
Even at moderate speeds, vehicles are damaged, resulting in costly repairs.
Emergency vehicle response times are slow, putting lives in danger.
Increase the traffic noise in the areas where they are used.
Cyclists have discomfort and back injuries as a result of this.
The above-mentioned and most reported disadvantages and complaints prove that the benefits and advantages of speed bumps overcome their disadvantages.
No one appreciates the innocuous speed bump, especially when they're accelerating and have to slow down. These speed bumps in the road, which range in height from 3 to 6 inches, have been saving people for several years. They're a tried-and-true means of slowing people down and appropriately directing traffic.
A growing number of people are questioning the necessity of speed bumps, particularly in suburban and residential regions where they are in high demand.
After all, they were designed for urban areas in the first place. Installing speed bumps on your commercial property, on the other hand, has several benefits, including increased safety.
Apart from safety, the other benefits of speed bumps are of equal importance, whereas the disadvantages or the complaints of people are concerned. They might also be important but are not as significant as the advantages provided by the speed bumps.
Speed Bumps are coloured black and yellow for high visibility during daytime and at night. The basic purpose of the speed bump might be to slow down the vehicles, but it serves to fulfil many other purposes.
It can also indicate the presence of hospitals and schools ahead of the pedestrian zone. Any person or institution facing problems regarding traffic near their homes or offices is strongly suggested to use these.
Speed bumps will help them to serve as a traffic calming measure, and they can live and work in a more relaxed environment. Apart from all this, there are also some regulations to consider when installing speed bumps, otherwise, it will be considered illegal.
To learn more, we advise you to refer to the following pages: