What are circular speed bumps?
Speed bumps are traffic control devices installed to slow down vehicles. There are many speed bump types, and they are mostly installed in high pedestrian areas like the surroundings of parks, schools, offices, hospitals, malls, etc.
There are many speed bump styles. Speed bumps come in a variety of shapes, and one of them is the circular shape, hence called circular speed bumps. Numerous circular speed bumps are placed in a line at a specific distance from each other.
This article explains these city traffic control devices and why you should install them. So, keep reading to learn everything about circular speed bumps.

Introduction to circular speed bumps
As the name suggests, a circular speed bump is a type of speed bump that comes in a circular shape. It is an effective solution to control low-level residential traffic on private roads and parking lots, etc.
The height of circular speed bumps ranges from 5 inches to 7 inches. They come in various sizes, so you can choose the one that best meets your needs.
The distance between circular speed bumps placed in a lane depends on your requirements, as there are no specific regulations regarding it.
If you want to create more impact on the vehicle and reduce its speed greatly, you must use closely placed circular speed bumps in a line to make them look denser.
On the other hand, if you do not really want to create a great impact on the vehicle, it is best to place them at a distance as you like.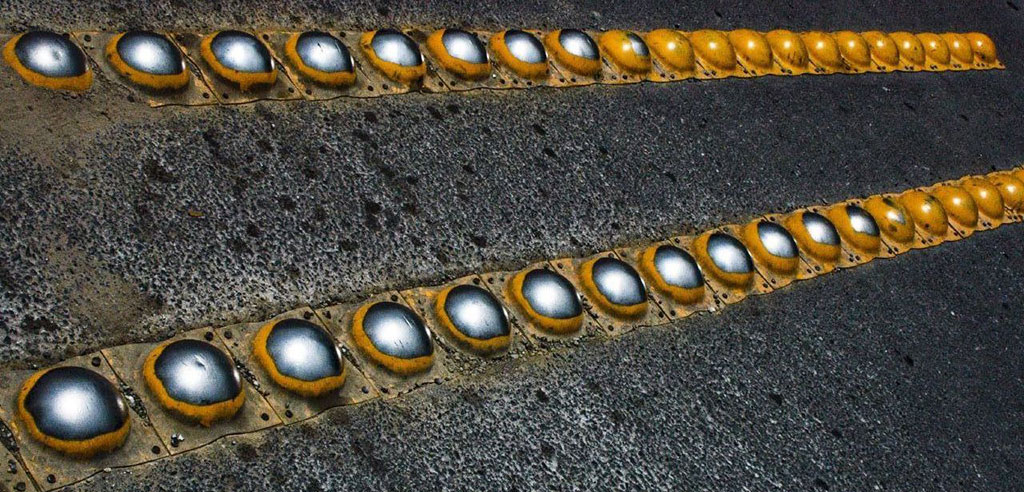 Benefits of using circular speed bumps
There are numerous benefits of using circular speed bumps. Some of its most prominent benefits are:
You can place them in the parking lot between vehicles, bike lanes, etc., to help motorists, bicyclists, cyclists, and other drivers maintain a proper distance between their vehicles like buses, emergency vehicles, bicycles, cars, etc.
Install them in the parking lots where the public and vehicles cross each other. This way, you can avoid parking lot accidents and maintain public safety.
Circular speed bumps come in handy around the schools where traffic speed should be controlled for road traffic safety. If you are a school owner, installing this speed control equipment is advised to protect your students and neighbourhood.
Another benefit of circular speed bumps is that you can use them to create a boundary line between traffic and non-traffic areas.
You can install them in a street that is a popular shortcut to a particular destination. Doing so will help you avoid severe traffic flow in that alley.
Installing circular speed bumps before a crosswalk will prevent road accidents and provide people with a sense of security.
Which material is used to make circular speed bumps?
Like other types of speed bumps, circular speed bumps are also made of various materials.
The most popular circular speed bump construction materials include rubber, recycled plastic, asphalt, metal, and concrete.
Rubber and plastic are two of the most cost-effective materials, making speed bumps relatively easy to install and maintain. Before buying circular speed bumps, consider the material's quality for a better buying experience.
Plastic circular speed bumps come in painted as well as unpainted forms. A painted speed bump is considered more beneficial since drivers can see it clearly and reduce speed in response on time. It can have different markings as well.
If you have unpainted speed bumps in your store's parking lot, you can get them painted as you want.
How do circular speed bumps work?
Circular speed bumps reduce the speed of traffic to 2-10 mph (miles per hour). While passing through a speed bump, a driver experiences two bumps.
The first bump is when the front wheels of the vehicle cross this speed control device and the second bump is when the rear wheels pass over it. It forces the driver to slow down to have less effect on the bumps.
Since circular speed bumps make vehicles slow down significantly, they are not used on public roads where they can damage cars that are going at the regular speed. They are generally used in the busy pedestrian zone where people walking on their feet and cars interact closely daily.
Circular road bumps are installed in residential areas to ensure the safety of pedestrians and drivers. The roadways or streets having speed bumps usually have clear signs or signals to warn or alert the driver of the presence of circular speed bumps beforehand.
This way, they can avoid damage and pass over the speed bumps smoothly by reducing the speed of their vehicle.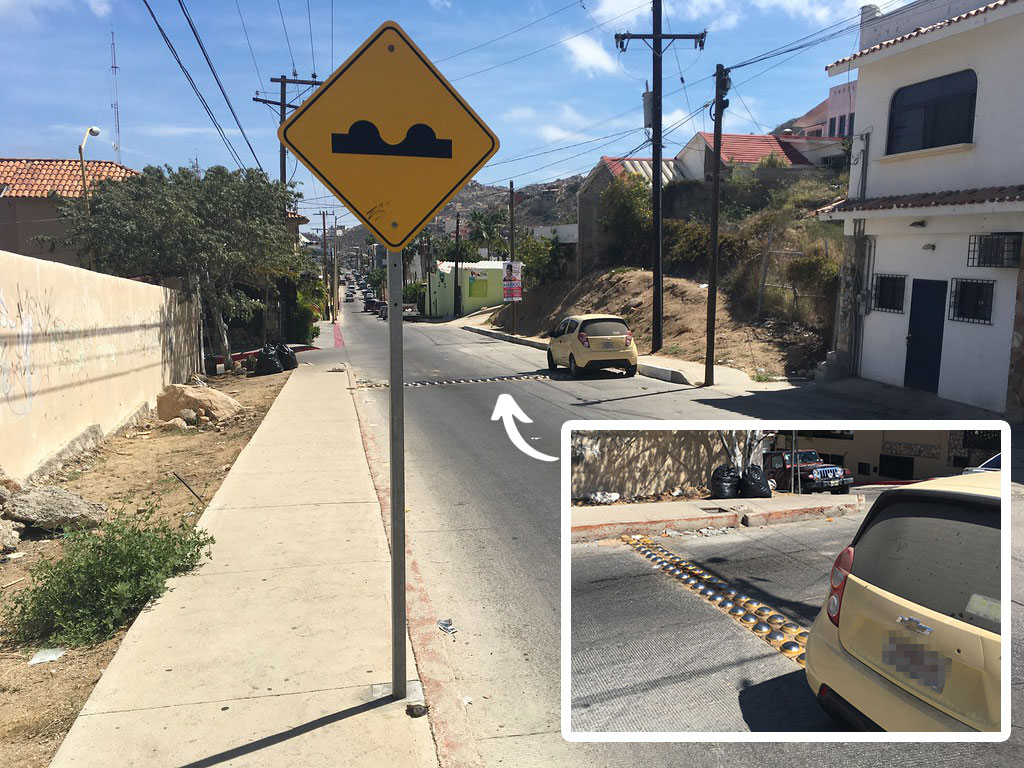 Can circular speed bumps damage your car?
The purpose of installing speed bumps is to discourage drivers from driving too fast. But if you still do not slow down the speed and pass over it at high speed, your vehicle can get damaged.
Mainly, tires and suspension experience damage, which can cause you expensive damage. It may also have an impact on your car's steering wheel.
If your car's exhaust hangs low, it may contact the raised section or surface of the speed bump. That is why you should check your car and keep it in the right shape to avoid having such bad experiences.
Circular speed bumps are part of driving on streets and roads. They are used to control high traffic volume and provide pedestrian safety.
You should always try to slow down while passing over any traffic management devices like speed cushions, speed tables, speed humps, and circular speed bumps to avoid damaging the car and drive at a safe speed.
The speed hump, speed table, speed cushion, and speed bump on the roads are for public safety, just like the traffic barriers, rumble strips, traffic cones, traffic signals, and pavement markings. Not following the basic traffic rules can get you fined.
Can I install my own circular speed bumps?
You may install your own speed bumps, but you will have to meet certain standards designed by The Highway (Road Humps) Regulations 1990.
Speed bumps are effective traffic control devices. Property owners can install them in the surroundings of their school, company, or any other property to provide security to their employees and people living in the neighbourhood.
It can help you reduce the collisions between pedestrians and vehicles.
Before installing the circular speed bumps, you will first have to consult the chief officer of local emergency and fire brigade services along with the police chief officer of the local council.
It is required by law to make sure you do not interfere with the paths that the vehicles of these service providers use.
If your proposed location for speed bumps is disturbing the routes of these service providers, then your request can be rejected.
In addition to this, you will also have to inform organizations (such as waste collection groups, traders, the Department of Transportation, etc.) that use the roadway. You must also ask the residents if the road is private.
You may also have to consider other factors that make the process a bit complicated and time-consuming. But you should still request the local government to check the slow zone (like work zone, school zone, etc.) that needs speed bumps for pedestrian safety and install them if possible.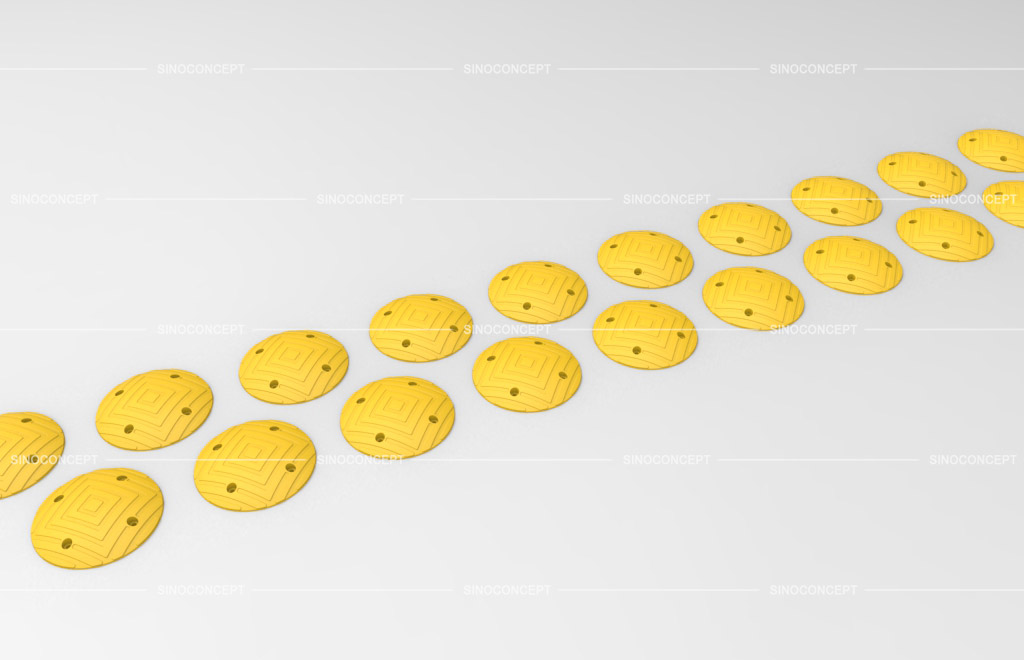 Circular speed bumps are a part of calming traffic measures intended to control traffic speed. They are mostly installed on city streets, where the average speed limit is usually less than 30 mph.
You can also use them in many other places like the street parking space, around schools, hospitals, and other high pedestrian areas to avoid crashes.
Make sure you also place the parking signs or a speed limit sign. The signage or signposts will inform the people of the speed limits they should maintain for a better driving experience.
Circular speed bumps are designed to control speed in high-traffic areas. Please read this article to learn more about them.
To learn more, we advise you to refer to the following pages: