What are square speed bumps?
Traffic safety equipment, the physical obstructions are the equipment to help control the flow of high traffic volume and keep it going at low speed in high pedestrian areas.
These traffic-management barriers also provide safety to passengers and prevent vehicle crashes or accidents.
There are many speed bump types and speed bump styles. Square speed bumps are one of the best traffic control devices that come in square shape and are arranged symmetrically to make proper bumps in the road to help with motor-vehicle speed reduction.
Other popular traffic safety equipment includes speed humps, tables, cushions, cones, speed signs, rumble strips, and traffic signals.
This article describes everything you need to know about square speed bumps. Keep reading to learn more about this traffic-control device.

What are square speed bumps?
Square speed bumps are rectangular traffic calming measures that encourage drivers not to exceed a specific speed limit. These are used to lower the speed of vehicles so pedestrians and cars share maximum space to discourage accidents.
Square speed bumps are tremendously beneficial to hindering high-speed vehicles before crossings, entrances, exits, and sharp turns. In fact, road bumps remind reckless drivers who drive too fast when in a hurry.
Otherwise, no one stops or lowers the vehicle's speed, even in high-traffic urban areas. Generally, a speed bump slows city traffic to 2 – 10 mph (miles per hour), giving pedestrians and cars time to react safely.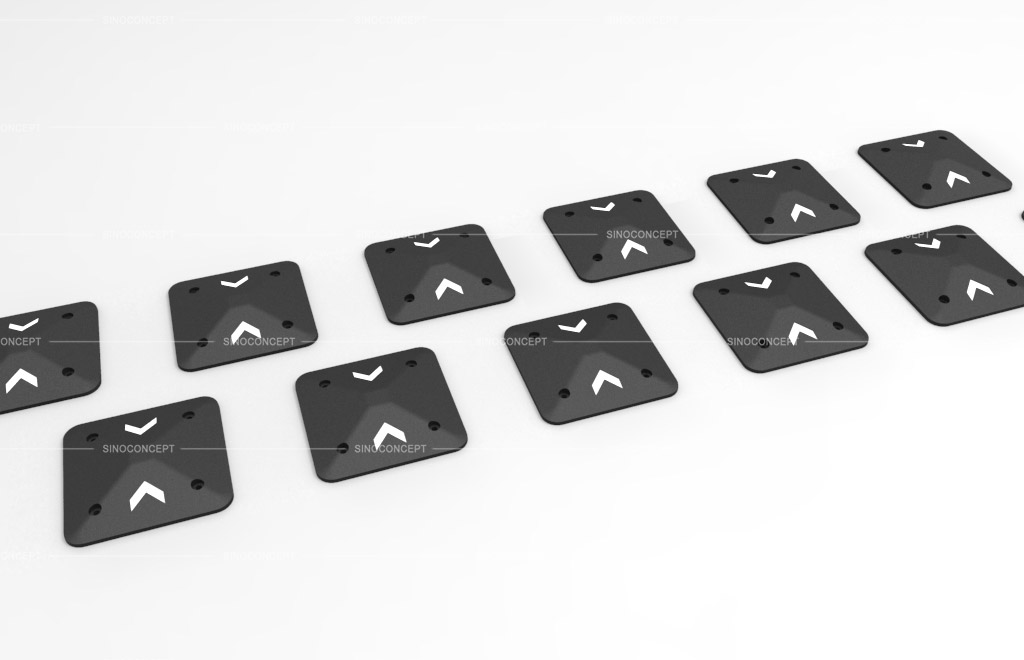 Why should you install a square speed bump?
The first and obvious installation purpose of speed bumps is safety in the neighbourhood, railroad crossing, traffic circle, street parking, pedestrian zone, work zone, unmarked crosswalk, parking space, sidewalk, and pavement.
The lives of car passengers and individual crossing the roads are at stake, and speed bump in the road ensures everyone's protection.
Some other benefits of installing square speed bumps as well as speed control devices are:
The speed bumps are designed to reduce the risk of accidents. For example, a rash driver struck at 50 mph will have more severe injuries than someone hit at 15 or 20mph. Speed bumps offer time for the driver to respond positively and save lives in life-threatening situations.
Without any doubt, speed bumps are also for the security and well-being of pedestrians. They are most vulnerable to over-speeding traffic no matter how carefully they cross a road.
Despite all the efforts, a single speeding car put their lives in danger. Speed bumps allow pedestrians to judge the situation and decide whether stepping back is in their best interest or should cross the road.
This also helps to lower the fatalities occurring due to vehicular accidents.
Speed bumps also contribute to regulating traffic. Some people avoid speed bumps and prefer following a route with no speed bumps. This keeps traffic uniform on all streets or roads instead of crowding a particular way.
So, if your street or highway is always crowded, you must install square speed bumps with reflective tapes as well as road signs or speed limit signs and make your path a safe crossing area.
How high are UK speed bumps?
The average height of speed bumps is 2 to 4 inches in the UK, which is also recommended by the enforced legislature and the UK government. By using 2 inches of high-speed bumps, you ensure the safety of people by limiting speed to 5 mph.
Similarly, when 3-inch high-speed bumps are used, high–speed vehicles like buses, fire trucks, emergency vehicles, etc., approach at 10 mph.
If you intend to use speed bumps in the residential, slow zone, or low-traffic areas, 3-inch speed bumps are ideal, limiting speed to a considerable range.
On the contrary, if you want to install speed bumps for road closures, mall parking lots, school zones, parks, or other high-traffic areas, 2 inches speed bumps prove best as they help reduce the average traffic speed in areas where children play or at crowded junctions.
The tire passing through the obstacle clearly understands this speed-controlling parameter of square speed bumps. The tires are on the speed bumps for less than half of the complete wheel rotation, all the axles cross separately, and as a result, the car receives jolts.
These shaking jolts help to stabilize the car's speed and keep it on track at a controlled speed.
How do I get speed bumps on my street in the UK?
Without any doubt, square speed bumps ensure regulated traffic flow and minimize hit-and-run accidents.
Still, you have to follow the legal requirements and state law to install speed bumps on road markings, traffic lanes, pavement markings, traffic intersections, and other areas.
Before installing speed bumps, it is a legal requirement to coordinate with traffic-controlling authorities like the chief officer of the police.
You should also consult with the fire brigade or ambulance services. If there is a favourable route plan for emergency services, you will be allowed, but you may face rejection if it is disturbing.
In addition, you can also organize a campaign and inform organizations, road users, waste collection groups, and transporters before installing speed bumps.
You must also communicate with the local council and discuss why your street should install speed bumps. After going through the whole application process, you will get clarification about the proposal according to the traffic rules.
Where can I install square speed bumps?
Speed bumps are used to control high-speed traffic and ensure a safe distance between vehicles and passengers; they are installed at high-risk traffic areas like traffic lanes and no-parking zones, roadway, driveway, pavement, and crosswalk, etc.
Make sure to install a speed limit sign or signage on city streets and roads.
You can install square speed bumps at pedestrian crossings, car parks, or exitways. Even schools are the most significant places for speed controllers to be installed. Many vehicles are encountered, and children face difficulties while crossing the road.
Similarly, exitway junctions, loading bays, depots, and sporting venues are hot spots where you must have speed bumps.
Before installing speed bumps on the roads or streets, you must know the spots where installing speed controllers can do more harm than good.
Don't install or place speed bumps within 20 meters of the railway track.
You cannot place speed bumps within 25 meters of a bridge where any part of the tunnel crosses.
What to consider when buying a square speed bump?
Several factors need to be considered when buying a square speed bump. Below are some essential aspects.
Needs of the zone and material
When buying square speed bumps, don't forget the average spacing to cover the whole lane. It entirely depends on the requirement to control the vehicle's speed. To keep the speed limits normal, install square speed bumps spaced; otherwise, place them closely.
The speed bump material is one of the essential buying factors as it directly affects the longevity and efficiency of the bumps. Square speed bumps are generally made up of rubber, recycled plastic, or asphalt. You may also get metal or concrete speed bumps.
Rubber is the ideal speed bump material as it has the highest compression as compared to other materials. Rubber is softer and proves to be kinder to vehicles with nearly no damage.
It also produces no impact and traffic noise. While square speed bumps made up of other materials are prone to wear and tear.
Before buying speed bumps, you must calculate the height and width of the speed bumps as they directly affect the speed of vehicles passing over them.
Speed bumps of different dimensions affect the driving speed differently. Buy square speed bumps that meet your dimension requirements well.
When it comes to pricing, different materials of speed bumps will have different levels of price. You must consider the price carefully and choose the product that falls within your budget to avoid overspending.
Square speed bumps have a distinct square shape that differentiates them from traditional speed bumps.
They are arranged symmetrically in a line and can also resemble the rumble strip if they are placed in rows. They should have a warning sign around them to inform the drivers of their presence.
Square speed bumps are valuable speed safety equipment used to control traffic in the alley and roads and save the worthy lives of passengers and drivers. You can also install square speed bumps outside your property and add value to your society.
To learn more, we advise you to refer to the following pages: