The need for cable protectors at events
Several wires and cables are used at events organized by businesses, educational institutes, etc. Since many people attend such events, placing wires in their path can cause harm to people and damage to cables.
You can use different cable protectors for different kinds of events depending on the basic needs of every event. There are innumerable benefits of using cable protectors, for instance, the protection of cables, the safety of guests, and the management of wires.
This article explains why you need cable protectors at different events. It has also highlighted top cable protector types and factors you must consider before buying them.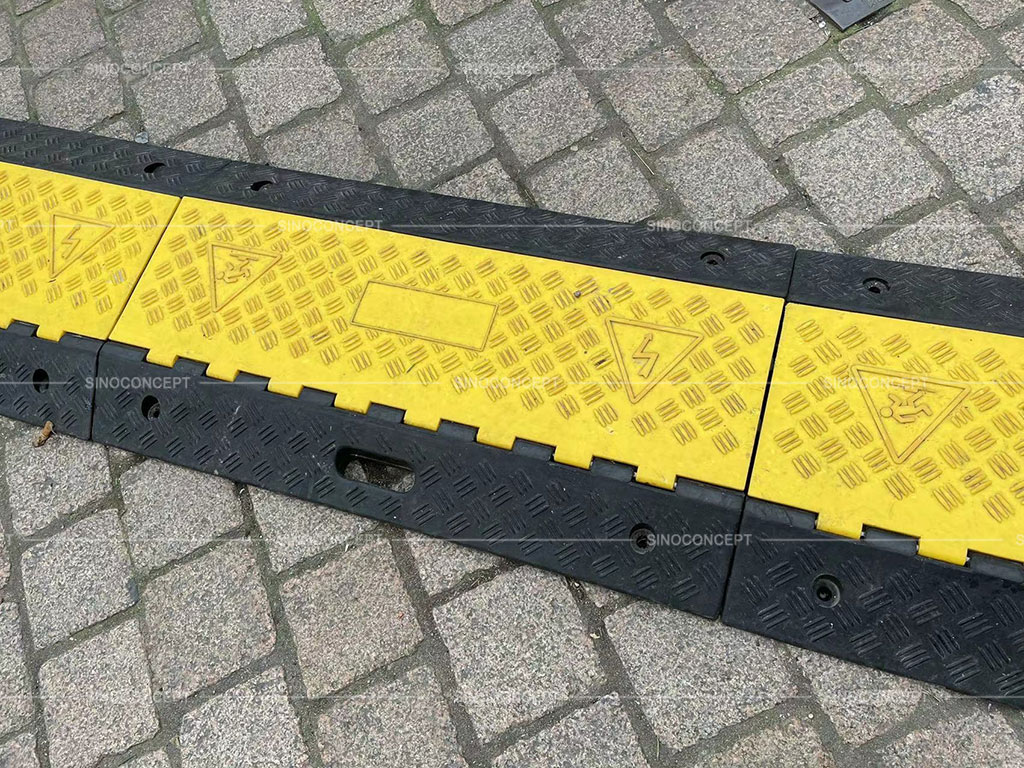 Top cable protector types that most event companies use
Many cable protectors are on the market. Some of the top cable protectors that you should use at events are:
5-channel cable protector of Yellow Jacket
This 5-channel cable protector can accommodate cables that are 1 inch in diameter. It has dog bone connectors to allow users to increase its length according to their needs.
4-channel Linebacker cable protector by Checkers
If you have 3-inch wide cables that require protection, then this reliable product by Checkers is a great option to consider. Its T-shaped connectors make an increase in length possible.
5-channel heavy-duty cable protector by Sino Concept
Another reliable product for your cable protection needs is this 5-channel cable protector that can fit in 35mm wide cables. It can withstand a heavy weight of up to 9,072 kg per axle, making it useful for many events.
Things to consider before purchasing cable protectors for an event
Here is what you need to consider when buying a cable protector.
Dimension
Cable protectors are made in different sizes because wires that require protection are available in different sizes. Manufacturers design them in different shapes and sizes to accommodate users' needs.
You should measure the diameter of wires, cords, and hoses you want to protect and then buy cable covers with channels of the same or larger size.
Material
A cable or cord cover can be made of non-metallic or metallic materials. Examples of non-metallic materials are rubber, reusable or recyclable PVC, polyurethane, wood, etc.
A common example of a metallic material is aluminium. Rubber and plastic are great material choices for both indoor and outdoor use.
Weight-bearing capacity
A cable protector or enclosure can be used in various settings to protect the data cable, industrial cable, coaxial cable, electrical cable, and various cable wires.
People will walk them over and come under the tyres of carts and vehicular traffic. The cord or wire covers you want to use outdoors should have a high weight-bearing capacity.
Manufacturer
There are many wire cover manufacturers in the world. Their products vary based on different factors, including cost, quality, etc. Checkers, Grainger, and Sino Concept are reliable cable protector manufacturers you should consider when buying cable protectors for your next event.
Cost
The cost of a cable protector that you are interested in buying should fall within your budget. It is better to get a cost-effective product that you can use for future years.
Why do you need cable protectors for different events?
Cord management and cable organizer tools such as cable straps, ramps, wire clips, cable hooks, trays, and clips, cable reels, and cable hangers are all used for one main purpose: to manage and organize cables.
You can use cable protectors at different locations, including events. They will secure all sorts of wires, such as power cables, network cables, cat5e wire cables, cat6 cords, home cables, HDMI cables, Ethernet cables, control cables, custom cables, and electrical wires.
Organizing cables is an economical option, and they will cause profit in the long run. If you are confused about whether to use cable protectors for your event, here are the points that will help you decide.
The most obvious benefit or reason for using a cable protector, cable wrap, cable tie, cable clamp, cable ladder, cable conduit, cable grommet, braided sleeving, wire loom, cable tray, shrink tubing, and cable guard is the protection of cable and hoses.
Wires and cables are frequently used at events for different purposes. They must be protected from heavy vehicles and foot traffic so that you can use them for future events.
If they are not protected or insulated, you will spend on wire repair in the future.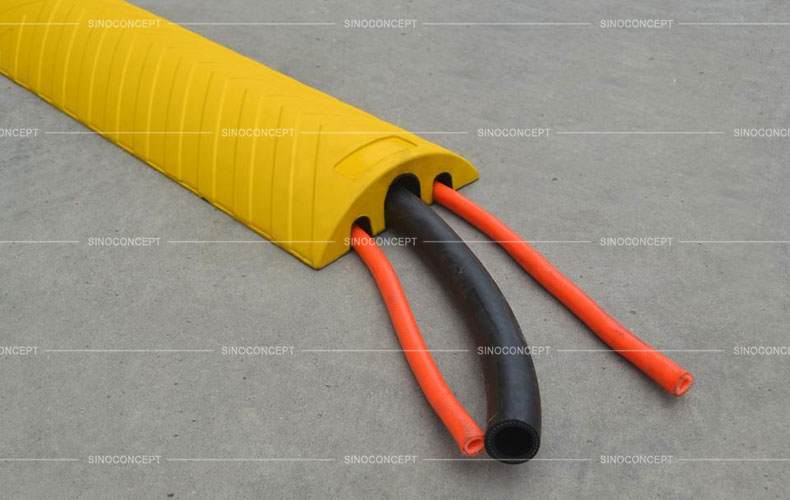 Different events have different setting arrangements and needs, but one thing that is common among them is using electronic devices like speakers, microphones, LEDs, screens, and lighting sources.
All these devices operate on electricity through wires plugged into switches. If you carelessly place these wires on the floor, there is a possibility that someone from guests and visitors may trip over them. Due to this sudden tripping, wires can get unplugged, which may harm them.
You should prevent such accidents by using a cable cover or cord organizer. It will allow you to increase the lifespan of expensive devices and appliances.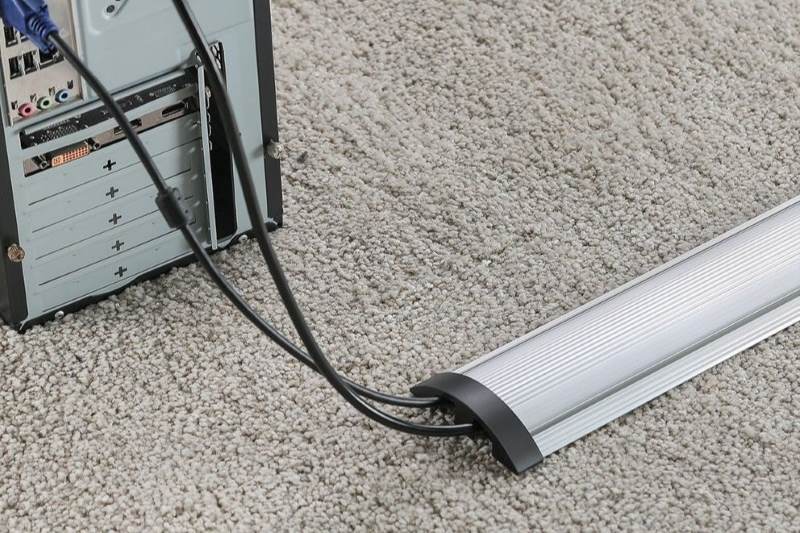 Another important reason for using a low-profile cable ramp, heat shrink tubing, spiral wrap, cable bracket, and other wire management solutions is that they provide pedestrian safety.
When people walk over a cable clutter, there is a high chance that they will trip over it. This tripping can cause injuries that can be fatal for elderly people.
As an event organizer, you must keep your guests and audience safe. You should do your best to reduce the tripping hazard and create a secure environment.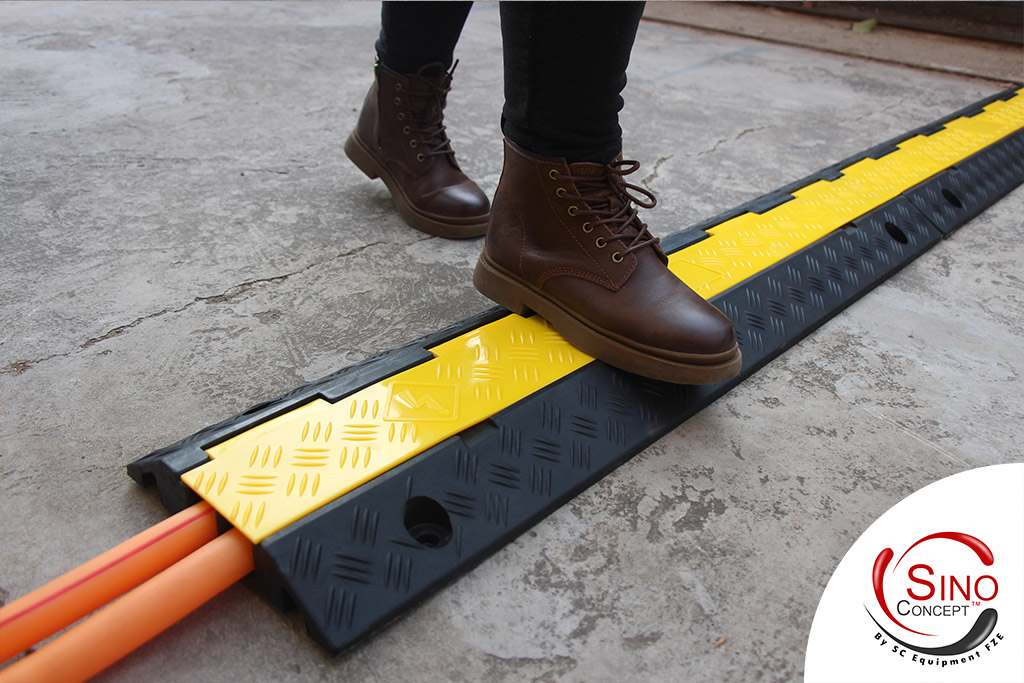 A well-organised and managed event will likely become successful and bring more profit to your business. You can make an event successful using beneficial and advantageous tools such as cable protectors.
Such tools keep people safe, protect appliances and ensure that all appliances operate well throughout the event.
They give every area or space a tidy appearance, which will help every sort of business to attract clients and create a good image in their minds.
Buy suitable cable protectors and make your events successful with the right event management strategies.

You should use heavy-duty and light-duty cable protectors at different events to shield a rubber cable and all sorts of cabling and wiring. They should withstand the heavy weight of carts, vehicles, and people when they pass over them.
This way, people can walk over the floor without damaging important wires.
There are many benefits of using cable protectors for different events. Some of these benefits include the safety of guests and visitors, the safety of electronic devices, and the protection of cables.
Choosing the right cable protectors is best to make your event look presentable and organized.
To learn more, we advise you to refer to the following pages: