Discover some facts about internal cable protectors!
Cable protectors and other cable management tools are used worldwide for multiple purposes. Their key purpose is the protection of wire.
There are many different cable protectors in the market. We can categorize them into two general branches – outdoor cable protectors and indoor cable protectors.
Indoor cable protectors, also called internal cable protectors, are used indoors to create a safer environment for people and shield the wire. You can use them in almost any place where cables are used, such as offices, warehouses, schools, events, and construction sites.
This article explains the usefulness and effectiveness of internal cable protectors in detail.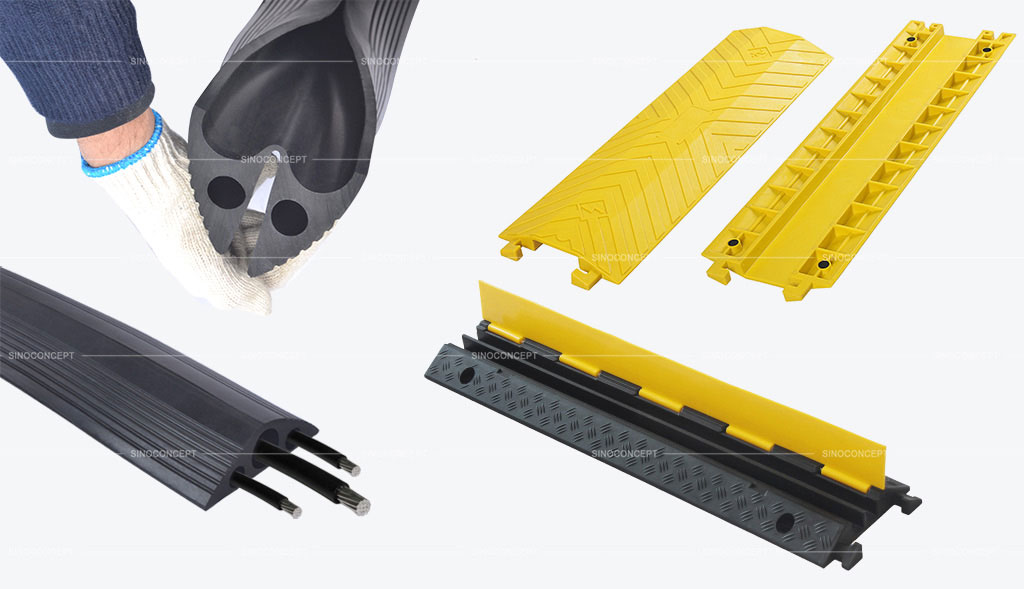 As the name implies, office wire covers or cable covers are designed to be used in offices. We live in a technological era where almost every office or business depends on devices and various equipment.
Many devices, such as computers, printers, CCTV cameras, etc., operate electricity. They get electrical power with the help of cable wire.
Electrical cables in an office should not be haphazardly placed as they increase the tripping hazard and can make important wires or cords get unplugged accidentally. This is where the office wire cover or cord cover comes to help. It is a beneficial tool that comes in different dimensions.
That is why you can use it to shield different kinds of wires like an HDMI cable, electrical cable, power cable, data cable, industrial cable, network cable, cat6 wire cable, home cable, Ethernet cable, and rubber cable.
An office cable protector or cable cover serves to establish a safe environment for both employees and visitors alike. It prevents tripping hazards and inadvertent unplugging by providing a secure pathway for individuals to traverse over wires.
Additionally, this cable cover acts as a shield, safeguarding wires and cables from potential damage caused by footwear, as it is typically designed to resist abrasion.
They will absorb the damaging effects of the surroundings without letting them reach the custom, control, coaxial, and any other shielded cord.
You can use other cable management and cable management solutions like wire clips, cable ties, trays, cable clips, cable straps, cable tapes, cable racks, and insulated cable hooks to manage cable bundles, patch cords, and PVC cables well.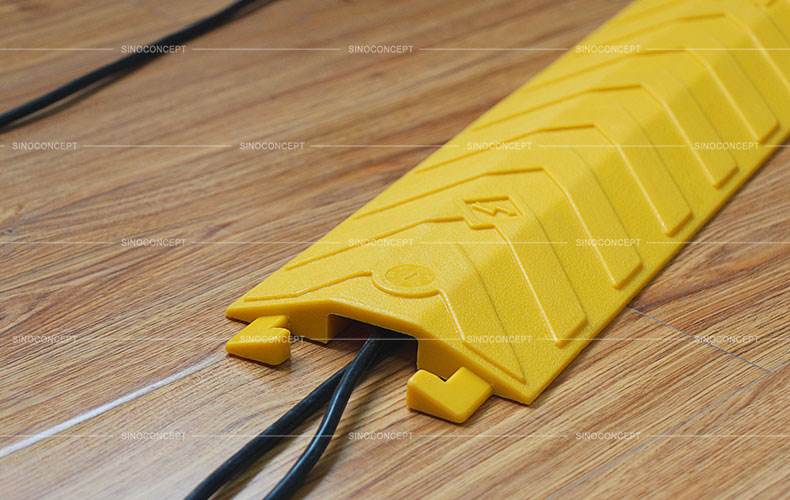 Drop-over cable protectors are efficient and easy cable protection tools that are different from basic cable protectors in their structure and design. They have a covering and lack a base.
You can drop them over any cate wire, data distribution cable, fibre optic cable, heat shrink tubing, and braided sleeving for wire management purposes.
Due to their different structure, they are easy to use in any indoor location. Placing them also takes less time than placing other cable protectors.
They have a non-slippery surface and are also resistant to abrasion. That is why any pedestrian or foot traffic walking over them passes easily without falling or getting tripped.
Drop-over cable ramps are made of reusable rubber, polyurethane (PU), plastic, wood, and metal. PU and rubber are popular materials used for drop-over cable protectors.
They are lightweight, sturdy, and lasting. The metallic and non-metallic drop-over cable protectors can have different colours, such as yellow, white, black, grey, etc. You can match their colour with the colour of the floor where you want to use them.
You can use them in places with low to medium foot traffic. Heavy-duty cable protectors are preferably used in medium to high-traffic areas, while light-duty cable protectors are preferably used in low-traffic areas.
The common areas where people use them are offices, homes, warehouses, industries, restaurants, schools, and different events.
You can combine other cord organizer or cable organizer tools such as cable clamps, cable ladders, cable conduit, cable ties, wire looms, cable grommets, nylon cable wraps, cable guards, cable trays, cable ducts,  power strips with the cable protector to create a tidy space and shield hoses and cables.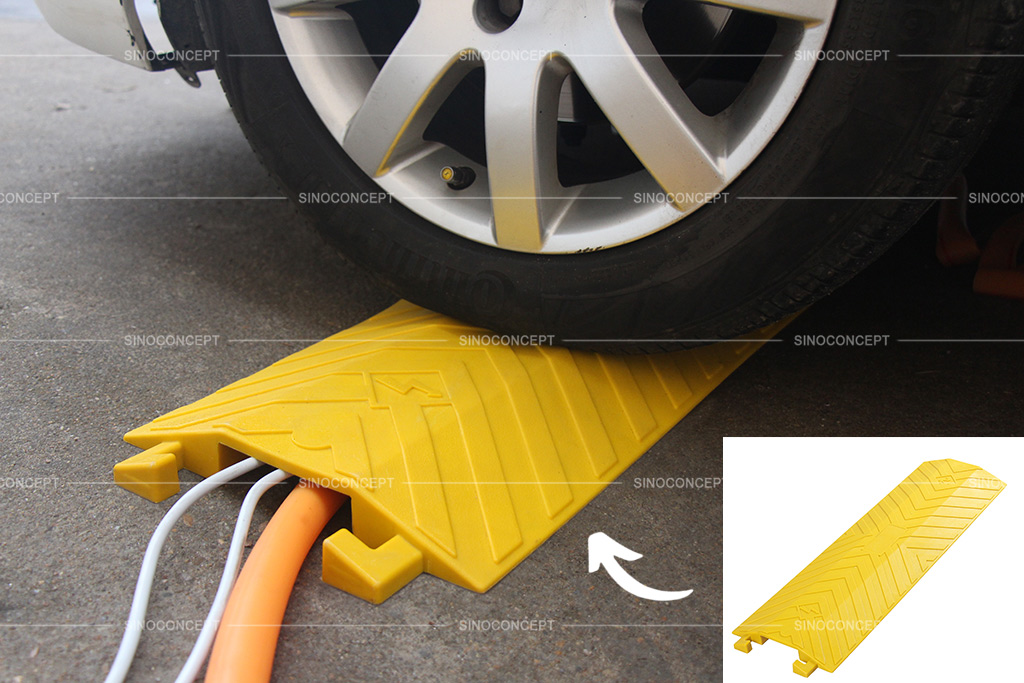 Internal cable protectors for garages, warehouses and other areas
You can use internal cable protectors in many indoor places such as garages, parking lots, warehouses, restaurants, schools, homes, or almost any place with wires.
If you leave wires and cables unprotected in the garages, the heavy vehicles passing over them can rip their covering and expose them to the external environment. This is very dangerous and can cost lives. Protecting cables correctly is the best you can do to prevent such incidents.
When you shield wires with cable protectors, the protectors tolerate heavyweight and do not let it affect the cable underneath. This way, cables survive well in medium to high vehicular traffic indoor areas such as parking lots and garages.
Since the lighting in garages and parking lots is usually dim, the cable protectors are either painted with bright colours or bright colours such as yellow to make them visible to people even when the lighting is poor.
Garage cable protectors are usually made up of heavy-duty material that does not easily crack under heavy weight.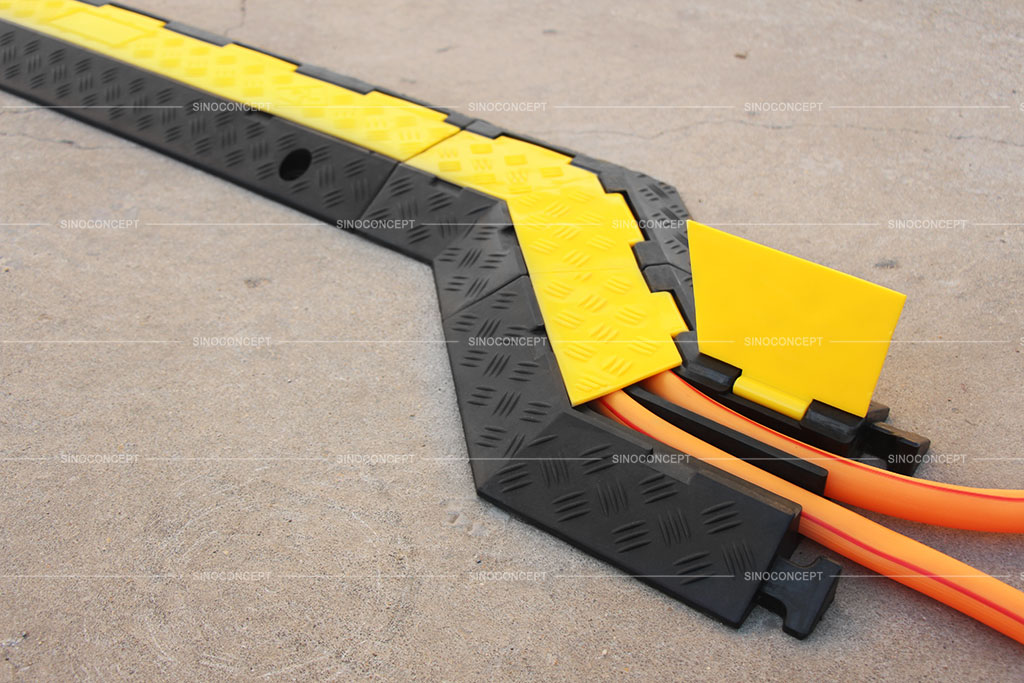 Why are internal cable protectors absolutely necessary in indoor settings?
Cables that provide power and distribute data are important, and they should be protected so that you do not have to worry about repeatedly replacing cracked or damaged wires.
Here are the main reasons you should use cable protectors indoors.
Impress investors and clients: You can impress business investors in offices by creating a tidy and well-organized space. Clients will likely choose a seller who looks more organized than an untidy and poorly organized seller.
Improve workers' productivity: You can create an efficient workspace in offices, warehouses, and industries by covering the wires so that workers do not trip over them every now and then. It will reduce frustration and improve the productivity of your employees.
Save money in the long run: Covered cables have a longer life than uncovered ones. It is mainly because the protector shields them against abrasion, heat, and heavy weight.
Protect your loved ones: If your home has several wires near a charging station or any other area, it is best to hide them with cable covers so that your elderly family members do not trip over them.
Create a clean space: If messy cables are ruining the beauty of your room, you should use cable protectors to tackle this mess and improve the appearance of your room.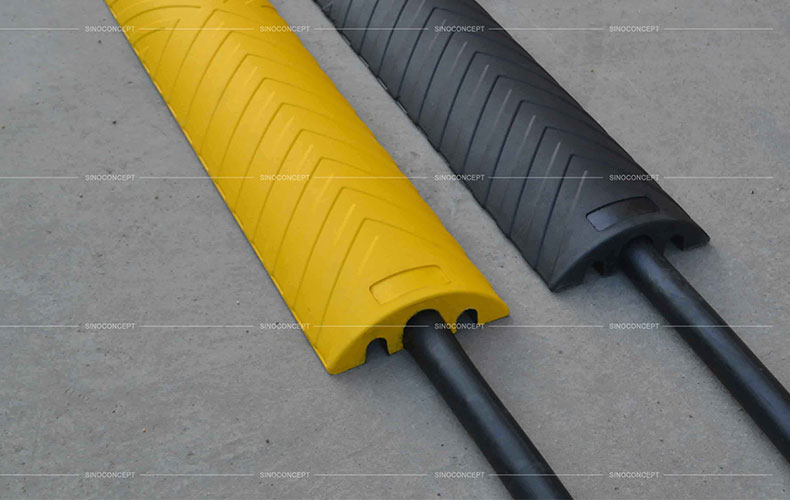 Internal cable protectors can keep your family members, employees, clients, and others safe around wires and cables. They create a shield around cables and do not let environmental factors damage cables.
There are several internal cable protectors, such as drop-over cable protectors, office cable ramps, etc. You should select any of them based on where you want to use them and other basic needs.
Internal cable protectors are a great investment that can save you money in the long run. If your home, office, or any other indoor area has messy cables, you should consider using cable protectors to create an untidy area.
To learn more, we advise you to refer to the following pages: