Amazing facts about drop over cable protectors!
Protecting wires with the help of different tools is a great way of increasing their life, reducing tripping hazards, and making the place look organized. There are several tools that people use to shield wires. One of those devices is a drop-over cable protector. If you want more detailed information, we advise you to check our blogs to discover different cable protectors used in different locations.
Drop-over cable protectors are a kind of internal cable protectors that people use in a variety of places such as homes, offices, restaurants, warehouses, and other indoor settings. They comprise several materials, such as rubber, PVC, polyurethane, metal, wood, etc.
This article explains different facts and additional information about drop-over cable protectors to help you better understand this tool's usefulness. Many other articles also talk about other types of cable protectors.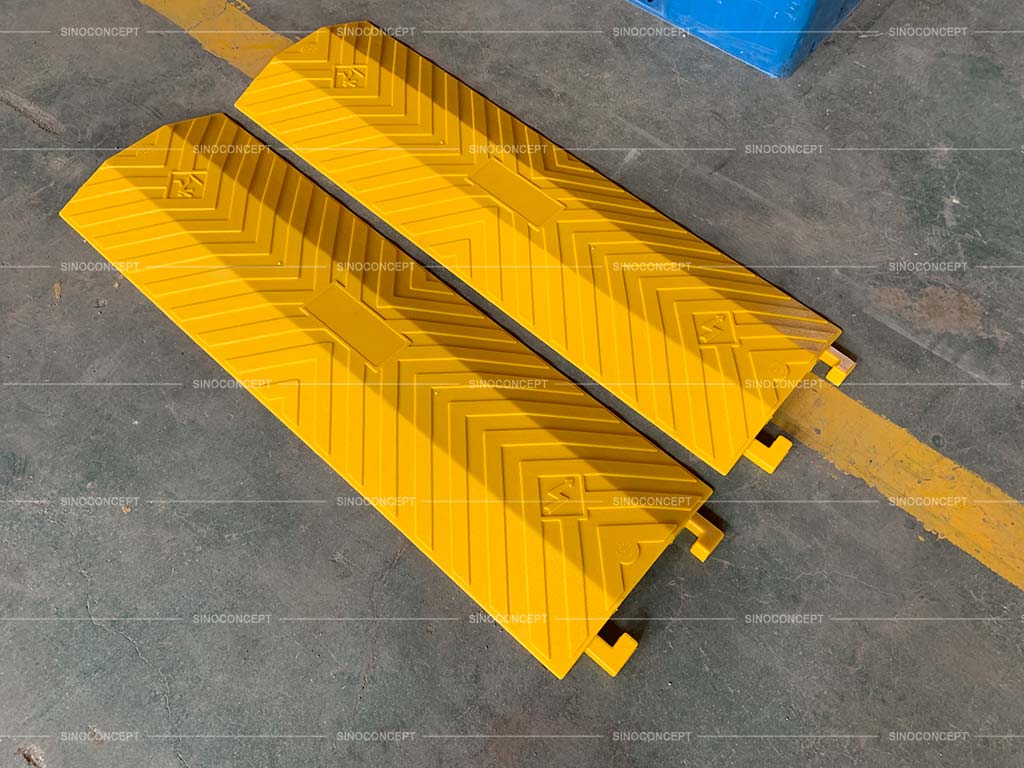 Materials used for the construction of drop over cable protectors
Cord management and cable management solutions like drop-over cable protectors, hook-and-loop cable ties, cable racks, cable fasteners, cable clips, cable trays, cable straps, and cable tapes come in different metallic and non-metallic materials. Some examples of these materials are light-duty rubber, polyurethane, aluminium, and wood. Each material is unique in its properties and offers its benefits.
Here are the 3 common materials used to make drop-over cable or cord covers.
Rubber
Rubber is one of the common materials used to form drop-over wire covers. It is a flexible and softer material. A rubber cable wire cover or cable wrap is preferably used in low foot-traffic areas in offices, warehouses, construction sites, homes, etc., to shield cords, wires, hoses, patch cords, and cable bundles.

Polyurethane
Polyurethane, abbreviated as PU, is another popularly used material for the drop-over cord cover. PU is a plastic polymer that is made up of polyols and diisocyanates.
Polyurethane is a flexible and durable material that offers great safety to Ethernet cables, electrical wires, rubber cables, power cables, industrial cables, network cables, and HDMI cables. It is an effective material for the construction of cable protectors.

Metal
Metals are used to make wire management or cable organizer tools, including a drop-over cable cover, cable tie, spiral wrap, insulated cable duct, cable clamp, patch panel, cable ladder, heat shrink tubing, and braided sleeving.
It is a sturdy material but less flexible compared to rubber and PU. Its surface is also not as slip-resistant as the materials mentioned above.

Benefits of PU drop over cable ramps
PU drop-over cable ramps are popularly used in indoor settings to protect electrical cables, data cables, cat5e wire cables, cat6 cords, home cables, coaxial cables, custom cables, and other kinds of wire and cable from the negative impact of heat, abrasion, and heavyweight.
They have different kinds of connectors that you can use for interlocking purposes and to increase the length of the cable protector or enclosure as much as you want. They come in different forms that vary from each other based on their size, colour, method of construction, connector type and other features.
Compared to other materials, PU offers the best characteristics of the product.
Here are the primary advantages of using a PU drop over the ramp.
Flexible yet sturdy: PU is a strong material that can absorb the effects of foot traffic, carts, and heavy machines that pass over the cabling or tubing. Even if it is sturdy, it offers great flexibility as well. That is why it offers many customization options and is less likely to break or crack.
Resistant to abrasion and corrosion: PU cable covers do not develop scratches due to their great resistance against abrasion. They also do not corrode, so you will not have to worry about protection against rust.
Can be cleaned: PU cable ramps have solid surfaces that are easy to clean. You will not have to spend much of your time and money on their maintenance.
Slip-resistant: Their surfaces have different patterns, which makes them resistant to falls and slips. It reduces the hazard of accidents and injuries.
Withstand the heat: PU can also tolerate high temperatures, which makes it a durable option.
Great weight-bearing capacity: PU cable ramps can bear heavy weights, meaning they will not break easily compared to ramps of other materials that have a low weight-bearing capacity.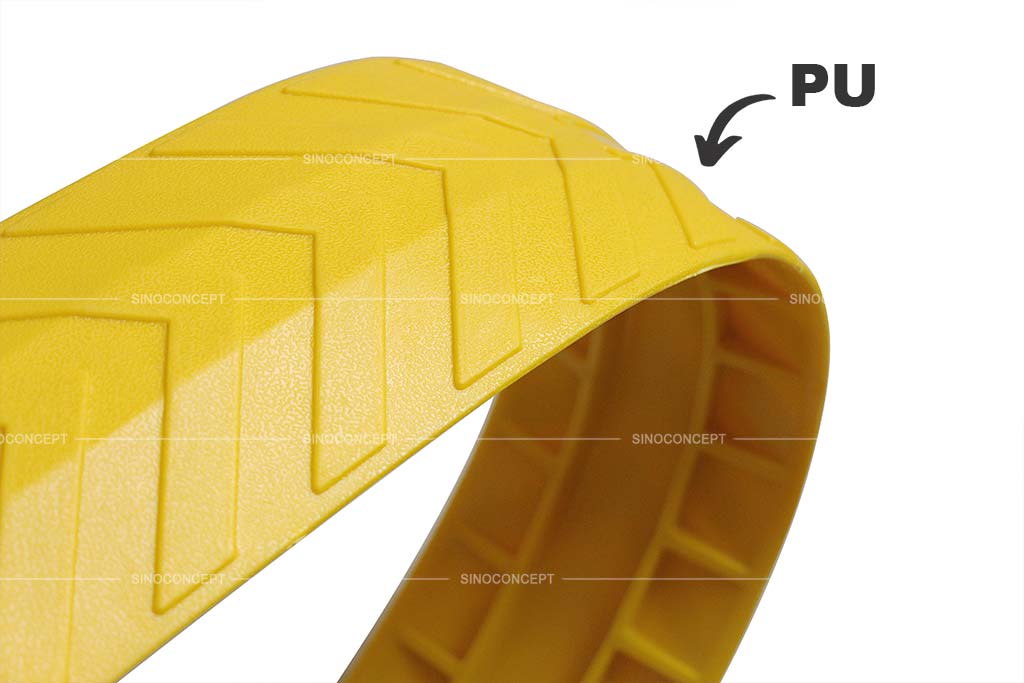 Where to use drop over cable protectors
Drop-over cable protectors are generally used in offices, industries, homes, restaurants, and other indoor settings. They can be used in various places to keep the control, fibre optic, data distribution, CCTV camera, and appliance cable shielded from the pedestrian. It is also helpful in reducing the chances of tripping.
Drop-over cable protectors are easy to use. You have to place them over the cable you want to protect.
There is no need to unplug wires from switches or plugs to place them in the drop-over protector. You also do not have to feed the cord through one end of the cable protector.
There is no base for the drop-over cable protector. It simply has a cover that acts as a guard. You can place the cover over a wire to offer it protection.
Other facts about drop over cable protectors
Drop-over cable protectors are a great cable protection solution used in construction sites and many other places. Here are some other facts about them that will help you know this product better.
Drop-over cable protectors lack a base compared to other cable protectors. They only have a cover you can drop over the cable, hence named a drop-over-cable protector.
Drop-over cable covers are sold in the market in many forms. They are available in more than one material. They have a variety of connectors, such as the dog bone connector, L-shaped connector, etc., that you can use to join different pieces together and create a cable protector of the desired length.
Some manufacturers offer customizable drop-over cable protectors. You can ask them to design the cable protector in your desired length, width, and height. You can also print your business logo on them for this marketing tool.
Drop-over cable protectors are a smart choice to protect wires. Though they do not have a base, they stay where they are placed, which reduces the risk of slips and falls.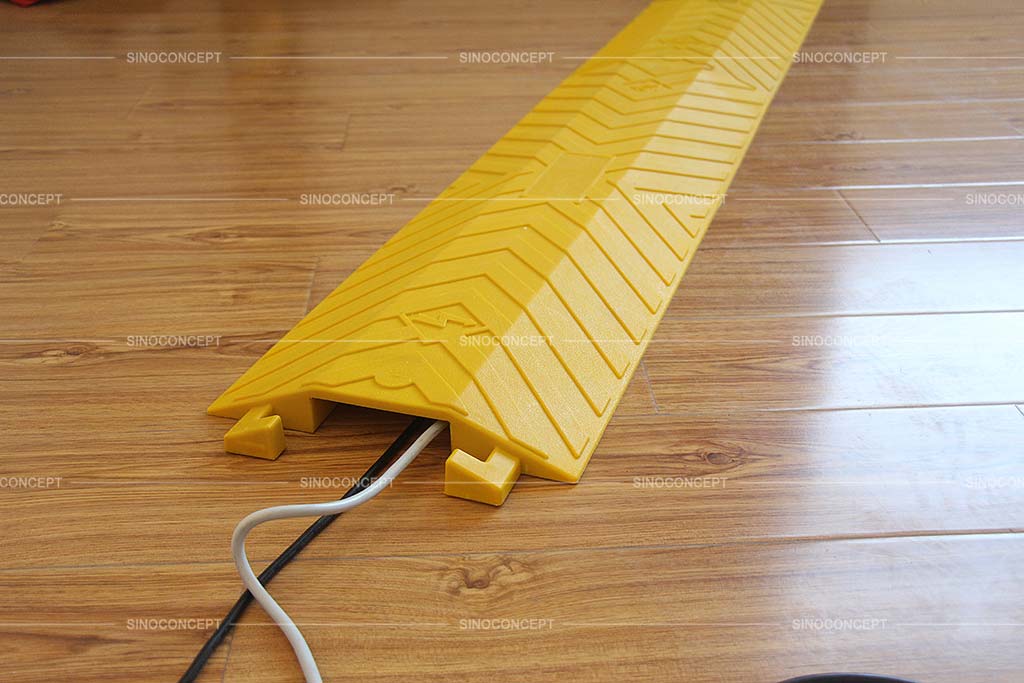 Cord organizers and management tools like a drop-over cable protector, cable tray, heat-shrink tubing, conduit wiring, cable routing, cable clamp, wire loom, and cable guard are used in commercial and domestic places to manage wires and make the area look tidy.
Drop-over cable protectors are efficient and easy to use. You do not have to fit the wire by inserting it through one end of the protector.
You can drop the protector over the wire without unplugging it from the socket. It saves time and offers needed protection for wires.
To learn more, we advise you to refer to the following pages: