All that you need to know about Seton speed bumps
Traffic calming measures are used on existing roadways and parking lots to improve traffic flow, keep vehicular traffic and pedestrians spaced apart and make vehicle drivers follow speed reduction limits.
It consists of various tools like reflective traffic cones, speed signs, bollards, speed ramps, traffic signals, stop signs, speed bumps, traffic barriers, speed humps, speed cushions, rumble strips, wheel stops, and traffic signs.
Speed bumps are raised surfaces that slow down vehicles like buses, cars, fire trucks, cycles, scooters, and emergency vehicles to reduce the risk of crashes, collisions, and fatalities. To learn more, you can also discover our purchasing guide for speed bump buyers.
There are many speed bump brands, including Seton speed bumps. Read the article to learn everything you need to know about this specific brand.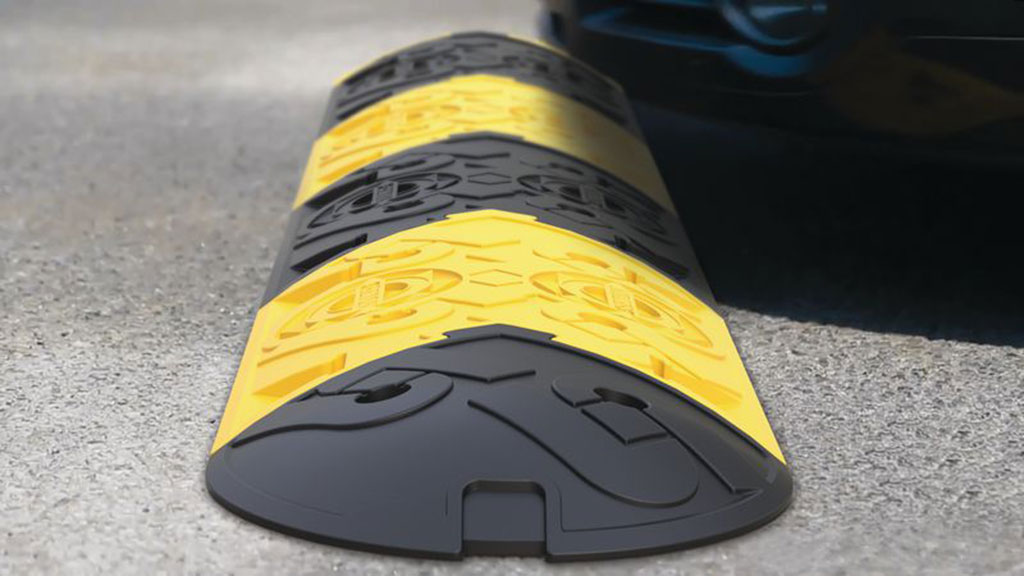 Seton modular speed bump – 5 mph
Seton modular speed bumps are 75 mm high, having the tendency to make a motorist, cyclist, bicyclist, emergency vehicle driver, school bus driver, and car driver reduce speed up to 5 miles per hour.
They are available in two versions – full-colour PVC and painted PVC. You can fix them on concrete, asphalt, and tarmac pavement and roadway.
You should select a full-colour speed bump for heavy-duty areas such as school zones, busy city streets, and work zones with high pedestrian and motor vehicle traffic. In contrast, you can use painted PVC in low-duty areas like private roads or warehouses.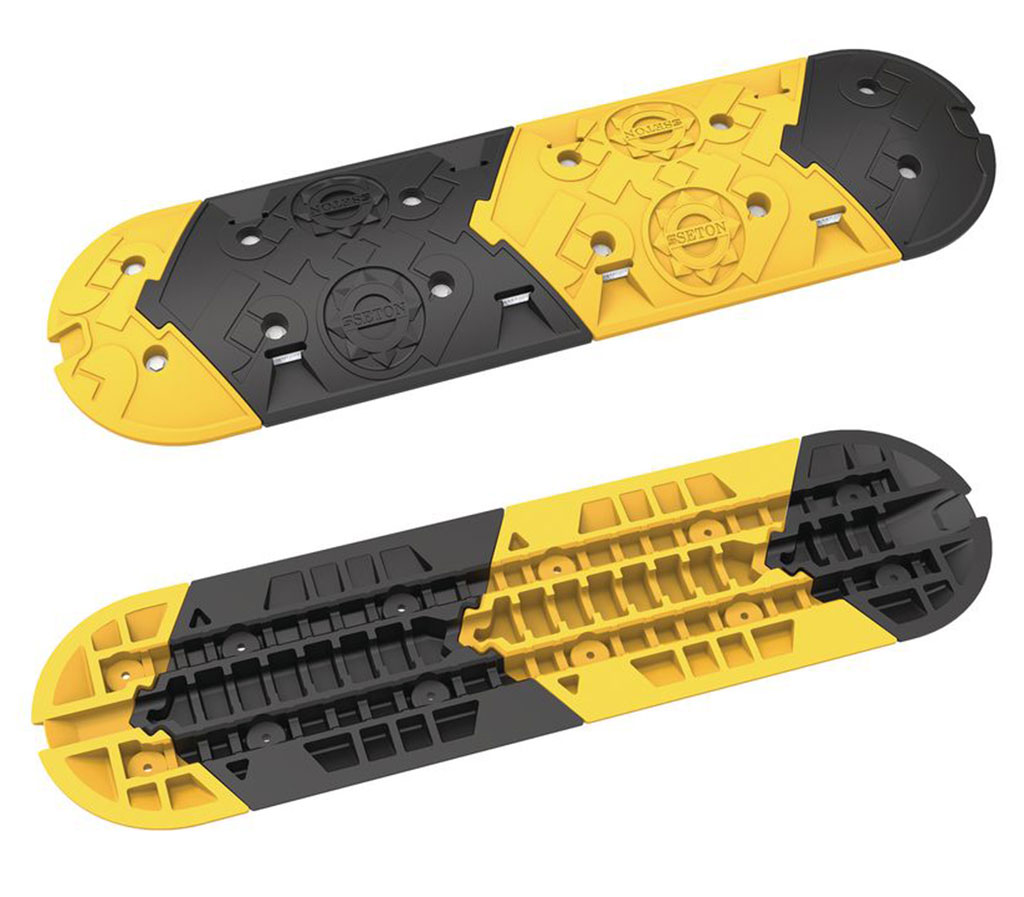 Seton modular speed bump – 10 mph
As the name suggests, this piece is similar to the product explained above. The only difference is in its size. These traffic control devices are 55 mm high and can reduce speed up to 10 miles per hour.
All other features of this speed bump are similar to the Seton speed bump that reduces speed up to 5 mph.
Wherever you install this speed bump or other traffic-control devices like a speed hump, speed table,  speed cushion, rumble strip, and orange cone, make sure you also use street signs, sign-posts, yield signs, warning signs, road signs, traffic control signs, and parking signs to inform drivers about speed requirements.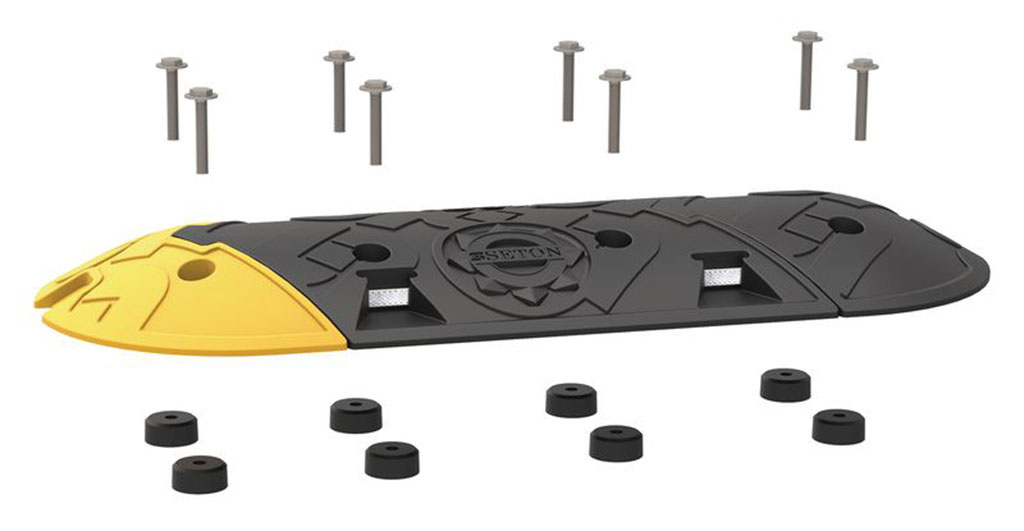 Seton modular speed bump with strengthening rail – 5 mph
These road bumps have a galvanised steel rail that adds an extra layer of protection and increases the life expectancy of this tool. It comes in PVC material that can be either fill-coloured or painted.
This traffic management and traffic safety tool has an end-cap on each end to protect them from damage caused by the high pressure of vehicles. It comes in sections so that you can adjust its length according to your needs.
They make vehicles travel at 5 mph and are 75 mm in height. Traffic engineers, municipalities, and property owners install them in heavy-duty areas.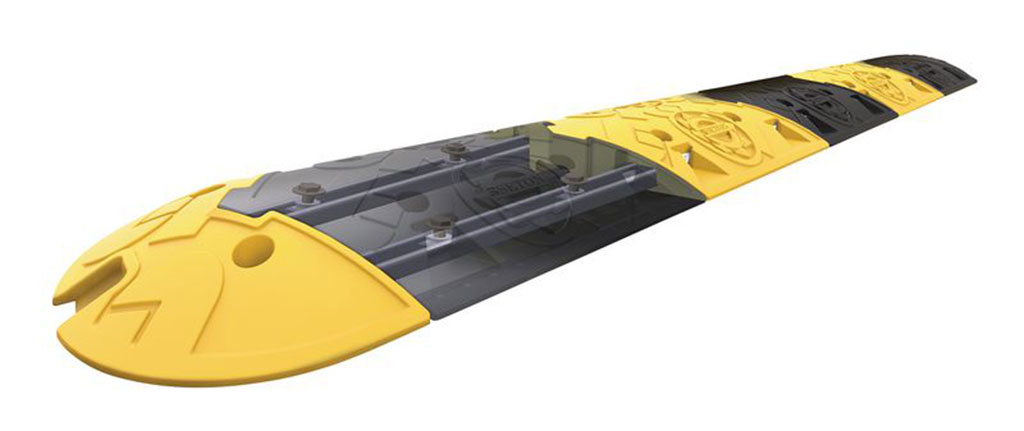 Seton modular speed bump with strengthening rail – 10 mph
This seed bump has the same characteristics as the product explained above. However, its height is smaller than the above product. It is only 55 mm and is used to reduce the speed of vehicles up to 10 mph.
You can install them in a driveway, roundabout, arterial cut-through, slow zone, public parking space, two-way intersection, street parking area, and roadside as traffic calming techniques.
According to traffic data, tools like Seton modular speed bumps effectively improve highway safety and pedestrian safety. So get them if you want to protect and secure your area.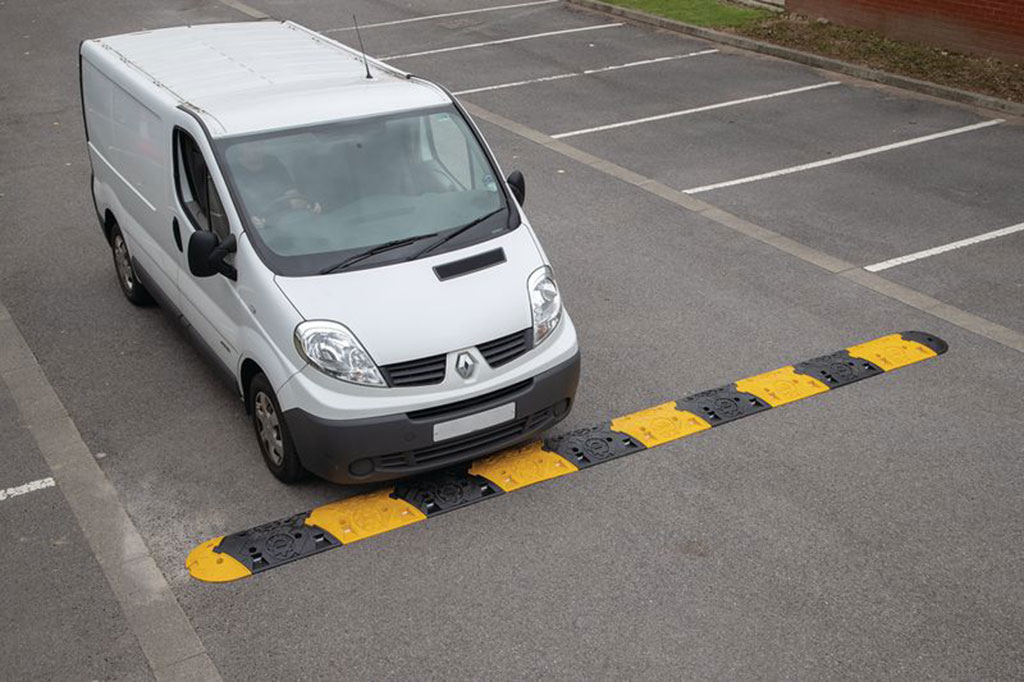 Do you want to discourage speeding vehicles or impose a speed limit on city traffic? Using speed bumps might be the answer.
Seton speed bumps come in several forms. All are available in several lengths and recycled PVC material.
They reduce passenger-car collision and crash hazards around roundabouts, pedestrian crossings, crosswalks, bike lanes, intersections, and traffic lanes while making roads and streets safe for drivers, vehicle riders, and pedestrians.
Traffic speed control measures should be taken by the transportation department and the federal highway administration to save precious lives and reduce the number of accidents.
To learn more, we advise you to refer to the following pages: