Get to know Defender cable ramps!
Cable cord covers are excellent protection devices that avoid tripping and heat-shrink damage. These cable protectors serve as cord organizers or concealers, giving cord management solutions to messed-up wires.
You can hide wires of printers, screen TV cables, electrical boxes or other devices so they remain well-organized and clutter-free.
At the same time, cable ramps give the dual advantage of giving a sloped and barrier-free pathway for wheelchairs. But remember, different varieties have unique designs and specifications. So, you must go through these well-researched cable cover brands.
Learn about Defender cable ramps to analyze your demand and product range.

Facts about Defender cable ramps
Defender is a globally accepted cable ramps brand of Adam Hall Group. This group is a leading manufacturer and distributor that gives technology solutions to customers worldwide.
It mainly targets the event and entertainment industry, providing accessories and fittings for transport cases.
In addition to Defender, Adam Hall Group owns brands such as LD Systems, Cameo, Gravity, Palmer and Adam Hall.
You can use these cable protectors as a cord management solution to hide tubing, electrical cables, industrial cables, CCTV, and security alarm cables.
So, Defender has different cable ramps and protectors series, and you must know what they offer.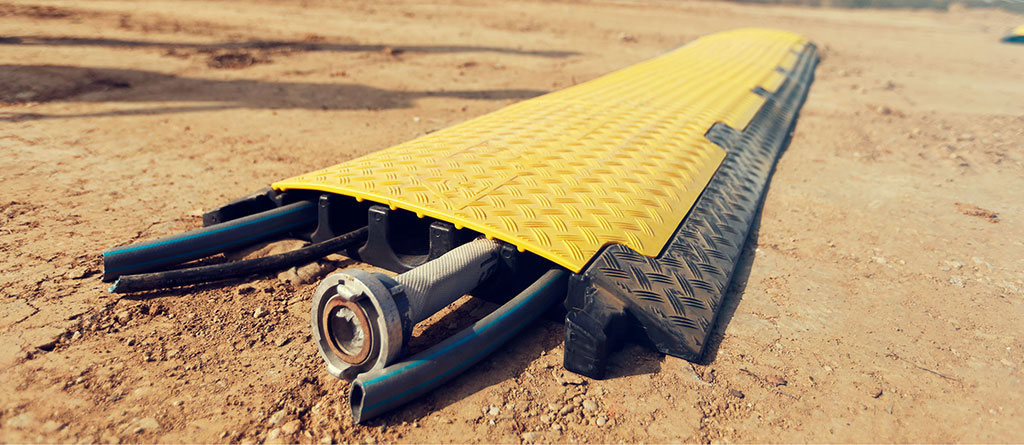 NANO is a series of Defender cable ramps to hide wires and cables, electrical cords, Ethernet cables, network cables, and other home appliance cables in the 6-channel cable protectors.
These cable protectors can be used indoors or outdoors to withstand light foot traffic to tons of weight per axle.
You can also use these cable ramps to hide industrial cables and install them to bear extensive loads at entertainment events. This cable protector series has flat ramps with a non-slip surface and allows passage of wheelchairs, trucks, trollies and other vehicles.
The package of these ramps includes accessories and T-connectors to help the extension of the ramps.

COMPACT series is most suitable for the areas with high foot traffic, such as offices, shopping centres, markets, conference halls, meeting rooms, trade shows and other public places.
You can also use these cable protectors in the pathways of trucks or trollies. These cable protectors are 5 plus 7-channel, lightweight but sturdy, and can withstand constant foot traffic to prevent cord damage and tripping hazards.
The surface of these cable protectors is anti-slip and has built-in dovetail connectors. The accessories include a 5-channel socket to remain protected and allow crossover for heavy vehicles at sites such as warehouses, workstations, construction projects, or any place with more load.

XXL cable protectors are heavy-duty cable and hose covers. They protect wider power cables and hoses from extremely heavy loads and have 5 channels.
These cord covers have built-in handles for easy installation and handling.
The built-in connector also helps to combine individual protectors and make a protection line. End ramps also serve as speed bumps to allow safer movement of equipment and vehicles.
As they can withstand heavy loads, you can install these cable protectors on sites with trucks or heavy equipment crossovers.
Among these places, construction units, warehouses, transport vehicles, building sites or other challenging sites can have these cable protectors. These cable covers will seal high-density wires and prevent damage.

Defender III 3cable protectors series includes a 3-channel cable protection system. You can use these cable covers indoors and outdoors as their material can withstand wear and tear.
The surface of these cable covers is non-slip, allowing its usage on roads and construction sites to prevent accidents. Three medium-sized channel guard cable covers help cross-over vehicles and pedestrians without damaging anyone.
Similarly, the 2 D modular interlocking system of these cable protectors and connector plugs enable the extension of these cable protectors. Per-axle weight-bearing capacity allows for being used in heavy traffic areas.
The use and cleaning of these protectors as they have built-in handles and self-cleaning lid hinge.

ULTRA L cable covers are weather-resistant, heavy-duty cord protectors with 2- and 4-channels. Some cable protectors also have two extra-large channels.
Remember, if you want cord covers for indoor appliances, this series cannot give much as they will look off in the homes due to their heavy-duty design. They can withstand tons of weight, and you don't have this much heavy equipment in your home.
But you can use these ULTRA L cable covers at construction sites, road projects, warehouses, trade fairs, and crowded amusement events. These cable protectors have built-in connector plugs to join multiple elements and get the required length to hide wires.

What is included in the MICRO product series?
This cord cover in this series has two channels to accommodate hoses and high-power cords. They can withstand about 2 tons of weight, and you can use them on heavy traffic sites such as construction sites where smaller to heavy vehicular traffic can damage cords.
At the same time, you can also use these cable covers to cross pedestrians, bicycles, manual wheelchairs and other traffic.
They offer a firm grip and reduce road slipping accidents, and TPU material helps to withstand the hefty load. You can interlock individual units, and the self-cleaning hinge is present that can ease the interlocking system.
Generally, the lids are yellow, but you can get a black lid, too.
What is included in the MINI product series?
The cable covers included in this series are flat and have three channels.
In addition to this, some versions have two additional channels to aid commercial installation.
You can light up these cable protectors from the inside and illuminate transparent yellow lids to make them visible in low-light areas. These cord covers also have a self-cleaning lid hinge and accessories like built-in connector plugs.
Additional accessories include left and right curve pieces to install in corners and nicely managed wires that are also necessary to prevent trip hazards and give cord management solutions.
How do Defender wheelchair ramps and modular systems work?
Defender wheelchair ramps and the modular system has several varieties, and some are portable ramps to conceal extension cords, industrial cables, electrical cables, and protect cables.
The wheelchair ramps give barrier-free transition and ensure cables remain safe. At the same time, the slope of these ramps helps manual wheelchairs to crossover without any hindrance.
If you think the pathway is shorter with one or two ramps, you can use a modular system to interlock multiple ramp units and extend the length that suits your needs.
The braided sleeving with a yellow transparent lid also helps make them visible on the road to avoid any accidents.

Cable protectors, or cable covers, play a significant part in hiding your computer wires, power cords, patch panels, and cable ducts to conceal them.
You probably use wire hangers, nylon cable ties, straps, or tapes for home cable management. These are temporary solutions that do not give the required protection.
You must use an economical, flame-retardant and reusable cable organizer in the form of cord covers.
These cable covers will significantly help in cord management and give a tidy space. Homes, offices, and workstations are nicely organized when unsightly wires are assembled.
So, use this worthy option of cable protectors to secure your place.
To learn more, we advise you to refer to the following pages: