Top 5 cable protector brands in the world!
Cable protectors or cable ramps are the cable and wire protection devices installed at homes, offices, events, and other places to hide wires so they do not mess up and remain well-protected.
You can find these cables in different materials and colours, but bright and reflective colours warn people to be cautious.
So, before you decide on cable covers, make sure to study everything about cable protectors. The world's top brands also have variations in their product ranges.
Therefore, it is inevitable to carefully go through this guide to learn about the top cable protector brands in the world.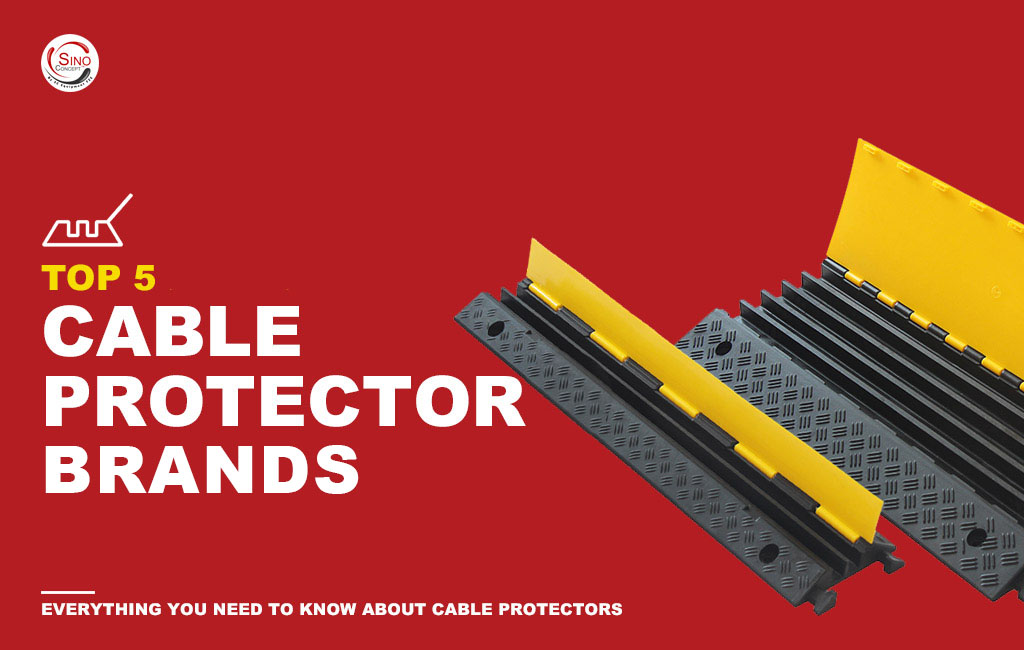 1. Checkers cable protectors
Checkers cable protectors offer different cable protection covers and ramps for cords, wires and hoses of varying diameters. The products can help protect pedestrians, vehicles, and heavy equipment while preventing trip hazards.
You can find cable covers and ramps from the top range of Checkers cable protectors, such as:
Checkers' cable protection range includes heavy-duty to light-duty cable protectors. It is used for general-purpose needs to heavy projects like the Yellow Jacket and Linebacker cable protectors range.
You can also find Fastlane modular and low-profile cable protectors if you want to hide cables for pedestrians crossing. At the same time, they can also be used for industrial purposes of their weight-bearing capacity.
ADA cable covers offered by Checkers allow smooth foot and vehicular traffic of all kinds, and hose bridges protect hose lines.
Next, the extreme cable covers offered by Checkers protect electrical cables at mines or other heavy construction units and bear an extensive load.
Firefly and Guard Dog protectors help better interlocking and visibility with the LED light in the Firefly range.
The Diamondback hose system is suitable for hose lines of greater diameter.

2. Screwfix cable protectors
Screwfix is another leading cable protector brand offering cable management solutions with tidy cable products.
If you plan to buy cable protectors, be sure to read these facts about Screwfix before sealing the deal:
1. Screwfix cable protectors are available in different options, such as floor cable covers, heavy-duty, medium and light-duty cable protectors, self-closing cable covers, linkable covers, and pre-split or tube cable protectors.
Temporary cable holders and hangers also tidy the space; if you move to a new office for a specific time, you can manage wires by hanging or tying them carefully.
2. The material of Screwfix cable protectors is not the same for all products. For example, you will see some cable covers made of plastic while others have PVC construction. At the same time, some pre-split tidy tubes are made of polyurethane.
3. Like the varying construction materials of Screwfix cable protectors, the colour varies among different products. Some cable protectors are entirely black, while grey, white and yellow cable protectors can also be found.
4. If you want to hold loose wires and make the space clean and tidy, you can use and trim flexible protective sheaths to save loose wires.
5. You may find the prices of Screwfix cable protectors a bit higher, but they offer discounts on some bulk purchases.

Defender cable ramp is among the top cable protector brands and is the brand of Adam Hall Group. Multiple cable ramps accommodate messed wires and cables at homes, workplaces, and raceways.
Main cable protection products, such as the NANO series, are quite flat and can be used in areas where wheelchairs use pathways. They are especially flat with an anti-slip surface. They are made of recyclable polyurethane material.
These cable ramps have connectors and accessories to enhance the length of cable protectors.
In addition to NANO, other products are also available: COMPACT, MICRO, MINI, MIDI, XXL, and ULTRA L, with different types of cable protectors to be used at different places.

4. Grainger cable protectors
Grainger cable protectors is a renowned cable protector brand that offers cable covers and ramps to protect hoses, cords and bundles of cables to prevent cord damage to vehicular and foot traffic.
These 5 facts will summarize the basics of Grainger cable protectors:
1. Drop-over cable ramp covers run along the ground to cover wires, cords and hoses and prevent incidental damage to the cords.
These ramps interlock to produce extended cover length and are easy to move for lightweight material. You can also find twisted cable ramps; some cable covers are made of aluminium.
2. Lay-in cable ramps available in Grainger's cable protector range are made of polyurethane, and you can choose different cover colours, such as yellow or orange.
3. Light-duty pedestrian cable covers allow smooth foot traffic and conceal electrical cables, wires and other cords. You can use these cable covers in homes, offices, and schools or buy disposable cable covers for hospitals.
4. ADA cable ramps offered by Grainger have a gradual slope and are weather-resistant to harsh weather conditions. You can use these cable ramps for sports events, entertainment venues, parks, warehouses and other industrial plus commercial places.
5. Cable and hose bridges fit cables and hoses and also allow wheelchairs to smoothly crossover the surface.

5. Sino Concept cable protectors
Ramps and hose protector ramps ensure good cable management. There is no compromise on the material quality, and you get cable protectors with a perfectly anti-slip grip.
Here is a quick overview of the Sino Concept cable protectors' range to help your purchase:

You don't need to go anywhere else if you want to find 2-channel, 3-channel, and 5-channel cable ramps for indoor or outdoor cable protection systems.
Sino Concept offers cable management solutions with their ideal designs. The high-resistance rubber makes them sturdy. The convenient carrying handles make it easier to carry the cable ramps. Interlocking modular parts enhances protection by locking multiple cable protectors.
You also must not worry about the load-bearing capacity of heavy-duty cable protectors, as they withstand hundreds of kilograms of weight per axle.
1 and 3-channel floor cable covers available at Sino Concept are highly efficient and cost-effective for organizing and protecting electrical cords, wires and cables, Ethernet cables, TV screen cables or speaker wires.
You can easily adjust these floor covers on different surfaces, and they withstand foot traffic and prevent pedestrian slipping hazards. A huge advantage of these cord covers is the availability of custom-made rubber colours as per your requirements.
Drop over cable protectors and hose protector ramp
Bright yellow small and large drop-over cable covers of Sino Concept offer anti-slip surface cable protection and are lightweight. To be lightweight doesn't mean compromising the material. They are made of flexible polyurethane material and have massive weight-bearing capacity.
Next, the hose protector ramp is ideal for protecting the hose outdoors, and the reflective strips warn users of optimal safety.
Cable protectors can secure your devices and the property if you properly use them. As these devices hide wires and cables, using narrow channel cable protectors for wider cables can cause trouble.
So, always research cable covers comprehensively and find the ideal one to meet all your demands. These top brands can help make your purchase easy and allow worthy investment, but you have to find the best choice by viewing their product ranges.
After installing the correct cable protectors, you won't need to worry about the cables, power load or traffic.
To learn more, we advise you to refer to the following pages: