Get to know the popular cable protectors range in Sino Concept!
Cable protectors are one of the best cord management solutions to cover and protect wires and electrical cords. Whether you have bundles of wires indoors or outdoors, you can use cable protectors as cord organizers and arrange messed-up wires in an organized fashion.
But don't randomly select any cable protector brand when you need to buy. You can take advantage of this well-researched data about cable cover brands. It will definitely lead you to the right decision.
Similarly, you must know about the popular cable protectors range of Sino Concept and analyse their product specifications in-depth.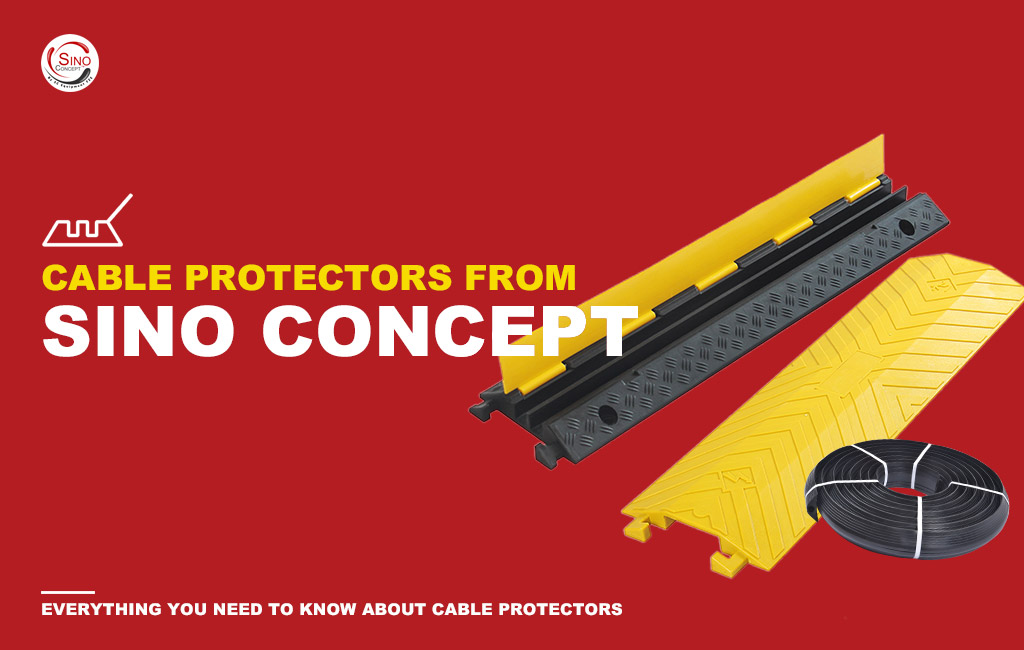 Cable protectors range of Sino Concept
Sino Concept is one of the best cable protector manufacturing brands serving worldwide with cost-effective and superior quality cable protectors.
You can also benefit from the Sino Concept's versatile range of cable protectors and hide your cables, cords, electrical cords, Ethernet cables, network cables or any home cables to prevent a tripping hazard.
These cable covers conceal screen TV cables, printers, cleaners, home appliances, power cords and even bundles of cables to get a well-organized space. Sino Concept ensures supreme quality with years of experience.
So, whether you want light-duty cable covers or high-duty cable protectors, you can finalize your purchase after discussing the Sino Concept cable protectors range in detail.
Cable ramps available at Sino Concept are 2, 3, and 5-channel cable protectors to hide wires of varying diameters, and high-quality rubber material ensures their durability.
You can use these cable ramps for general purposes to heavy-duty functions, and they withstand hundreds of kilogram weight per axle to avoid damage to the cords and wires.
The anti-slip and firm grip of these cable covers make them the best choices for use on construction sites, warehouses, workstations, raceways, entertainment events, at rails and even in homes and offices.
Their interlocking system extends the desired length, and the integrated handle significantly helps in cable management.
Sino Concept floor cable covers have two varieties; you can order 1-channel or 3-channel cable covers as per your requirement. In a 3-channel cover, you can hide one wire of 40 mm and two cables of 20 mm to organize cords in the best possible way.
These cable covers are ideally suitable for cables and hoses to withstand a weight of 40,000 kg per axle.
High-quality flexible vulcanized rubber material allows the crossover to heavy vehicular traffic and efficiently manages foot traffic without damaging cords.
These Sino Concept floor cable covers are efficient enough to bear extensive foot traffic, so you can use them on roads to prevent pedestrian tripping accidents, in construction areas, at sports events and in other shopping malls.
Plus, you must be satisfied if you are worried about the colours. Sino Concept offers custom-made rubber colours as per your request. Otherwise, feel free to get black or yellow floor cable covers anytime.
Drop over cable protectors
Sino Concept drop over cable protectors are versatile covers made of lightweight and flexible polyurethane material.
You can find two significant options in this range such as:
1. Small drop over cable protectors: These drop over cable covers perfectly secure cables and wires in work zones, homes, and offices without compromising the protection of devices and the property.
Similarly, you can assemble multiple units with an integrated locking system and extend them if you wish to use them at worksites to prevent computers, printers, TVs and speaker wires from tripping.
2. Large drop over cable protectors are just like small drop over cable protectors. These large drop over cable protectors also do wonders for large cables and have 914 mm length, 280 mm width and 40 mm height.
They ideally accommodate wires and cords of these dimensions, and their heavy-duty material allows 1500 kg weight per axle. So, if you think heavy equipment at your worksite is up to this range, don't ignore this product, as its anti-slip surface ensures a firm grip on motorists and pedestrians.
Remember, the Sino Concept drop over cable protectors are bright yellow and highly visible to warn everyone.
If you are looking for economical professional hose protector ramps, this Sino Concept ramp is for you.
These hose protectors are resistant rubber and highly durable to bear weather and traffic impact. Sino Concept ramps have dual channels for hoses and cables and can bear heavy weights up to 90,000 kg.
Plus, the flexible base allows firm grip and stability on the ground, so they are firmly held in their place without disturbing cables or hoses. The dog bone connectors give maximum grip to the united ramps and help to set them up correctly.
These hose protector ramps are mainly black, but the yellow reflective strips make them visible even in low-light conditions. In fact, these ramps work well for firefighters or other fire service measures.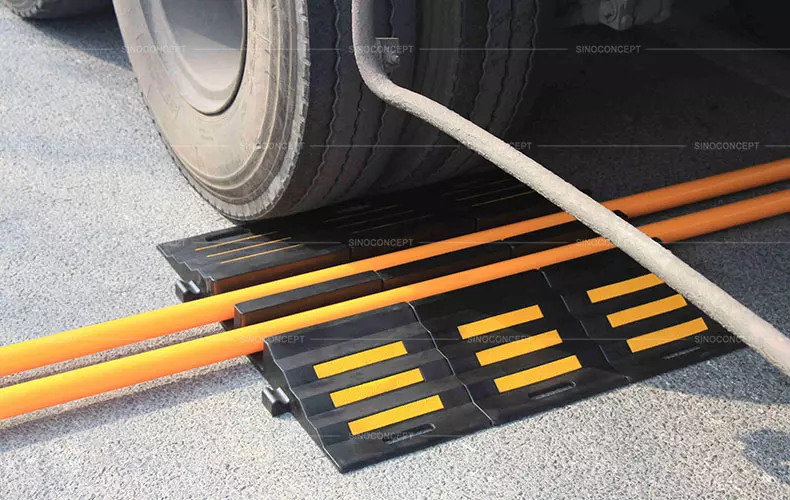 Where to use Sino Concept cable protectors?
Sino Concept cable protectors are designed to meet indoor and outdoor needs. Whether you are a professional or a homeowner, you can benefit from these cable covers and hide as many wires as you want.
You can install cable covers on roads, driveways, construction projects, workstations, or any areas with wire damage risk.
These cable covers also reduce the speed of vehicles and the slight bump in the road. So, it is a double advantage.
Additionally, their material quality allows long-term usage. Still, if you want for a specific time, you can install or deploy the set-up to store for later use as they remain in original condition.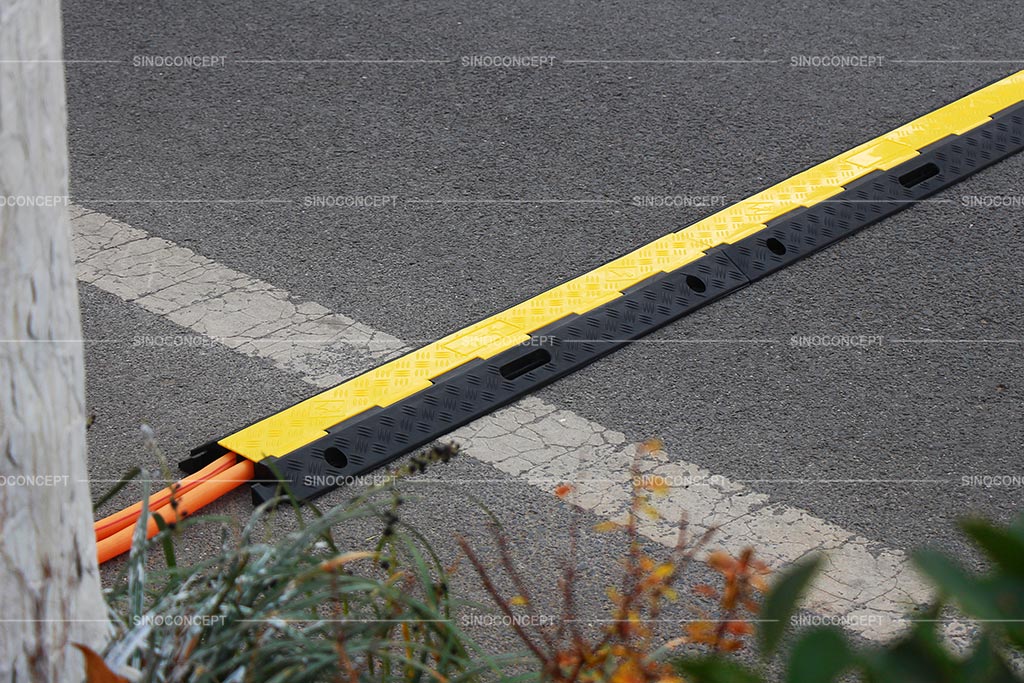 Why choose only Sino Concept cable covers and ramps?
Sino Concept should be your top choice for guaranteed cable cover and ramp quality.
Their manufacturing experience for the UK and European standard cable ramps enables them to provide the best.
Similarly, the textured non-slip surface of the Sino Concept cable covers, and ramps allows frequent pedestrian and vehicular traffic without wearing or tearing.
So, never compromise on the quality, and get the benefit of sturdy cable covers offered by Sino Concept to make a worthy investment. Managing bundles of wires is no longer an issue with this cable protector brand.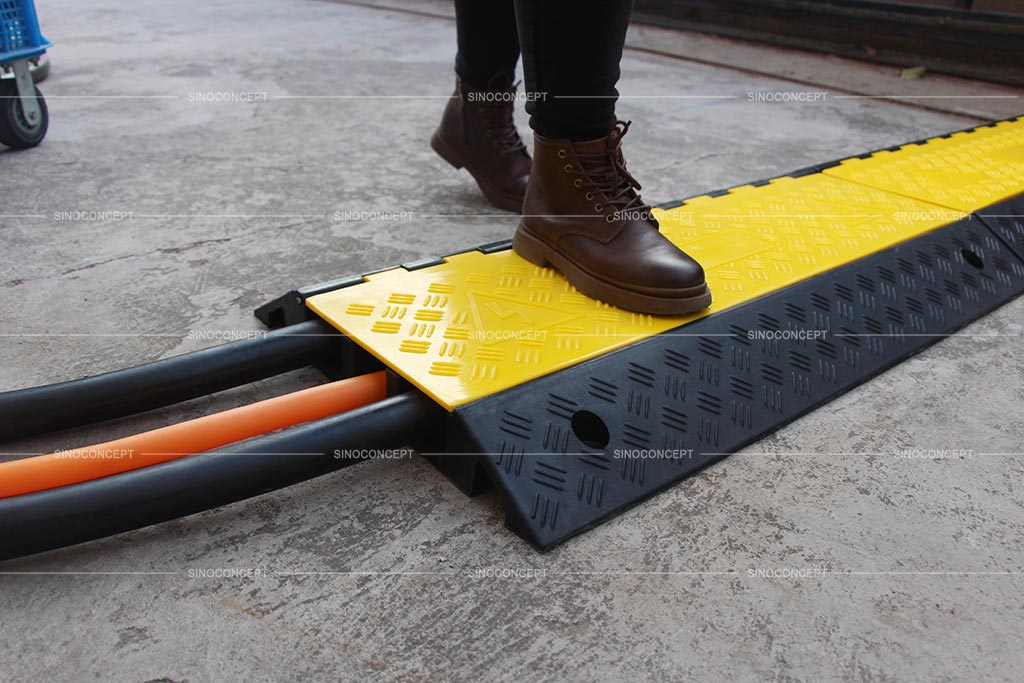 What are the advantages of buying Sino Concept cable protectors?
There are so many advantages of Sino Concept cable protectors.
In addition to all the mentioned benefits and quality features, you can get these additional perks:
The smell of rubber cable protectors is a big concern for users, especially if they need to be installed indoors, but this is not a problem with Sino Concept. They carefully use the best quality rubber material, and strict quality control measures give products with no foul rubber smell.
You can easily handle, transport and install these reusable cable protectors to conceal power cords, tubings, electrical wires, and extension cords and get tidy areas.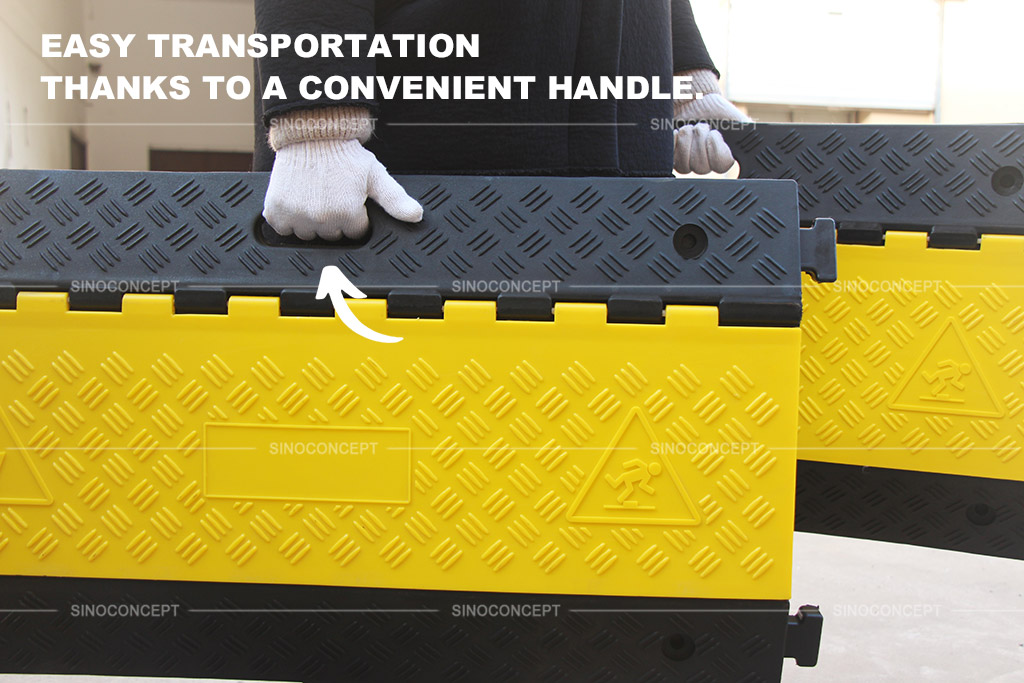 Cable covers or cable protectors give cable and cord management solutions to professionals, homeowners, and project managers to avoid trip hazards by assembling wires in the covers.
There is no doubt that it gives a well-managed and nicely organized space. But a huge plus point of using these covers is that they prevent heat shrinking and also serve as flame-retardant.
No damage occurs when the wires are protected in the suitable cable covers, and the wiring remains damage-free to add protection. So, always keep cable protectors as your first priority and don't let the wires mess up.
To learn more, we advise you to refer to the following pages: