Top speed humps design for sale in the UK!
Speed humps, also called traffic calming road humps, are physical obstructions installed on roads, city streets, and highways for speed reduction. These traffic control devices slow down oncoming traffic and prevent any hazard, which is an ultimate requirement on roads to ensure safety.
As a result of fewer hazardous collisions, fatalities are reduced to a greater extent, and UK traffic data clearly shows a drop in road accidents.
But if you want to get the maximum benefit of these traffic calming measures, be sure to use specially designed speed humps for UK roads, as traffic engineers have made them all according to the traffic rules.
So, carefully know about speed hump designs in the UK and head to the speed hump purchasing guide to make a final decision.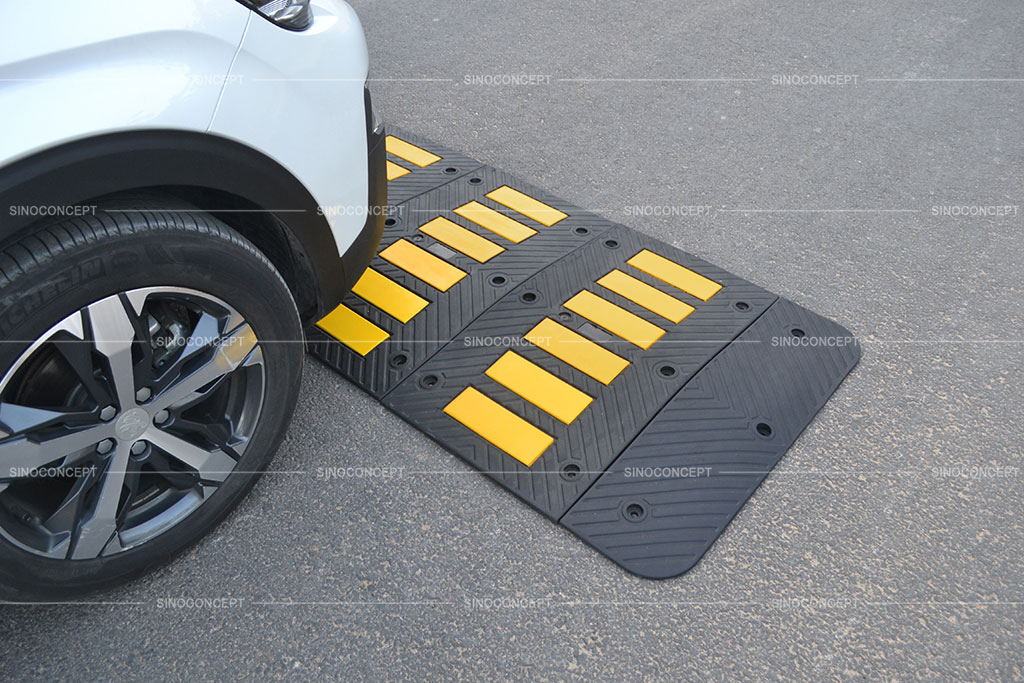 What kind of speed humps design is used in the UK?
Calming techniques are almost the same all around the globe, but when it comes to the traffic safety of road users, each country has particular traffic rules. Transportation engineers design speed humps and similar road safety products to ensure pedestrian safety and contribute to traffic management.
So, if you are also searching for speed humps for UK roads, do not miss this opportunity and find different types of speed hump designs for sale in the UK. Here you must not forget that designs of speed humps vary according to their width.
Otherwise, you will find two end-caps for each piece and interlock multiple mid-section parts to get the desired length of a speed hump.
900mm or 3 feet wide speed humps are used in high-traffic areas, allowing drivers to be on the road. This design mainly aims to slow down vehicles to 30 miles per hour (mph) and prevent colliding accidents.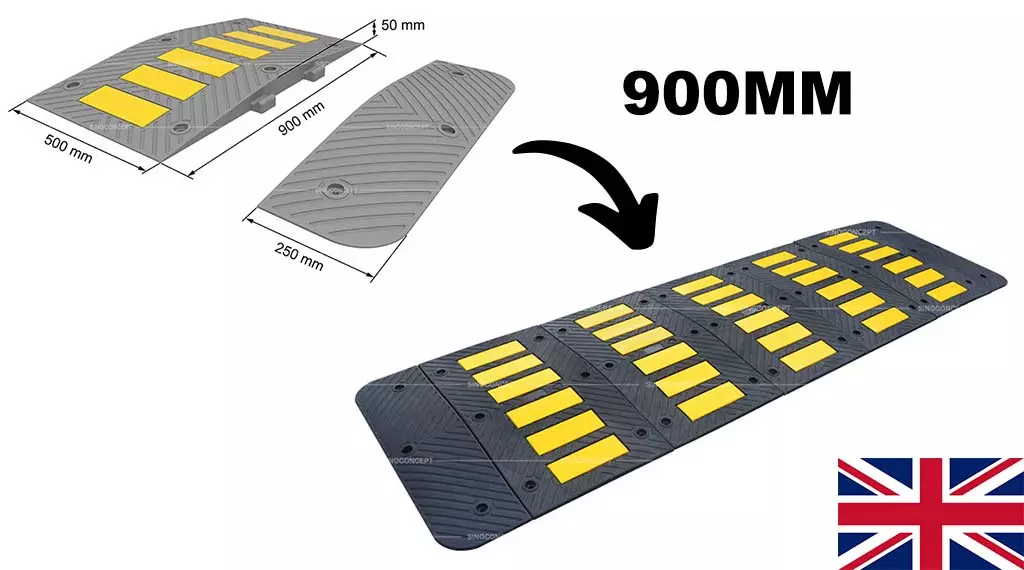 Next, a 600mm or 2 feet wide speed hump reasonably reduces the speed of vehicles to 25 miles per. After getting approval from the concerned departments, you can install these speed humps anywhere on the roadway, driveway or highway.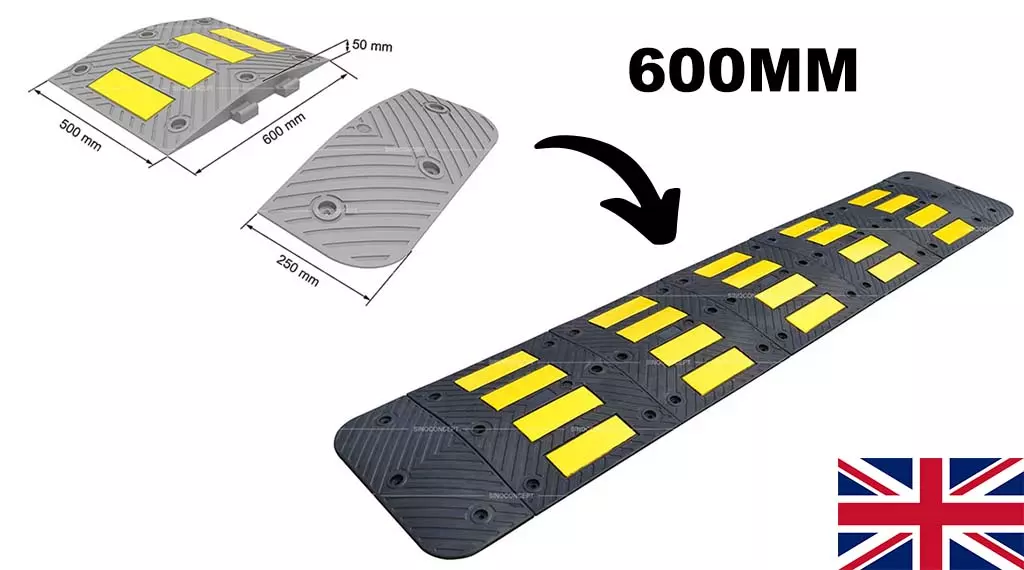 500mm or 1.5 feet wide speed humps are another good addition to calming road humps as they reduce speed to approximately 10 miles per hour. These are for areas with immediate danger to pedestrians and help control overall traffic.
These are the main speed hump designs that agree with UK traffic rules. So, whether it is your first-time installation plan or you want a replacement, do not negate what your territory acknowledges.
For complete safety, benefit from other traffic calming measures, including speed tables, speed bumps, reflective ramps, speed breakers, traffic cones, and speed cushions.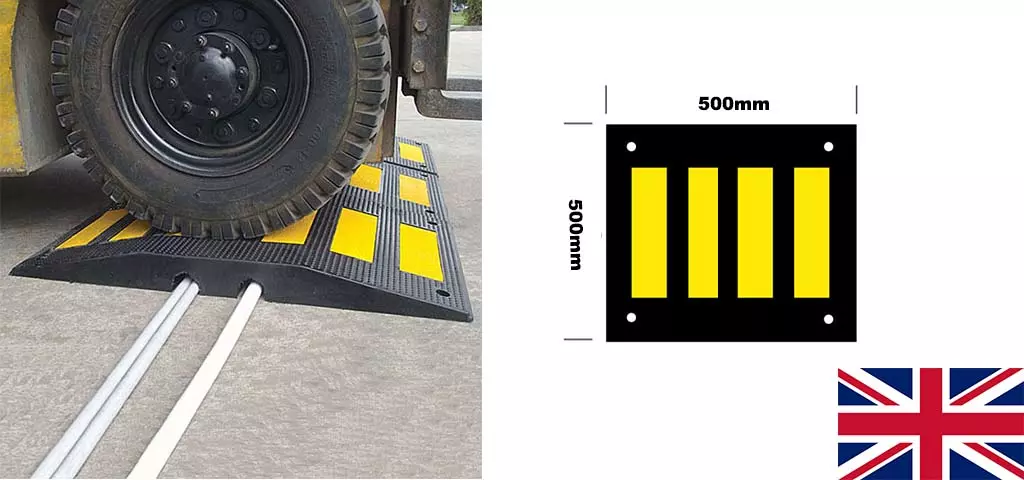 How are UK speed humps different from other speed humps?
UK speed humps are not technically different from others and are bolted on roads for vertical deflection of road traffic. If you have experience driving on UK roads, you must witness obstruction due to these traffic calming devices. This physical obstruction reminds people to grip the brake and slow down.
The major difference arises in the design and dimensions of UK speed humps as they are designed according to UK transportation requirements. You will see slowly progressing humps on UK roads, while some speed humps in some other counties are rounder in shape. They give a sharp jolt, or drivers suddenly get a hump.
While UK speed humps gradually slow down vehicular traffic. This design also allows motorists, bicyclists, and cars to pass over quickly, and above all, the emergency response of ambulances or fire trucks is almost not disturbed.
Regarding dimensions, UK speed humps have a maximum height of 100mm but are not as tall as speed bumps. You can find speed humps of 50mm, 75mm, or other heights in between.
The speed humps are designed as per the following criteria:
The slope should not exceed 1:10 or less steep than 1:25
Side slopes should be no greater than 1:6
The length and width of speed humps vary as per their type, but one good use of segmented speed humps is to increase or decrease their length.
End-caps and multiple mid-sections interlock to give a functional speed hump. This interlocking prevents the separation of the sections and causes disturbance.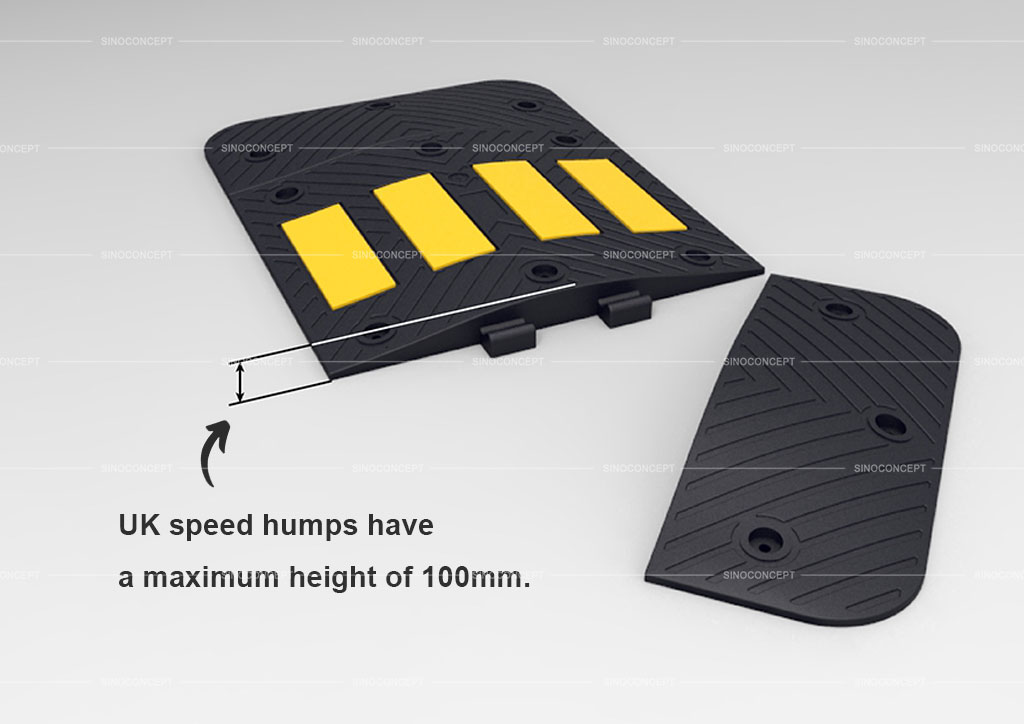 What are the main qualities of UK speed humps?
UK speed humps have good quality and are strong enough to prevent drivers and riders from discomfort. Sturdy material enables heavy traffic flow without breakage and remains fixed on the roads.
If you want them installed temporarily, like for construction projects, interlock their sections and place them on the roads. They will not get separated without your assistance.
Similarly, they are visible, and road users can effortlessly guess their presence on the road. Reflective strips and coloured rubber make speed humps visible and allow road users to minimize their speed. The UK speed humps are also good quality, neither broken nor cracked due to weather effects.
They are UV stabilized, and heat, cold, snow or rain cannot damage them, so you don't need to worry about the impact of harsh weather conditions on speed humps.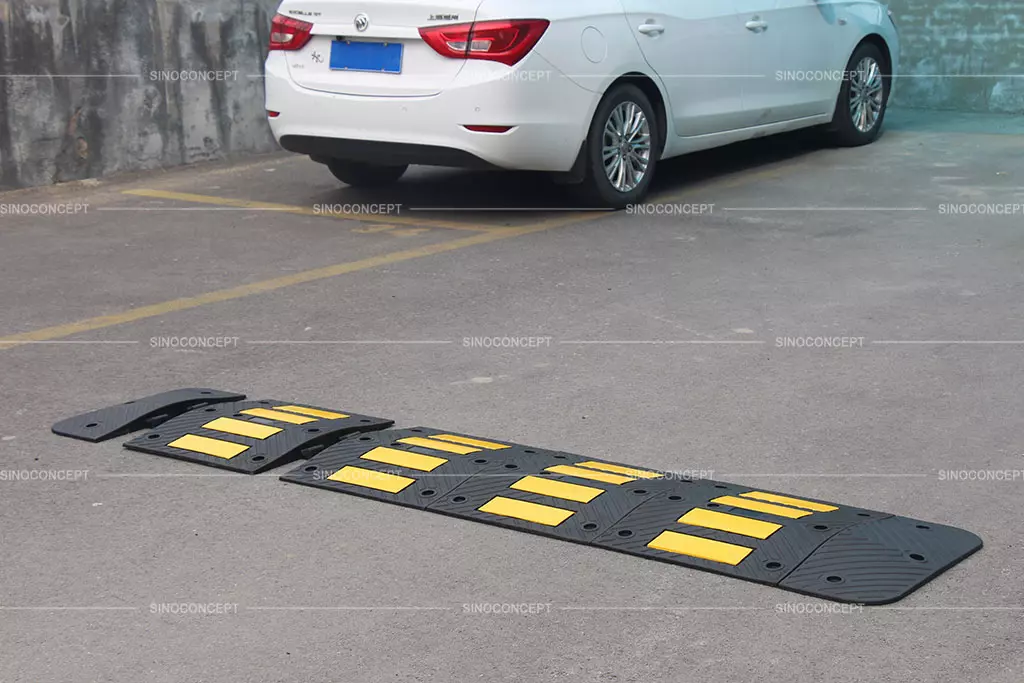 What are the best spots to install speed humps in the UK?
After getting about design and UK speed humps, your next target should be to find the best spots for their installation. Undoubtedly, these are road safety devices and should be used on roads for controlled traffic flow. Still, there are some sites where speed humps installation is good, while it may prove challenging at other sites.
So, here are the best spots where speed humps installation should be avoided:
Avoid placing them too close to an intersection, drainage, driveways or curves.
Speed humps installed on sharply curved roads can add to the trouble, and such positions should be avoided.
Do not use speed humps on the collector or arterial roads, especially transit, truck and major emergency response routes.
Now you can install speed humps at the given sites:
You can extend speed humps from curb to curb or stagger along different sides of the road.
Install speed humps in busy city streets where collision accidents are routine. -You can also slow down vehicles in parking lots with speed humps, so overspeeding vehicles do not damage vehicles and the property.
Roads leading to schools are also good points where vehicular traffic should be in control.
If pedestrians are at risk of accidents at the pedestrian crossing, do not neglect that road, as pedestrian safety is the prime concern of speed humps.
Reduce local traffic or vehicles in urban areas, work zones, and public parks to discourage fatalities.

Speed humps are traffic-calming devices that help drivers slow down in high-traffic areas to prevent accidents. Fewer accidents give road users a sense of security, and they travel in a safe zone without fear of an overspeeding car collision.
So, if you are a UK resident and want to use speed humps at your place, be sure to get the right speed humps design according to your need.
At the same time, you can select speed humps of different designs keeping their speed reduction aspect in mind. When bicyclists, motorists, and general vehicles get bumps in the road, they automatically slow down.
To learn more, we advise you to refer to the following pages: