Learn different names of wheel stops!
Many traffic control devices, including speed bumps, speed humps, traffic cones, sign-posts, speed cushions and wheel stops, are used to manage traffic movement and make people follow important traffic safety rules.
These traffic-control and traffic-management tools are installed on roads, traffic lanes, intersections, city streets, garages and parking lots to control the flow of trailers, fire trucks, buses, and cars.
They reduce the number and severity of accidents while making a driveway, sidewalk, crosswalk, pavement, concrete curb and parking lot safe for drivers and pedestrians.
Wheel stop is one of the commonly used traffic calming tools that you may see in street parking, garage parking, and accessible parking area. Many different names know it.
Read the article to learn what is a wheel stop and what are its other different names.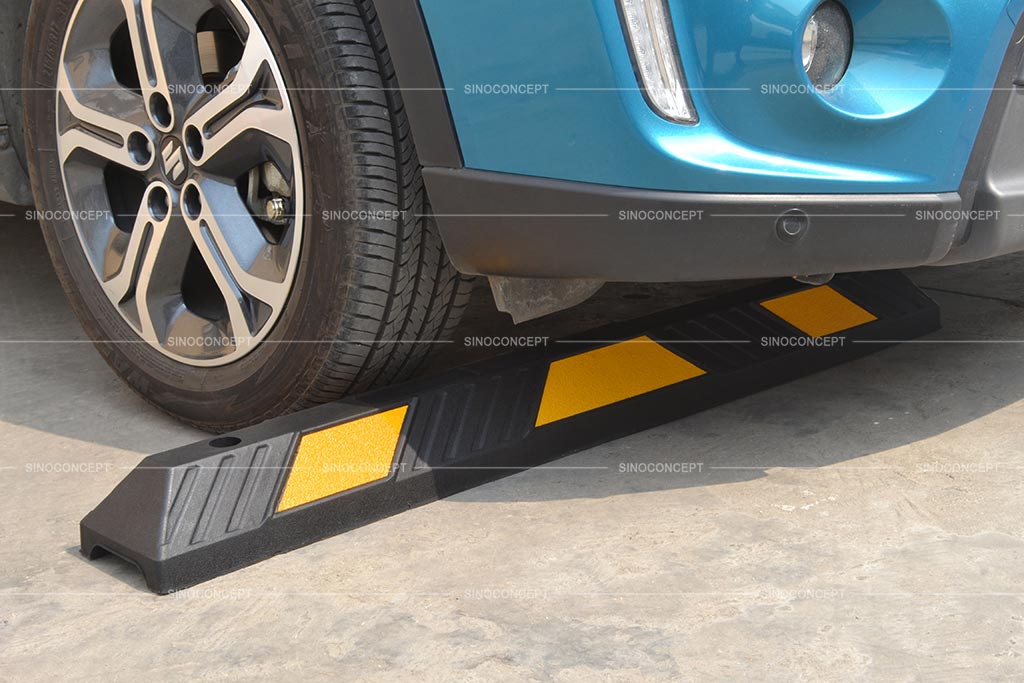 A brief introduction to wheel stops
Wheel stops are installed in parking spaces, parking options, and different parking areas by property owners to enhance the safety of the parking spot.
They mainly guide drivers on where to stop a car when parking without moving the vehicle beyond the limit. They are installed at sites where vehicles risk rolling into pedestrian areas.
A wheel stop also prevents the collision of vehicles with the parking walls, curbs, and other structures.
They also ensure that drivers leave enough space for pedestrians to walk safely in congested metered parking facilities, handicapped parking sites, visitor parking areas, and on-street parking lots.
You should use other tools like stop signs, road bumps, parking signs, speed ramps, race ramps, and speed breakers along with the wheel stops in the monthly parking, airport parking, and valet-parking facility to enhance the effectiveness of wheel stops.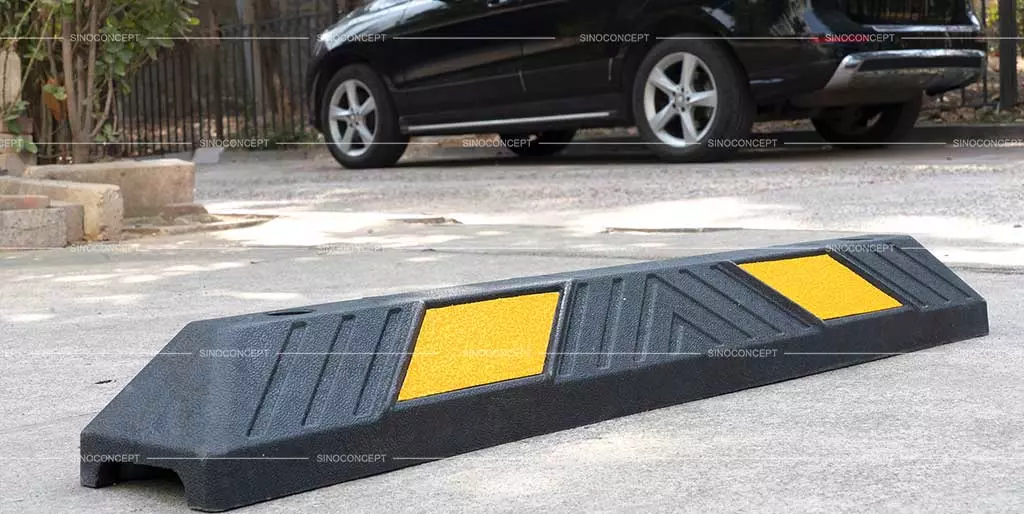 Other names of wheel stops
Wheel stops are sold by many different names in the market. Knowing these names will help you avoid confusion when looking for the right product for your parking areas.
Enlisted below are the common names of wheel stops.
Plastic parking lot chocks
All these different names of wheel stops indicate that they have the same usage: to prevent unwanted backwards or forward movement of an emergency vehicle wheel, motorcycle wheel, trailer wheel, car truck wheel, scooter wheel, and electric-vehicle wheel.
Wherever they are installed, they ensure that drivers follow basic vehicle parking rules without damaging other vehicles, objects in their surroundings, and pedestrians.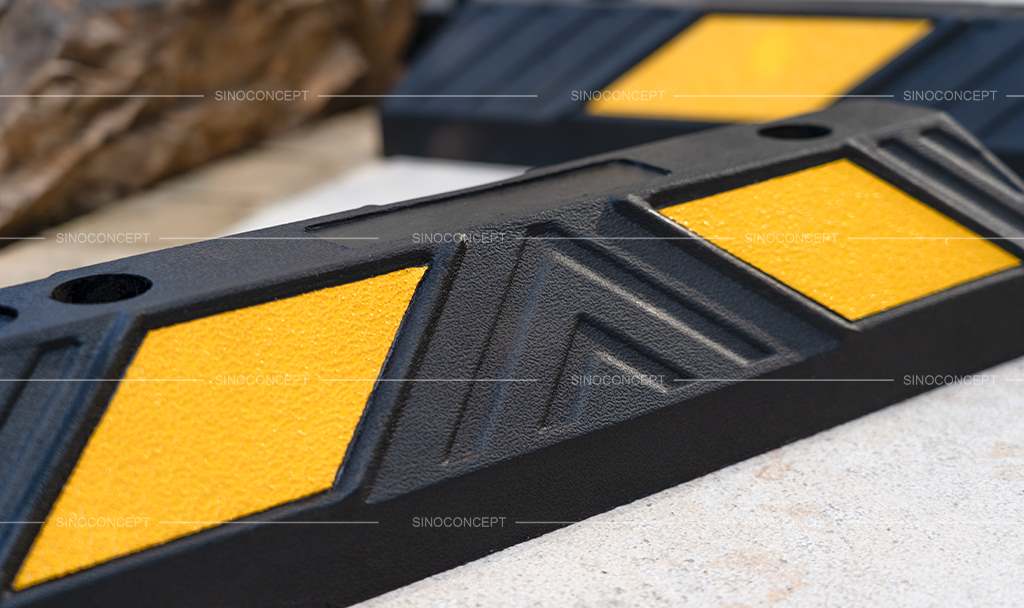 The purpose of using wheel stops
The primary purpose of installing wheel stops at a location is to maintain traffic flow in the parking areas by guiding drivers exactly where to park their cars without moving beyond the limit.
You can use wheel stops for several purposes, including:
Make your parking space and the roadway safe for drivers and pedestrians.
To inform drivers where to park their vehicles in a car park without blocking the way of emergency vehicles and passersby.
To prevent the unwanted movement of forklifts and carts in a loading dock and similar places during the loading or unloading procedure.
To make the parking space line marking more visible and understandable for drivers.
To protect the car bumper from getting damaged due to the collision with a concrete curb, wall, or any other parked vehicle having parking permits.
To protect your no-parking or other traffic signs displayed in a parking facility.
To reduce the accident hazard in a congested parking lot.
To protect electric vehicles at the vehicle charging stations and reduce their repair cost.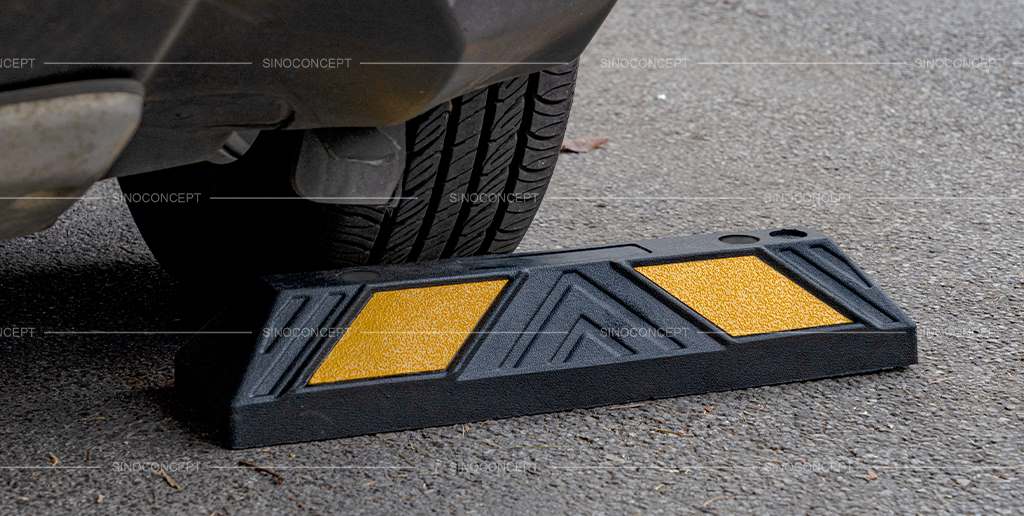 What colour should a wheel stop be?
A heavy-duty wheel stop, speed bump, orange cone, speed hump, speed table, anti-slip speed cushion, and rumble strip should be of bright colour so that a cyclist, bicyclist, motorist, or any other driver can easily see them.
Wheel stops with brighter colours are more visible to a pedestrian, which helps reduce the trip hazard and improve pedestrian safety.
Recycled plastic and rubber wheel stops have reflective striping or reflective tape that makes them shine when traffic lights fall on them. These reflector tapes or strips make them highly visible even when they are installed in darker parking spots that do not have light.
They are manufactured using the standard traffic-engineering rules and installed by transportation engineers, municipalities, and property owners on asphalt or concrete surfaces to control traffic volume, speed limit, and vehicle spacing.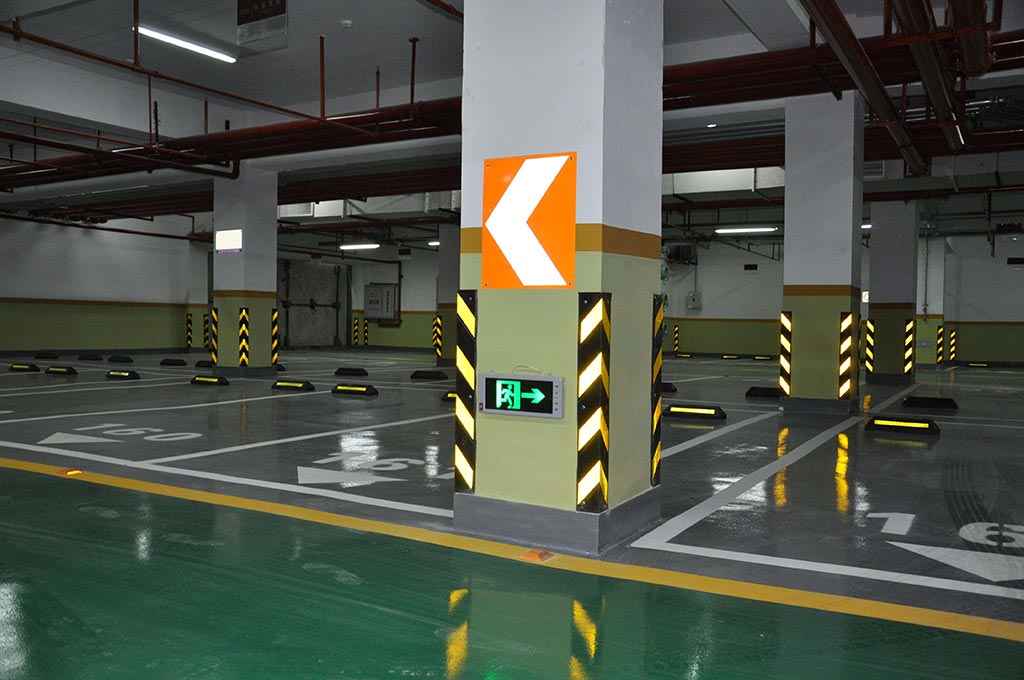 Which materials are used to make wheel stops?
Various materials are used to make wheel stops for car parking. However, the main four materials are rubber, recycled plastic, concrete, and metal. All these materials give different characteristics to wheel stops.
Recycled rubber wheel stops are lighter compared to other wheel stops. It makes them easier to carry and install. They are usually treated and made UV light resistant, which helps in improving their longevity.
They come in different colours like black and yellow, black and white, black and blue, etc. They are fixed on the pavement with the help of bolts. Since rubber is a flexible material, rubber wheel stops do not damage tires if a car accidentally drives over them.
Recycled plastic wheel stops are also lighter and eco-friendly because they are recycled. They are installed on concrete and asphalt pavement to slow down speeding vehicles when parking.
They have enclosed endings due to the placement of end caps. They are bolted into the ground using a drilling machine and bolts. They are usually made up of polyurethane plastic.
Steel wheel stops are also a durable option to stop a forklift, ambulance, car, or vehicle.
They are tough and can withstand the heavy weight of large vehicles. However, they may develop rust over time when exposed to water in an outdoor perpendicular parking, per-hour parking or any other parking setting.
Concrete wheel stops are better for heavy-duty applications where. They are preferably installed in industries and warehouses where heavy machinery and vehicles are used.
You can paint them in any colour according to your needs. However, their colour may fade over time due to exposure to different environmental factors in an outdoor area where parking is available.
All materials have unique properties, which make them suitable for different settings. You should select one of them depending on your parking area needs.
Bollards, rumble strips, car ramps, and wheel stops are all incredible tools that can help you make people follow vehicle parking rules.
They are installed in parking areas to create a safer and more protected environment for pedestrians and vehicle drivers.
They come in different sizes, colours, and materials, giving people sufficient options. Rubber and plastic wheel stops are lightweight and easy to install. You can remove or replace them whenever you want.
If you own a parking lot, you should install wheel stops to make the parking area look organised, well-maintained, and safe. It will help you increase your credibility among people who park their vehicles in your parking lot.
To learn more, we advise you to refer to the following pages: