Different options for floor cable ramps!
Cable management systems have revolutionized cable safety measures and reduced all incidents due to cable-related dangers. They are also important because cable dangers can cause catastrophic damages, which can be irreversible.
To curb this problem, floor cable ramps are an innovative appliance that protects your cables and hides wires. However, floor cable ramps can come in a variety of different options. The options for cable ramps range from their channel size, purpose, lead, logo, and colours.
Since there are many different types of cable protectors, choosing the most suitable ramp is difficult. But you don't have to worry. This detailed guide can help you learn about the different options and choose the most suitable one.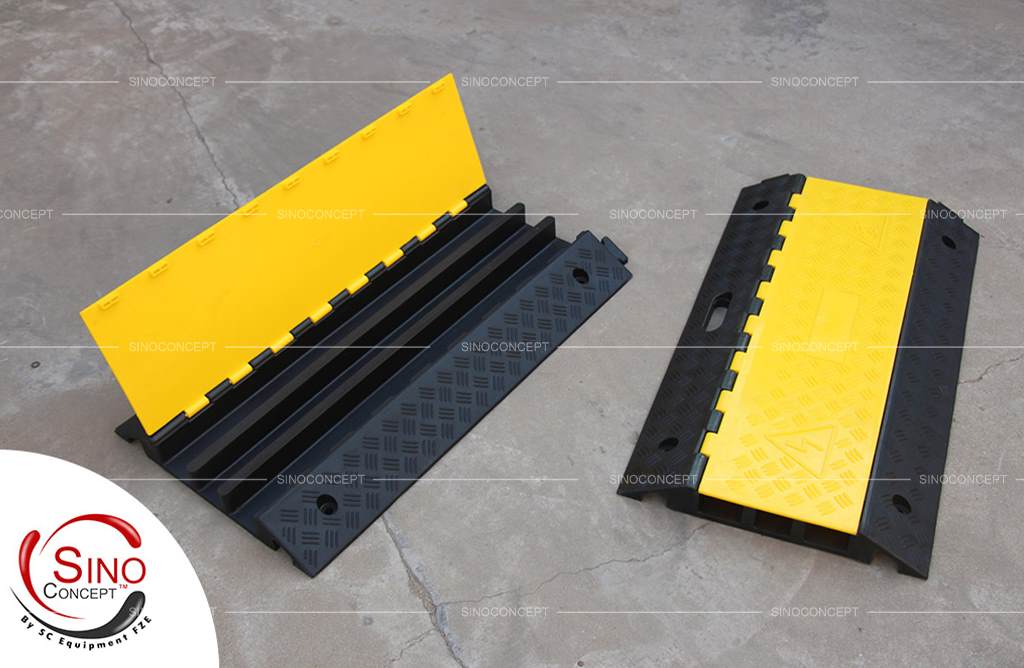 What are floor cable ramps?
Cable ramps/cable guards are made from flexible PVC plastic or rubber. These cable ramps have high strength and can withstand a load of around 20000 kg per axle. Since their capacity is high, they can also act as speed bumps.
Therefore, floor cable ramps can be useful if you work in the construction industry or a place requiring road work. Floor cable ramps can cover industrial, metal, coaxial, and hoses.
If you can conceal these cables, all your cable bundles will be protected, and you won't have to worry about your employees tripping due to these wires. Another unique feature of cable ramps is hinged covers that conceal your wires.
Its easy installation process ensures your cables are kept organized and protected. However, the cable ramps can be available in different channel sizes and diameters. Let's see the number of options available for a standard cable ramp.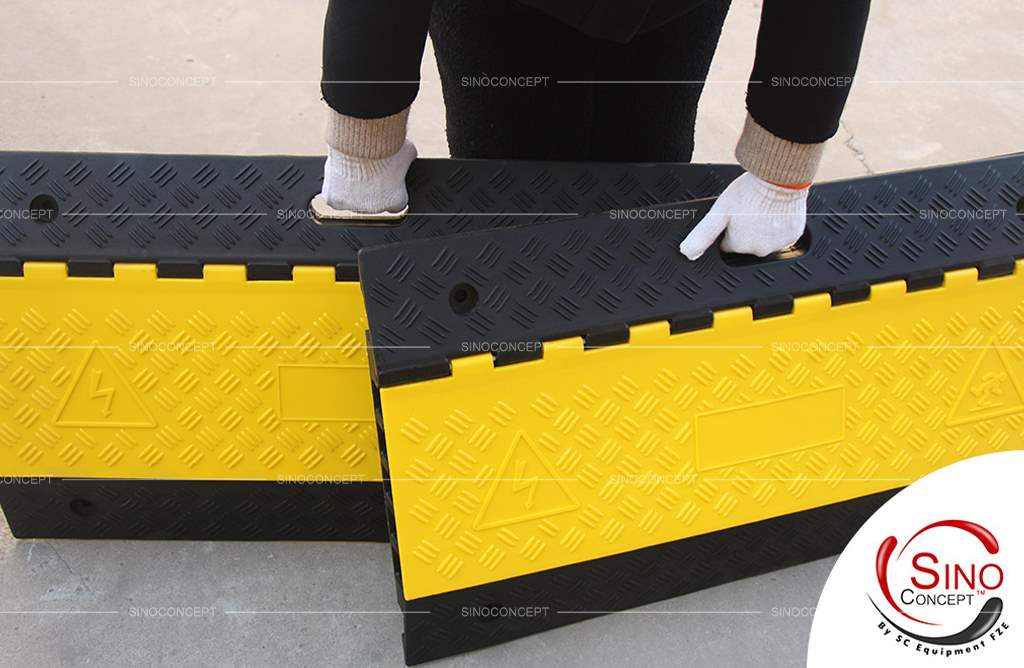 Options for floor cable ramps
Starting off, there are several characteristics where you can customize your floor cable ramps and get them according to your personal preferences.
You have the autonomy to choose the following:
Colour of the cover
The floor cable ramps' hinged covers can be available in various colours, including red/black, yellow/black, and orange/black. These are the popular shiny colours of the covers because they are easily noticeable. However, the colours are only for the lids, while the base colour will usually be black.
Logo
Secondly, some cable cover companies can allow you to print your company's logo on the floor cable ramps to make them look more personalised. It's a useful tool for companies who want standardization and their trademark logo in every process.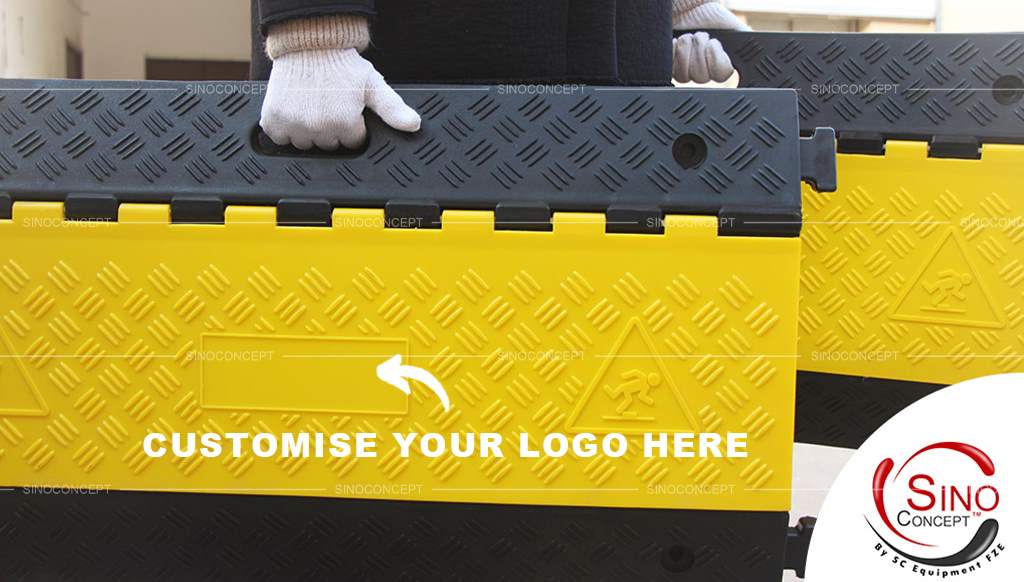 Led lights
Similarly, there have been slight innovations in the floor cable ramps. Now, you can purchase them with LED lights, which are on both of their sides. These lights ignite the surroundings and would be a great way to caution people about the wire covers.

Holes
Some suppliers may even get you a hole in your cable covers, which can help you fix them on the ground. This will help you to fix them at a single position, and they won't move or slide due to stride resistance.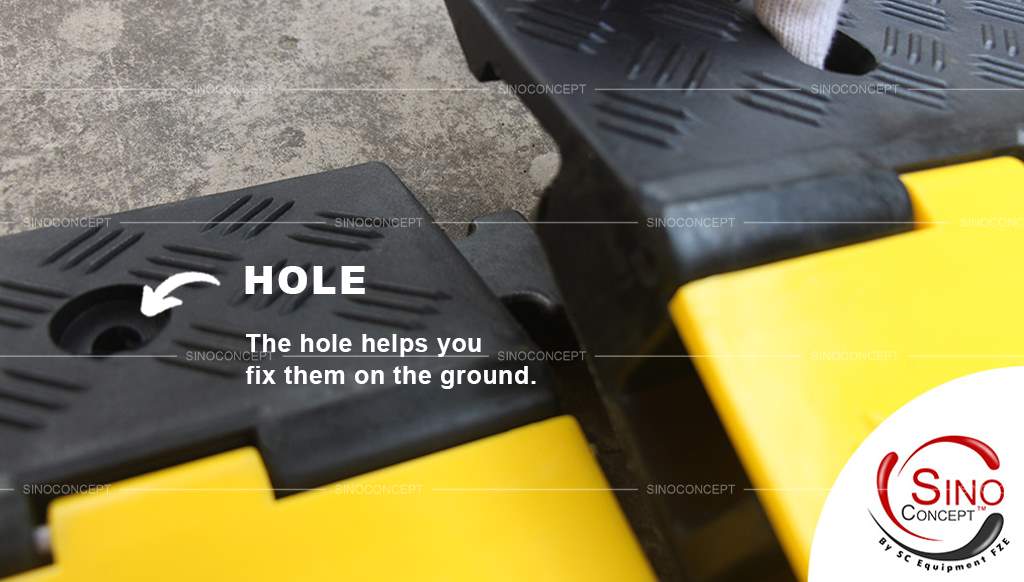 Channels options
Furthermore, these cable ramps are available in two, three, and five-channel options. Channel refers to the number of openings where you can put your cables. If your organization uses many cables, getting a ramp with several channels is suitable.
Also, you can choose the diameter of the cable ramps according to your preference because the diameter will ensure whether the cable will fit in the cable protectors.
Other cable protector types
There are many cable protector types. Some of them include hose ramps and floor cable covers.
A traditional cable ramp is a heavy-duty cable measure with tensile strength to provide unparalleled protection. However, other low-duty options have similar strengths but are for different purposes.
Hose ramps are particularly useful in the fire department or water transfer areas. These hoses are quite expensive investments; you can take care of them only if you invest in hose ramps. Hose ramps prevent the hoses and electrical wires from cluttering and getting disorganized.
They will also protect these hoses, which can be damaged if a vehicle runs over them and causes wear and tear.
Similarly, you can use floor cable covers in your workstations or business warehouses.
These floor cable covers don't have a specific hinged cover, but they involve manually placing wires in the cable covers to protect them from any harm. Since they are mostly made from plastic, they are sturdy and will conform to any surface.
They are a perfect cable organizer and protect several cables, including optic fibre cables, network cables, extension cords, and wall power.
You can even scale and increase the size of your cable protector series. You can use dog bone interlocking connectors or nylon cable ties to increase the series for a simple cable guard or floor cable cover. Similarly, you can use fasteners like Velcro and hook-and-loop to connect more cable protectors in series.
What are the most appropriate indoor cabling options?
The above-mentioned cable management systems were regarding outdoor uses. However, every household or any indoor place must have any cabling. If you start to wonder and count the number of wires in your place, you will be shocked at your current cables.
Some wires you can find indoors include HDMI data cables, chargers, home cables, computer chargers, desktops, printers, wall-mounted TV cables, etc. There are just so many wires that increase the tripping risk. Therefore, you must invest in floor cord covers or sidewinder cable protectors.
These essential cord organizers eliminate these unsightly cords and transition perfectly with your home or office design. Plus, you can also install them easily. Cord covers protect and keep your cables perfectly organized, reducing the tripping hazard.
On the other hand, sidewinder cable protectors are unique measures with an articulating design that can change shape according to the room's layout.
Plus, you can also extend cord covers and sidewinders cable protectors. You can use knives to cut cord covers to your desired length because they are completely self-adhesive.
Similarly, sidewinder cable protectors have segments that join them into one big protector. You can snap on the segments to increase the length and even configure them easily by finding the faulty segment.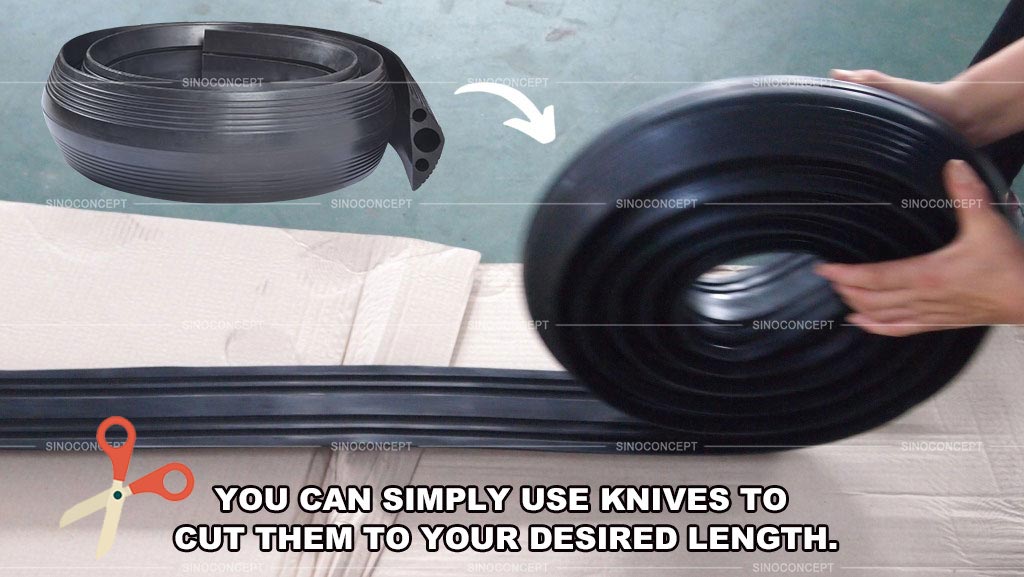 Floor cable ramps are suitable and the most prevalent cable management measures. However, you must initially identify the purpose of purchasing the cable measures in the first place.
If you want them for your house or a small office, you must ignore the cable ramps and purchase the traditional cord or floor covers to protect your wires.
In contrast, you must only purchase heavy-duty cable guards if you have automated factories and warehouses where there can be a forklift, i.e., a heavy-duty vehicle. Once your purpose is finalized, you can decide on the various options and choose the most relevant to your needs.
Until now, you must consider securing the household and business by purchasing cable ramps. Sino Concept can help you with its dynamic cable protector offerings if you intend to do so. Visit our website to learn more about our offerings.
To learn more, we advise you to refer to the following pages: