Facts about rubber hose ramps!
If you're in the construction or fire-fighter industry, you must know the importance of electrical cables and hoses. These pipe-like structures have astounding pressure within them that can cause serious damage to any human being.
Therefore, it's imperative to conceal them out of reach from humans.
Rubber hose ramps are designed to serve this purpose. These cable protection tools protect the hoses from wear and tear and can even protect humans from direct contact with hoses.
However, you must think that all these cable management accessories work the same way; what's their difference?
While there are different cable guard protector types, rubber hose ramps are different and have slightly different purposes. Let's unveil and deconstruct the mystery of rubber hose ramps without any further ado.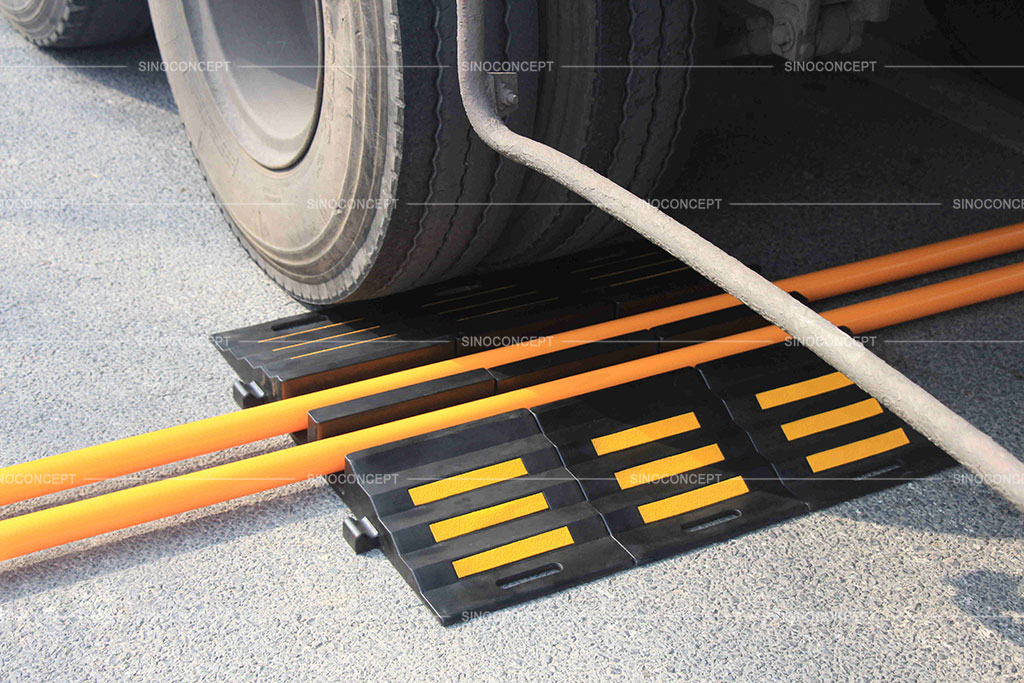 What is the purpose of rubber hose ramps?
As mentioned earlier there are different variants of cable ramps; rubber hose ramps are more suited for outdoor use. These are made from a rubber polymer and have a high tensile strength to withstand heavy weight.
While cable ramps are generally useful for cable protection, rubber hose ramps are more suitable for protecting pipes, ducts, and hoses. They are also a perfect fit for cables, but their most common use is protecting hoses.
Consider an example where a hose commonly has water running through it at high pressures. However, a slight puncture from public foot traffic or vehicle damage can blow it apart.
There is a high likelihood that the hose bursting can cause terrible damage to pedestrians and public property.
Installing a rubber hose ramp will be suitable to curb and mitigate the effects of not having a hose in the first place. This is one common use of a hose ramp; let's delve into more everyday uses of rubber hose ramps.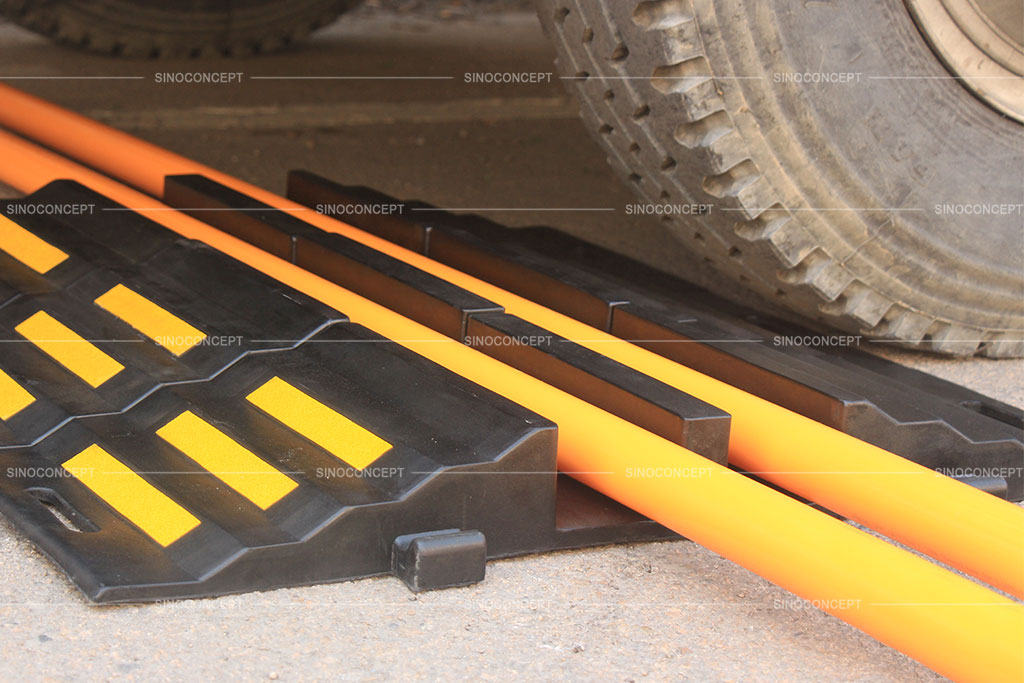 Interesting common uses of rubber hose ramps
These hose ramps are not very common for the public. They are much more relevant in industries and fire departments where everyday operations require care and protection.
Following are some of the places where you can find hose ramps:
Rubber hose ramps are prevalent and a necessity in the fire department. Whenever a fire ignites in any jurisdiction, fire trucks have different water hoses aiming to clear off the fire. These water hoses, including PVC and polyurethane (PU), can be made from plastic.
Now, these hoses have high pressure, which can be dangerous. In a fire situation, there are large hoses spread across the streets. If any heavy-duty vehicle crosses over them, there is a high likelihood that the hose will burst, which can be disastrous.
Therefore, rubber hose ramps provide an easy transmission for vehicles to cross over without damaging the pipes.
Similarly, there are hose assemblies in many production plants and factories, including flexible metal hoses, hydraulic hoses, and discharge hoses.
A hydraulic hose transfers the hydraulic fluids between two components, while a discharge hose is suitable for transferring liquids. All these types are industrial hoses and are important assets for any business.
However, there can be situations where heavy-duty forklifts and lorries can go over these hoses and break the hydraulic hose fittings.
Therefore, installing rubber hose ramps can protect the business's investment. Furthermore, they can protect industrial cables in your factory because the channel size can also fit the electrical cables.
Another common use of rubber hose ramps is in federal water boards or departments. There are heavy water trucks and several hose products in these places, including plastic or water hoses with water running within them at high pressure.
Therefore, installing hose ramps is necessary to protect the entire hose setup.
Plus, there are many warehouses where vacuum hoses and high-pressure hoses are important. Vacuum hoses are common in vacuum cleaners, which are found in warehouses for everyday cleaning.
Also, high-pressure hoses act as pressure washers to remove dirt from walls.
What are the common features of rubber hose ramps?
Rubber hose ramps differ slightly from traditional cable ramps.
Some of their features are as follows:
High load-bearing capacity
Chemical and abrasion resistance
These hose ramps are made from recycled rubber that is flexible. Their base has a gripping bottom surface that can conform to any surface and provide excellent flexibility.
Secondly, most of these rubber hose ramps don't have plastic hinged covers that hide the cables or the hose. However, they do have a channel design that completely fits the hoses and can extend to the desired lengths.
They are made from vulcanized rubber and can withstand a high load, up to 9,000 kgs. Plus, you can easily place them on the streets. There is no labour or material cost, and you place the hoses in the channels.
Plus, they have handles to carry, which makes transportation easy. Also, these rubber hose ramps can withstand a hose pressure of up to 2,000 psi.
Hose ramps have UV and chemical resistance, making them perfect for any weather. They can even work on rugged surfaces or harsh environments. Also, you can connect as many hose ramps as possible.
They are available in different channel options and have dog bone connectors with nylon cable ties, making scaling easier. Just turn on the hose values and watch how seamlessly everything will flow with hose ramps in place.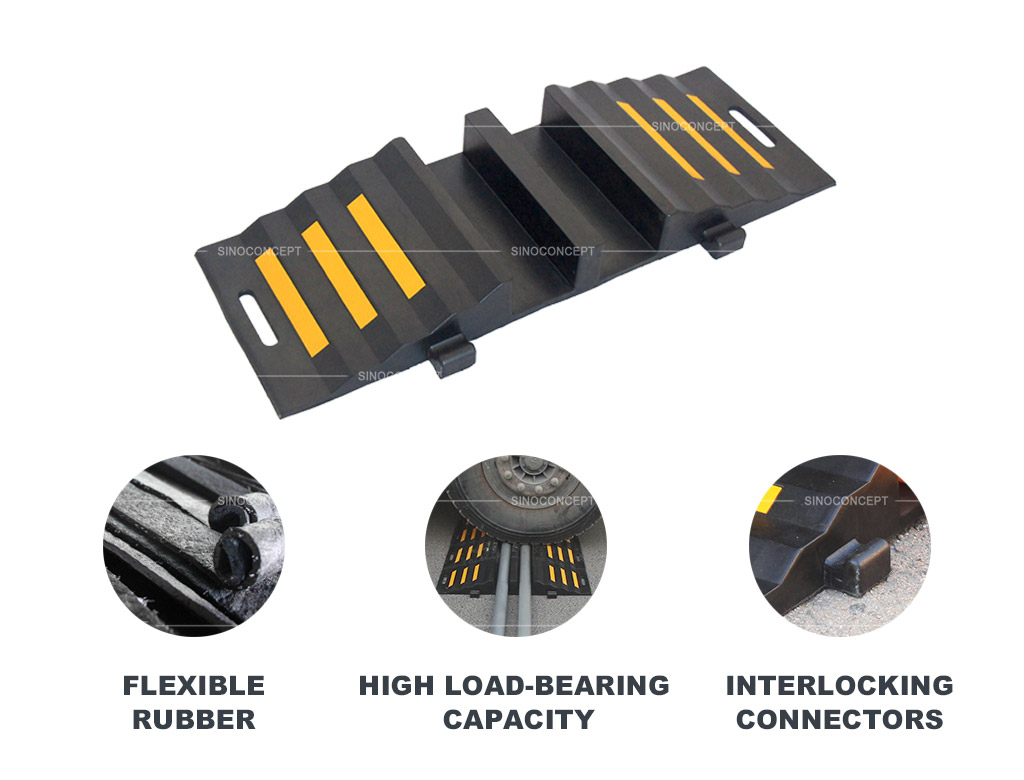 Can rubber hose ramps act as speed bumps?
Besides protecting different types of plastic and air hoses, hose ramps are also effective traffic calming measures.
They can withstand both heavy-duty and light vehicles.
Generally, these rubber hose ramps have a tensile strength of up to 9,000 kgs (equivalent to 20,000 pounds). At this weight, HGV vehicles like forklifts, trucks, and buses can easily pass without harming the hoses.
Plus, they have abrasion resistance so that vehicle corrosion won't impact their structure. Therefore, hose ramps can act as speed bumps and hose protectors, discouraging drivers from driving too fast.
Can rubber hose ramps be useful for homes?
Generally, rubber hose ramps are much more suitable for outdoor use because they are large and made to bear HGV vehicles' weight. You can use a lot of electrical cables, water pipes, ducts, suction pumps, and water hoses at home.
However, these cables don't need the support of hose ramps.
They are much more suitable for factories with a heavy fleet of vehicles lined up in daily operations. You must consider what would be more appropriate for home use since these pipes can still tangle up and pose a trip hazard.
Well, the following are some alternatives suitable for home use:
Drop-over cable protectors: These cable protectors don't have any covers; you must drop them over the pipes, ducts, or wires, and they can prevent tripping.
Floor cord covers: There are a lot of wires and cables in your home, including adaptors, electrical cables, plugs, home cables, and power cables. Floor cord covers act as cable protectors for indoor electrical use.
There are also a lot of suctions, garden hoses, and pipes for water transfer in your house. However, you don't need cable guards for them. There are hose fittings that are set up in an organized way by a plumber that is out of reach from your family.
Quite uncommon to the general public, rubber hose ramps have great importance in industrial lines.
There are proper hose assemblies in several business lines, which are a great investment for a company. Since a business pours its reserves into creating proper hose systems, protecting them is important.
Are you also in a business involving frequent hose usage, which is important and irreplaceable, and any disruption can halt your business? Needless to say, it goes without saying that you need to invest in the protection of your hose system.
Sino Concept can be your partner that can help you manage your electrical cables and hoses in an organized way. Visit our website to explore our product offerings.
To learn more, we advise you to refer to the following pages: