Different bike parking racks used in different locations!
A cycle stand is one of the most significant safety measures for bicyclists. After all, they perfectly park various bikes securely. Once you lock your bike to a cycle rack, you can forget to worry about its safety.
Yes, that's the benefit of a cycle rack.
But there's a caveat. You see, there are multiple types of floor bike racks, which creates confusion about the viability of a rack for a specific location. Although all cycle racks have a common purpose of ensuring bicycle safety, they are suitable and applicable to different places.
For example, it's improbable that you'll want to install a double-tier bike rack in your garage, driveway, or even a storefront. But then, what are the best racks for specific locations such as a school, parks, or garages?
Let's find out.
If you'd like to learn more about cycle racks, feel free to check here: Everything you need to know about cycle racks!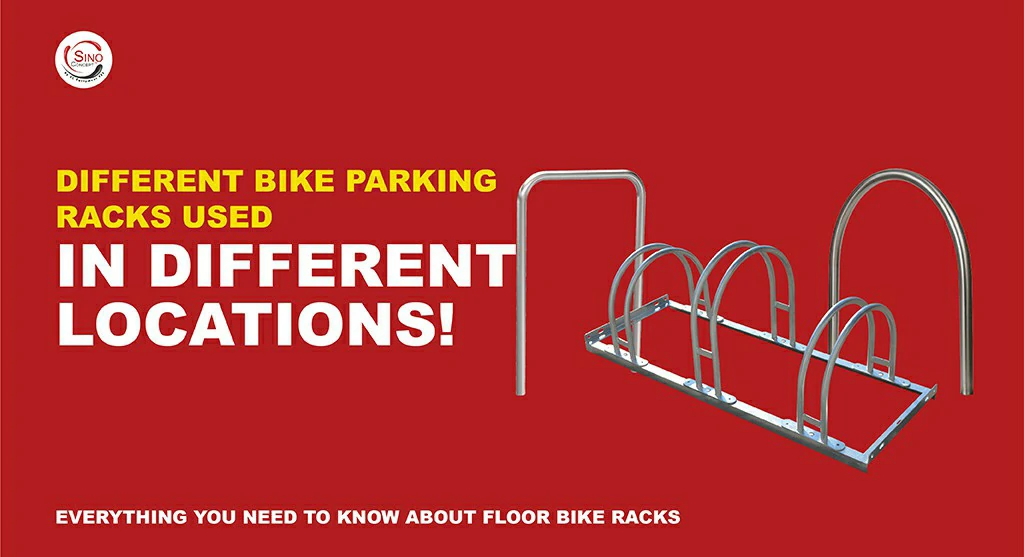 Different Cycle Racks for Schools
When choosing a cycle rack for school, it is essential to consider students' habits. For example, if many students ride bikes to school, you may need to choose a cycle rack to accommodate multiple bicycle racks.
On the contrary, a smaller floor cycle rack can be enough if few students use a cycle for transport. However, whichever style you choose, ensure it's durable and sturdy enough to withstand the weight of cycles.
Some standard cycle racks for bike frames for a school include:
Grid-Style
Grid-style cycle racks are the most common dual-sided stands found at schools. These racks are typically made of metal and feature a series of horizontal and vertical bars forming a grid pattern.
Using permanent or temporary anchors, racks with a grid design may be left freestanding or mounted to the surface. Cycles can be secured to the grid-style cycle rack in several ways, such as with a U-lock or chain lock. The largest size of a grid-style can park up to 32 cycles.
Double-Decker
Double-decker cycle racks are another type found at schools. As the name suggests, these racks have two levels, allowing twice as many bikes to be parked in the same space. These two-tier cycle racks are space-efficient and can store up to 40-100 cycles.
Popular Cycle Racks for Universities
The same narrative goes for university. After all, it's a place where many students flock every day, so the rack type depends upon the habits of students. Here are some typical cycle stands for universities.
Wave-Style
Wave-style cycle racks are bike storage rack that is becoming increasingly popular at universities. The wave is an extension of U-style inverted cycle racks. These racks feature a series of horizontal bars arranged in a wave pattern.
This design allows multiple bikes to be parked in a more space-efficient manner, and it also makes it easier for cyclists to retrieve their bikes. A single hoop of a wave-style stand accommodates up to two bikes, and you can park multiple bikes by increasing the waves/hoops.

Rail-Style
Rails racks feature a series of vertical bars arranged in a parallel fashion. Rails-style cycle racks offer several benefits, such as being more space-efficient than other cycle racks and providing more secure bike parking facilities.

Multiple-Cycle Rack
As the name suggests, multiple-cycle racks are designed to accommodate multiple road bikes. These racks may have various designs ranging from grid and spiral racks to floor stands and loops, but they all share the same primary purpose: to provide a safe and convenient place for cyclists to park their bikes.
Multiple-cycle racks are a good choice for universities as they can accommodate plenty of bikes easily. Plus, the bikes can be parked safely using bike locks.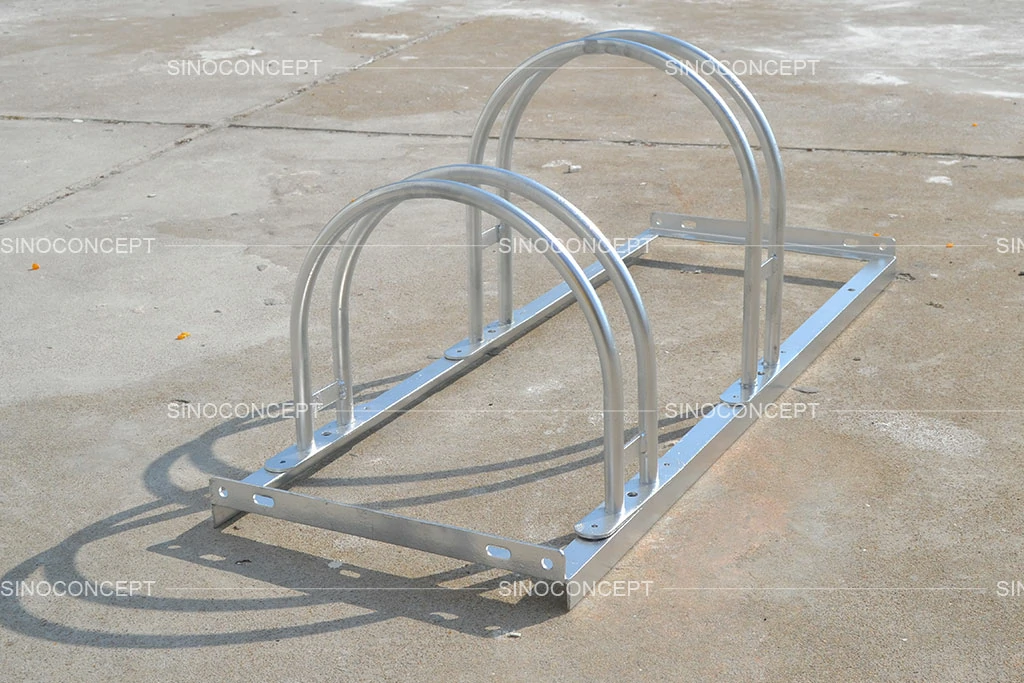 Top Cycle Parking Racks Styles Used in Parks
You may find multiple types of cycle racks in parks. Since a park is where people flock, you need plenty of cycle parking space facilities. Here are some popular options for parks:
Grid-Style
Grid-style cycle racks perform pretty well in parks. The grid style has vertical bars that connect the larger upper and lower metal pipes on either rack side.
Depending on the design, these racks may be left freestanding or secured to the ground. You can place this rack in a limited space to accommodate more cycles (up to 32) in the park.
Loop-Style
Loop-styled cycle racks are another popular type of cycle rack in parks. These racks feature a horizontal bar that bends into a loop shape. These distinctive-looking bike racks are also known as a wave or U style and may be seen in any public building.
The steel post is mounted in-ground or onto concrete and features a simple anti-theft design. The loop rack has powder-coat or galvanized steel finishes, ensuring that the cycle racks last for a long time without facing any corrosion or rust.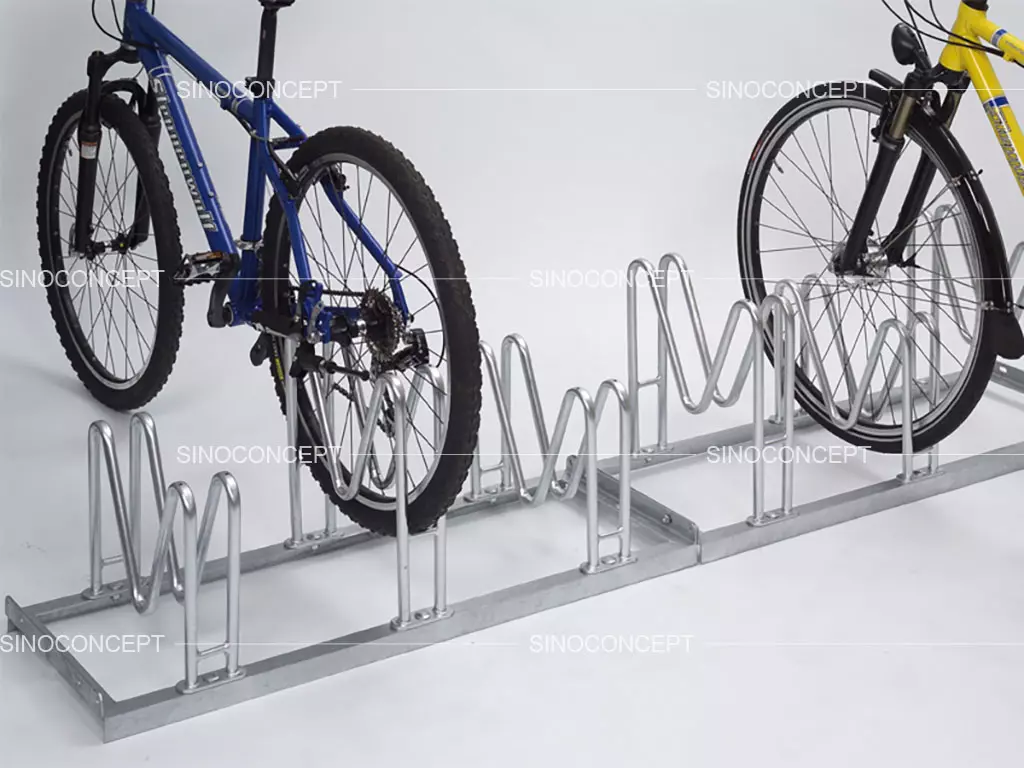 Bollard
Bollards are short vertical posts most commonly used as parking barriers. Bollards are a type of cycle rack designed to be installed on a sidewalk, storefronts, and streets. Although they help reduce a vehicle's speed, bollards can even ensure cycle safety. And how's that possible?
With 2-3 elongated arms, cyclists can fasten their cycles on the arms using bike lockers.
In-Ground floor racks
The In-ground floor cycle racks are cemented into the surface and are secured by perpendicular anchor pins/bolts for stability. Since they are ingrained on the surface, they are secure from thieves and vandalism attempts.
Plenty of designs and options are available for in-ground racks, and each design can enable you to park more cycles.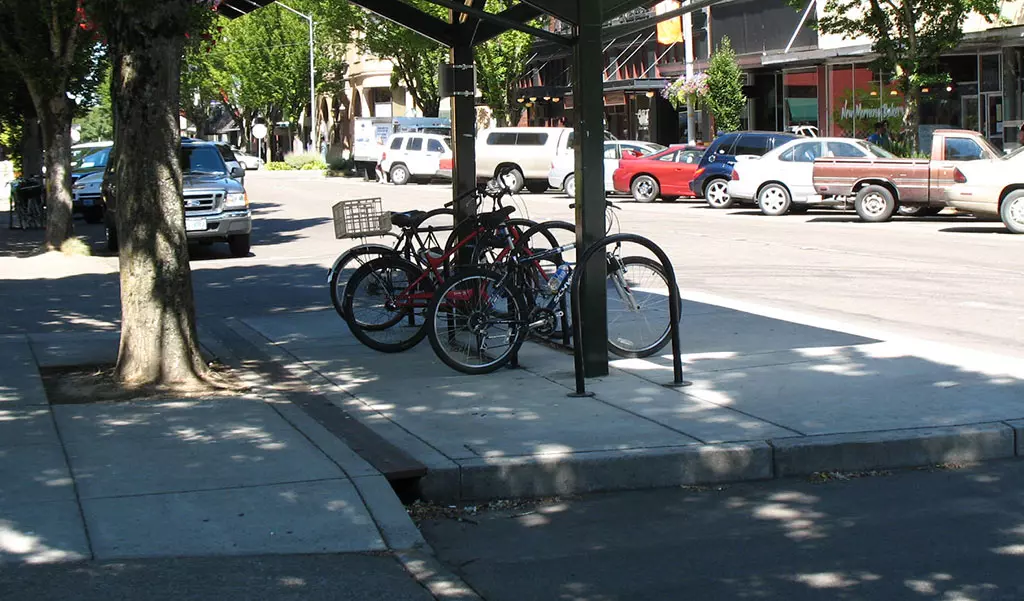 The Best Cycle Racks for Garages
You can use many bike parking racks in garages. The type of rack is dependent on your garage needs. Sheffield, Harrogate, and spiral racks are some options that offer some benefits.
Wall-Mounted
Wall mount cycle racks are an artistic way to add cycle parking in your garage or hallway. It looks aesthetic but space-efficient since you mount your cycle on a wall by securing the bicycle frame.
If you have a new sporty road bike and want to park it safely in your garage, a wall mount is a great option.
Sheffield
The Sheffield cycle stands are the most prominent type of stand out there.
Made of steel tubing and featuring a hot-dipped galvanization finish, these aesthetic stands are all set to provide a secure bicycle parking space.
Indeed, these cycle stands are essential bicycle stands for parking equipment for outdoor and indoor use. Also, the traditional arch design Sheffield cycle stands are easily recognized thanks to their inverted U-shaped form.
Moreover, each tubular Sheffield cycle stand can accommodate two bicycles and allows them to be securely locked in both bicycle frame and wheel.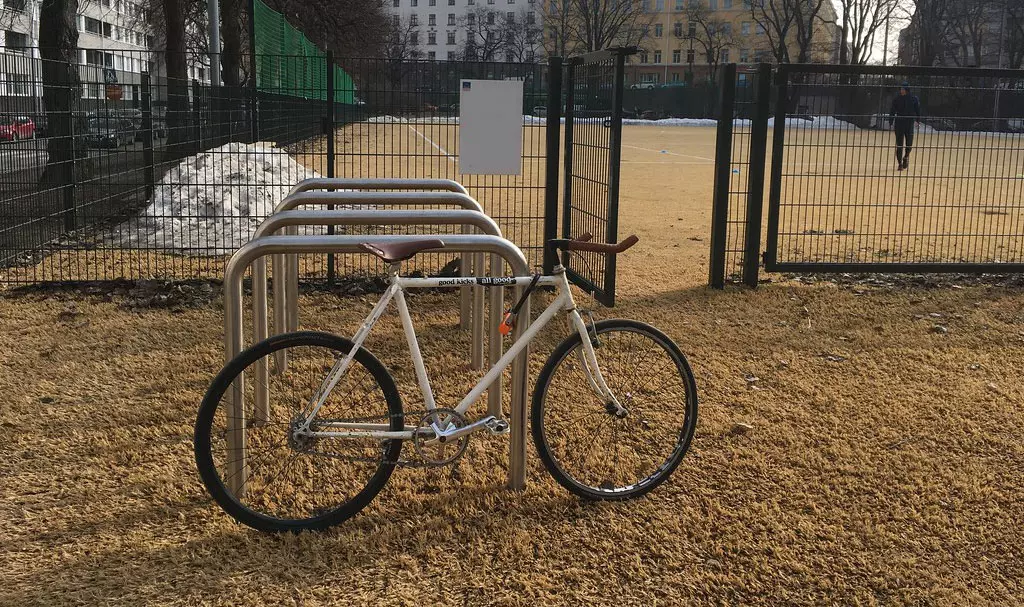 Harrogate
A Harrogate cycle stand is like a cousin to Sheffield racks. With a difference in the inverted tube design, this tubular style bike rack allows locking bicycles securely from the bike wheels or frame to prevent theft.
Whether a road, sport, mountain, or kid's indoor bike, this cycle stand can perfectly suit any cycle. Not to forget, this fantastic rack has a sturdy steel construction design with a suitable finish, ensuring it lasts for a while.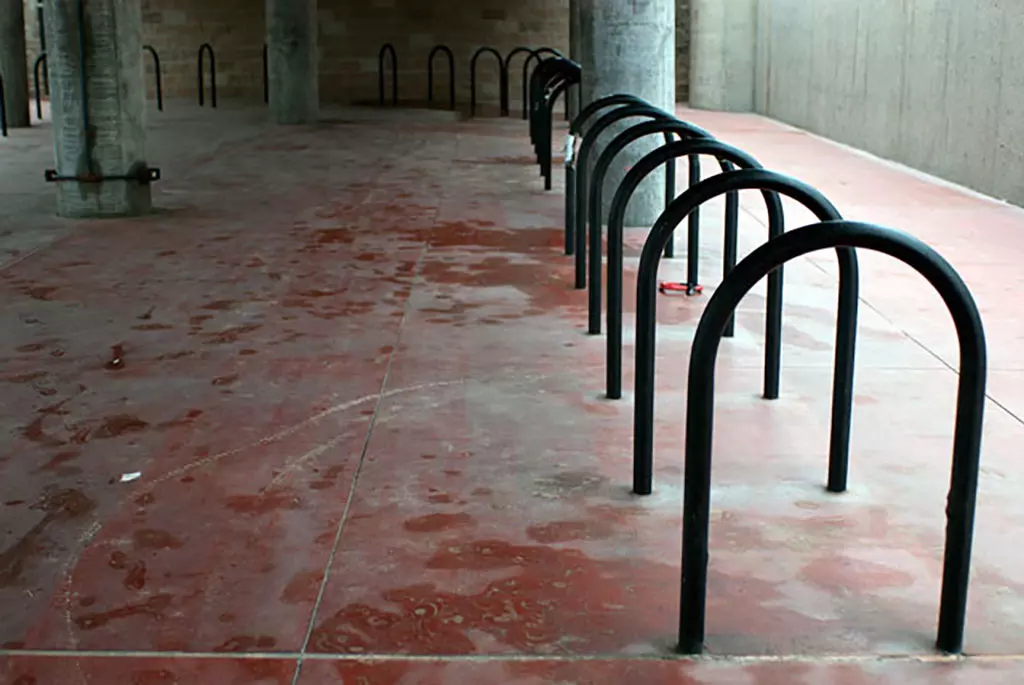 Spiral
The Spiral cycle rack is a space-saving design that you can use indoors and outdoors. These racks are made of powder-coated steel for durability and can accommodate up to eight bicycles, depending on the number of hoops.
Again, the spiral design allows bikes to be parked in a small space, making them ideal for garage storage.
Conclusion
You should be clear about various cycle designs and their suitability for different locations. Cycle racks are essential tools, ensuring bicycle safety and ample parking space.
If you are an enthusiastic cyclist, a cycle rack is one thing you should invest in. After all, who wouldn't want to secure their prized possession, i.e., cycles?
Even if you're a school principal, municipal officer, or commercial building owner, you should care about the parking needs of students, pedestrians, and employees.
We were wondering where you could find a suitable practical cycle rack. Head out to Sino Concept and explore their aesthetic ranges of various cycle racks. The best part is we can even provide customized designs for a custom bike.
Get in touch with us today!
To learn more, we advise you to refer to the following pages: