Things you need to know before buying an outdoor bike rack!
Since hundreds of different kinds of cycle racks are available in the market, it can be challenging for a person to choose the most suitable product for their bike parking lot.
You should know which elements make a bicycle rack worth buying and what affects its overall cost. Knowing all these points will help you get your hands on the best product to meet your needs. We have another blog to help you! Feel free to discover everything you need to know about cycle racks.
This purchasing guide has enlisted the top brands of outdoor bike racks and some top bike racks. Read the article and learn how to purchase the perfect bike rack for your parking lot.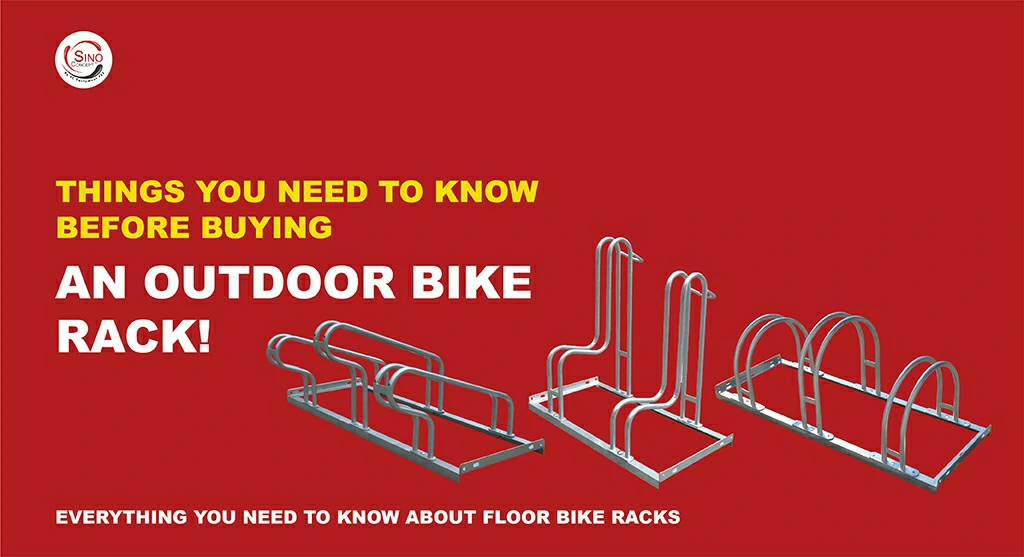 Top outdoor bike rack brands
Numerous bike rack brands are in the market, making it challenging to select one. If you are struggling to find the best road bike stand brand for your purchase, here is the list that can help you choose the top brand.
Broxap Sheffield: It is a Staffordshire-based bike racks brand that has been manufacturing a wide variety of street furniture, including bicycle racks, for decades.
Marshalls Sheffield: It is another UK-based brand that supplies bike storage racks, cigarette bins, and outdoor shelters at low prices.
Sino Concept: It is a French-owned company having three factories in China where many products, including bike racks, speed bumps, speed humps, and speed cushions, are manufactured in different forms. It has been manufacturing quality products for more than a decade now.
Mottez: It is an Erquinghem-Lys-based company that has been producing hatch bike racks, door windows, garage locks, and similar products for years. All these products are made in France.
BTwin: This bicycle rack brand is a famous American brand known for its wide variety of products. It ships its bicycle storage or bike parking racks only in the US.
Wiggins: It is a bike rack brand by the Bike Dock Solutions company. It manufactures numerous bike storage products and ships them all over the world.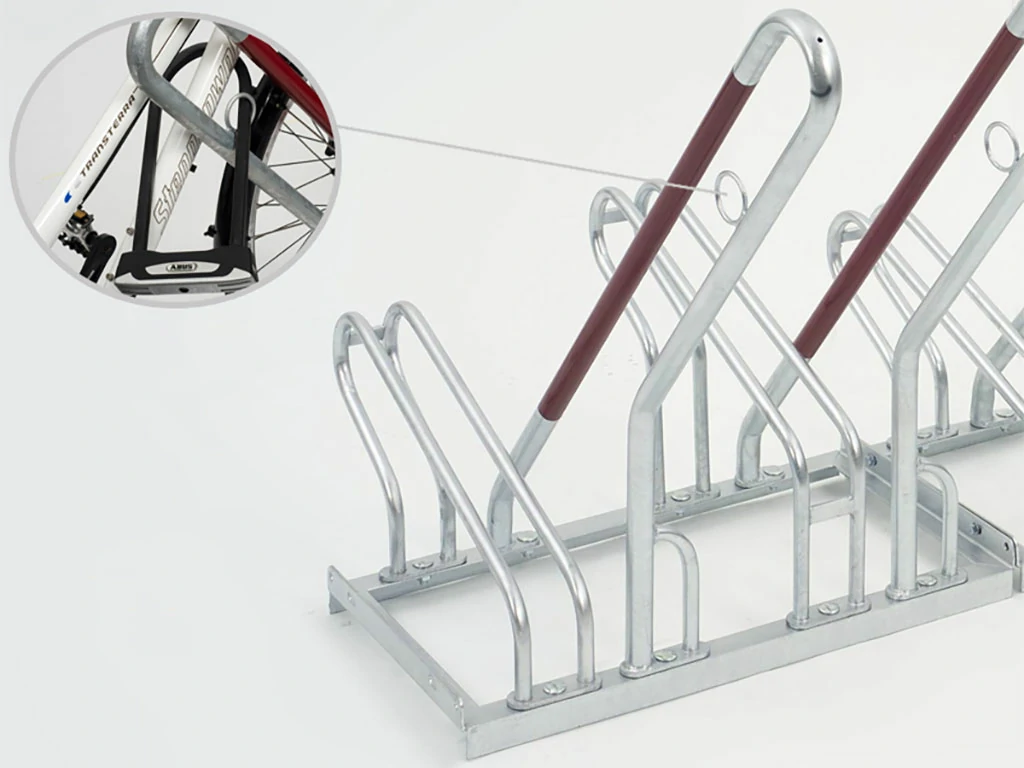 Factors you need to know before buying a bicycle parking rack
A bike storage rack, roof bike rack, or bike hitch rack is found in the market in multiple forms. Each form is suitable or designed for a particular use. You should know the difference between these forms to find the perfect piece for your needs. 
Here are the common factors that distinguish one form of bike rack from the other. Learning about them will assist you in making the right purchase.
Body and design: Floor-mounted bike racks, truck racks, roof racks and car racks come in different shapes and designs. Some forms allow the biker, cyclist or bicyclist to cable-lock their bike frame, while others will enable them to cable-lock their bike tires. Some examples of different shapes of bike racks are U-shape, bollard style, grid style, and wave-like shape.
Dimension: Mountain bikes, city bikes, and street cycles come in different sizes. The best bike rack will have a size that suits the size of cycles or bicycles that are locked securely with hooks, Velcro straps, rubber straps, or bike locks.
Material: Various durable materials are used to construct cargo racks, indoor bike racks, folding bike racks, and hitch bike racks. Some examples of these materials include steel, recycled plastic and thermoplastic. Out of all these materials, steel is considered the most reliable.
Finish<: Finishes like hot-dip galvanisation, powder coating and thermoplastic coating are used to prevent corrosion and abrasion. Hit-dip galvanising is considered reliable and cost-effective compared to other options.
Mount: A bicycle rack, trunk bike rack, wall rack or carrier rack can be installed in multiple ways. Some mounting methods are in-ground mount, surface mount, wall mount, and removable mount. Select a mounting system that is according to your installation requirements.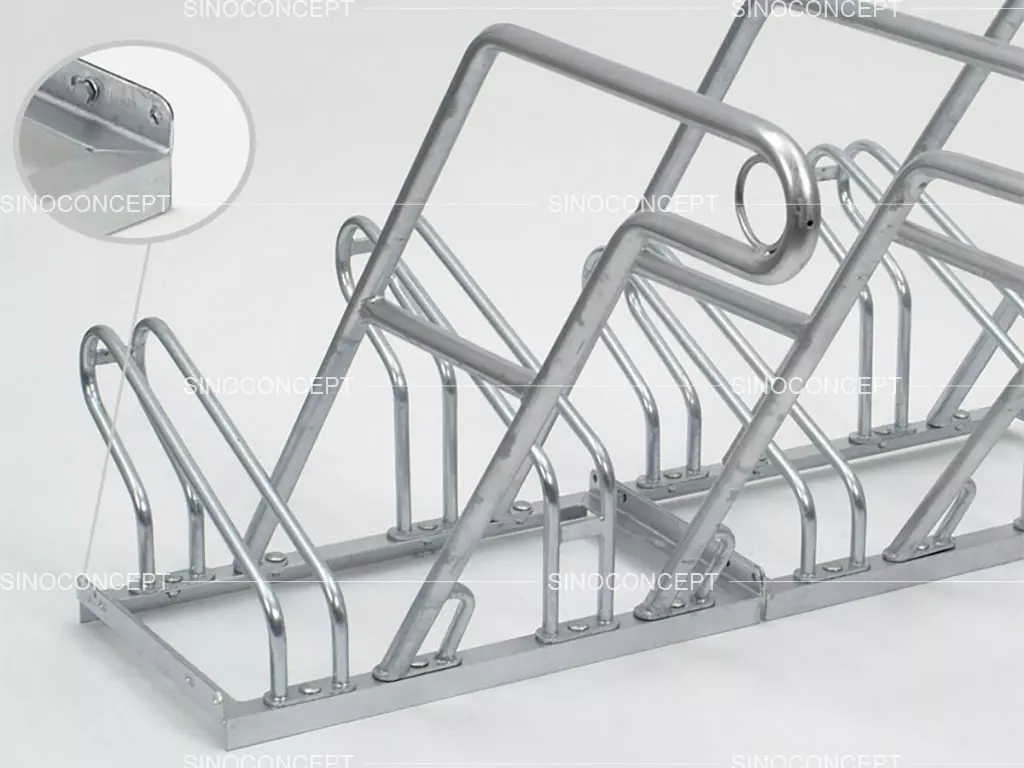 Features that determine cycle parking stand prices
If you are interested in purchasing a bicycle rack, you will come to know this tool is sold in the market at different prices. You should know which factors increase or decrease the bike rack cost so you can understand the total cost better.
Here are the basic features of a cycle parking stand that impact its cost.
Material: Plastic is a cheaper material compared to steel. However, it is not so durable, meaning you may have to replace a plastic rack soon due to damage to its structure. Choosing a durable material that can withstand different environmental conditions and stay intact for a long time is better.
Size: The more extensive a cycle rack is, the more its cost will be.
Finish: Powder coating and paint are expensive forms of bicycle rack finish. Compared to them, hot-din galvanised steel is better in cost and longevity.
Manufacturer: Prices depend on manufacturers as well. Some manufacturers charge more than the market value despite their racks having average quality. It would help if you were careful of such manufacturers. Please do your research about the manufacturer before you select them for your purchase.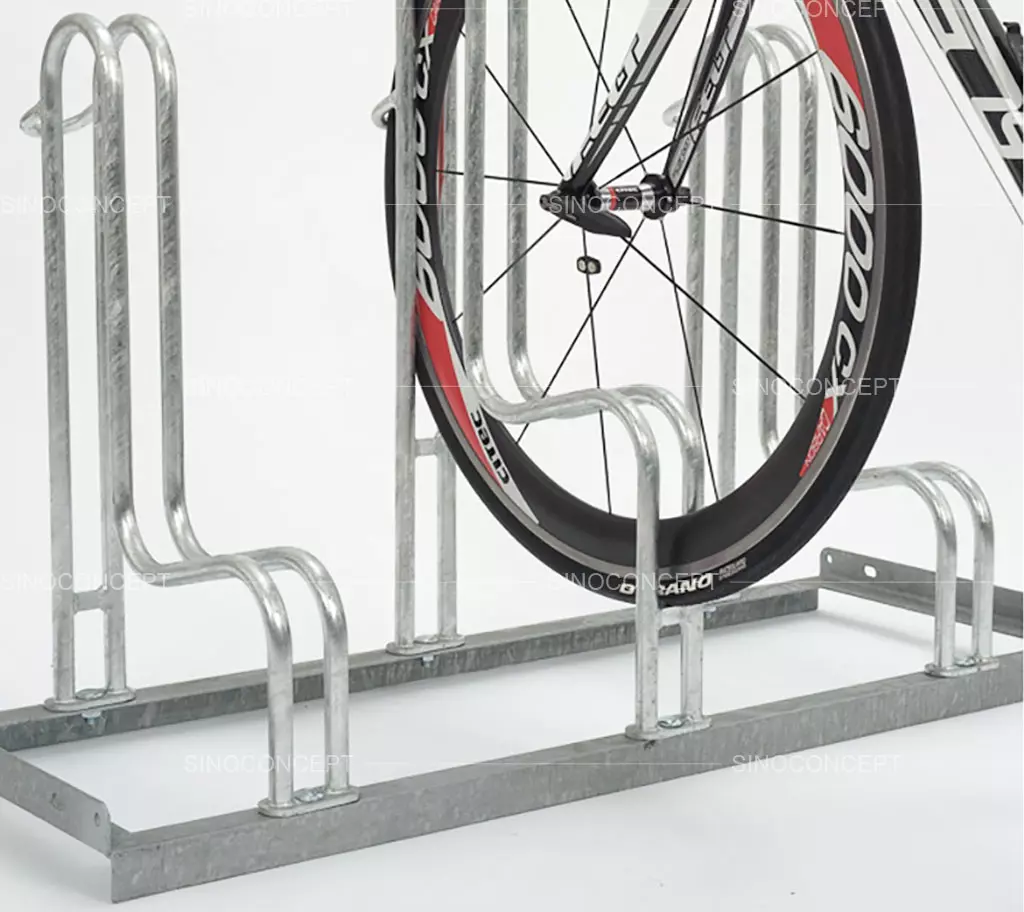 Discover in this article: 6 features that determine cycle parking stand prices!
What are the most popular floor bike racks for sale?
Enlisted below are some famous bike racks used around the world.
BTwin Bike Rack for 2 Bikes: This versatile bike rack can be installed on the floor or wall. It has a zinc coating that prevents corrosion. It has a freestanding assembling and dismantling system.
Sino Concept Lockable Bike Rack: This hot-dip galvanised steel bike rack suits all kinds of bikes. You can get its finish customised according to your needs.
Marshalls Geo Cycle Stand: It is a stainless steel rack with a bead-blasted finish on its lower part. It provides locking positions for all cycle types.
Broxap Sheffield Cycle Stand: This tubular cycle stand comes in variable sizes, finishes, and mounting options.
Mottez floor bicycle rack for eight bikes: It is inspired by Dutch bike rack models. It can be used for eight bikes of varying sizes.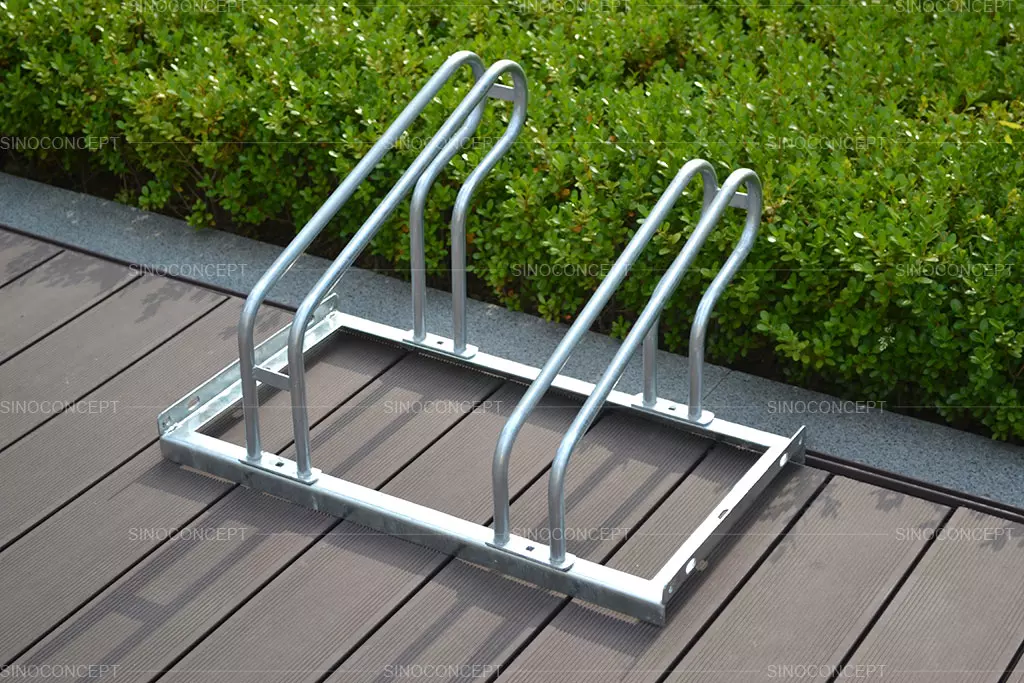 Discover in this article: What are the most popular floor bike racks for sale?
Outdoor metal bike racks all around the world
Most outdoor metal bike racks used worldwide have a corrosion-resistant and scratch-resistant finish. It protects the rack from damaging environmental factors and helps increase its lifespan.
These racks are manufactured in variable sizes and shapes. Some even have aesthetically pleasing shapes, such as the shape of a bicycler riding a bicycle. They serve the same purpose but have a decorative element as well. You can use them in your outdoor parkway for a custom bike, upright bike, mountain bike, etc.
Outdoor metal bike racks are sturdier compared to outdoor plastic racks. Choose them if you want a durable option that can withstand different weather conditions.
Conclusion
Outdoor bike racks are installed in bike parking lots of schools, hospitals, offices, etc., to help bikers, cyclists, and bicyclists park their vehicles securely.
These bike racks are made sturdier compared to indoor bike racks. It is mainly because they get exposed to different environmental conditions while indoor racks stay protected under roofs.
Buying the right bike rack for your parking lot is essential to maximise this tool. Therefore, check the size, finish, installation system, material, and design of the biking rack before you invest in it.
To learn more, we advise you to refer to the following pages: