Top 6 famous outdoor bike racks brands!
Outdoor bike racks or cycle racks have become necessary for secure storage and parking of cycles and bikes in parking spaces worldwide. They provide bicyclists and bikers with an easy way of locking their vehicles upon reaching their destination.
People with varying bike storage needs should know what qualities and characteristics of a bike rack should be checked before purchasing it. If you need a bike rack for your residential building, then bike stands for commercial buildings might not be the right fit for your parking space. To reach for more information, feel free to discover everything you need to know about cycle racks.
Want to select the perfect bike rack for your parking lot? Then this purchasing guide for outdoor bike racks will show you how to do that! Go through this brief intro to popular bike rack brands and read the buying guide to learn which elements to consider before buying a bike rack.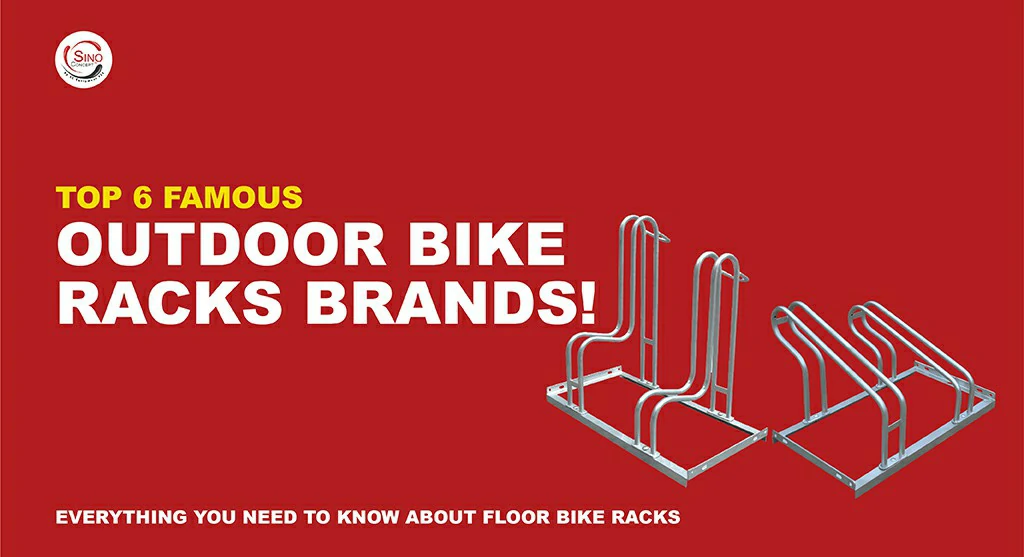 Broxap Sheffield cycle stands
Broxap is a street furniture brand manufacturing and supplying different products for decades. It provides Sheffield bike stands as well as bike racks.
A bike stand or rack size can be customised based on your new bike rack needs. You can even request a different finish and colour for the rack.
The standard Sheffield cycle stand can be root-fixed or base-plated on a hard surface. Its rack can have 3, 4, 5, and 6 stands. You can separate each stand if it gets damaged and you want to replace it. Their standard form is hot-dip galvanised, but you can also request a different finishing option.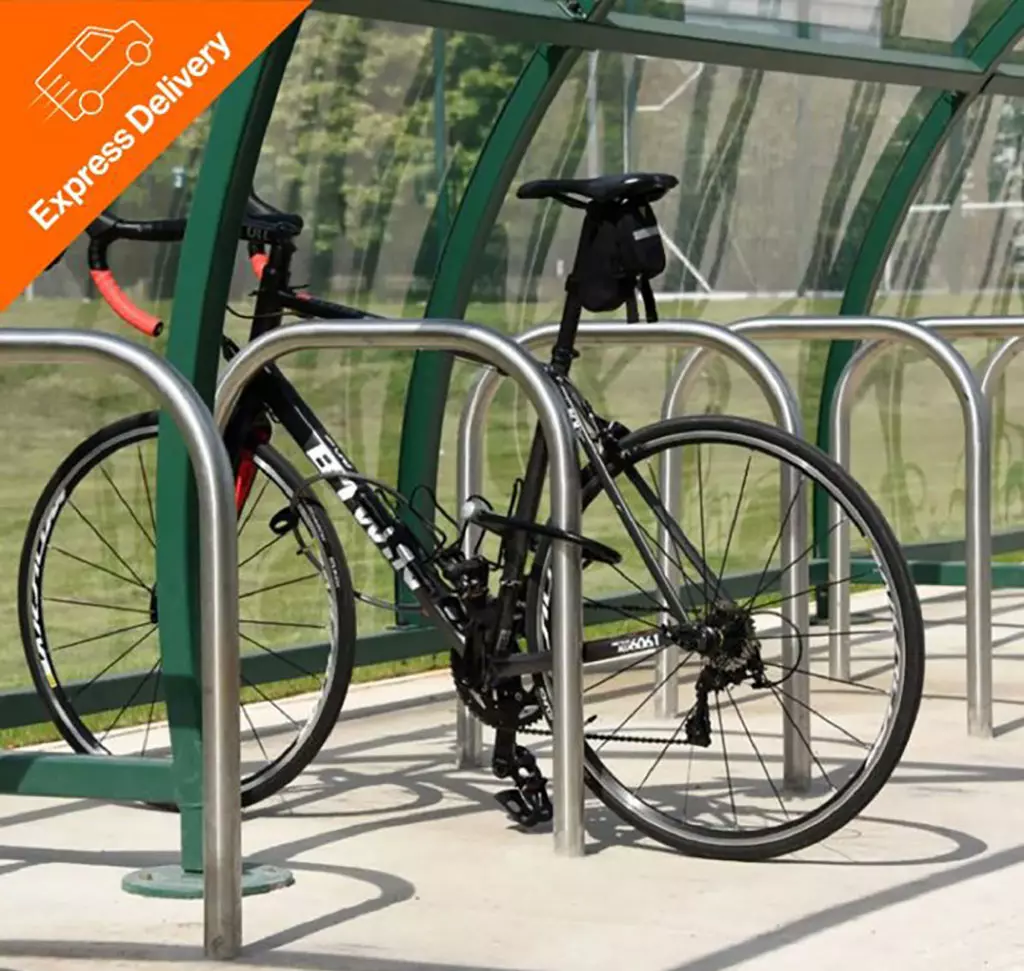 Discover in this article: All that you need to know about Broxap Sheffield cycle stands!
Marshalls Sheffield cycle stands
Marshalls is another street furniture brand that produces quality powder-coated bike racks, bike storage roof racks, road bike parking racks, and custom bike rack systems.
Its Sheffield cycle racks are made up of stainless steel. The lower part of their legs is bead-blasted, making them resistant to scratches and corrosion. They are manufactured in 8 different sizes and structures, so users can select the perfect fit according to their bicycle storage needs.
Loci cycle racks and Natural Elements stands by Marshalls are well-known in the cycling community. They can lock and secure different kinds of bikes, such as foldable bikes, mountain bikes, etc.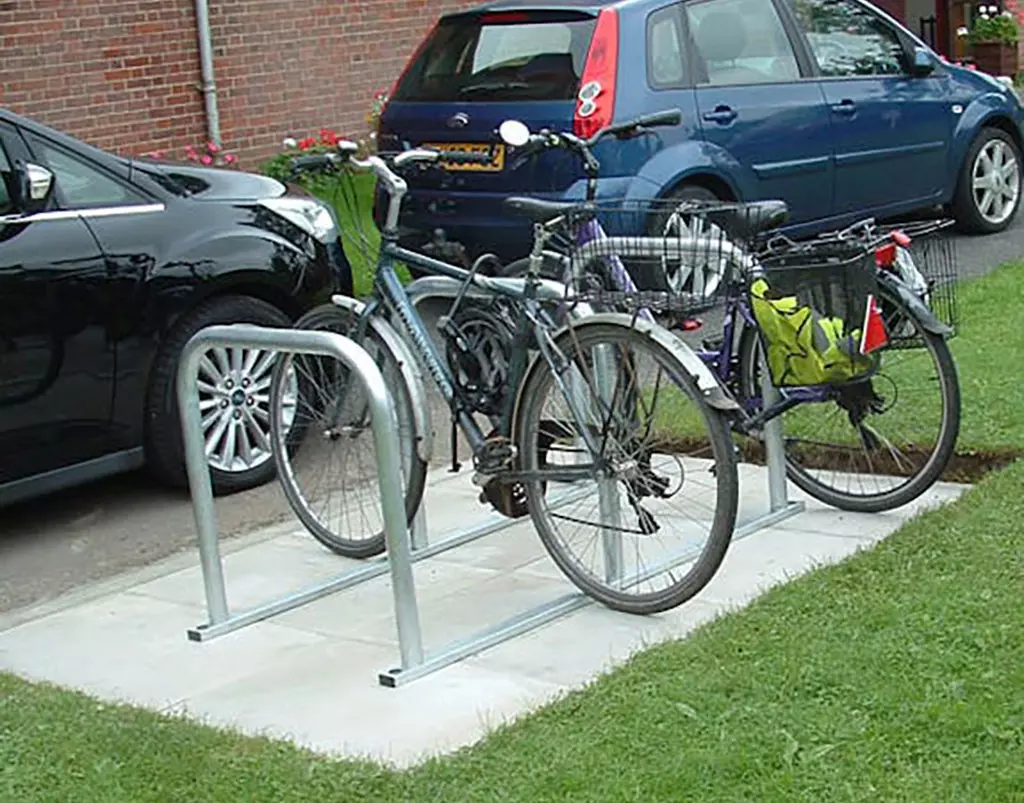 Discover in this article: Everything you should know about Marshalls Sheffield cycle stands!
Sino Concept cycle racks
Sino Concept is a French-owned company that specialises in manufacturing urban street furniture. It supplies 80% of its products to European countries, while 20% are exported to different countries worldwide.
Sino Concept produces heavy-duty floor bike racks, such as lockable bike stands, Sheffield cycle stands, and Harrogate bike storage racks. They can be customised as per your needs. Their racks are manufactured of hot-dip galvanised steel, making them rustproof, sturdy, and lasting.
These racks are famous for their durability, strength, usefulness, and cost-effectiveness. You can install them in our bicycle parking and enjoy their benefits for years.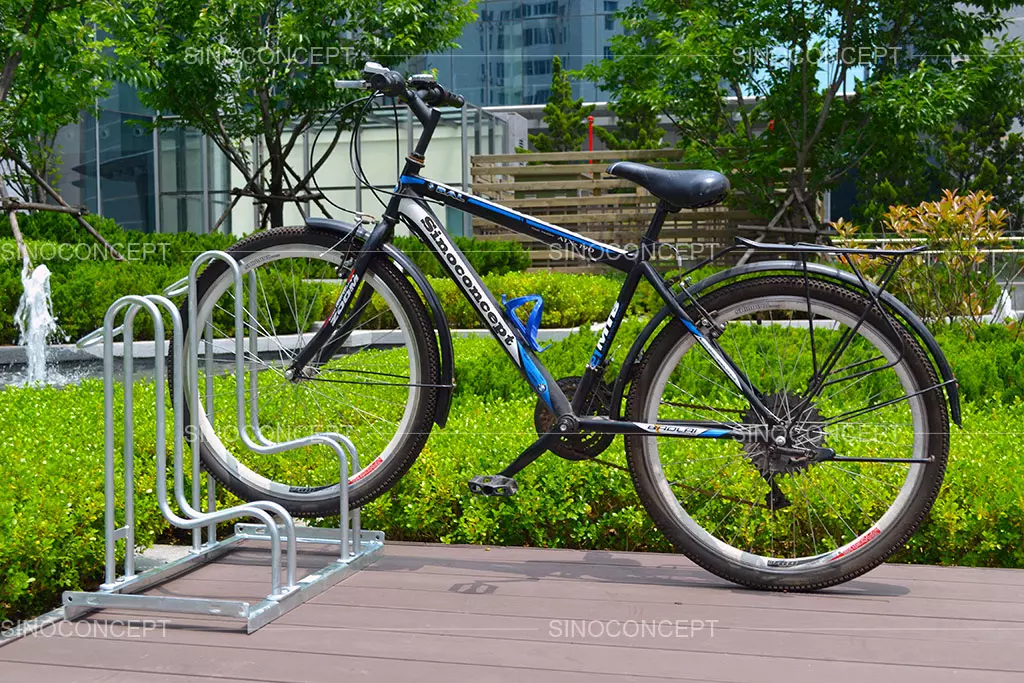 Discover in this article: Get to know Sino Concept cycle racks!
Mottez bicycle racks
Mottez hitch bike racks are found in varying forms that differ from each other based on their shape, structure, material, size, and other features.
Their Dutch hitch bike rack can store four bicycles. It has 2 U-stands as well. You can lock your bike's wheel with a small stand, while the larger stand attached to the rack can lock the bike frame. A rack locking the bike wheel and bike frame is considered very secure.
Its Cartagena galvanised barrier model can be used as a barrier around a parking lot and as a bike parking rack. It has two bollards connected via a curved rod. Each bollard has a loop-like structure used to lock a bicycle or bike.

BTwin bike racks for two bikes
BTwin produces bike racks that can be mounted on the floor and the wall if you don't have enough space. It is zinc-coated, so if you install it in your outdoor parking space, you will not have to worry about corrosion. The zinc layer will keep the rust at bay.
You can easily lock your coated steel, road, or mountain bike. The company produces the same rack for five bikes as well. Its structure, design and everything else is similar to this rack for two bikes. The larger bike stand is recommended for public places, while the smaller one is preferred for residential buildings.
The only problem with the BTwin bicycle rack is that it does not lock bike frames. You can only lock your vehicle's front wheel or back wheel with it.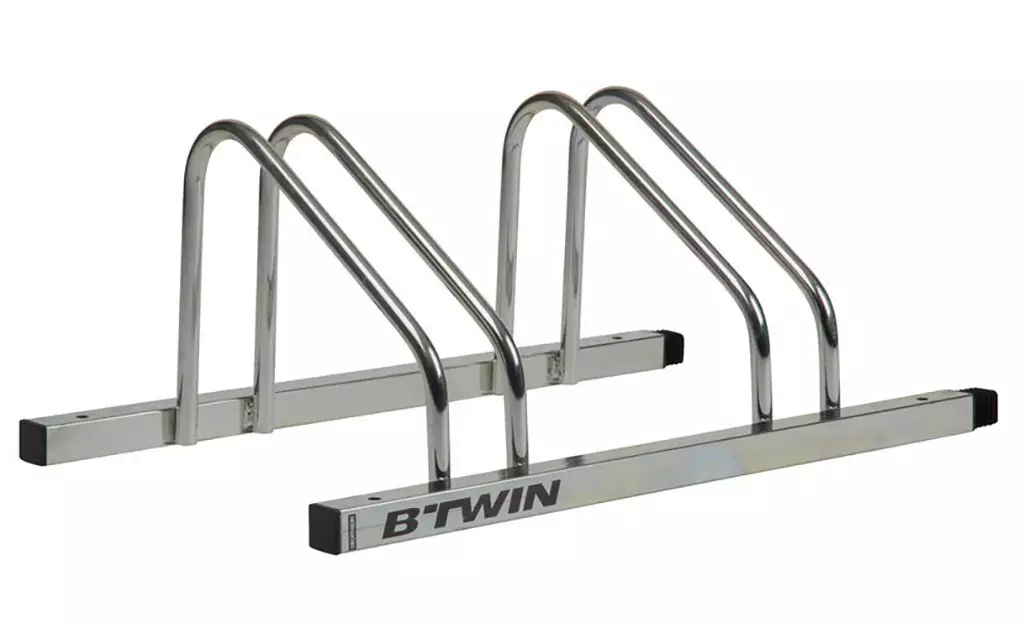 Discover in this article: Get to know BTwin bike racks for 2 bikes
Wiggins cycle racks
Wiggins cycle racks are designed so the user can access them from either side. It does not require installation as it has a freestanding frame. But the manufacturer has still created pre-drilled holes, so you can fix it to the ground for added protection if you want to.
They are made of galvanised steel, which shows their durability. It can lock bike tires ranging from 35mm to 55mm in width.
They are manufactured in 3 designs with the same features but vary in storage capacity. They are designed to store 3, 4, and 5 bikes.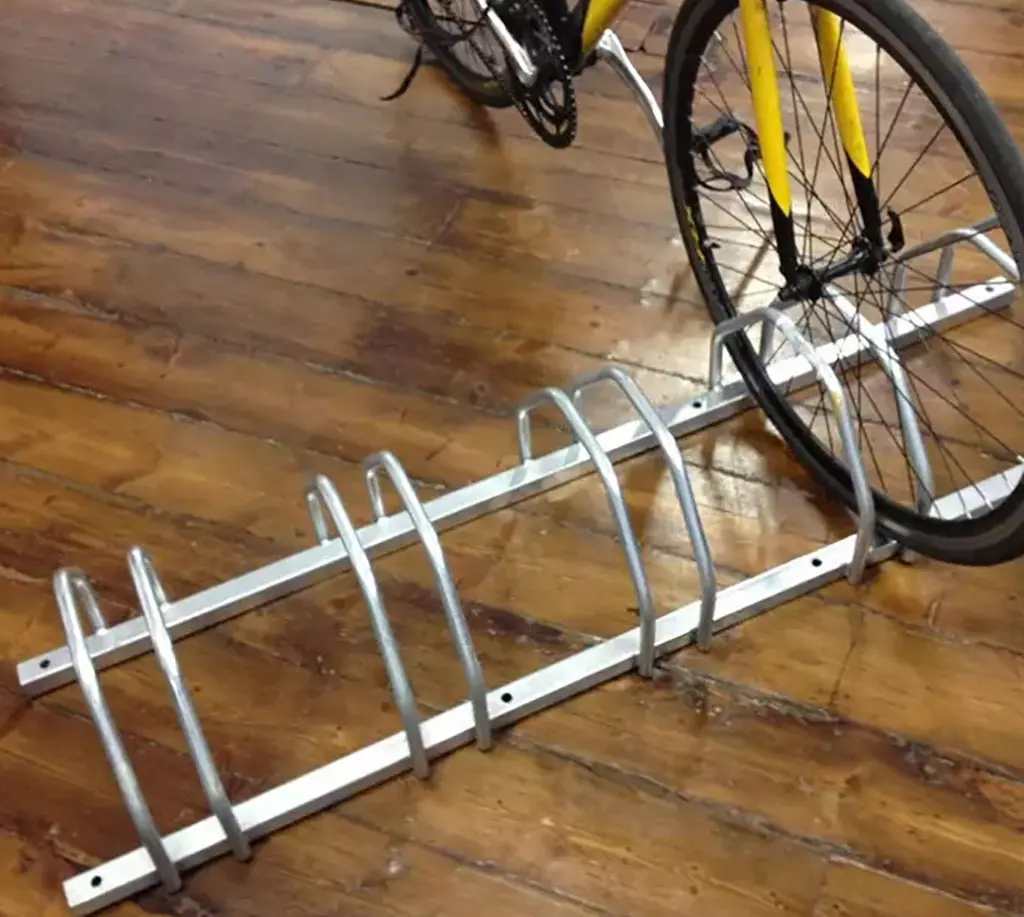 Discover in this article: Facts about Wiggins cycle racks!
Outdoor bike rack buying guide
An outdoor hitch-mounted bike rack, wall rack, trunk bike rack, car bike rack, bike storage rack, roof bike rack, and floor-mounted cycle stand are valuable tools you should install in your parking spaces to provide a secure area for cyclists and bikers to park their vehicles.
If you are confused about selecting a sports bike rack or car rack, this buying guide will show you the right way to choose the perfect piece for your parkway, raceway, sidewalk, or parking site.
Bike racks are manufactured in different sizes. A bicycle rack appropriate for junior cycles may not be a good choice for more extensive processes. Similarly, other bikes have tires of varying diameters. Your bike rack should be able to secure the tire of the bicycle you want to lock.
Storage capacity is another element you must consider before investing in the best bike rack, roof rack, or car bike rack. If you purchase the rack for a residential building, ensure it can lock all the bikes your family members own. Bike racks for public spaces should have a high capacity.
Consider bike stand material as well. Outdoor bike stands should withstand different environmental elements such as heat, rain, and UV rays. Make sure your cycle rack has different layers of protective materials.
Conclusion
Outdoor bike racks are different from indoor ones. They are sturdier, more challenging and more robust. They are coated with protective materials such as zinc and polyurethane. These materials protect the bike rack from corrosion, UV rays, and scratches.
Many brands produce quality outdoor bike stands, and Sino Concept is one of them. Its bike stands are hard-wearing. They look aesthetically pleasing so that you can install them in any outdoor space. Despite all these beneficial features, they are available at a very reasonable cost.
Their manufacturer also produces customised products so people with unique needs can get bike rack that perfectly matches their requirements. Invest in Sino Concept racks today to create a durable, secure bike parking site.
To learn more, we advise you to refer to the following pages: