What are outdoor bike stands made of?
Cycling is the key to a healthy lifestyle. And what's the good news? More and more people all over the world are transitioning to cycling. This insane outburst in cycling has increased the need for an outdoor cycle parking space.
Fortunately, there's something in store to solve this problem… and it's none other than cycling racks. However, there are different floor bike racks made of various materials. We have you covered if you're worried about choosing a suitable bike stand. For more information, we advise you to check everything you need to know about cycle racks.
In this blog, you'll learn about outdoor bike stands and the materials used to make them. Without any further ado, let's start.
What Are Outdoor Bike Stands Made Of?
Outdoor bike racks are constructed with a variety of different materials. Essential factors to consider while selecting a finishing material include the weather conditions it will be exposed to, the overall design and appearance of the atmosphere, the number of bicycles it will hold, and environmental concerns.
Galvanized
Galvanized bike racks are the most cost-effective option. They're price-competitive and include a thin film of zinc for corrosion prevention. It's a drab grey colour with little shine.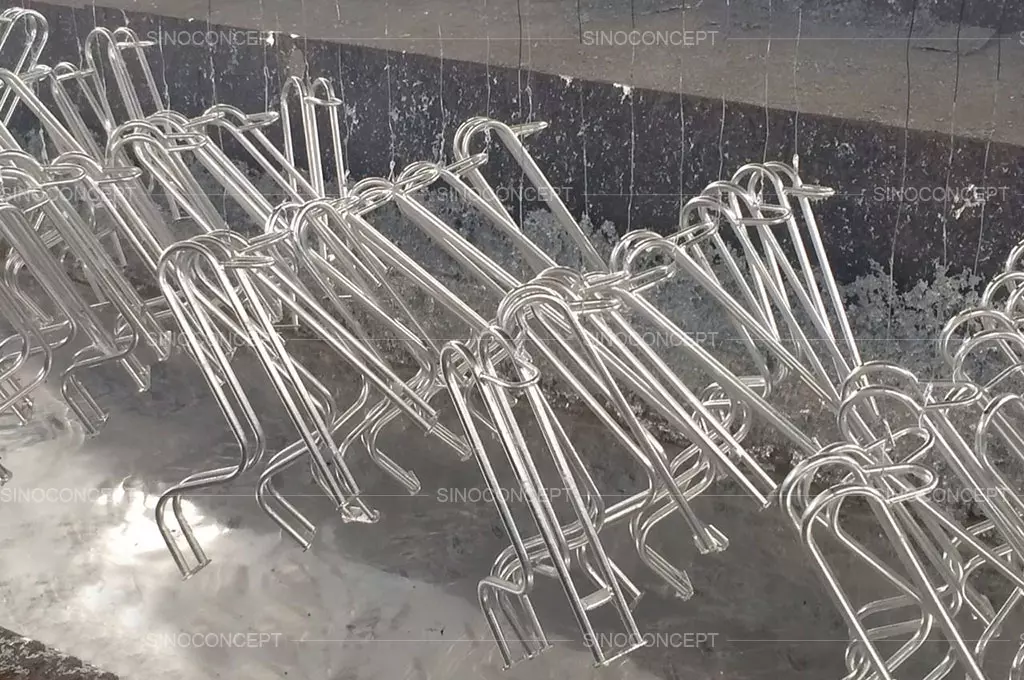 Powder-coated
There are a variety of colour options for this type. A dry-powder coat gives a durable, high-gloss outer layer with excellent weather resistance.
Thermoplastic-coated
The polyethene matte finish is often available in a variety of colours. The powder coating for corrosion resistance can match the current decor and provide a smooth finish without runs or drips.
Discover in this article: 3 finishing options for steel bike parking racks!
Recycled plastic
Recycled plastic bike racks are built with recycled material, ranging from 35% to 96%. It does not splinter or crack and is more fire-safe than wood. It also emits no hazardous pollutants into the environment.
Stainless steel

The highly durable material for a bike rack is stainless steel construction. It has the highest level of corrosion resistance, is antimicrobial, and has a glossy look that is simple to clean and maintain.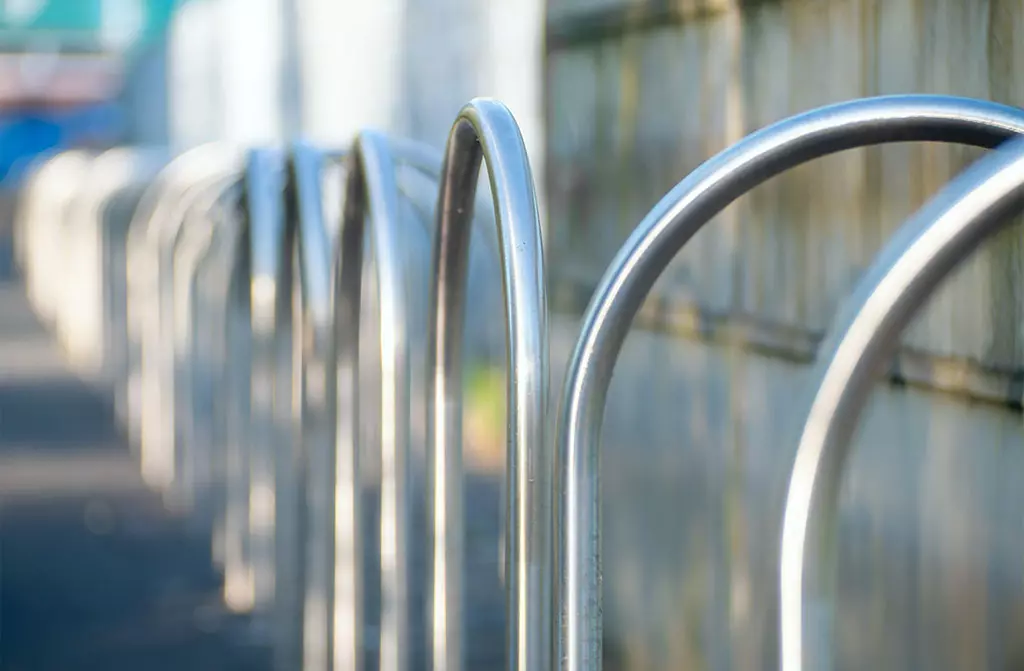 Discover in this article: Benefits Of Stainless-Steel Bike Racks
eSteel

The eSteel procedure gives a long-lasting and consistent finish. The method is environmentally safe and follows US OSHA and EPA rules.
Metal

Metal is also used to create outdoor bike racks. Aluminium or steel are the most common materials for bike racks. They resist the elements and weathering but can rust if not properly treated or coated.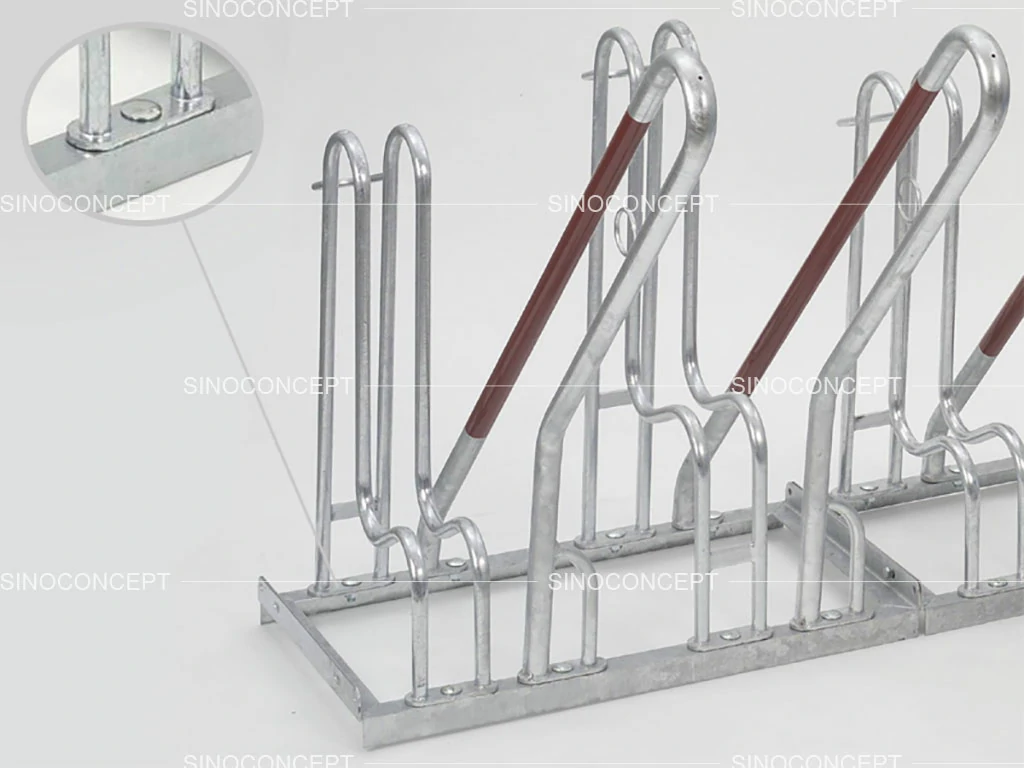 Discover in this article: Advantages And Disadvantages of Steel Bike Racks
Styles Of Bike Parking Racks
There are many different types of outdoor bike racks on the market, with various capabilities. Your demands and preferences will determine the style you pick. Some of the most popular types are as follows:
Spiral

A spiral bike rack is made up of a spiral-shaped rack. Although it looks nice, it has practical drawbacks regarding accessibility: the bike must be parked using a lifting method.
U-Rack

The Common bike rack is a small, basic bike rack that may be placed along sidewalks without taking up too much room from pedestrians.
Wave

The wave is a continuation of the U-Rack. Waves can accommodate more bicycles than a single U-rack; however, they support a bike frame at one position (as opposed to two points with a U-rack), raising the danger of the bicycle falling over when parked in the rack.
Double Deck

Two-tier bike racks allow you to increase bicycle storage capacity in a small area. Some double-deck bike racks include hydraulic pistons to lift the bicycle into the rack after it has been locked to make moving a bike onto the top tier easier.
Bollard Style

Bollards are short vertical posts often used as traffic or parking barriers. Bollard-style bike racks provide for the attachment of one or two arms to which bicycles may be fastened. The post-and-ring style is a variant of the bollard type popular in North America.
Grid Style

The rack frame comprises vertical bars connecting the oversized top and lower metal tubes that accommodate bikes on either side of the rack.
The bicycle may be locked to a standard or freestanding rack, like a grid-style rack. Permanent or temporary anchors are required for stationary or freestanding racks.
Cycle Racks Used in Different Locations

The location determines the type of cycle stand rack appropriate for the required destination. Many kinds of cycle racks are used at different places, as described.
There are cycle racks on every block in a residential building, just as parking lots for buses and automobiles. There is no one-stop shop for bicycle racks. Bicycle parking racks are everywhere, from residential streets to university campuses.
People travel around the United Kingdom's major cities using metros and trains. As a result, cycle parking is available at public transportation stations, where riders lock their bikes and board trains to reach their destinations.
Not only this, but you may find cycle racks in significant supermarkets and busy commercial areas. Thousands of people constantly throng these areas, and cycle racks are essential for orderly parking.
There are public garages where bicycles can be parked; many even have separate parking racks for cycles. Cycle racks are often placed on pedestrians' sidewalks and parks, where cyclists may lock and secure their bikes and explore places.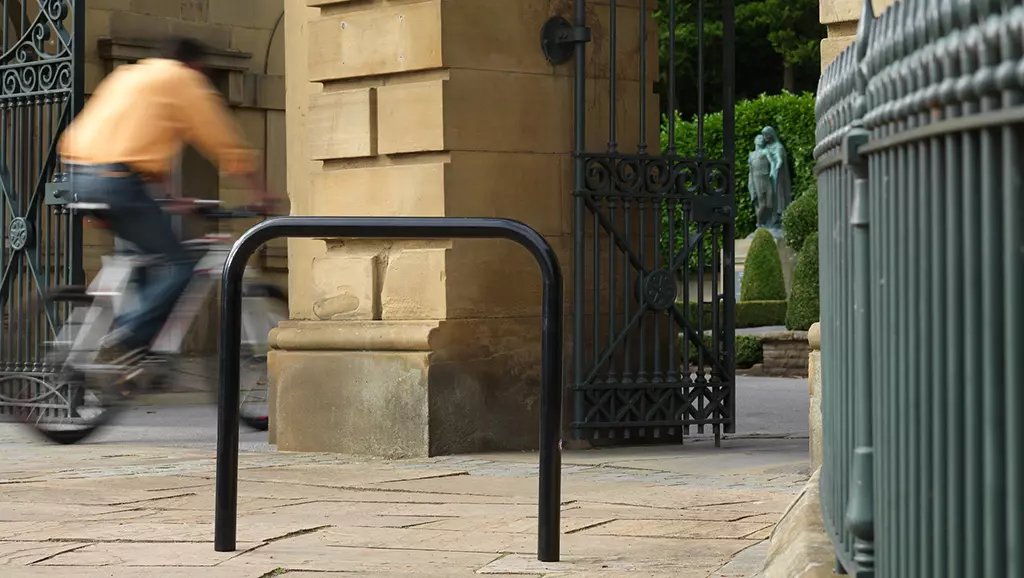 Bicycle Parking Racks with Different Mounting Types?
There are different types of mounting systems for bicycle racks. The most common are:
In-ground Mount

The bike rack base is planted into the ground and secured with a perpendicular anchor pin for stability. These solid metal mounts are best protected from theft or vandalism.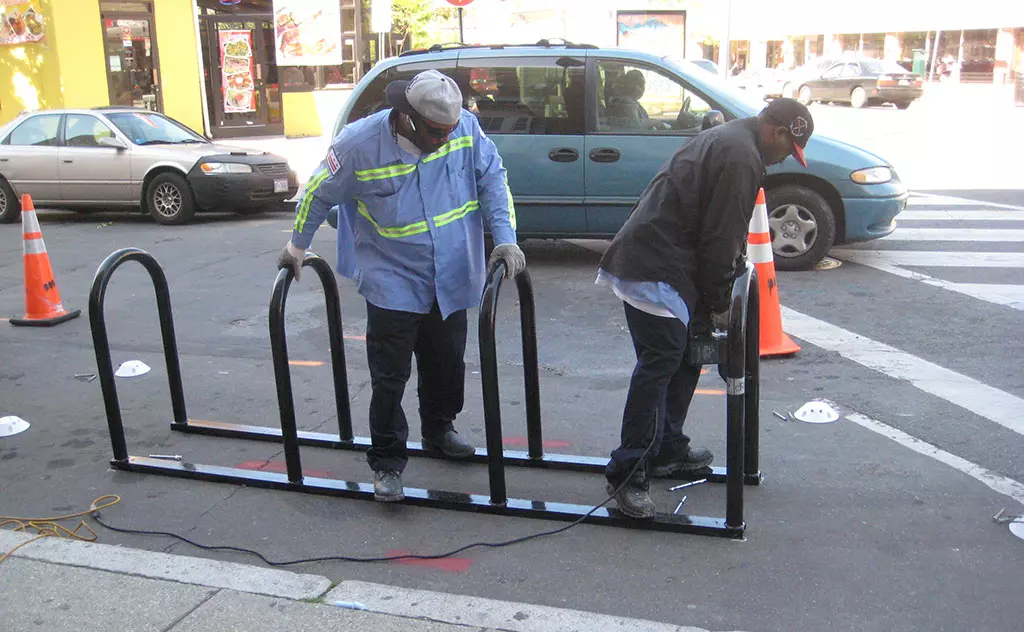 Surface Mount

The base of this rack is set into concrete with lag bolts, and flanges that extend outwards from the rack's bottom are bolted into place. Triangular brackets, also known as gusset plates, can strengthen the connection between the flange and tube for enhanced support on this floor stand.
Rail mounts

Some bike rack components may be linked to rails. This style enables single bicycle racks but restricts the number of mounting locations available. Connecting multiple 'U' Racks using rail mounts eliminates the need for each rack to be mounted, saving labour expenses and limiting the number of holes in the surface.
Wall Mounts

Bike racks are often secured to the wall using bolts to connect the rack flanges to preexisting walls. These save floor space and are particularly useful for long-term storage.
Cycle Parking Racks Used for Different Bikes
Here are the suitable bike racks for different bicycles:
These reverse U-shape designs can help you park any bike, whether you have a large commuting cycle or a sports bike.
A lockable bike design is made to keep your bike safe and secure. Fortunately, these designs can accommodate any bicycle.
Wall-mounted racks are usually appropriate if you have a folding bike since the bicycle frame and tires may be easily locked.
The Sheffield and Harrotage patterns of the stand feature reverse U shapes, which are great for any bike.
You may park several bicycles in the same area because of the serpentine design of the stand. Steel rods are also great for securing bikes with locks.
Double-decker bike racks are becoming more popular recently. They are space-saving and easy to use.
Conclusion
Outdoor bike stands are made of various materials, but all have the same purpose – to provide a stable and safe place for your bike on the rack. Whether you're looking for a metal stand or one made of steel or plastic, there's sure to be an option that meets your requirements and budget.
So, what are you waiting for? If you're wondering where to find high-quality bike racks, look no further than Sino Concept – masters in developing traffic control devices. We have various bike stand options for you to choose from.
Reach out today! 
To learn more, we advise you to refer to the following pages: