Bicycle parking racks with different mounting types
As automotive commuting is gaining ground, our society is swinging towards civilization and sustainable living. On many levels, cycling outperforms driving because it has dual benefits: it is environmentally friendly and cost-effective and provides a mode of exercising and fitness.
While cycling has many benefits, one thing constantly questions the rider: Where can a bicycle be securely parked once it reaches the desired destination?
Of course, cycle racks are great tools for offering ample bicycle parking space. But the main concern is whether a bicycle stand is even safe. For further information, feel free to check everything you need to know about cycle racks.
Fortunately, it all depends upon the mounting of the cycle rack. However, there are different floor bike racks, each of which might have a different mounting style.
In this blog, you'll learn about the following main mounting types:
Floor-mounted cycle rack
Wall-mounted cycle rack
In-ground Mounted floor stand
Rail-mounted bicycle rack
Let's get started.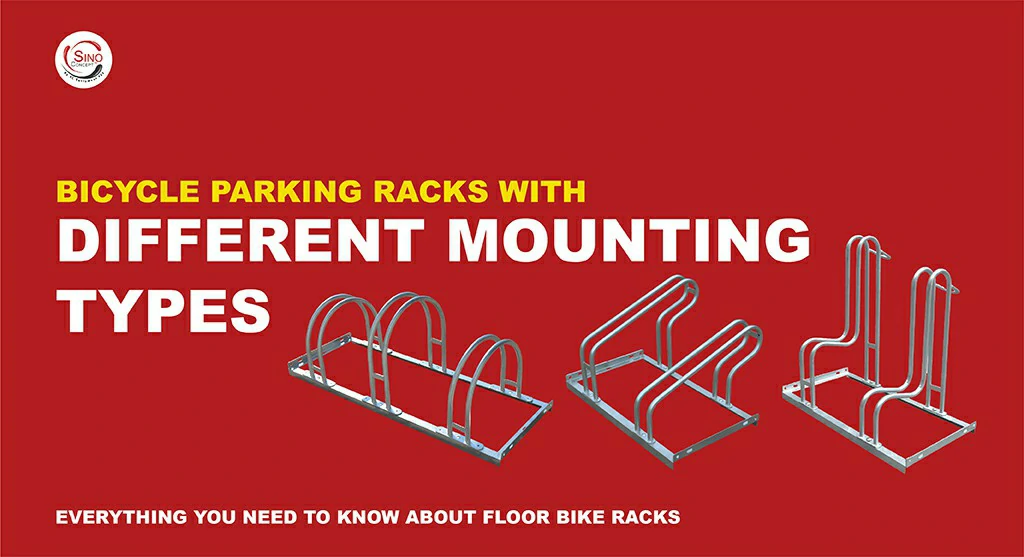 Facts to know about floor-mounted cycle racks
The floor-mounted cycle racks are the most straightforward way to install your bicycles, where the rear wheel is stabilized by the gutter, which allows the bike to be locked firmly into position.
The floor-mounted cycle racks are a secure way of parking your bicycle. The floor stand is fastened against the surface with different bolts used to secure the hooks of the cycle rack and is extended from the base to the concrete floor.
Some of the best places to find a floor-mounted bike rack are hallways, garages, back gardens, sheds, or even on a sidewalk. Some cycle racks you can floor mount include toast racks, flat tops, adjustable bike racks, etc.
All these racks undergo steel construction and have a hot-dip powder-coated galvanized finish. Plus, the powder-coated paint can last for up to twenty years.
Each floor-mounted inverted bike rack can secure your bike frame and bike wheels. You only need a heavy-duty bike locker to fasten your cycle on the stand.
Since the floor mounts are easily approachable, bicycle riders find them more convenient than other mounts. There's no need to lift your bicycles or bend between levels to park them.
However, one of the disadvantages of a floor-mounted bike rack is that it requires a lot of space and might not be the most space-efficient choice indoors.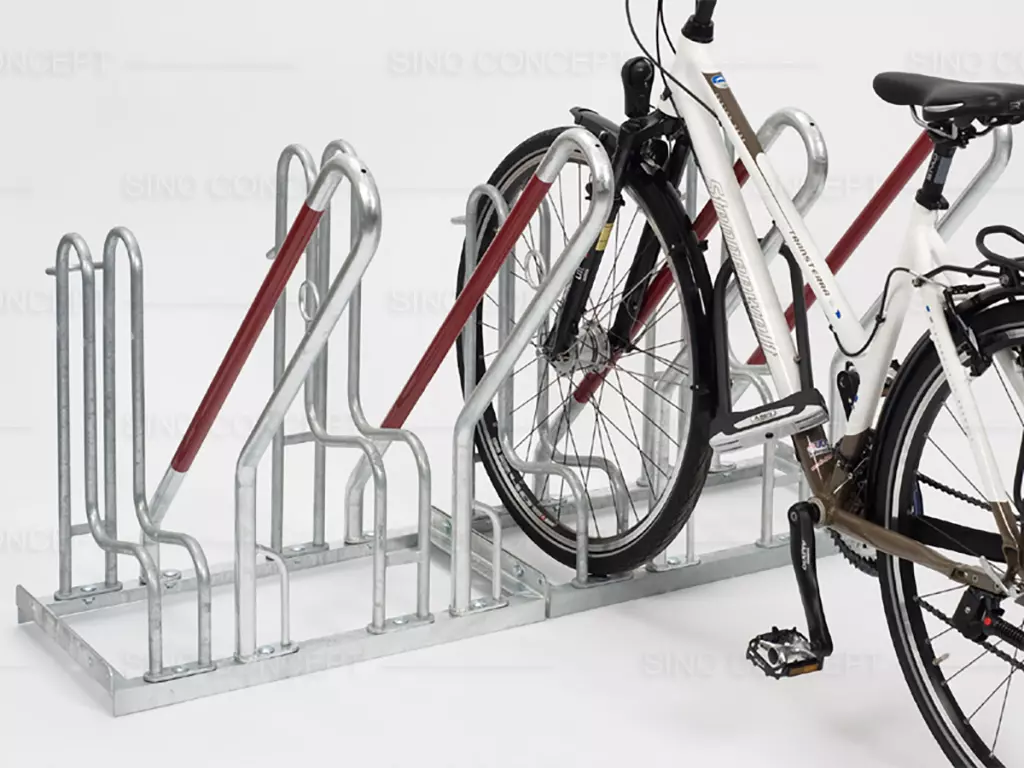 Benefits of wall-mounted cycle racks
A wall rack involves mounting a cycle track on the walls. Although it's not very different from the other types of racks, the difference is only in the mounting. Rather than fixing them on the floor, you can fixate the cycle rack on the wall.
It would help if you had several bolts and flanges to hold the rack against the firm wall; you get an instruction manual to install the rack easily.
Pros
One of the plus points of a wall-mount cycle rack is that such racks take up significantly less space. They don't need to create a separate parking space for cycles on the floor. One can install wall mounts anywhere, from garages and parking lots to storefronts and commercial buildings.
It's off the floor, and there's no need to worry about space. The chances of overheating are meagre because these racks are mounted over the wall.
Moreover, now you don't need to disrupt other cycles and manoeuvre to take out your bike, as a wall rack can only accommodate a max of one cycle.
Cons
Although it's space-efficient, it can even harm your bike by bending your bike wheel. And why is that? Your standard bicycle would be loosely fixed on the wall rack unless you have a folding bike.
Furthermore, you can only lock it from bike frames since reaching the wheels is impossible.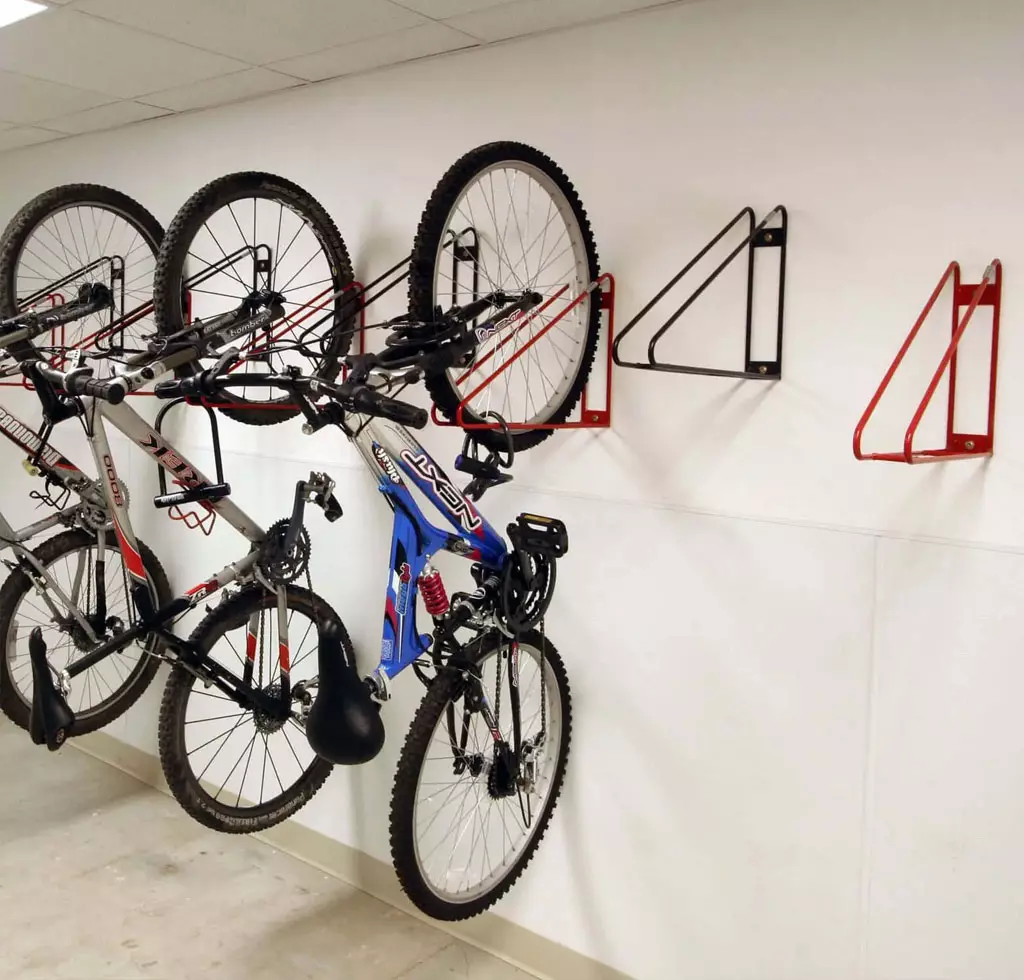 Types of in-ground mounted bike racks
In-ground mounted bike racks are embedded and attached by an anchor pin. These are the firmest and most sturdy cycle racks compared to all other racks because they're below the ground.
The base is fixed under the ground, and cremation over the surface improves the position, making the surface extra hard and permanent. This kind of mount leaves no theft risk because the bike racks are impossible to move. Be it a city bike, mountain bike, road bike, or indoor bike, you can use a bike lock to secure them from the bicycle frame or the bike tire.
A levelled area is required to place this cycle rack. However, if the floor is moist, the rack can dismount and make the cycles fall over, causing damage. In-ground mounts are rarely preferred on such moist surfaces since the wind and softness of the ground can detach the cycle rack.
Pros
Strong and sturdy base
More relaxed and low overheating of racks due to underground mounting.
Cons:
Bad weather conditions can affect the base and harm your bicycle.
The rack might be detached from the concrete pavers after some time due to the impact of external forces, wind vibrations, and other factors.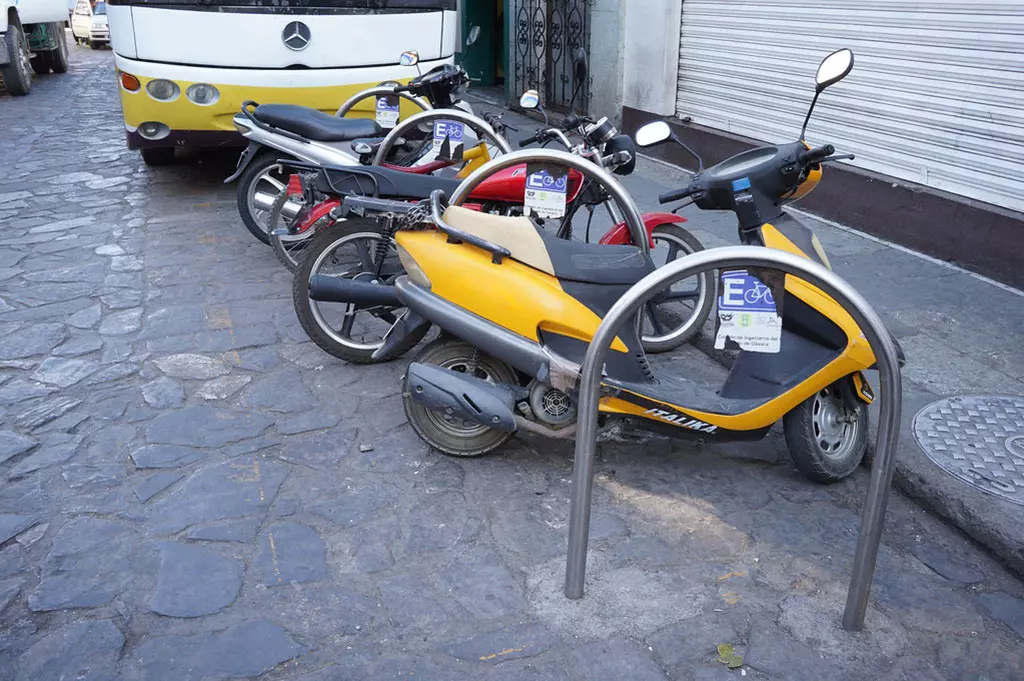 What is a rail-mounted bike rack?
A rail mount bike rack is a multi-bike parking unit that is easily portable. The rail mounts connect different U racks to the rails to make up extra space for bike parking instead of individually installing them. The U racks are bolted onto the rail with bolts and flanges.
The best thing about a rail mount is that it can accommodate several U racks and create parking space for multiple cycles.
Pros
Effective use of space and resources
Saves installation costs associated with in-ground mount
Two different kinds of mounts can be put together, resulting in less space and more bicycle parking
Cons:
However, the rack exists as a freestanding stand, meaning it can be stolen since it's not fixed to the ground.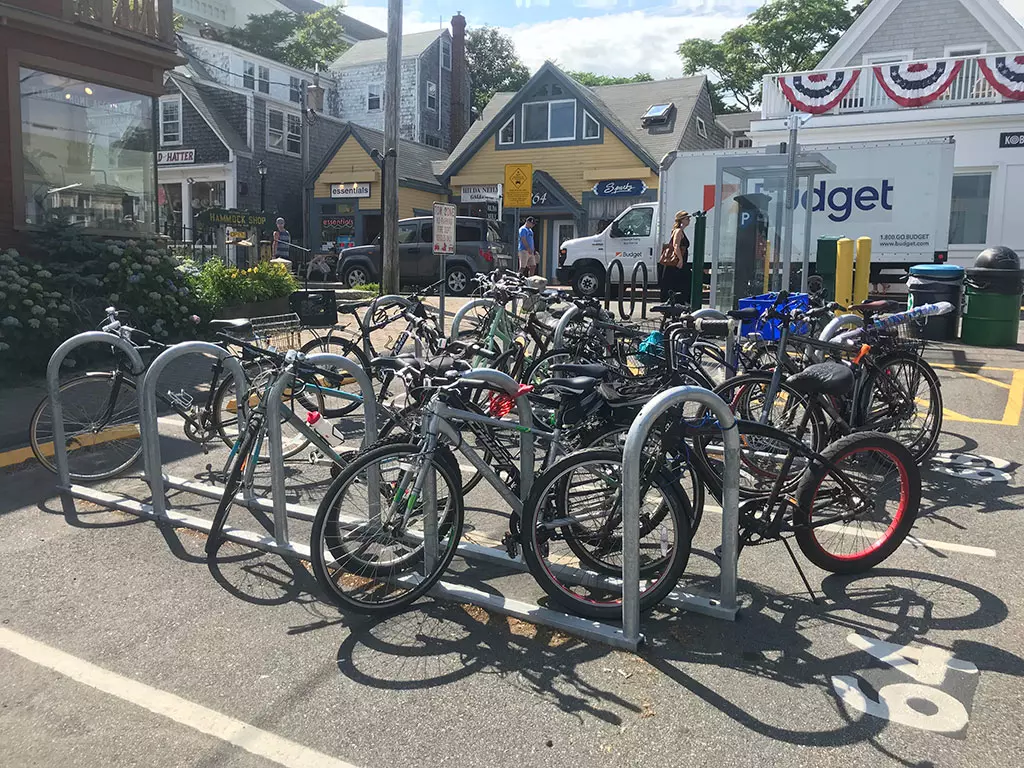 Pros and Cons of mounted cycle racks
Undoubtedly, mounted racks stay in place and ensure maximum bicycle safety. Here are some of their perks and drawbacks.
Pros
Easy to fit and remove, especially the wall hanger racks
It is incredibly sturdy and safe, as you can lock the bicycle to the bicycle racks from the rear wheel.
The installation is not too difficult. You can even install a bike stand and save on installation costs.
Cons
Sometimes, extra heavy or a custom bike can damage the racks
Sometimes, a bike storage rack is difficult to mount, especially if you are looking for in-ground cemented mounts.
Installing high wall-mounted racks can be challenging if your garage has a low ceiling.
General requirements for bike rack installation
When installing a bike rack, you should check the local law and ensure you install the tool according to these rules. Regardless of the law, here are the basic instructions for fixing a bike stand in a bike room.
A hitch rack, space-saver wall rack, bollard rack, folding bike rack, or roof rack should be securely installed in a suitable place so a cyclist or bicyclist can lock his vehicle without worry.
Bike stands should not be installed where pedestrians, buses, and similar vehicles pass.
Choose a rack installation location that is easy to access for all the city bike riders.
The number of bike racks in a bike storage solution and the parking area of a bicycle repair or bike maintenance shop should be sufficient. It should be according to the available space and the number of bicycles, mountain bikes, and city cycles regularly visiting that area.

Discover in this article: An essential guide to commercial bike rack installation!
Conclusion
Until now, you should clearly understand various mounting types that can secure your cycles and prevent them from vandalism and theft. Usually, the mounting depends on the type of rack you're getting.
If you're eager to purchase a wall rack, a wall mount would be your No#1 choice. On the other hand, if you're getting the traditional spiral, Sheffield, Harrogate, and wave design, an in-ground mount will be necessary.
What's more?
In some cases, you wouldn't need to mount. Consider double-decker, rail, and grid-style racks. All these racks exist in a freestanding position, and you don't need to mount them on a wall or a surface.
Hence, it all depends upon your preference. But one of the significant concerns arises here: "Where do you first find high-quality cycle racks?"
Your problem is solved with Sino Concept – a company manufacturing multiple cycle racks and other traffic-calming solutions.
Get in touch with us today! 
To learn more, we advise you to refer to the following pages: