Top 5 styles of floor bike racks
Bicycle theft is always a nightmare for an enthusiastic cyclist. However, there must be something to stop these theft issues. After all, dedicated cyclists consider their mountain bikes a prized possession. Fortunately, there's something to overcome this theft issue.
And it's none other than bike parking racks.
Bike racks are vital in providing cyclists parking space for their road and mountain bikes. Hence, these bicycle racks are essential to bike infrastructure in residential areas, public spots, and workplaces.
However, there can be several different designs of cycle racks. If you're eager to learn about them, you're at the right place. Without any further ado, let's get started.
If you'd like to learn more about cycle racks, feel free to check here: Everything you need to know about cycle racks!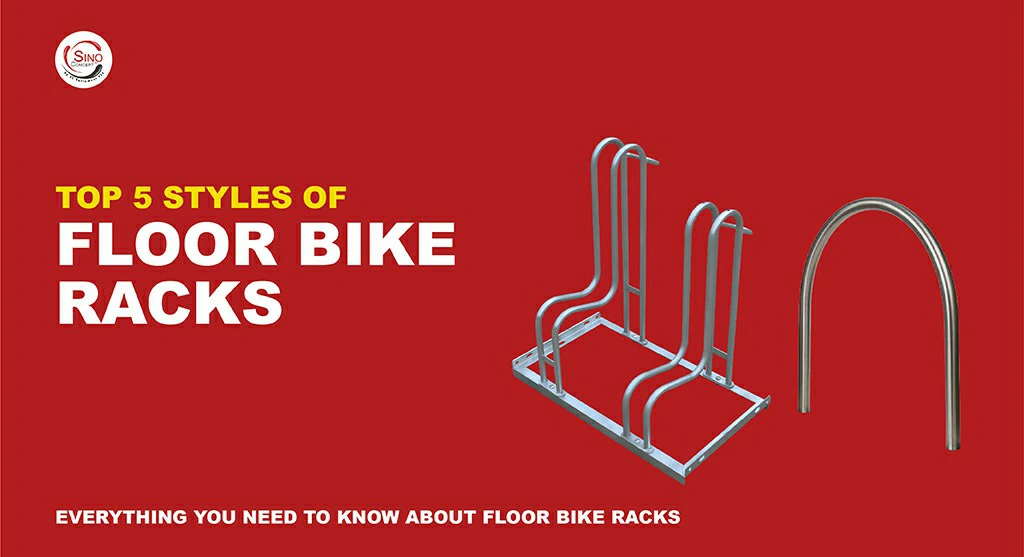 What is a Sheffield Cycle Stand?
First, look over one of the most prominent bicycle rack designs, i.e., the Sheffield stand. These inverted rectangle-shaped stands provide an extra protection layer for your indoor cycle.
In addition to being endorsed by national cycling organisations, the Sheffield cycle Stand is the best-selling tubular cycle stand.
Fortunately, the Sheffield bicycle stand comes in many options, which vary in sizes, fixings, and finishes – in simple terms, you have a lot to discover.
What's more? You can install this best-selling bike stand anywhere from storefronts, parking lots, garages, and schools.
Moreover, the functionality is also easy. Such stands allow the rider to fasten bike wheels or bike frames using a cable lock to the cycle stand.
Additionally, Sheffield stands are steel constructed and power-coated through galvanisation. As a result, these cycle racks are protected from rust or other weather elements.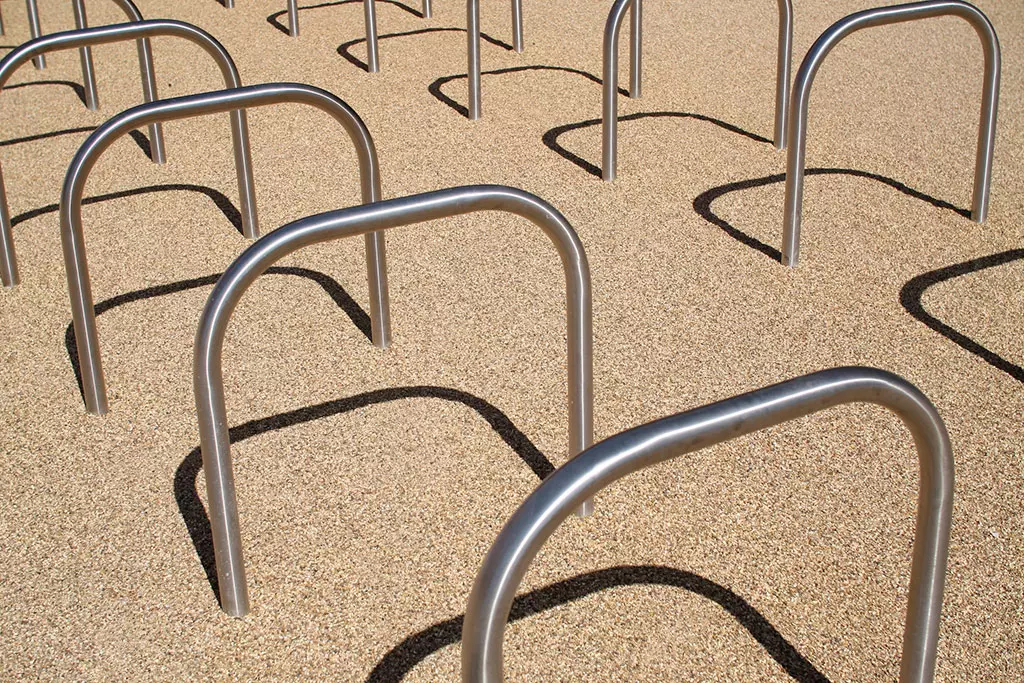 Discover in this article: What is a Sheffield cycle stand?
Benefits of Sheffield toast rack cycle stands
The Sheffield toast rack cycle stand is very sturdy. Each rack is solidly fixed to the pavement; bikes are locked via their frames, which ensures secure parking.
Furthermore, to ensure your cycle's security, you can add a horizontal security bar that provides extra locking points to keep your bicycle sturdy and fixed. The bar is made to lock the bicycle's front wheel and the bike frame to the rack.
The additional locking option gives this toast rack cycle stand a comparative edge, making bicycle parking convenient for children's cycles and mountain bikes.
The toast rack cycle stand provides bike storage for many cycles with a convenient and secure facility for final users at universities, colleges, schools, workplaces, and offices.
Convenient bicycle parking encourages people to promote cycling as a healthy lifestyle vision return reduces unnecessary traffic.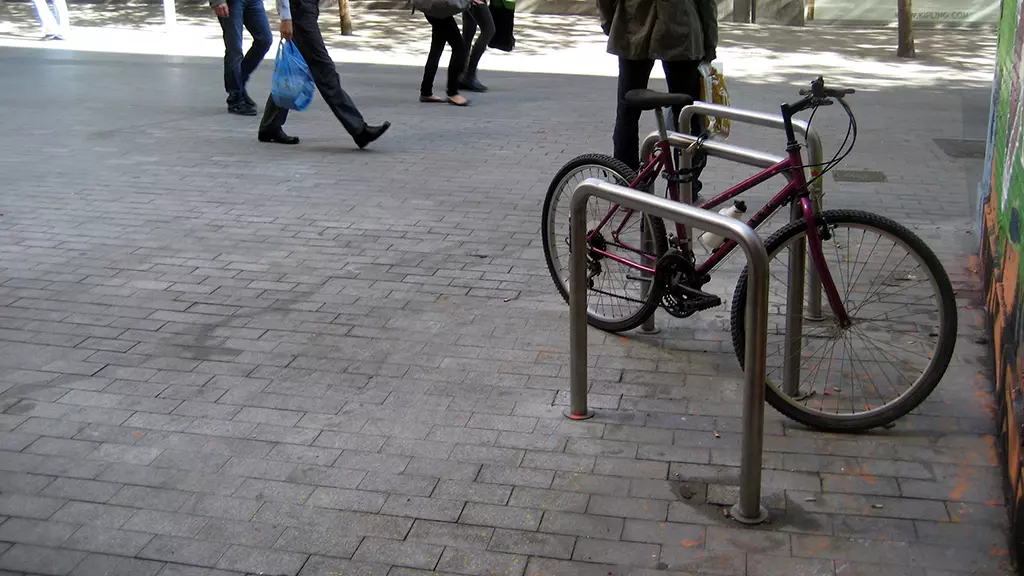 Discover in this article: Benefits of Sheffield Toast Rack Cycle Stands.
What is a Harrogate Cycle Stand?
Harrogate bike stands are cost-effective cycle stands, perfect for solving bicycle parking issues. These Harrogate cycle stands are also hot-dipped galvanised, preventing them from rusting over time. As a result, these stands are durable and built to last for a long time.
This inverted U-shape design is popular since it lets you secure your bike wheel and frame using a bike lock. Moreover, installing a Harrogate stand is easy; you can fix them on concrete or bolt them directly on the surface.
Furthermore, some companies, for instance, Sino Concept, even allow you to customise the Harrogate cycle stand in terms of sizes and dimensions.
So, if you're looking for a cycle stand for your garage, you can choose a Harrogate stand and adjust its dimensions according to your bike's height.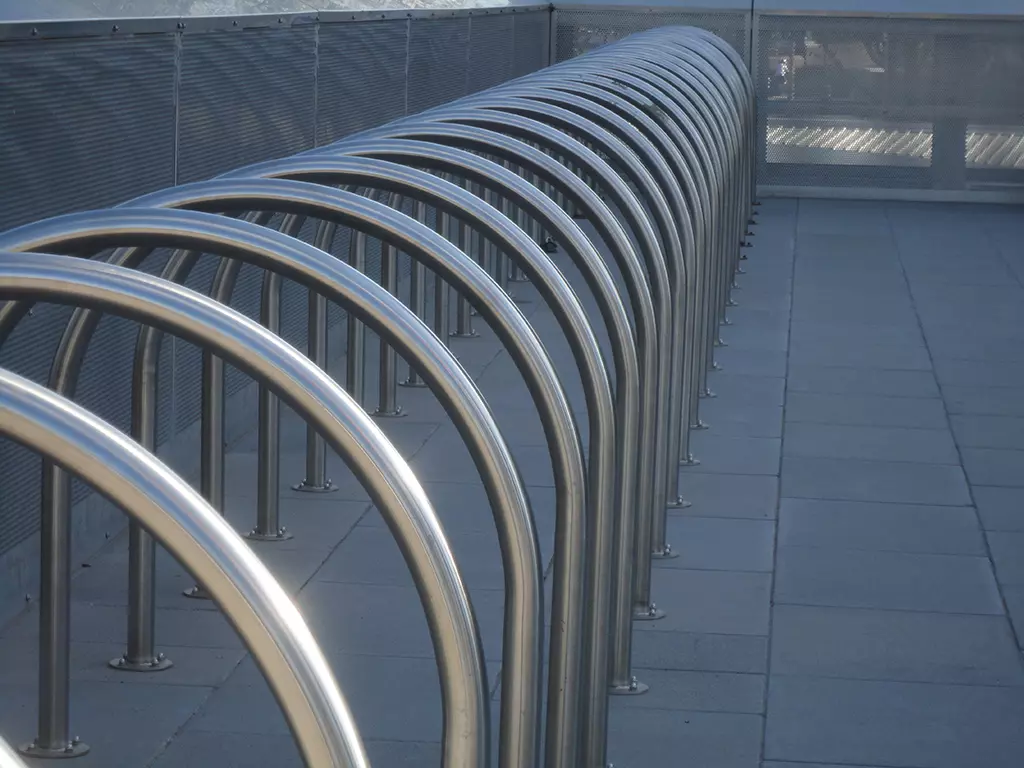 Discover in this article: What is a Harrogate cycle stand?
Facts You Need to Know About Bollard Style Bike Racks
Let's talk about a calming traffic measure which is also getting popular as a bicycle rack. If you're unaware, bollards are deflection systems that aim to reduce motorists' speed and increase pedestrian safety.
Now, these modern bollards are even commonly used as bicycle stands. And guess what? They have an up-to-date design and will look good wherever you install them. The superior powder-coat steel tubes and the beautiful finishes make the bollard a great addition to any sidewalk.
Most bollard-style cycle racks have a post-and-ring style, predominant in North America. Usually, you can park two bikes with a bollard-style rack, and in most cases, you can only lock the bicycle frame using bike lockers.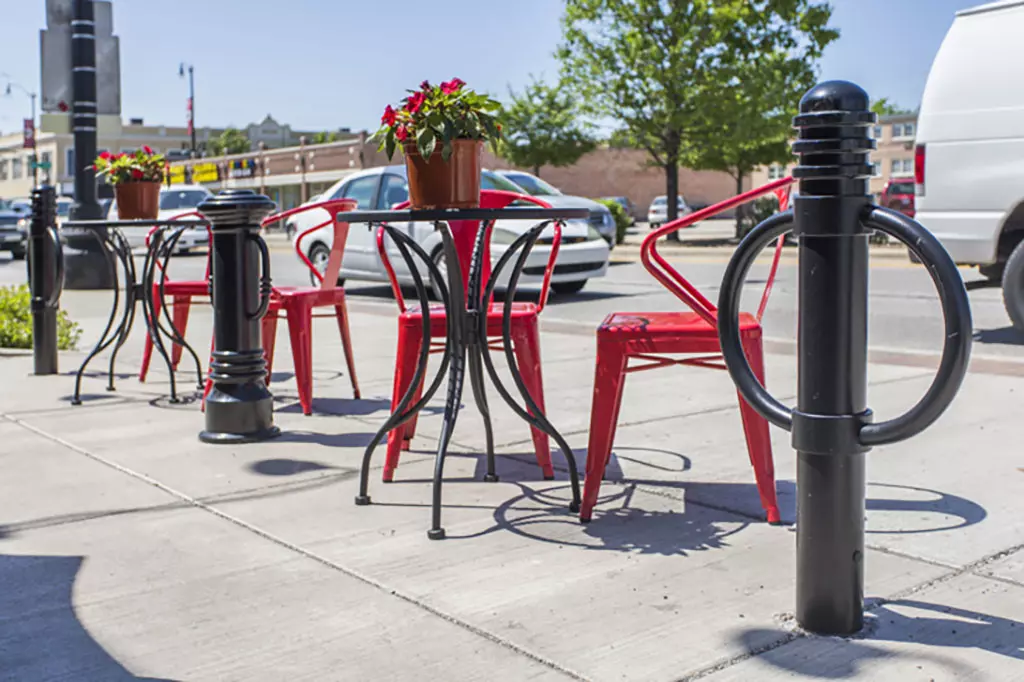 Things You Need to Know About Grid-Style Cycle Racks!
Here's another popular design, i.e., the grid-style racks. Their dual-sided parking space makes them unique, allowing multiple cycles to park at a single rack.
Now, you can install a grid-style near your office, garage, or residential parking and safeguard all the residents' cycles in a single place. Isn't that great?
Grid-style racks undergo heavy-duty steel construction and have a galvanised finish, preventing rusting and keeping them in good shape for a long time. What's the good news? These are available at a cost-effective price.
Moreover, these grid-style racks come in various sizes, and their largest size can accommodate up to 36 bicycles. Simply put, they are excellent racks for high-traffic areas.
As far as mounts are concerned, you can fixate them on the surface using bolts. Freestanding is also possible, which makes relocating easier. But it also raises a safety concern.
Moreover, you can only secure them by the front wheel or the bike frame; it isn't possible to lock both components.
Anyhow, grid-style racks are great tools for high-traffic volume areas.

Bike Parking Rack Vs. Custom Bike Racks for Sale
Bike parking racks are ready-made available cycle stands. You can purchase them instantly as they are available on the spot. However, if you have custom requirements for your cycle stand, you'll need a bespoke bike rack customised in sizes, colours, dimensions, and finishes.
You can easily find bike parking racks online or in your nearby super-stores, but you should consider some factors before purchasing.
Firstly, you should buy cycle storage racks from a verified seller who sells high-quality stands. But how do you decide that? It's easy; there are countless reviews available. Hence, do your due diligence first before concluding.
Similarly, you can find custom bike racks online, but you can provide specifications and order them from a nearby bike rack shop. However, since you're getting yourself a customised cycle stand, you must beware of the costs – since customisation cycle racks can be expensive.
I was wondering where you could find customised, high-quality lockable cycle racks. Look no further than Sino Concept. Sheffield, Harrogate, floor racks, and lockable style racks are readily available.
Moreover, if you're an enthusiastic cycle with various indoor or mountain bikes, we can customise cycle racks per your cycle's dimensions and sizes.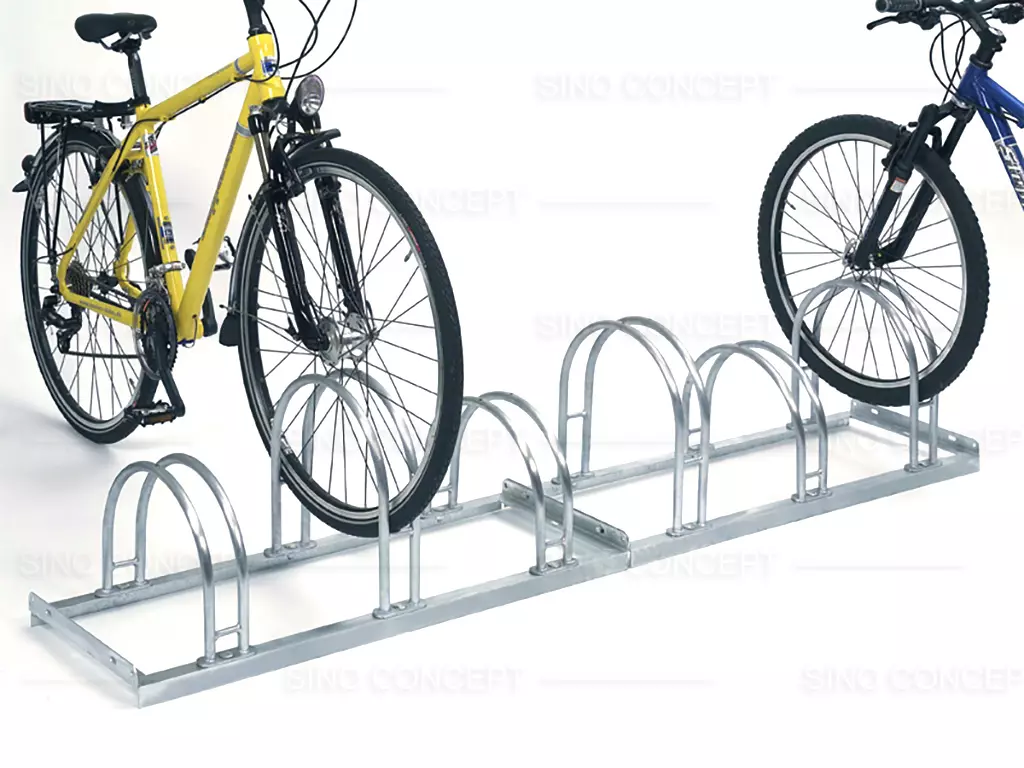 When Art Meets Industrial Bike Rack
If you have a commercial or industrial factory and you want a bike rack that can accommodate many bikes, there are commercial bike rack options for you as well.
Here are they:
Lockable cycle racks
Wave style racks
Double-decker
Wall-mounted rack
Lockable stands are great for security since you can lock your cycle from the rear wheel and the bike frame. Moreover, it can accommodate several cycles at the same time.
Wave style is an extended version of the famous Inverted U-style cycle racks. The unique feature of these racks is that you can lock several bicycles using lockers in a single wave-style rack.
A double-decker will meet your needs if you have many employees to accommodate. With an artistic touch and a tier-version, the double-decker enables mounting multiple cycles at once. The double-decker is accompanied by a position, allowing cyclists to mount cycles on the top tier.
That's not all… if you want to save space while adding a creative bicycle parking space in your industrial office, wall racks are great. They are perfect, especially for a folding bike, since they can be locked through their frame on a wall rack.
Get to know loop bike racks
Loop bikes are innovative, allowing cyclists to lock their bicycle wheels. With both wheels being secured, there are zero chances of your road bike being stolen. Isn't that what you need?
Loop bike racks have a unique circular shape with an added twist. Furthermore, the rack is usually steel or aluminium constructed. It is available in various finishes, allowing the rack to withstand extreme weather conditions and last a long time.
Moreover, it comes in various mount options, and what's better? A single loop rack can accommodate up to two cycles. If you have a store, you can order 5-6 loop bike racks and create a substantial parking space for up to 12 cycles.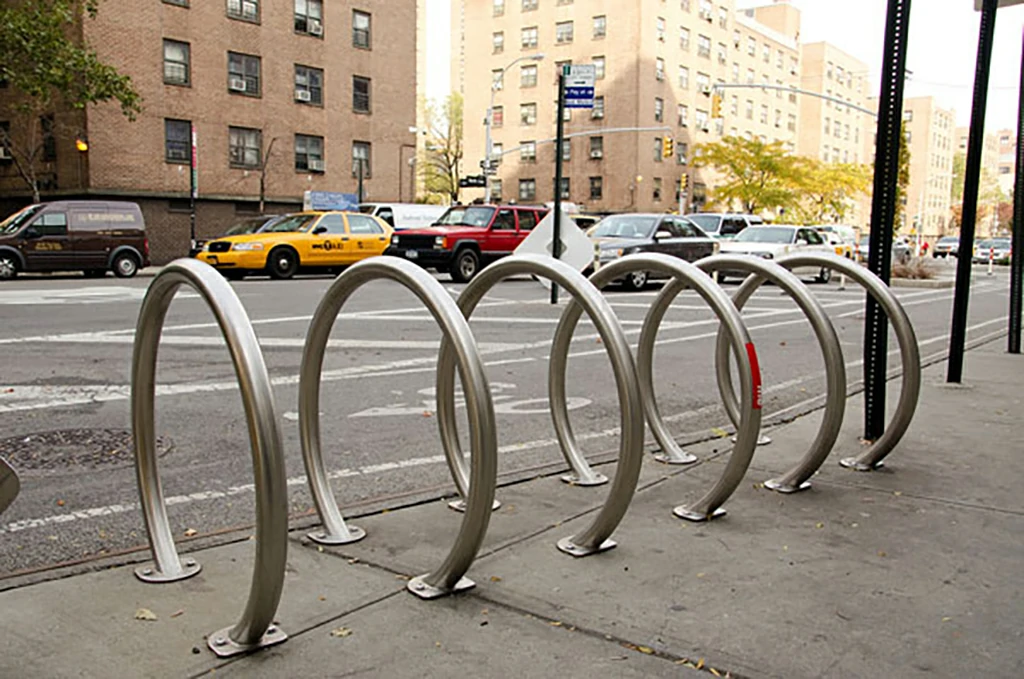 Conclusion
Till now, you must have an in-depth understanding of the multiple excellent types of bike cycle racks. Be it a garage, residential space, or an industrial area, you have many options for cycle racks.
And what's the good news?
Almost all of them are durable and perfectly keep your prized possession safe. So, what are you waiting for? If you are concerned about your cycle's safety and want to secure its parking while you sleep soundly, a bike rack is what you need.
We were wondering where you can find suitable bike racks. Head out to Sino Concept today and browse our broad offerings today.
To learn more, we advise you to refer to the following pages: